Darlings, if I were to compose a love letter to fall, my favorite season, I would write passionately about its beautiful colors, crisp air and the aromas of cinnamon and spice. Oh but how I would go on and on about its fashion! Cozy sweaters, wool jackets in plaids and houndstooth, knee-high leather boots and all the rest of the fabulous fall fashion I simply adore. 
Add all this and a pumpkin spice coffee and I'm in heaven.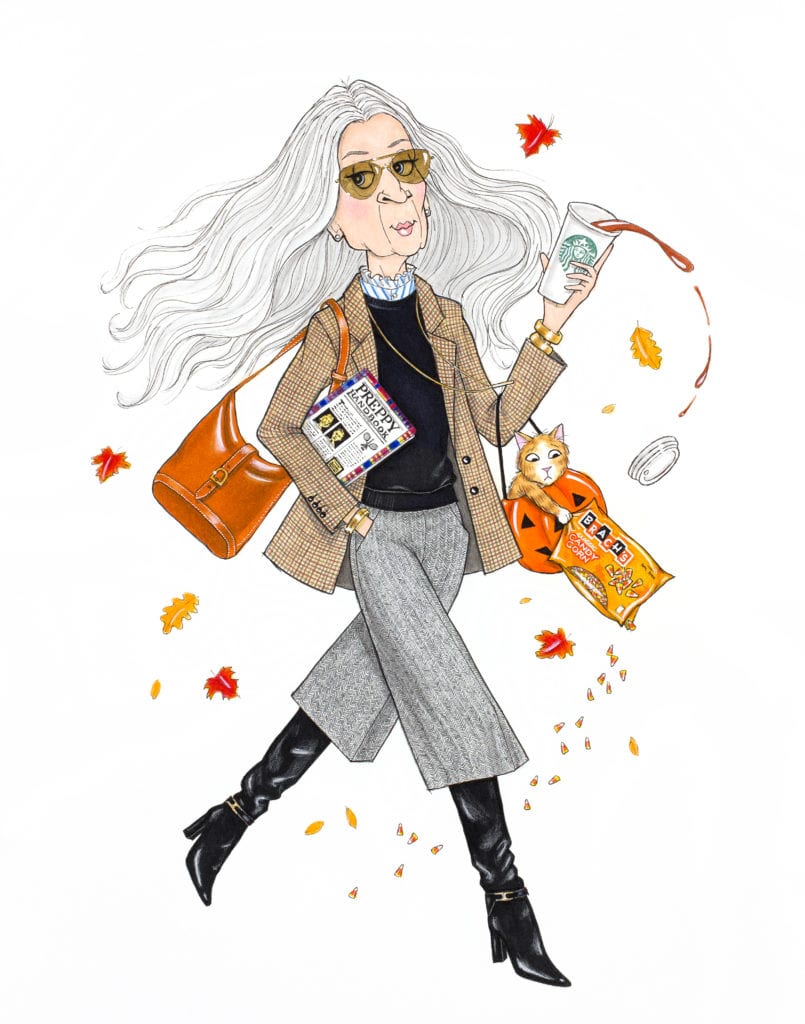 It may surprise you that my entire ensemble this month is straight off the runway. When I first saw the Celine Fall 2019 collection, it took me right back to the late Seventies. I remember wearing silhouettes just like this. What I wouldn't give to still have some of those pieces. The collection was a little mix of Parisian polish and classic prep. The result was a number of looks that exuded ease, elegance and was unmistakably fall.
The whole understated vibe of the collection is easy to recreate. There were lots of skirts and dresses that were just over the knee, and they were paired with glossy knee-high boots. Culottes, like the ones I'm wearing, even made an appearance on the runway, and the Duchess of Cambridge, Kate Middleton, was recently photographed wearing a pair. Also in the collection were lots of blazers in gorgeous wools, bomber jackets and a timeless camel coat. Adding polish to these looks were gold rimmed aviators, silk scarves, beautiful leather belts and lots of good jewelry.
Although I had pieces just like these some thirty years ago, it's lovely to return to looks that feel familiar, yet somehow fresh and on-trend. I think I'll give the jeans tucked into the tall boots out for a spin this fall and add a blouse with a high feminine collar. I'm also going to wear my tall boots with an over-the-knee length dress and blazer.
It's all very Julie Christie from the film, Don't Look Now.
So my fashionable friends, just like us, our preppy looks have grown up a bit. Now I'm off to mail my love letter to fall!
Cheers Loves!
XOXO, Hildie