For those of you who shop QVC you probably already know David Dangle, CEO of Joan Rivers Worldwide. You may also know Gus, his whip smart, Smooth Fox Terrier, but did you know David Dangle had already made a name for himself before he and Joan started their phenomenally successful brand or that they pioneered television home shopping? For years David Dangle and I have talked (behind the scenes) on Instagram. 
His legions of fans will be glad to know in-person, he's the same great guy you see on television.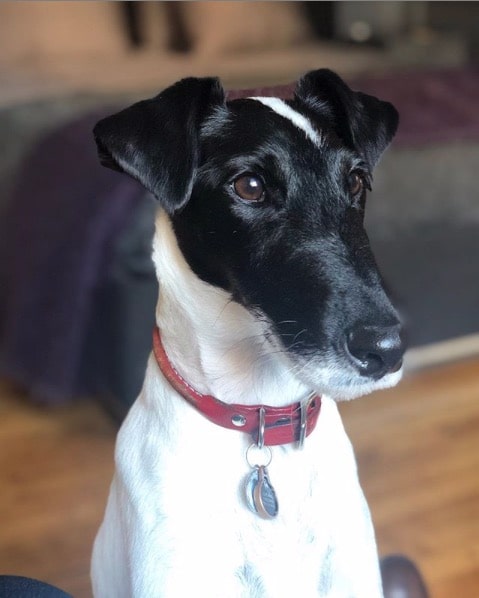 Gus! What a sweet boy! He's smart and funny, and his favorite sports are fetch and riding the float in the pool. Like David, he's a charmer!
FYI I'm not being compensated in any way for this post. I just love David Dangle and admire the brand he and Joan Rivers built together.
I've edited our conversation:
BRENDA: Every time I see a photograph or see you on TV I think you are one of the most fashionable men I know, and it doesn't hurt that you are handsome and look great in your clothes.
DAVID: I'm loving this phone call! I don't have a lot of reason to dress up except on QVC. To me it's part of the whole ritual of going there. I pick out the shirt, the shoes and the tie. It's the persona, so I can't say I'm knocking around Pennsylvania in a suit all day long. It's more like a pair of chinos and a plaid shirt. It is nice to dress up, and you're very kind to say that.
BRENDA: And we love that you dress up because we don't see that very often.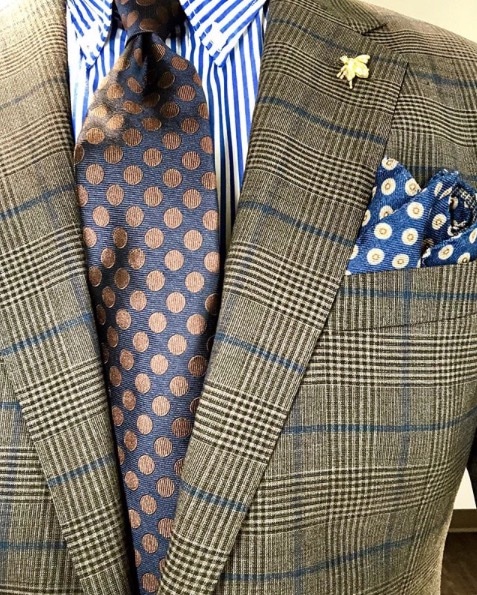 I love how David coordinates his accessories and his clothes. He's even wearing one of Joan's "Bee" pins. My personal favorite.
DAVID: Well thank you. I will tell you anytime I was around Joan and I had a tie and a sports coat on she would say, "You look nice today." If I was in a sweater and a pairs of jeans, she be like, "Good morning." LOL! She liked men that dressed like gentlemen.
BRENDA: I love that you know fashion from the ground up. You understand fabric and stitching and the history of design. Where did your interest in fashion start?
DAVID: I had a sort of roundabout way into the fashion side of this. I was an art director and a costume designer for television, film and theater, and it was my connection with Joan that got me started on the whole fashion side although I was a stylist… But working with Joan as her stylist and then starting the QVC business with her thrust the two of us into this whole fashion world which was naturally appealing.
BRENDA: Weren't you part of the team that earned three Emmys for Costume Design on Guiding Light and The Bold and the Beautiful?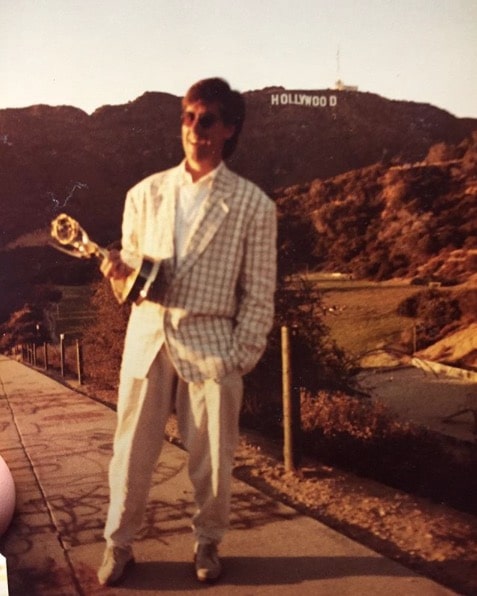 David after winning his 2nd Emmy "one zillion years ago." His suit was a Comme des Garçon and very chic at the time.
DAVID: I am "the guy" who won three Emmys. It was so long ago. It was a different career. I got nominated seven times so my average is not so great. LOL! 
BRENDA: That's almost 50 percent. None of us have those sitting in our house, so we think that's pretty fabulous. 
DAVID: They make great bookends. 
BRENDA: I'm guessing they're not in your bathroom?
DAVID: LOL! Joan won her Emmy for her talk show which was a big, big deal at the time. My first question was "where are you going to put it?" She was not the type to put it on top of the fireplace or where anybody would see it. She stashed it in her little private office on a shelf in her home, which I thought was kind of chic.
BRENDA: How did the two of you meet?
DAVID: I had been working on some television shows and made friends with a wonderful, well-known actor—who is also a very funny person—and a writer. He used to write one-liners for Joan and crafted part of her act at one point. She was having dinner with him and said, "I'm going to New York and starting a new talk show and I want to hit New York… looking like a New York rich bitch." Only Joan could get away with saying that.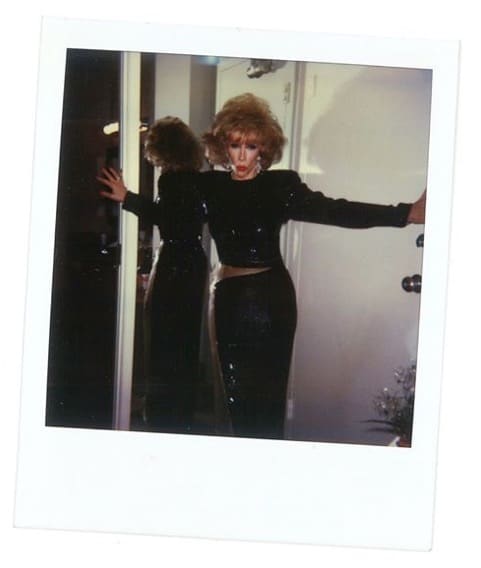 "I really need somebody to make me over. I'm California with the shoulder pads and the big hair and the Galanos dresses, and I need to be New York."
So our mutual friend said you need to talk to David Dangle. He's amazing, and you'll get each other and make each other laugh and you'll like his taste. So she came to New York and we met. 
I don't think I ever told this to Joan, but I had a terrible, awful, cold slash flu, the day we met. The only time she had available—because her schedule was so crazy—was 8am on a Sunday morning. So I got dressed up, literally burning up with fever. I went to her hotel suite. This tiny lady opened the front door. To be totally honest I knew of her, but I wasn't a real TV watcher. I thought she was funny but it wasn't like oh, I'm meeting Joan Rivers! We met and got along well. 
She'd always had incredible attention to what she'd worn on television in California. People were tuning in to the Tonight Show to see what she would be wearing. She wore Chanel and Galanos and Oscar. She was so high-profile they were all dying for her to wear their clothes. But coming to New York, it was more than her look and her clothing. I think she wanted to reinvent herself.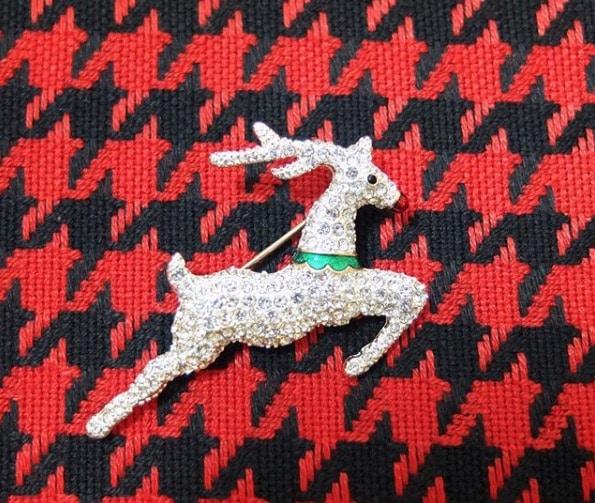 From the current Joan Rivers Fashion Jewelry brand.
I positioned her with more of a New York look in terms of her look and her style. At that time we struck a partnership with Barney's and they were dressing her. For a stylist, that's a dream come true when you can have anything you want from Barney's in it's heyday. In about six months QVC came calling and said we want to do something with you, and the two of us hatched up the idea of the Fashion Jewelry brand and off we went and then it morphed into the clothing, the accessories and beauty products.
BRENDA: On the surface it's an unlikely pairing: a comedian and an art director team up and have this phenomenally successful fashion house, and you pioneered shopping on television!
DAVID: I will tell you Joan was very visionary in that way… Joan felt like it was going to be the future, and she was very passionate about it and took it seriously. It wasn't "oh, I'm going to put my name on something and get a quick buck." This was Joan building a strong business that she owned and a strong brand and working hard at it. I think a lot of celebrities think I'm famous, and they'll pay me money to come and sell stuff and now there are "influencers" on social media.
BRENDA: My dog could be an influencer, and I love Annie to pieces, but she has no taste except in t-bones.
DAVID: LOL!! That's funny! Your dog is adorable by the way.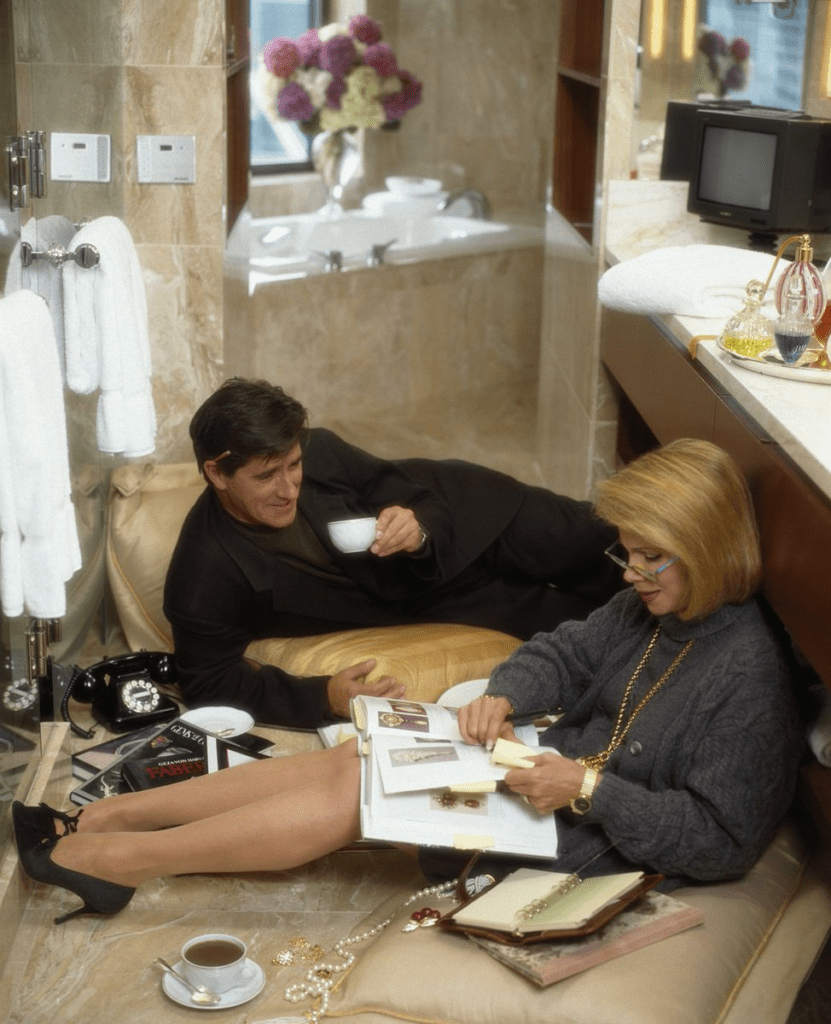 BRENDA: I think you and Joan were the yin to the other's yang. I found a photograph of the two of you on her bathroom floor. What was going on there?
DAVID: We worked everywhere when the business was starting. We didn't have an office. This business was literally started on her coffee table at CBS… After about two years of doing this on her bathroom floor and in her dining room, we formalized it, and I hired a fuller staff and we moved into a terrific office overlooking Central Park. It became a much more serious business than either one of us thought it would be. Some of those shots, like on her bathroom floor, it was heated so it was a cozy space to sit to be honest with you. She was a multitasker. She could be sitting in her dressing room, getting her hair and makeup done and we would be working on picking out colors, or revising things or looking at models. She liked all burners firing at the same time. In the back of the car on the way to QVC we'd be reviewing designs, or on a plane, flying up to Toronto we'd be picking out fabric swatches. 
BRENDA: I love knowing she took it so seriously. 
DAVID: I think that's one of the reasons it was so successful. It wasn't a lark. It wasn't "I'm a comedian, an author, a talk show host and I go to QVC once in a while and sell stuff." For her it had to be a real business with real offices and a real staff, and I think one of the reasons QVC became so successful early on. She gave them a lot of profile.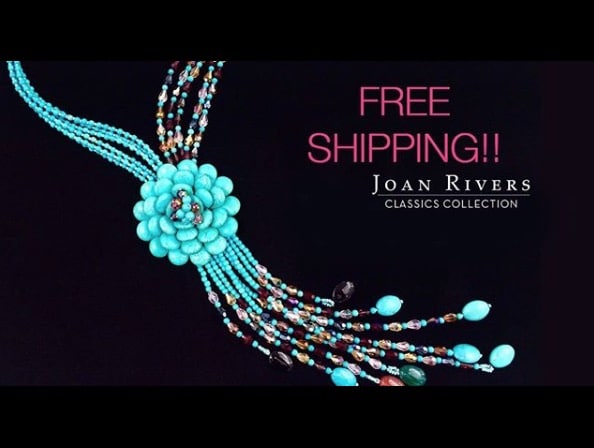 BRENDA: She did, and you've had the premier fashion jewelry brand for 29 years?… The quality is really amazing whether it's the pearls or the jeweled look or you do a cloisonné that's just beautiful.
DAVID: Yes. 29 years. Thank you. I tell this on air all the time. Joan said this early on: It's got to be great quality. It's my reputation. And in show business all you really have is your name and your reputation. Quality was where she set the bar, and if she was going to wear it, it's got to be good. That set the tone early on. We're not fast fashion.
BRENDA: How do you achieve such quality, David, with your great price points?
DAVID: That is an ongoing challenge… There's a lot of things I wish we could do that we just can't afford. You want great quality, great design, interesting fabrics and materials for your jewelry… It gets harder and harder… 
BRENDA: I can imagine. You're really good at following the current trends. This week you had the checked pants with a classic textured knit blazer which is a really nice piece.
DAVID: And that blazer was kind of pushing our price point a little bit and the customer understood. 
BRENDA: I'm a fan of Loro Piana knits so when I saw you had a cardigan sweater with the little ruffled hem and a fine gage rib that was all part of the sweater… 
DAVID: Oh! You've been watching!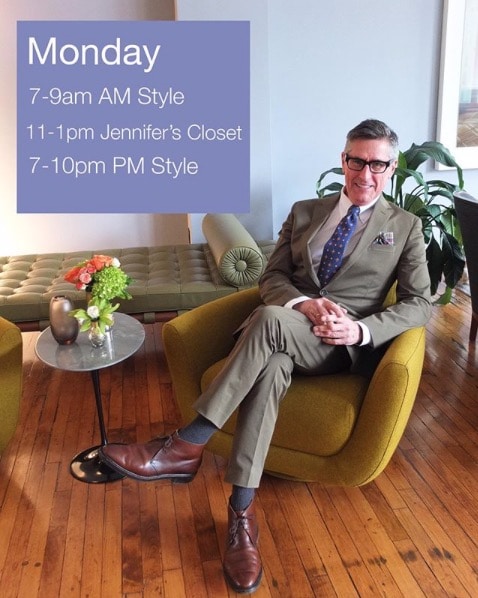 BRENDA: I love how you explain to the consumer that the machine knits the entire sweater from top to bottom. You really give your customer an education in fashion. 
DAVID: I think sometimes consumers don't necessarily understand what drives cost or the thought that goes into designing and how decisions are made… I hope they understand it's not just "slap a label on this and bring it onto QVC." There's some thought to all of this.
BRENDA: That comes across loud and clear. You're not condescending. Everything about your presentation is very elegant.
DAVID: That's nice to hear. Thank you. 
BRENDA: I think you lend that to everything you sell and the way you explain it. You're educating them but it's not like, "I know you don't know this."
DAVID: That's good to hear. I also think if you can share a little fashion tip or two into each show. Lately I've been talking about ways we can mix patterns together, something she can take away.
BRENDA: That's very smart. I think you're right there with what women are looking for now. 
DAVID: Good. I think the way we present on QVC is unique because you're talking to the creator. You don't get to talk to Ralph Lauren or whoever designs Armani. Marc Jacobs doesn't come into your home and tell you why the sweater looks the way it does. I have the ability to do that. Joan was big about tricks: Taper your skirt at the knee. It will make your figure look more flattering. A prettier line on your leg.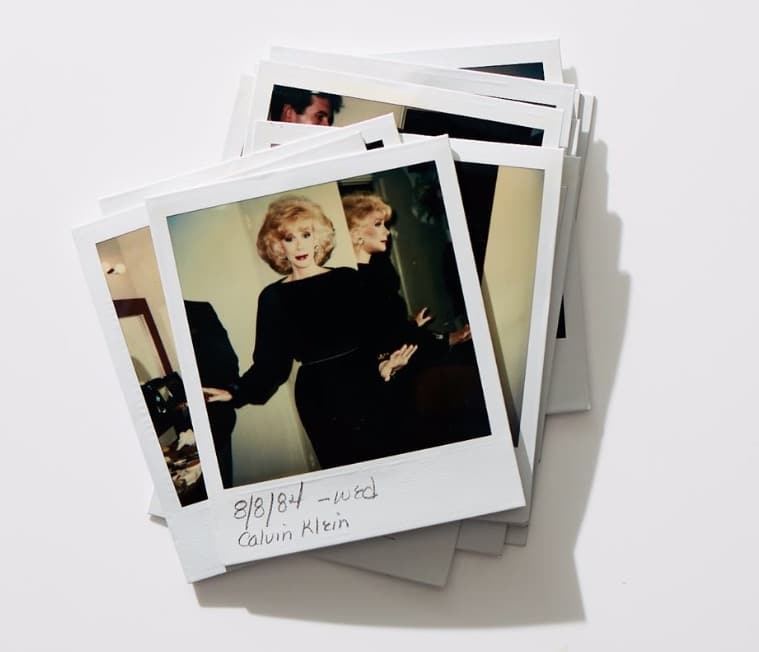 Joan in a classic black Calvin Klein from 1984.
BRENDA: I read where Joan took Polaroids of her outfits. What she loved and what looked good on her.
DAVID: If she was packing to go somewhere, or maybe it was three months later, she didn't have to think about what blouse do I put with this skirt? She had great style and could come out of that closet looking like a million dollars, but when it was "I've got 10 minutes to change before the car picks me up and takes me to the Tonight Show; how can I make it more streamlined for me?" It's a great idea if you think about it. She could also call the housekeeper and say, "Pull the red Valentino jacket," and on the jacket was a card that detailed what went with it, and the housekeeper could have it ready and all laid out for her. Most of us don't have that luxury. 
BRENDA: But we can take selfies and do the same thing. Tell me, what is the hardest part of running this business for you? You've got your hands full.
DAVID: It's a lot, but I love it. Business is a challenge for everyone right now. The tariffs, Amazon, the fast fashion. You've got more competition now. The biggest challenge is to keep it all relevant; keep it on trend and true to the brand's DNA. We are the Classics Collection so there is a definite point of view. And to be competitive. To be the brand people want and do what Joan did all her life: to reinvent and reinvent.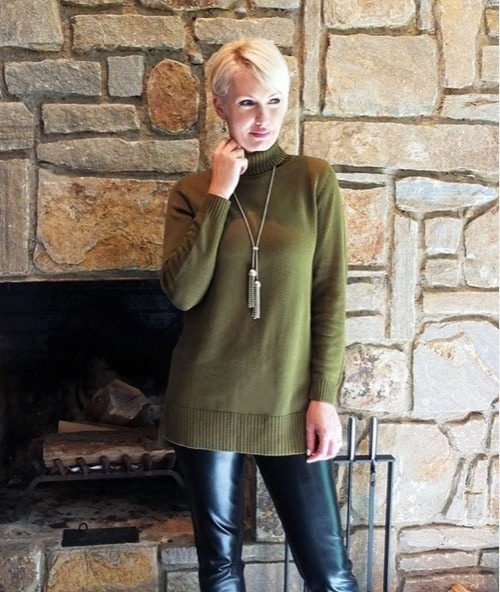 From the current Joan Rivers Classics Collection.
BRENDA: What are you most proud of?
DAVID: I'm very proud the brand is 29-years-old and going strong. I think a lot of fashion brands come and go. Most celebrity fashion brands come and go. Very few become powerhouses. Very few are able to succeed even after the name (behind) the brand is gone. That's something Joan would be proud of. That this didn't go away with Joan. She built a solid brand that continues on. I'm proud of that and I'm proud of what we do. We give a good quality, well-designed product to this customer. We don't compromise. If we can't afford to do it the right way, we don't do it.
BRENDA: You're obviously good at staying up with the trends. I'm sure that's difficult.
DAVID: With social media it's a different way to keep up with the trends. There was a day when Joan and I traveled the world. We did London, Paris. We'd shop the LA stores. You had to get out there and find it. Literally pound the pavement. What's selling in London because that's where the trends are starting? Now you can go on Instagram so it's changed the way we do it somewhat, but it's still that constant chase of what is coming? What is next? What is going to turn her on? I always approach the QVC business as she has a lot of stuff. She doesn't need anything else, but what does she want?
BRENDA: Ohh… That's smart.
DAVID: Do you need any more clothes?
BRENDA: No.
DAVID: No, but you still buy clothes because you see things you want. That's the challenge. To catch her eye. I had a plaid skirt last night in the show. It's a new silhouette for us. It's a midi-skirt with a Ralph Lauren vibe. I could see a woman watching and saying, I could wear that with boots, some cute flats, put it with a blazer or a turtleneck. All of a sudden you've got a product that's compelling and women are saying, I need that. That's also the challenge.
BRENDA: Talk to me about your crazy travel schedule. How do you do it?
DAVID: LOL! It's not that crazy anymore… Basically I'm going back and forth from New York to Pennsylvania. The company's based here in New York City, and I have a home here, and I've built the house in Pennsylvania about 25 minutes from QVC. So after many years of living at the Sheraton… I now can do QVC over the course of two or three days and sleep in my own bed which is awesome. 
Have you seen Bitsy, who's my alternate guest on QVC?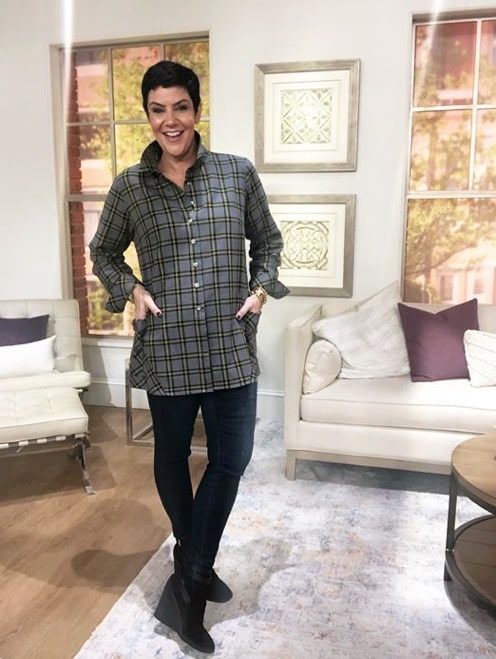 Bitsy Jennings on Joan Rivers Classic Collection on QVC
BRENDA: Yes. I love her. The other day I asked her if she'd lost weight. She looks fabulous!
DAVID: Doesn't she? She's made a big commitment to Peloton.
BRENDA: She told me she's also watching her diet and counting macros. 
DAVID: Bitsy has great style, and she's a great ambassador for this brand. I'm delighted when I see how she puts together what we designed because it may not be what I would do but for her age and perspective it's great!
BRENDA: What are some of the things you learned from Joan?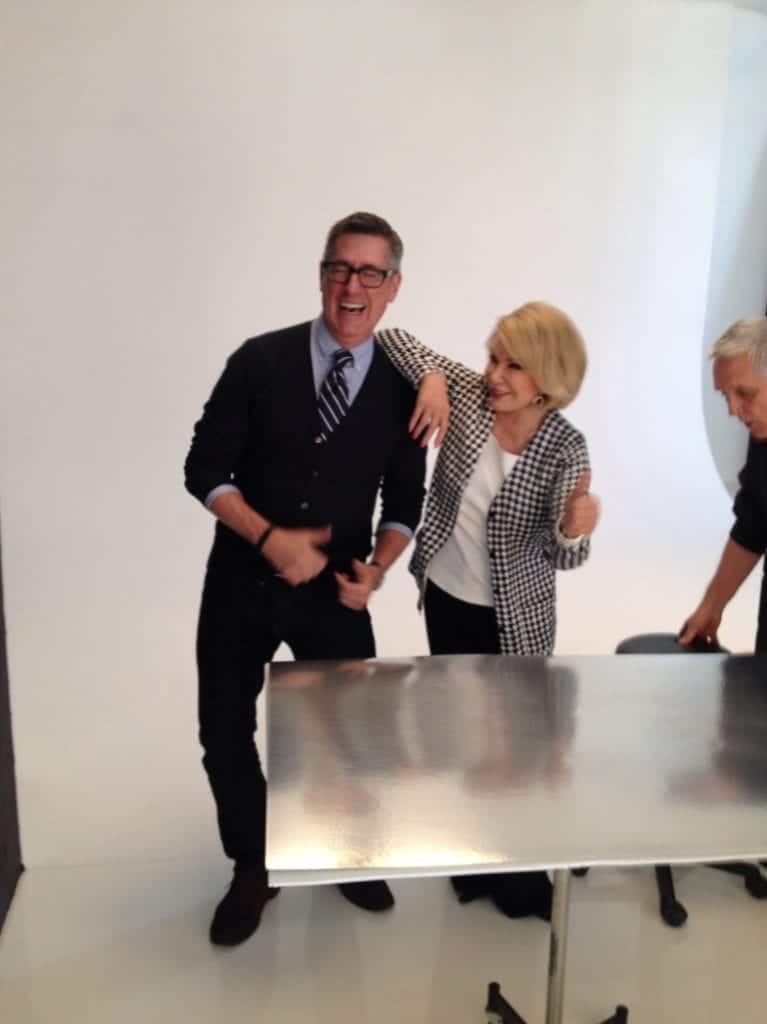 Photo shoots with Joan were a blast!
DAVID: Don't take anything too seriously. Have a laugh. Surround yourself with people who have a sense of humor. Have a good time. We spent 25 years together and we had words once. Once. I was in a mood, and she was in a mood, and I snapped back, and that was the only time. Her thing was if you're going to blow up, blow up and then bury it and move on. We had a relationship that was a lot of fun and challenging and stimulating. 
Joan used to say, "We have indoor plumbing! We're already ahead of most of the rest of the world." She appreciated everything she had. She would say, "I have a limousine downstairs. I've got a beautiful daughter, a beautiful home. Why would I be unhappy?" Perhaps that's my biggest lesson. Keep it all in perspective.