Thursday I posted Brenda's Blog two days early because I wanted your help for the son of a friend of mine. I asked you to pray for Jadon Olsen. I believe what you're about to read is a testament to the power of prayer. For the last six days, Jadon was critically injured, unconscious with a breathing tube. Thursday they removed his breathing tube, and he began breathing on his own.
Friday, Jadon sat up on the edge of his bed.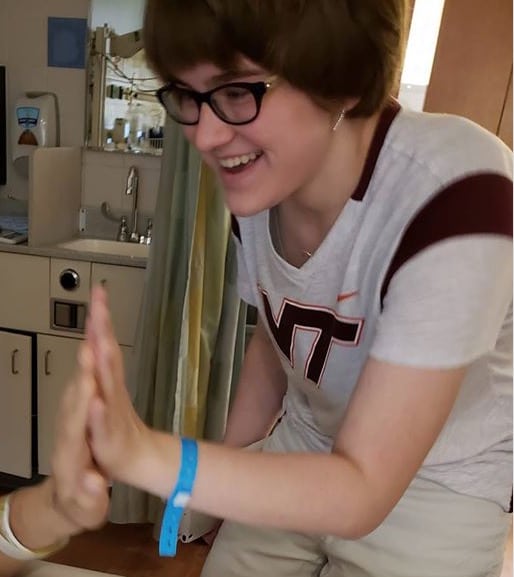 Jadon's sister, Mimi, high-fiving him yesterday morning! Such joy on her face!
Jadon can move three of his four limbs. He's wearing a helmet to protect his brain until surgeons can go back and replace the piece of his skull they removed because of the bleed and swelling in his brain. If you didn't read yesterday's Brenda's Blog, Jadon and his father… at Jadon's insistence… stopped to remove a giant tree limb from the street so their neighbors could evacuate during Hurricane Florence. As they were moving the tree limb, two other big limbs hit them both in the head. His father wound up with 12 staples in his head. It was nothing short of a miracle that medics got to Jadon, managed to keep him alive through the terrible hurricane force winds and rains and transported him to not one… but TWO… hospitals.
So many people have responded to numerous calls for prayers for Jadon. I'm overwhelmed with gratitude and tears as I write this! For those of you who don't believe in God, I understand. For a longtime I didn't know what to think. I would look at some of the crazy televangelists… remember Jim and Tammy Faye?Frankly they scared me and made me uncomfortable. I couldn't relate to them at all. Decades later I came to a place where I had no doubt there is a God.
When you ask why would God let bad things happen to good people, I don't believe God micromanages our lives. He knows when we're suffering, and He hears us. I believe God has given us all the tools we need to love and to lift one another up. No, life isn't always fair. Heartbreaking disease and tragedy happens even to newborns. There's always been the weak and the strong. It's part of the DNA of every living plant, creature, man, dog, horse and blade of grass. The strong survive, and it's up to us to help those who aren't as fortunate or as strong.
That's what you did when you prayed for Jadon.
Jadon and his family have a long road ahead of them, but they're grateful for your prayers. They're grateful their son is still breathing and has a chance to reclaim his life. Please keep praying for his full recovery and for his family to remain strong. We need young people like Jadon Olsen in the world. If you didn't read my blog about him, yesterday, you can find it here.
Wishing you all of God's blessings.