The death toll from Hurricane Florence has risen to over 30 people. While I don't know any of those who died, I do know the mother of a critically injured 17-year-old young man, Jadon Olsen. On September 14th, Jadon and his father Billy, a pastor at St. Luke United Methodist Church in Laurinburg, North Carolina, stopped to move a tree limb out of the road so other cars could safely pass when two other tree limbs fell and hit them both in the head. Billy needed 12 staples in his head. Jadon suffered a fractured skull and a brain bleed. He had a three-hour surgery to stop the bleeding and relieve pressure on his brain and has been in critical condition, on a ventilator, for the last six days.
Just getting Jadon through the driving rains and winds of Hurricane Florence—and keeping him alive—was considered a miracle. 
I met Jadon's mom, Elaine, online when I had my breast cancer website, BreastCancerSisterhood.com. I remember numerous times, talking with Elaine about her breast cancer diagnosis, her family and her faith. One particular time Elaine was out walking on a back country road when a thunderstorm came up. There was lightening all around her, and I stayed on the phone with her until she was safely home. Right now she's walking through a worse storm, one every parent fears; a storm that threatens to take the life of her child. This time I can't stay on the phone with Elaine, but I can pray for Jadon and his family, and ask if you would do the same thing.
Yesterday doctors were able to remove Jadon from the ventilator, but he's still not conscious. He is fighting for his life! His mother posted this on Facebook…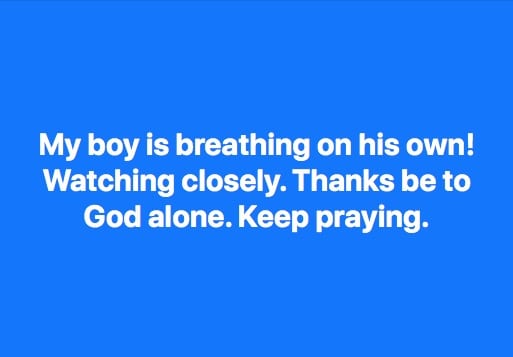 Everyone says Jadon loves life. He loves people. He's never met a stranger. He steps up to the plate when called upon. Of his own accord, he mentors kids younger than he is. He carries groceries to cars on food bank days. He ushers at church. He volunteers with Special Olympics, VBSes, and the Appalachian Service Project. He buys veterans meals when they come into Zaxby's, where he works after school, and he's ready with a quarter when you need an extra sauce and don't have any change. He has a verse ready when your spirit is downcast and a smile when yours is upside down. He'll give you a ride; he'll give you his shirt. He'll find a way to work around a problem by creating a new solution.
Even if you aren't someone who prays, I hope you will boldly ask God to heal this young man and strengthen those who love him and are tending to his medical needs. His life depends upon it. Thank you, sweet friends.