For the last 25 years antique importer and designer, Tara Shaw, has walked through one open door after another. She calls it her spiritual journey. When a book agent told Tara, 'I know you have a book in you,' Tara said, "I sure do. I've been working on it since 2004." Instead of sending the agent a book about design, Tara sent the memoir she'd been working on, The Coat Your Father Gave You. "I feel each person has a coat from God," Tara said. "It's very unique. Authentic. We listen to our heart, and it's our calling. We go through the doors. That book was my spiritual stories from 20-something years of traveling in Europe and working in China and India."
When her agent told Tara she didn't want an Eat, Pray, Love book, Tara wrote the design book. It will be finished in 2019 and published by Abrams in 2020.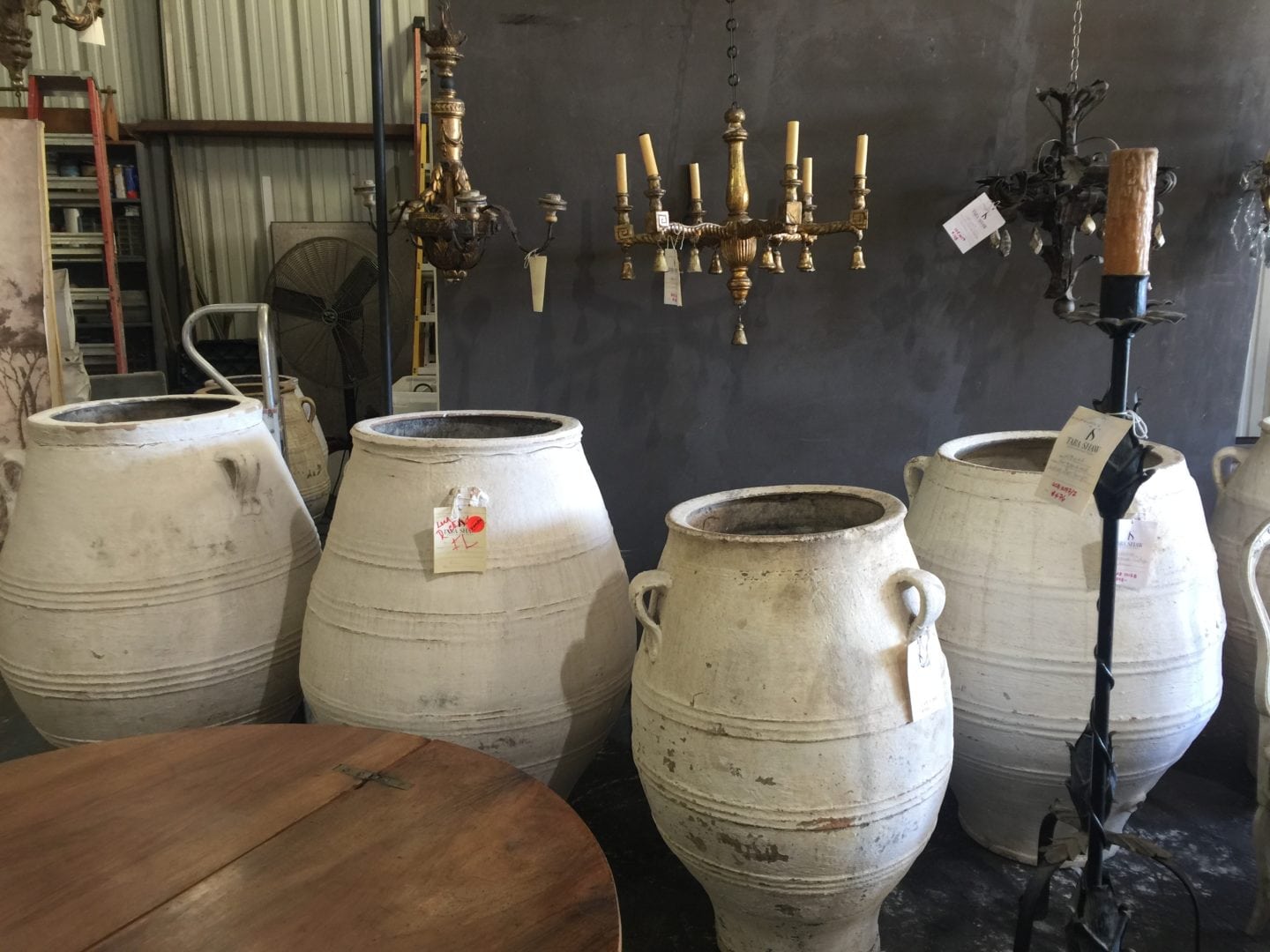 For starters, Tara Shaw is a delight. When I was in New Orleans a couple of weeks ago, I spent the afternoon with Tara at her warehouse and her home. Tara Shaw's taste in furnishings and design sets my heart aflutter. While I can't always afford the antiques that would give me Tara's authentic look, I sometimes use her style as inspiration.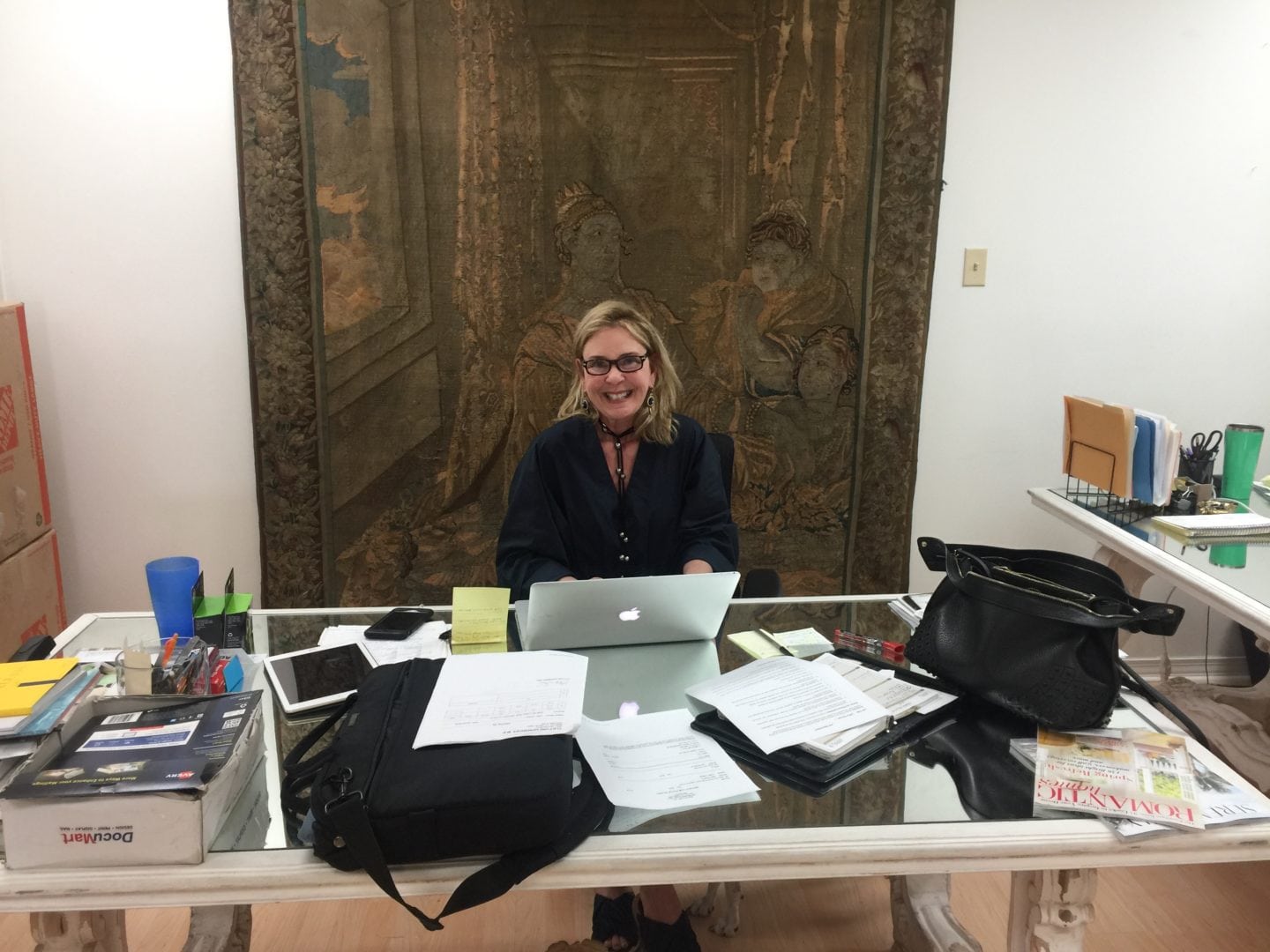 Whether she's designing the look for Maison du Parc, an upscale, multi-townhome project in the New Orleans French Quarter, the interiors for Jill and Harry Connick, Jr.'s home on the East Coast, three homes for Emeril and Alden Lagasse—the third one, a seven-story brownstone in Manhattan, by "the park"— Tara has a unique way of putting together 20 different creams and whites in the same room. In case you're wondering, it's anything but boring. Whether she's layering antiques and old textiles with a sisal rug and a modern sofa or a piece of art, the neutrals give them all permission to play together.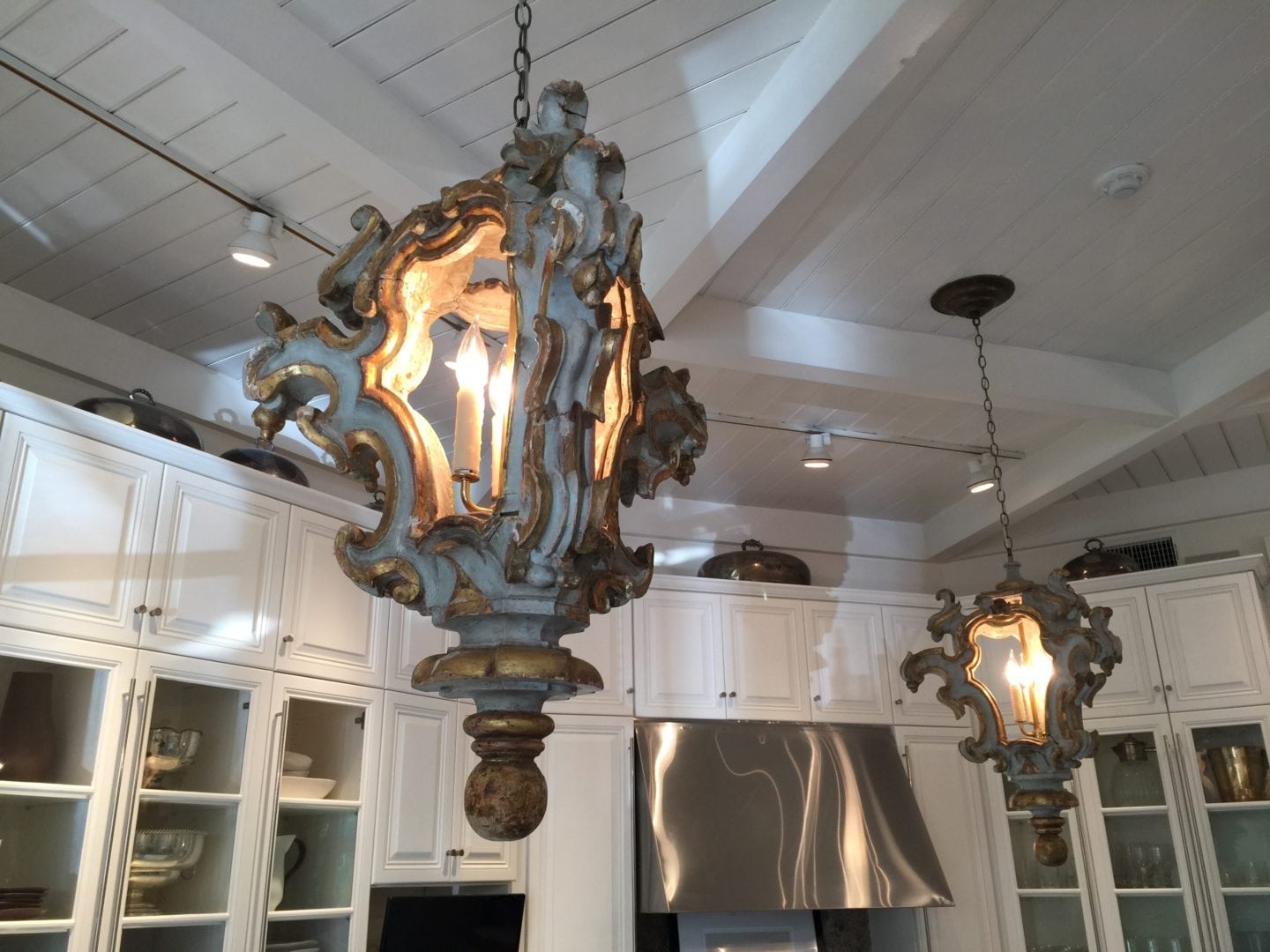 A PAIR OF MATCHING ANTIQUE LANTERNS IN TARA'S KITCHEN
"To have an authentic interior," said Tara, "I'm not going to furnish a house in all antiquity. It's that beautiful balance that makes the antique even more special."
Some of the antiques Tara uses in her design projects—and her home—have a distressed patina; things many people wouldn't buy because a gilt frame might be chipped, a Swedish table looks like it needs refinishing, or a stone figure is missing a hand or an arm. 
This is not shabby chic, but make no mistake. It is chic!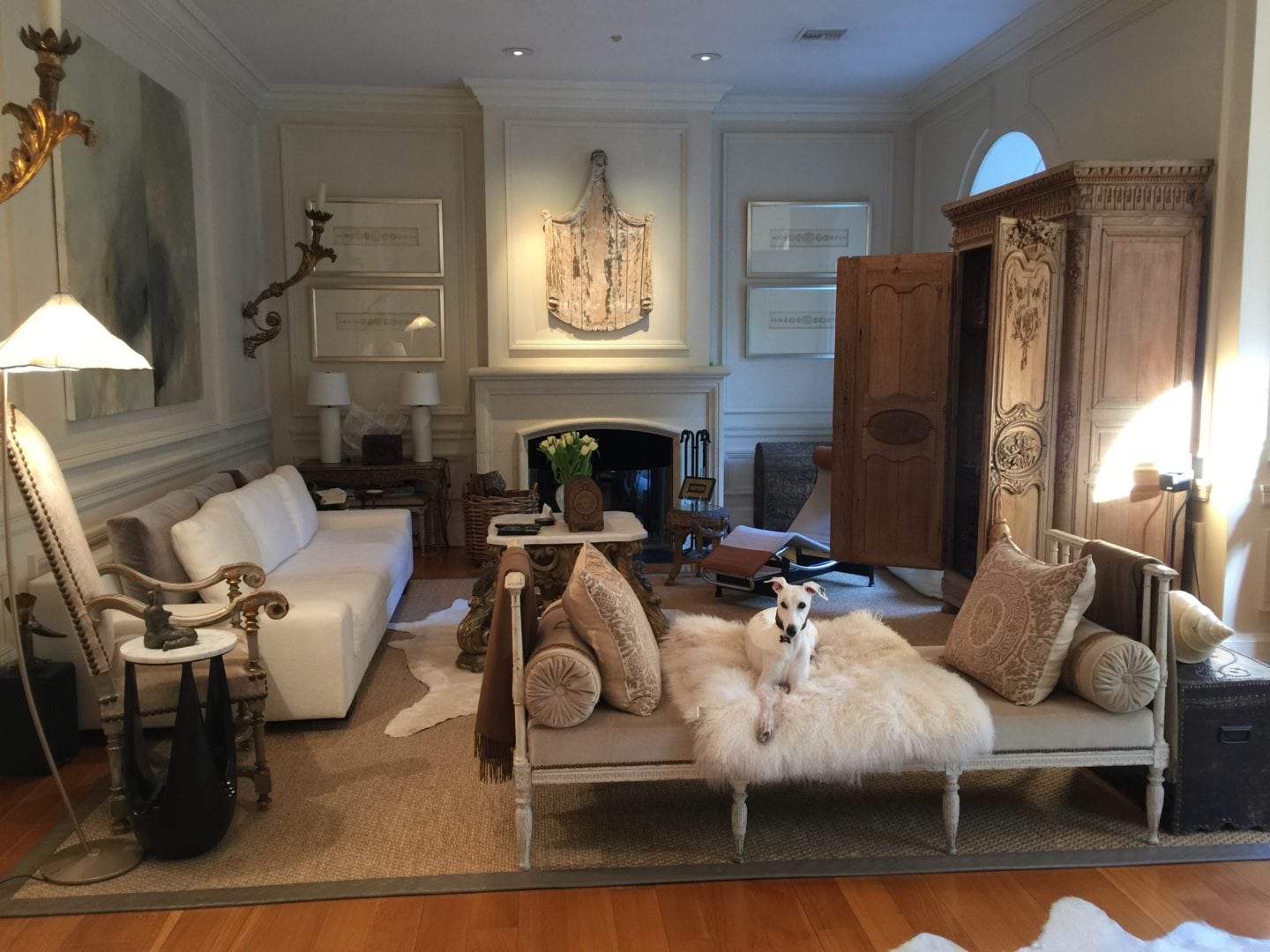 TARA'S MUCH PHOTOGRAPHED LIVING ROOM, TAKEN WITH MY iPHONE 6+ AND NO LIGHTS. IN VERANDA MAGAZINE, BROTHER LUCCA IS ON THE SAME DAYBED. DOESN'T HE LOOK WONDERFUL THERE? LUCKY DOG!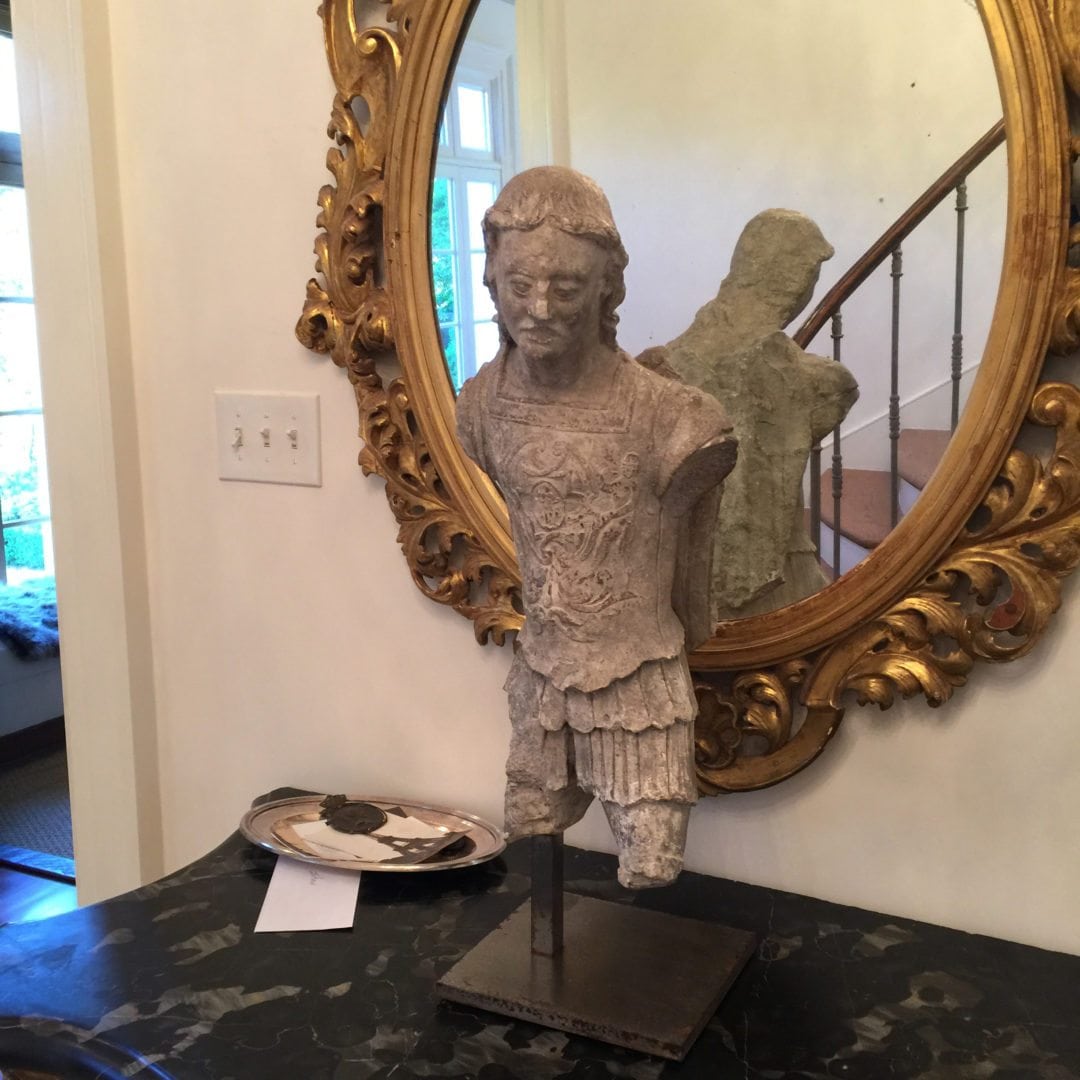 ONE KINGS LANE HAS A GREAT STORY ABOUT TARA WITH FABULOUS PHOTOGRAPHS IF YOU'RE INTERESTED.
Here is a tiny portion of my conversation with Tara Shaw. If you want to know more about Tara, I can share another post about how she went from "being as green as a pickle" to being a success, her adventure as a blonde, hitchhiking in China, or… We can wait for her book(s).
BRENDA: For someone who's not familiar with your design aesthetic, how would you describe yourself?
TARA: I believe a lot of times the design clients who hire us are looking for an elevated design style. They are looking for a unique, authentic home. Something that's not like anyone else's home. It's not cookie cutter design. It's anchored with beautiful French pieces, clean lines where the highlight—or the jewelry in the room—is a 17th or 18th century "something" from Europe, whether it's Sweden, France or Italy. I feel like they're looking for something totally designed for them. I'm a good listener, and I'm always trying to key in on what their dream is. I want to deliver the dream.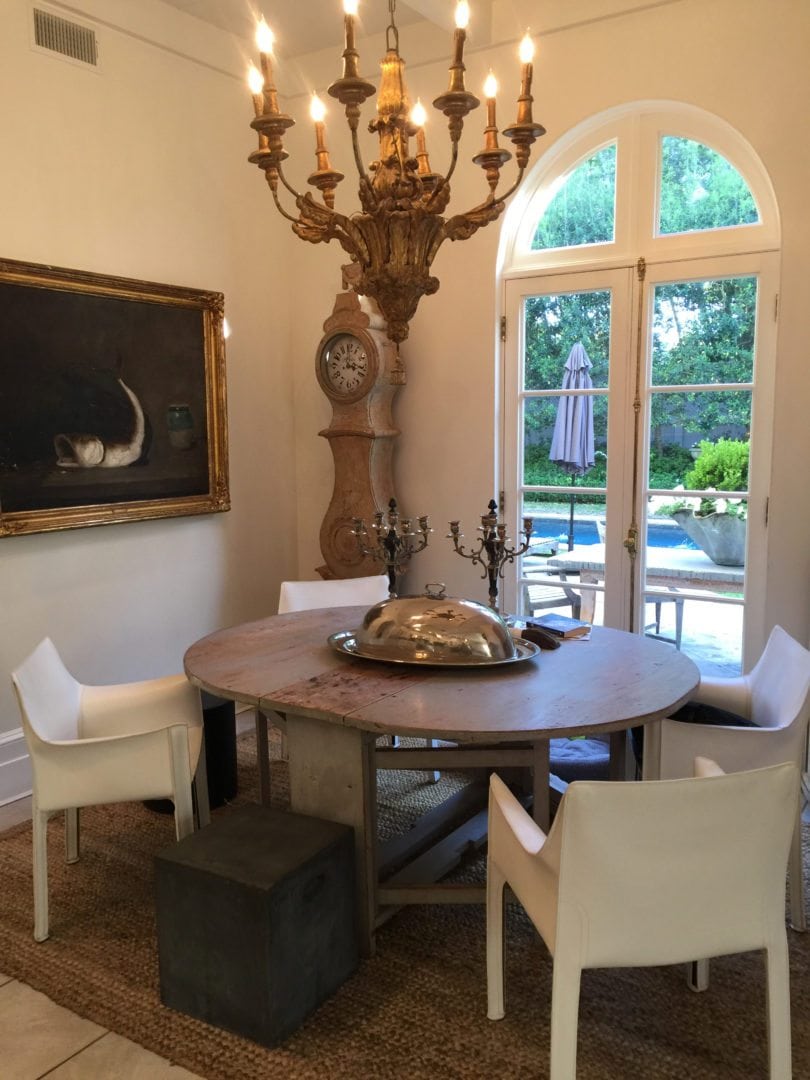 THE INTIMATE DINING AREA IN TARA'S KITCHEN.
BRENDA: Did you start as an antique dealer or a designer?
TARA: I started as an importer. I had this brilliant idea, I thought, of bringing in European antiques and selling them wholesale to the trade. I rented a 10 by 30-foot mini storage and took all of my money, except one house note, and bought that furniture. Then I prayed people would show up. It was basically word-of-mouth to regional antique dealers and designers. I rolled up the warehouse door, and it all sold in about 10 minutes. So I started as an antique dealer, then Veranda Magazine reached out to me and said, "May we come and see your warehouse?"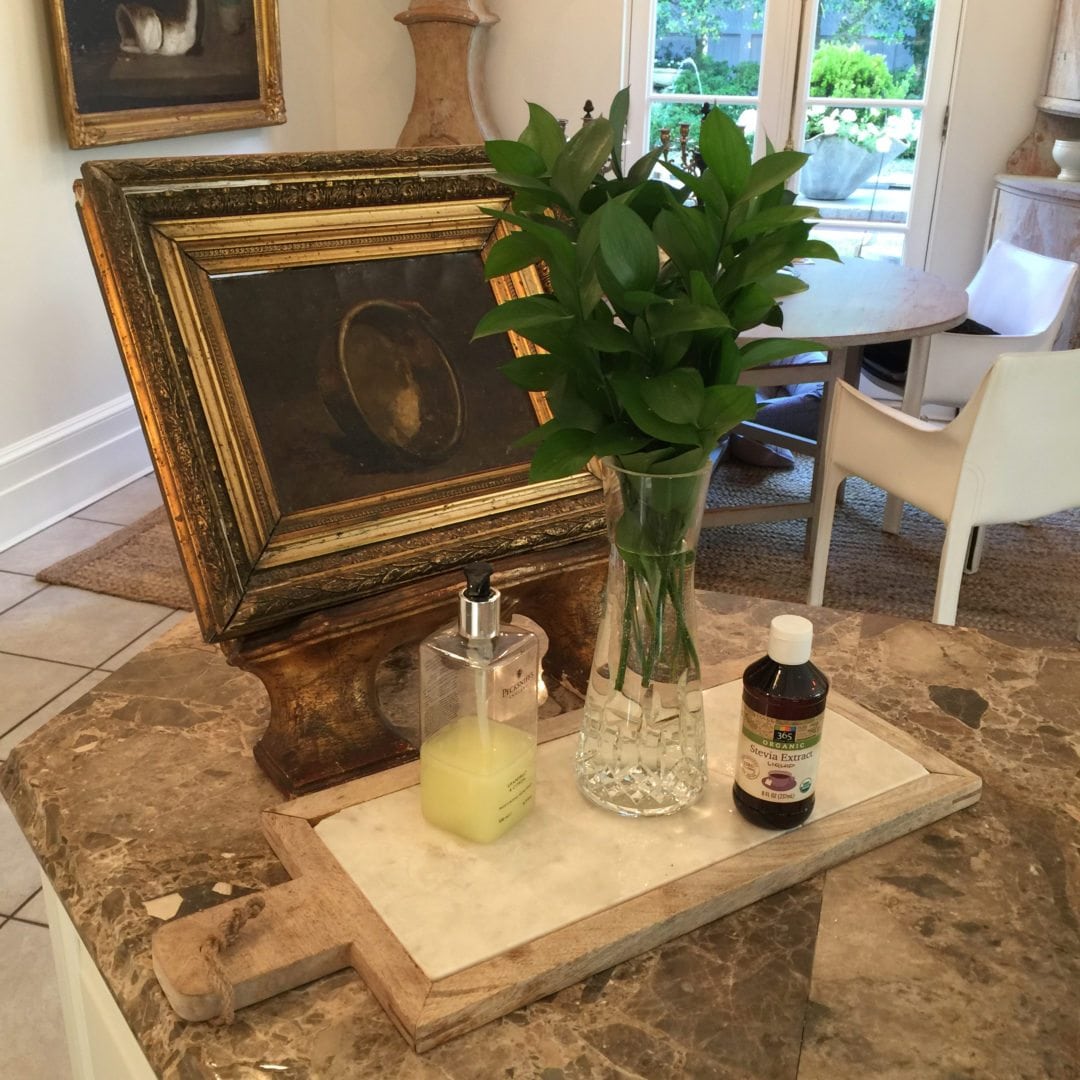 ON TARA'S KITCHEN COUNTER
BRENDA; You were the reason I subscribed to Veranda. 
TARA: Oh! That's so thrilling! I read it, and AD like the Bible… and I fell in love with Lisa Newsome (Editor-at-Large, Hearst Corporation, Founder & former Editor-in-Chief of Veranda Magazine). I couldn't believe they wanted to interview me. They showed up at my warehouse. It was a group of three women, and they said, "Would you mind if we saw your home?" Then they called me back and said, "We want to shoot your home and your warehouse," and then they called me a week later and said, "Would you mind being a Contributing Editor to Veranda?" To this day, I'm still a Contributing Editor. It was just miraculous! My home made the cover of Veranda in 2000, that was my second home here. I didn't see that coming, but it was very exciting.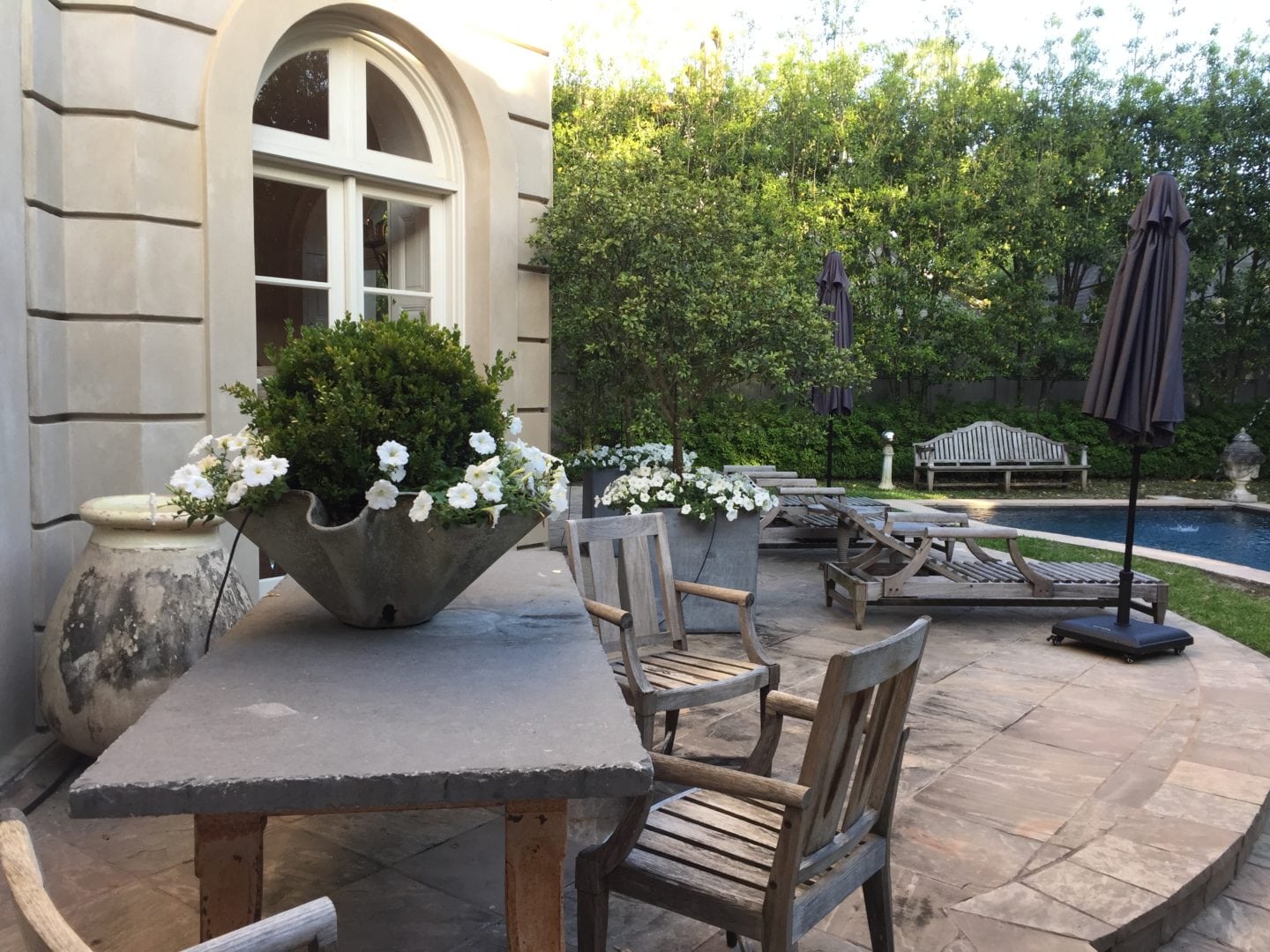 TARA'S BACKYARD. WHO WOULD HAVE THOUGHT GREENS AND GREYS COULD BE SO ELEGANT?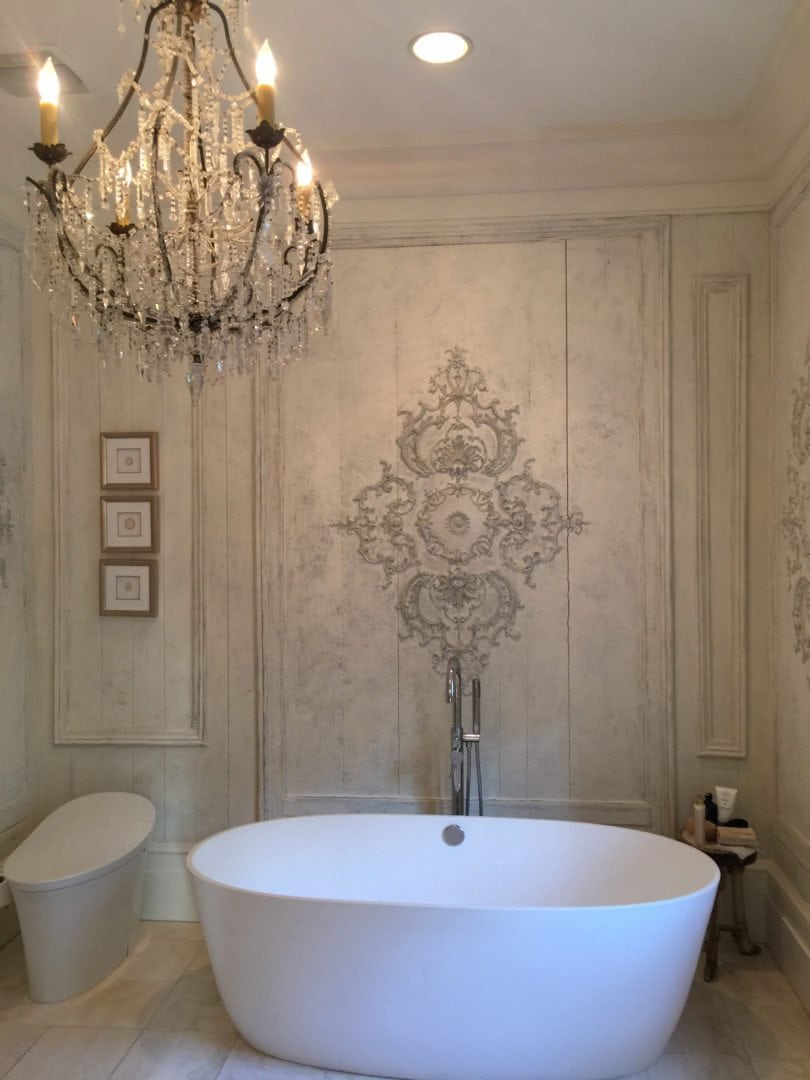 A PORTION OF TARA'S MASTERBATH
BRENDA: As you look ahead, what's the next door you'll walk through?
TARA: We've now started building a design staff and are doing Design by Distance. We always give the client the option if they want to work with me, or the design staff, slightly different price point, but I oversee everything that goes to the client. Because we do everything by CAD, we can work anywhere from here, but I marvel that people don't want to touch things anymore. They buy it online. I'm so grateful because it happens all day long. Of course they'll line up for an event, but the rest of it really moves via the internet.
I'll continue to go to Europe to provide unique pieces at wholesale pricing, so it's a balance. I've been heavily influenced by what I see in Europe. I take that home and incorporate it in our design projects. You can't give what you don't have. So all of that is in my databank, and that's what comes out.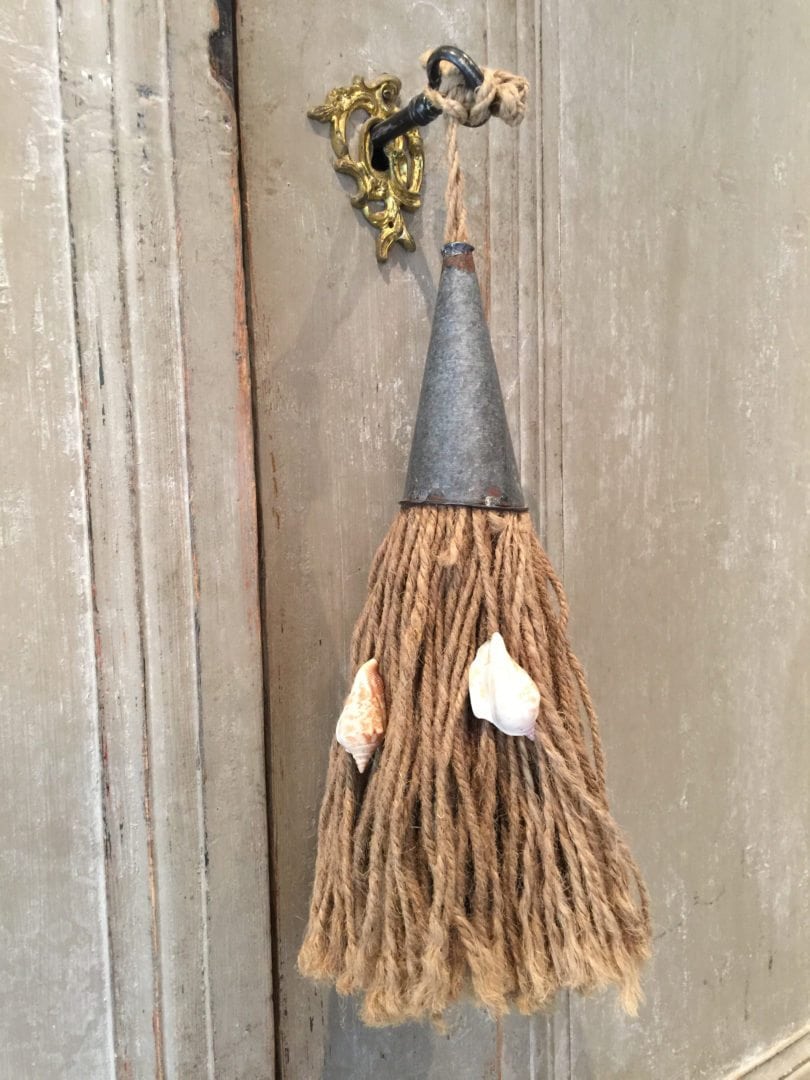 I feel the book will be key for us because unless you're familiar with Southern designers, you might not know who I am, but I think the book will possibly be great for national presence, especially since my agent has already outlined my book tour. I thought, Oh, heavens! I hope people will show up!
No matter what, we're always striving for authentic, Brenda. Like your bathrooms that you've made your own!