We had our first hard frost of the season on Saturday and there was a chill in the air all day. When the temperature drops, there is nothing better than coming home to a warm bowl of soup for dinner. Add some crusty bread, a great glass of wine and it's the perfect fall dinner for me. I don't need any other sides or dessert.
I wanted to share four of my family's favorite soup recipes. They are easy to make and always receive rave reviews. The full recipes are available on my blog by following the links below.
My Mother's Lebanese Lentil and Rice Soup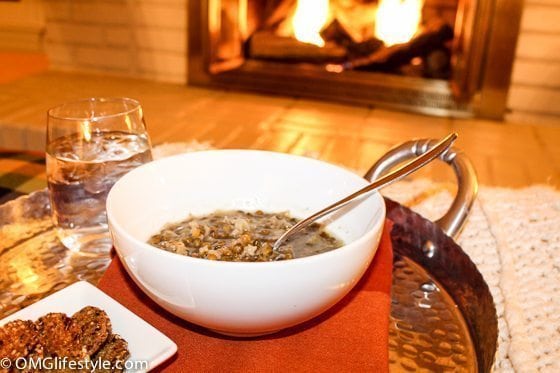 Lebanese Lentil & Rice Soup
I'm American of Lebanese descent and absolutely love Lebanese food. I have to laugh though because when I was growing up, most people had never heard of our food. Fast forward to today and you see hummus, tabooli, pita bread and so much more in every grocery store and many restaurants.
My Mom's Lebanese Lentil and Rice Soup has always been a favorite of mine since I was a child and I make it often. The key to the rich flavor is making sure you really brown the onions. I always add extra crushed red pepper to my portion.
The ingredients for this lentil soup are minimal and ones that I always have on hand. It's my go to meal when I don't want to go to the grocery store.
My Sister's Pasta Fagioli Recipe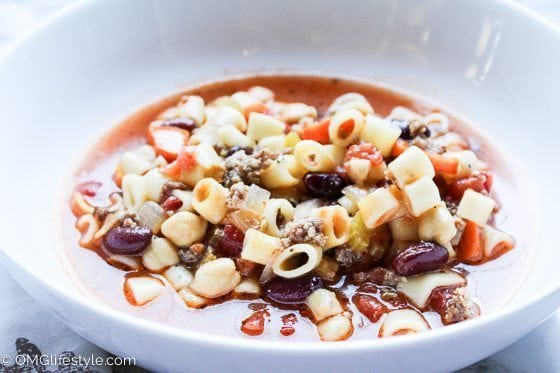 Pasta Fagioli
This Pasta Fagioli recipe is so easy to make and freezes well. It's best served with some grated parmesan cheese and if you like it spicy, some crushed red pepper. I make large batches of it and save the leftovers in individual glass containers for lunches. The soup is filled with vegetables, beans and small Ditalini pasta. Delish!
This soup is also my go-to recipe when I want to make something for friends in need. I also have a great tip on the blog for transporting a pot of soup in your car.
My Mother's Fish "Chowda"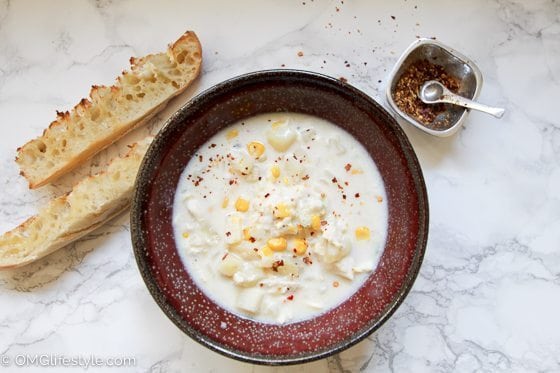 Boston Fish Chowda
My mother is from Boston and her famous Fish Chowder is another one of my favorite soups. It's easy to make with any mild white fish such haddock or halibut. She makes it without the corn but I like adding the corn for a heartier soup. Just writing about these soups makes my mouth water!
My Boston Harbor Clam Chowder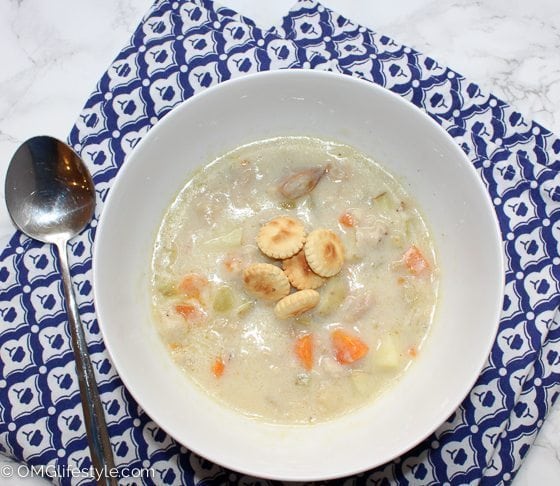 Boston Clam Chowder
I first had this Boston Clam Chowder at a friend's house years ago and have been making it ever since. It's made with canned clams and bottled clam juice, ingredients that you can easily find at your local grocery store. If you want it to be a bit healthier you can cut back on the butter and use 2% milk instead of heavy cream. It will still be delicious and rich!  Even though its a cream soup, it reheats nicely.
What are some of your favorite soups to make at home?