A great way to build a wardrobe is when you're buying new clothes, think about how you can mix and match with the clothes you already have. Imagine most of the pieces I'm showing you today with the same black top or pullover sweater, a great necklace and sandals, or boots, when the weather gets cooler.
I'm stepping outside of my neutral color palette. Would you believe I bought a taxicab yellow, leopard print skirt and a pair of coral pants?
Both of these pieces I was drawn to in a New York minute. If truth be told I bought a pair of taxicab, yellow, Isabel Marant pants three years ago, but I knew I'd feel conspicuous whenever I wore them, so I sent them back. I no longer feel that way because as I've been tweaking my style, I've gotten more comfortable being out of step with what those around me are wearing. And that's okay! 
We all have different taste and styles, and one isn't better or worse than another. Just different!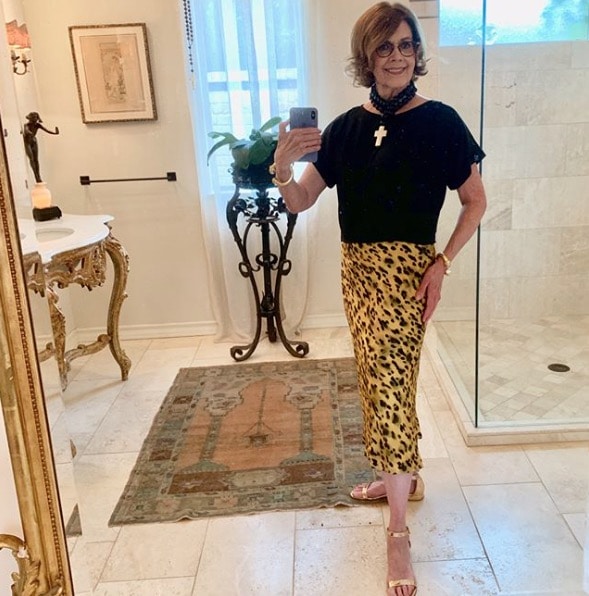 My Seek top, Jan Barboglio necklace, Julie Vos bracelet and Stuart Weitzman sandals are all old.
I love Anine (pronounced A-nina) Bing's pieces because she designs timeless styles that have a little rock 'n' roll. Like this Bar Silk Skirt in a shade she calls Golden Leo in a leopard print.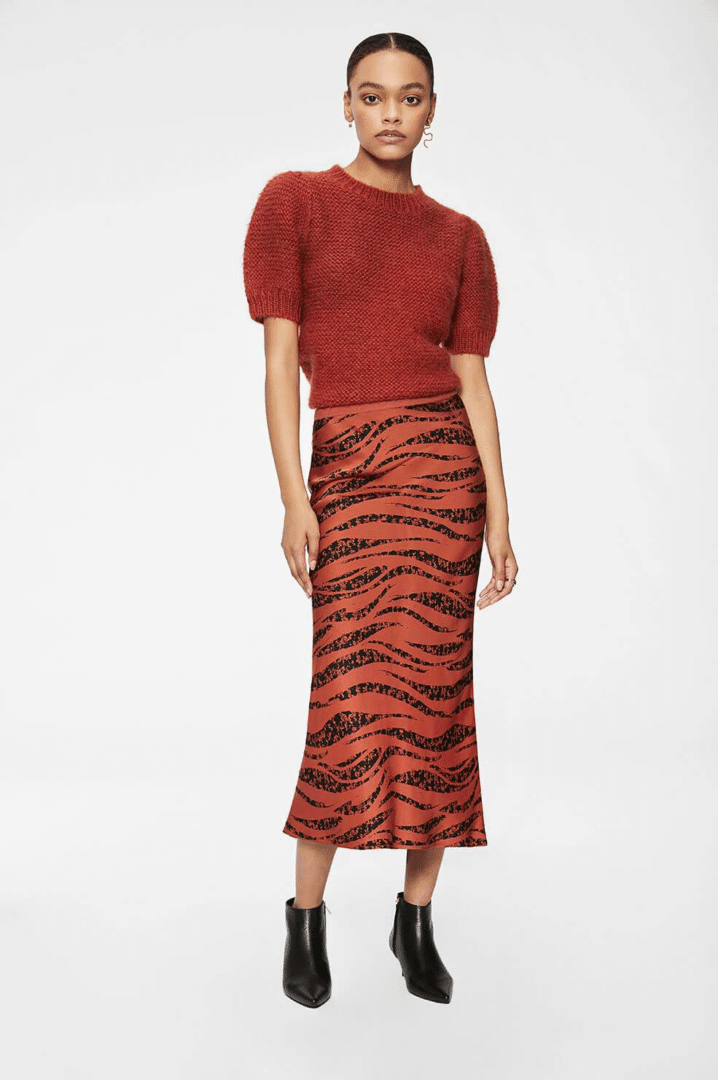 She also makes this skirt in a fabulous Rust Zebra and a Dusty Blue. The silk has a fabric backing that makes it heavier than most silks so it drapes beautifully when you walk and sit down. It feels like something Lana Turner would have worn in a 1940's film noire. It has a slight flair at the bottom and an elastic waist. If you're worried about showing off your backside and thighs, pair either skirt with a long black sweater and wear it with ankle boots. A very cool look for grownup women. FYI my skirt is a Large, which Anine Bing translate into an 8-10.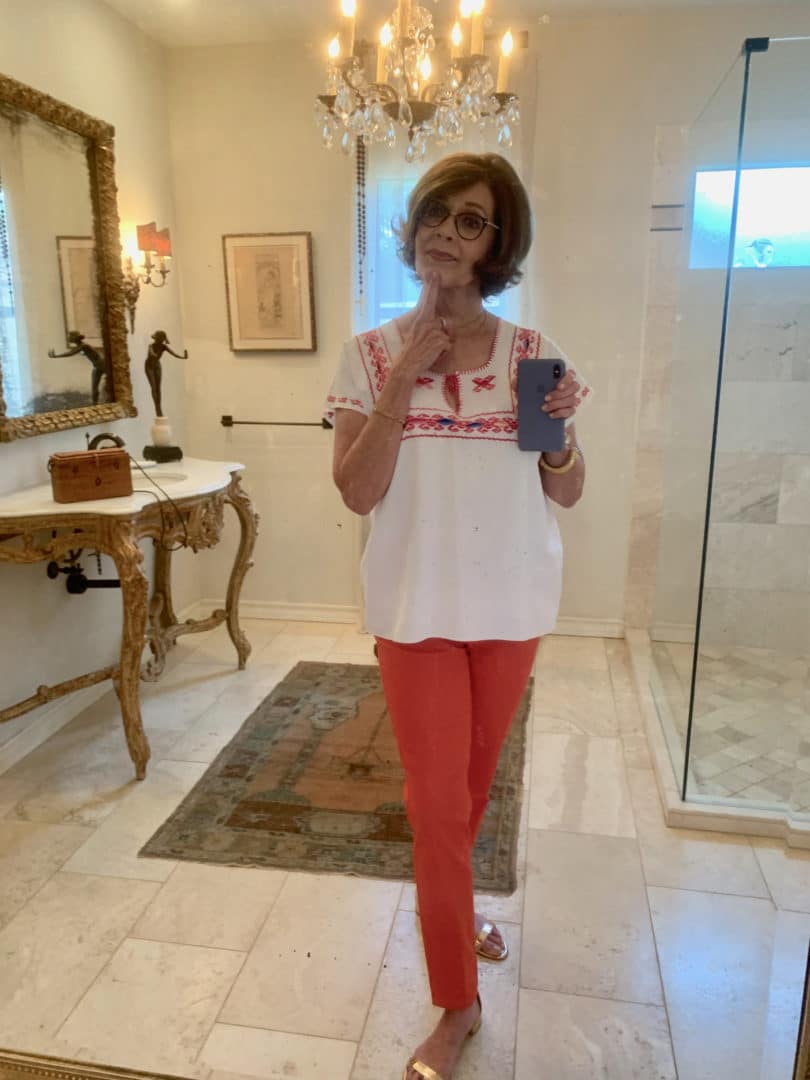 I paired these Layfaette 148, "Mercer," Dusty Peach pants (with five-point jeans back pockets and an Italian stretch cotton/nylon/spandex machine washable fabric) with a Mexican top I've had for over 30 years. When I lived in blue jeans I would wear this top, but now I like it better with the Mercer pants, because the cut is much more flattering on me than blue jeans!! The Mercer is a true mid-rise and it hits at the ankle and is cut for a woman's body. Again I'm going to use the word "drape." The Mercer style pants drape over my body better than blue jeans. The "more flattering" revelation reminds me of a conversation I had with Sandy Linter.
"I still wear jeans, but they don't look the way they did 20 years ago. I don't look well with casual unless I really think about the outfit," Sandy said. "I'd rather look a little more pulled together."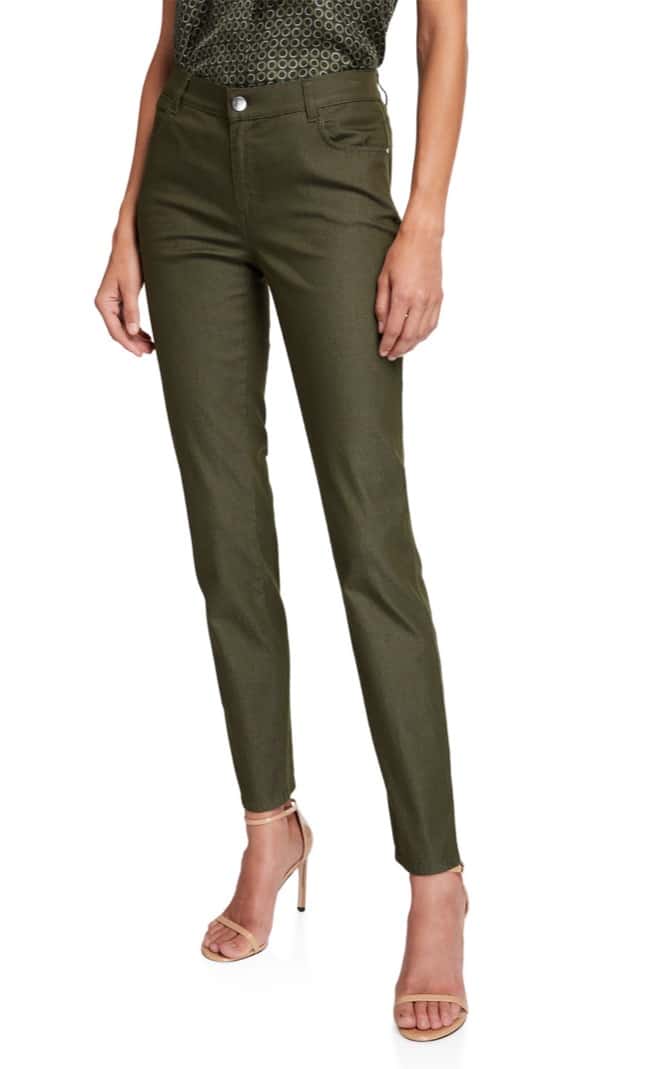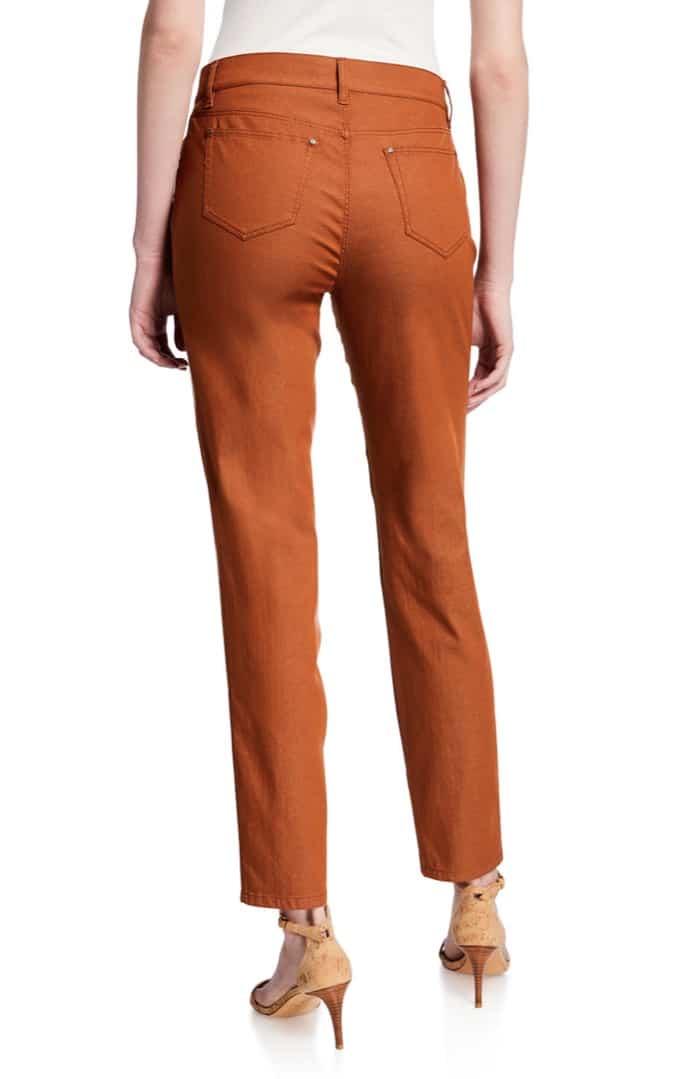 The Mercer pants are more expensive than blue jeans, but I think they'll look better on most women than jeans, plus you'll have them for years, so the cost per wear makes them reasonable. Lafayette 148 is out of the Dusty Peach color, but they have a Spice and a Sycamore Green… like a dark olive… which I'm ordering in a size 12. For a size reference, I'm 5'7" tall and about 148 pounds.
Are you tweaking your style and having fun with fashion as you get older?