Before the holidays a reader sent me a message: "I went to see Stevie Nicks last night and I was so surprised at how frumpy all the women (in the audience) looked, and I wondered how I looked. I don't want to be 16 again, but I want to shake up my "look." I don't need to look like Stevie Nicks, but I would like to look less… old. Do you have any suggestions?"
My answer to her got me thinking about this post. Here are 10 things all women over 50 should think about.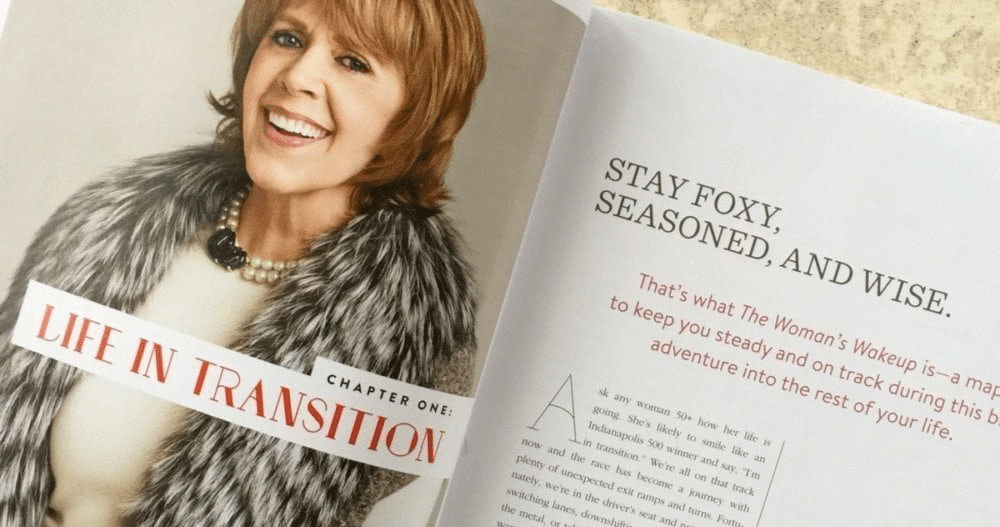 I was honored to be featured in my own clothes in Lois Joy Johnson's book, "The Woman's Wakeup, How to Shake Up Your Looks, Life and Love After 50."
Let's start with how we look even if we're a work in progress with our weight, hair, etc. My friend, Lois Joy Johnson, founding editor of MORE magazine says, "The best you is the real you in its healthiest state, whatever size you wear." FYI a size 14 is the "average" size for a woman today.
Many women over 50 don't know how to update their look so they do nothing or resort to dressing like their mothers… or daughters. If you find yourself in this situation you might pay a visit to a store like Macy's, Nordstrom's or Chico's and ask a mature sales associate to give you some ideas about updating your style.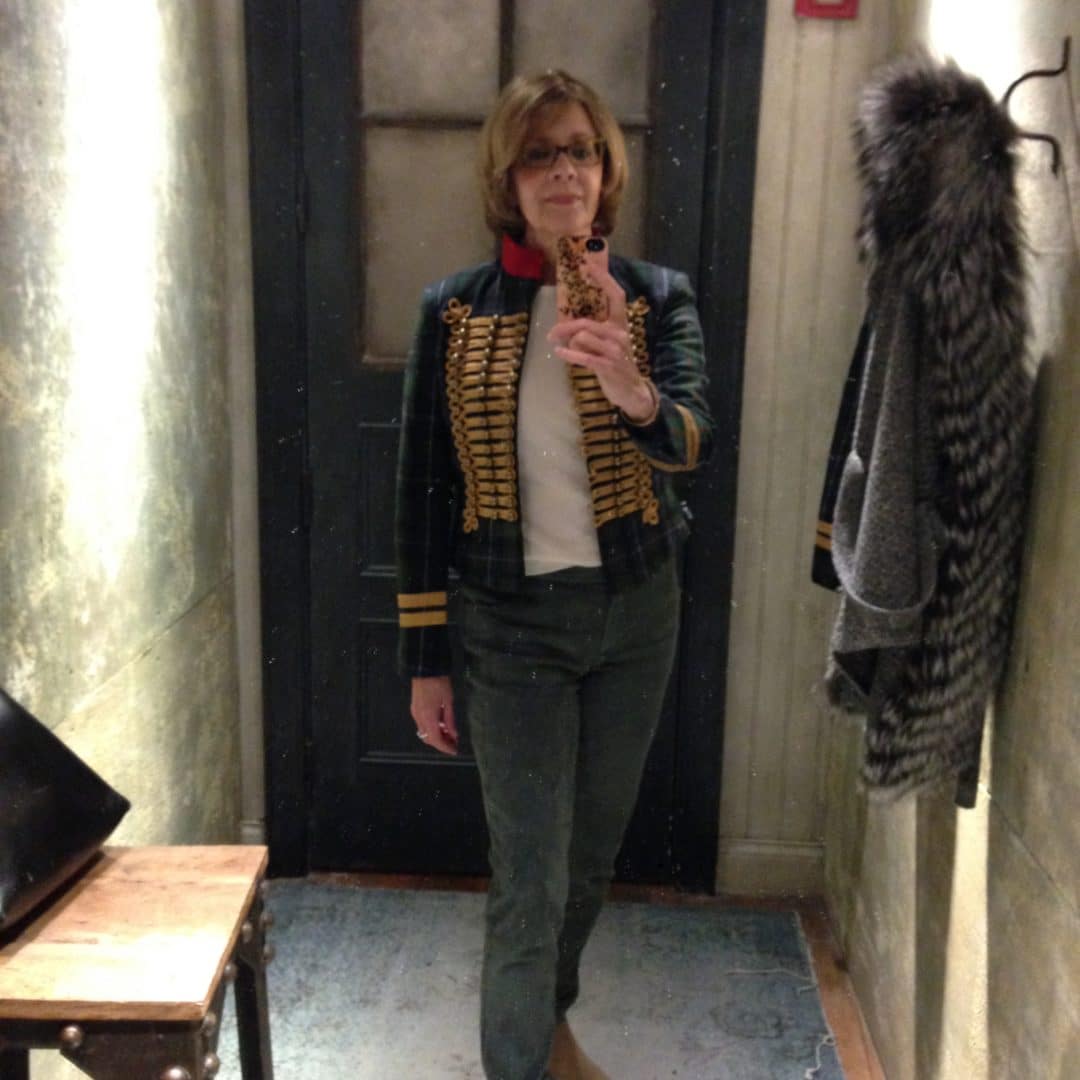 It was a dark rainy night in NYC and I was playing dressup! The jacket looks like something Michael Jackson would have worn, but I was experimenting with new looks and wanted to see how it looked like on me. I was having fun! I have a tendency to be a bit flashy, but even this was too much for me although the suede pants and the fox sweater, hanging on the hook are mine.
Don't wear baggy clothes. Some women think bigger clothes hide their weight, but it does just the opposite. It makes us look bigger. Besides plus size is in, girlfriends, so don't be afraid to wear belts and tuck in your shirts. Look put together, not like you just threw something on and you're trying to hide your shape.
Undergarments are key. Wear shape wear! It covers a multitude of sins regardless of your weight. Get yourself some panties with little rubber strips on the inside that hugs your butt. They'll keep you from jiggling, and they'll give you an invisible panty line under your clothes.
Add something trendy to your wardrobe like ankle boots with low heels, a leopard print scarf or a pair of leopard print flats or slip-ons in animal print or a color like silver or blush.
Buy a statement necklace or two, some earrings and a bracelet. They don't have to be expensive or dangly, but they do have to make you feel good about yourself… even when grocery shopping.

 
How many of you know someone who's had the same hairdo since high school?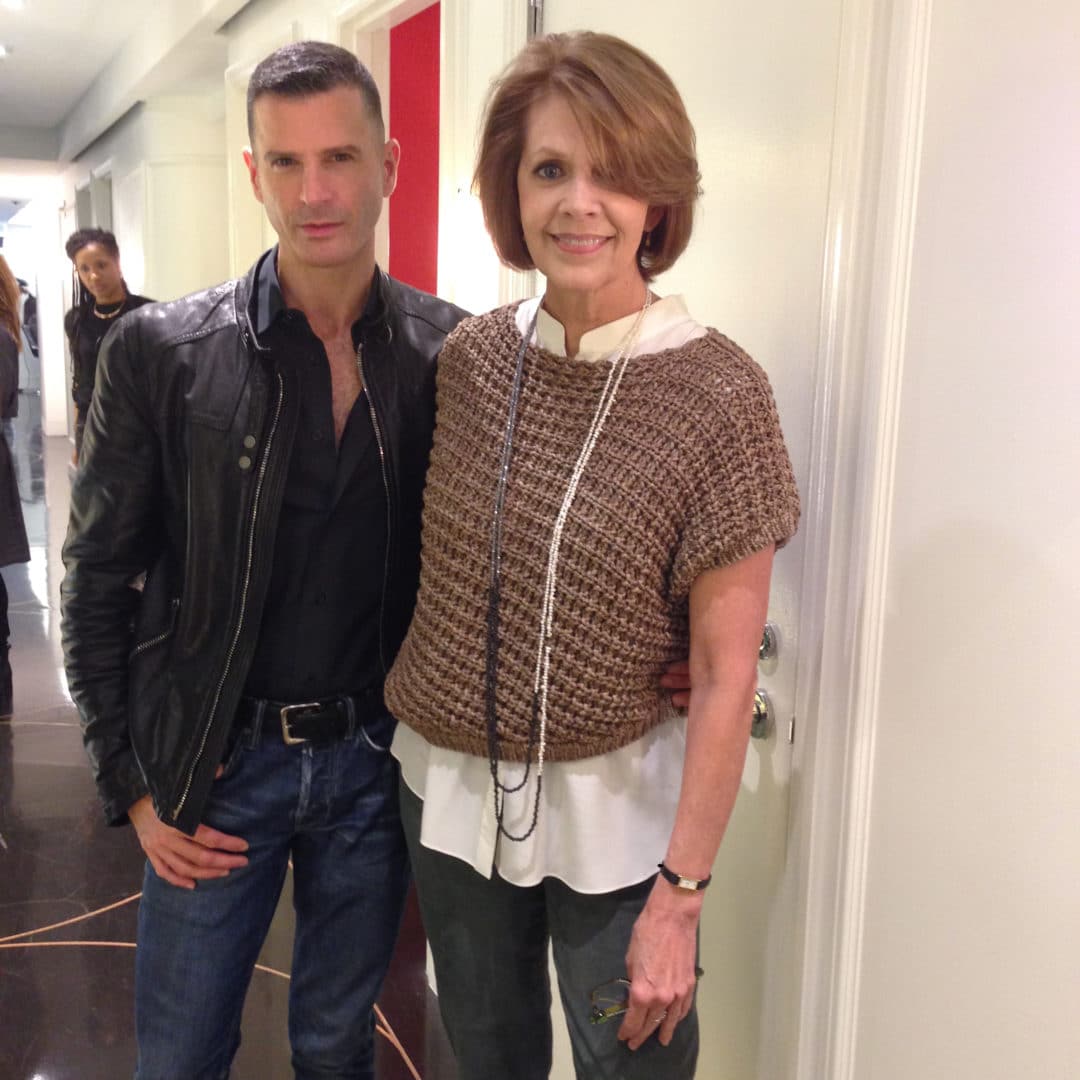 Me and Juan Carlos Maciques, celebrity stylist, 2014. I love this man!!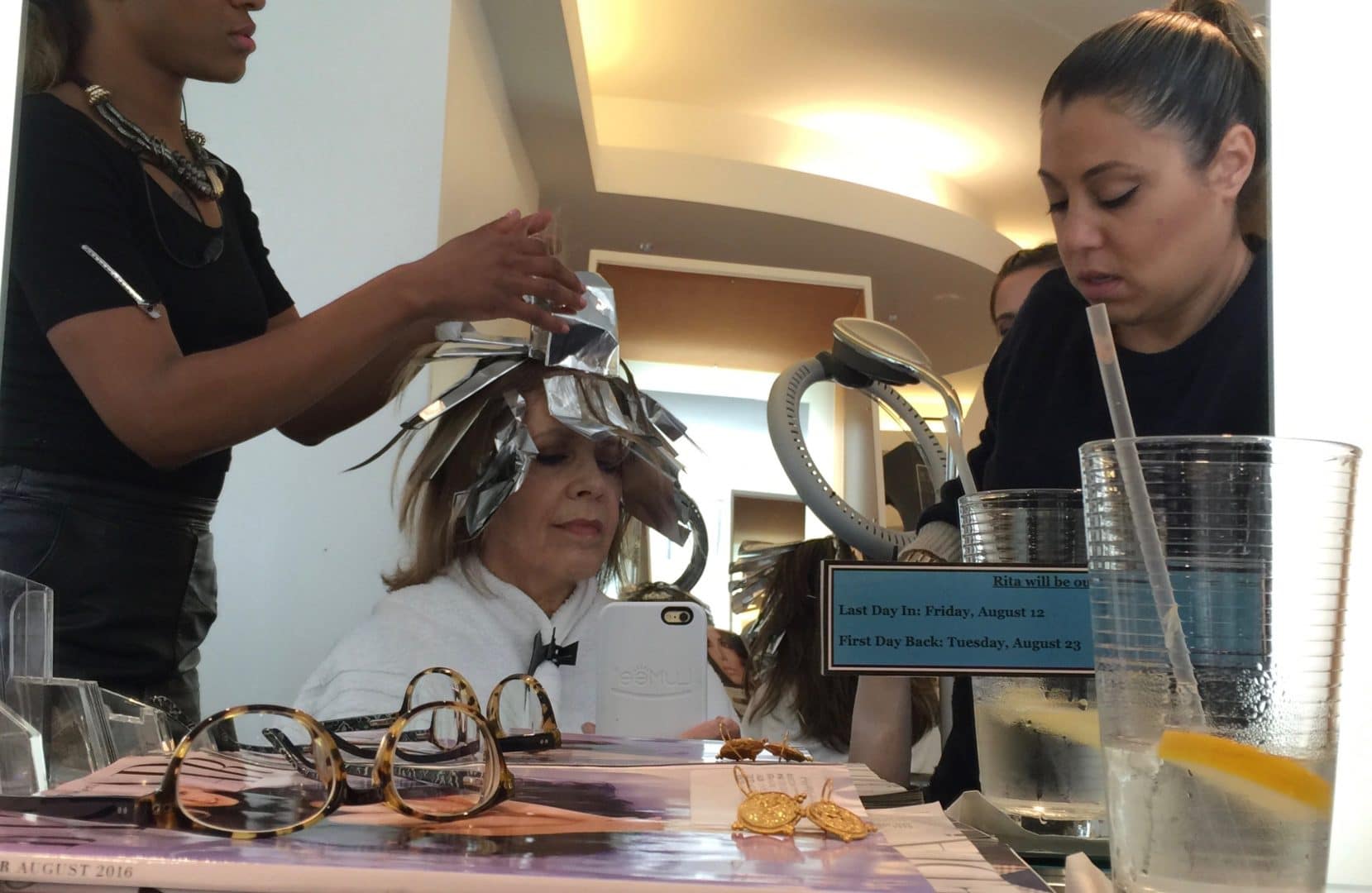 Rita Hazan doing my color. NYC, 2016. At least once in your life treat yourself to a haircut and color by "the best." Yes… You're going to gulp when you see your credit card bill, but it will give you a template to follow. So worth it! 
Get a great haircut for your face shape and get regular trims and a hair color that flatters your eyes and skin tone. As they age a lot of women go too light with hair color which makes them look washed out and older… especially if they don't wear makeup. Use conditioner and keep your roots done!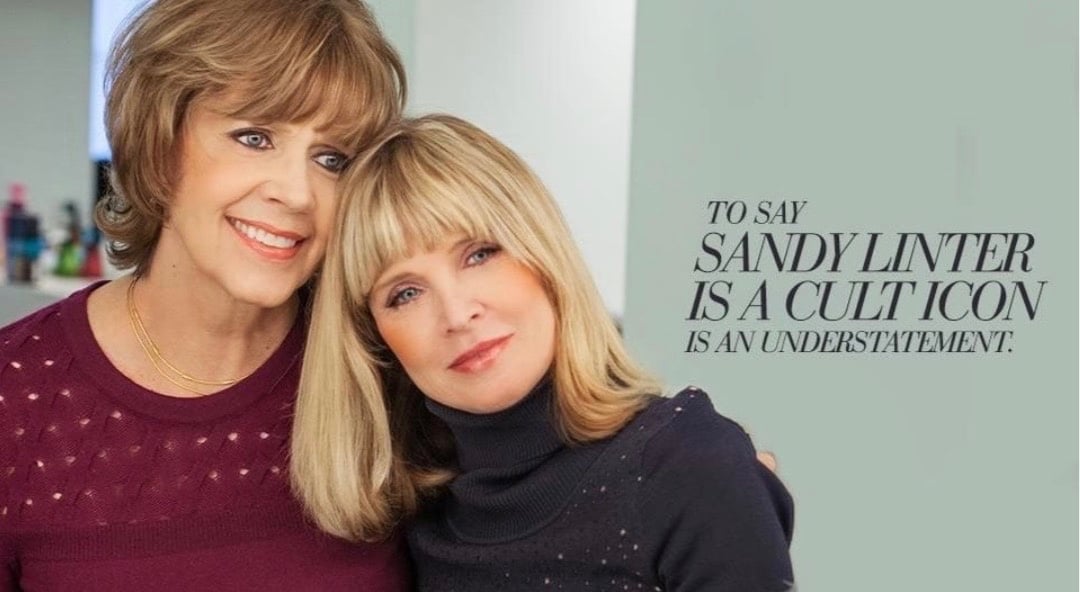 Me and Sandy, 2014. She did my makeup that day. Always so great to catchup with her! Photograph by Jennifer Denton.
Wear makeup. Another friend, iconic makeup artist, Sandy Linter, says a lot of women think they look better with less makeup as they age when in fact… It's just the opposite! Without makeup we look older and like we've quit trying. More than ever our eyes and brows need defining, especially if we wear glasses. Add some soft color to the eyelids, a soft line of eyeliner at the roots, some mascara and a blush and lip color in the same color family that complements your skin tone. If you need help stop at a Bobbi Brown makeup counter for a free tutorial and color suggestions. I'm recommending Bobbie Brown because her palettes are soft earth colors that look great on everyone, and her pigments are rich enough not to fade as the day goes on.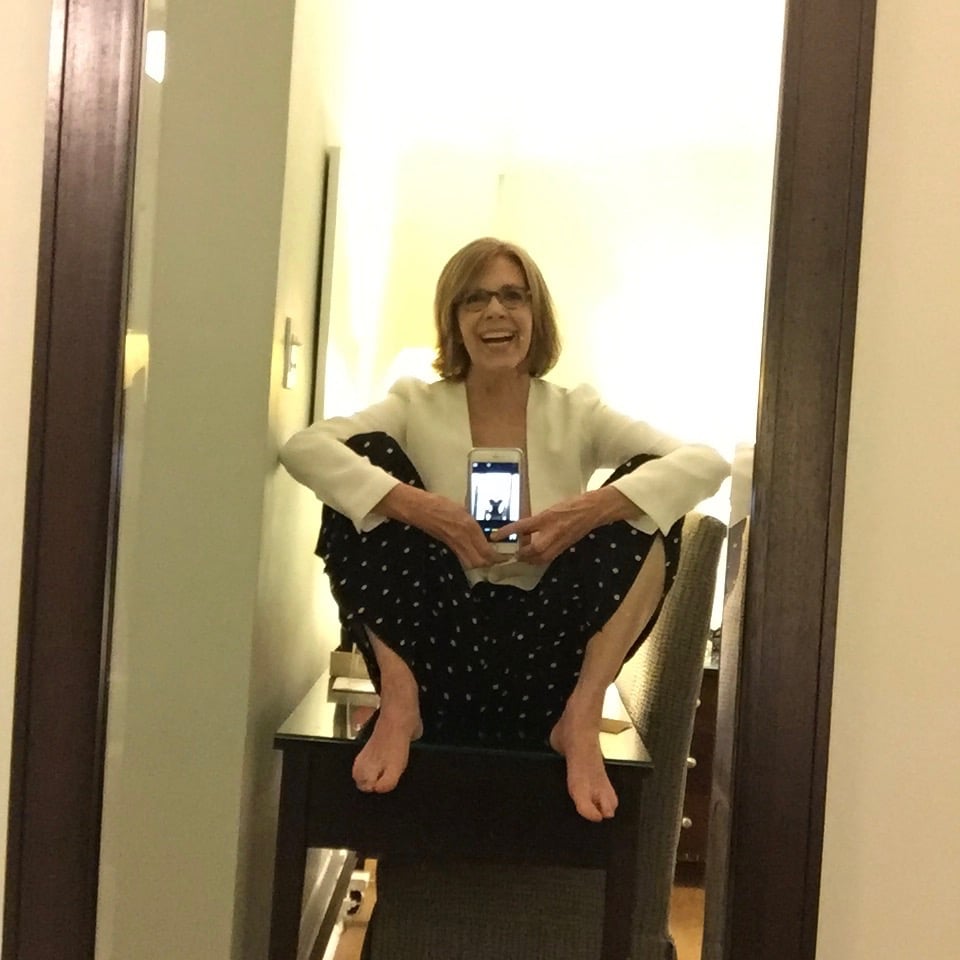 A selfie in my NYC hotel room after a Rita Hazan color and a Juan Carlos Maciques haircut. I'm feeling happy and confident!
Update your glasses frames. Glasses are the one thing we wear every day. They play a major role in defining how we look. Don't buy cheapies online because you don't know how they'll look on you. Instead find a good eyeglass shop near you and get fitted by a professional who will help you decide what's best for your coloring and face shape. When we talk about "investment dressing," glasses should be the first thing we buy.
Stop putting yourself last. Most of us are long overdue to spend time on ourselves whether it's a yoga class or some regular form of exercise or how we put ourselves together on a daily basis.
It's time to start taking care of ourselves and how we look. No more "throwing any old thing on," and if you say you don't have time…
I think you've gotten lazy!
We don't have to look like Stevie Nicks, but let's take pride in how we look! It's okay to wear leather pants… or not. It's not okay to look frumpy! We are what we eat, who we associate with and how we take care of ourselves.