My recent FASHIONABLE ITALIAN WOMEN OVER 50 post struck a chord with many of you. From the emails, comments on social media and the blog post, women over 50 want to look classier, like the women of Florence, but tweaked in for our more casual lifestyle. Women are also frustrated because fashion designers don't design with us in mind, especially since we're the ones with the money.
As one wise reader said, "American women need to have a fashion Renaissance."
Don't despair! There are lots of stylish clothes available for women over 50. The trick is to know (a) your style, (b) how to achieve that style, (c) where to shop and (d) when to use trendier pieces.
If you look at the Florentine women in my last post, they have a classic, elegant style. They also know how to incorporate trends. They look like grownup, elegant women, not like they're trying to hang onto their youth. There's a huge difference. We can be stylish and trendy without… as my first husband said, "looking like women who're cramming for their finals." By adopting a more classic style, the Italian women over 50 blow the young un's out of the water.
Another difference is the women of Florence buy fewer clothes than American women, but they buy the best quality they can afford. They follow my mother's tried and true advice of "buying one nice piece in the fall and one in the spring and building your wardrobe around them." If you buy classic pieces of quality, you'll have them for years. It also helps to stay in the same color palette, preferably colors like different shades of black, white, tan, grey, navy.
Classics are not matronly. They're timeless. They're simple. They give us the well-dressed look many of us are craving. Style is how we pair our classic pieces with the other things in our closet plus some of the season's trendy "must haves."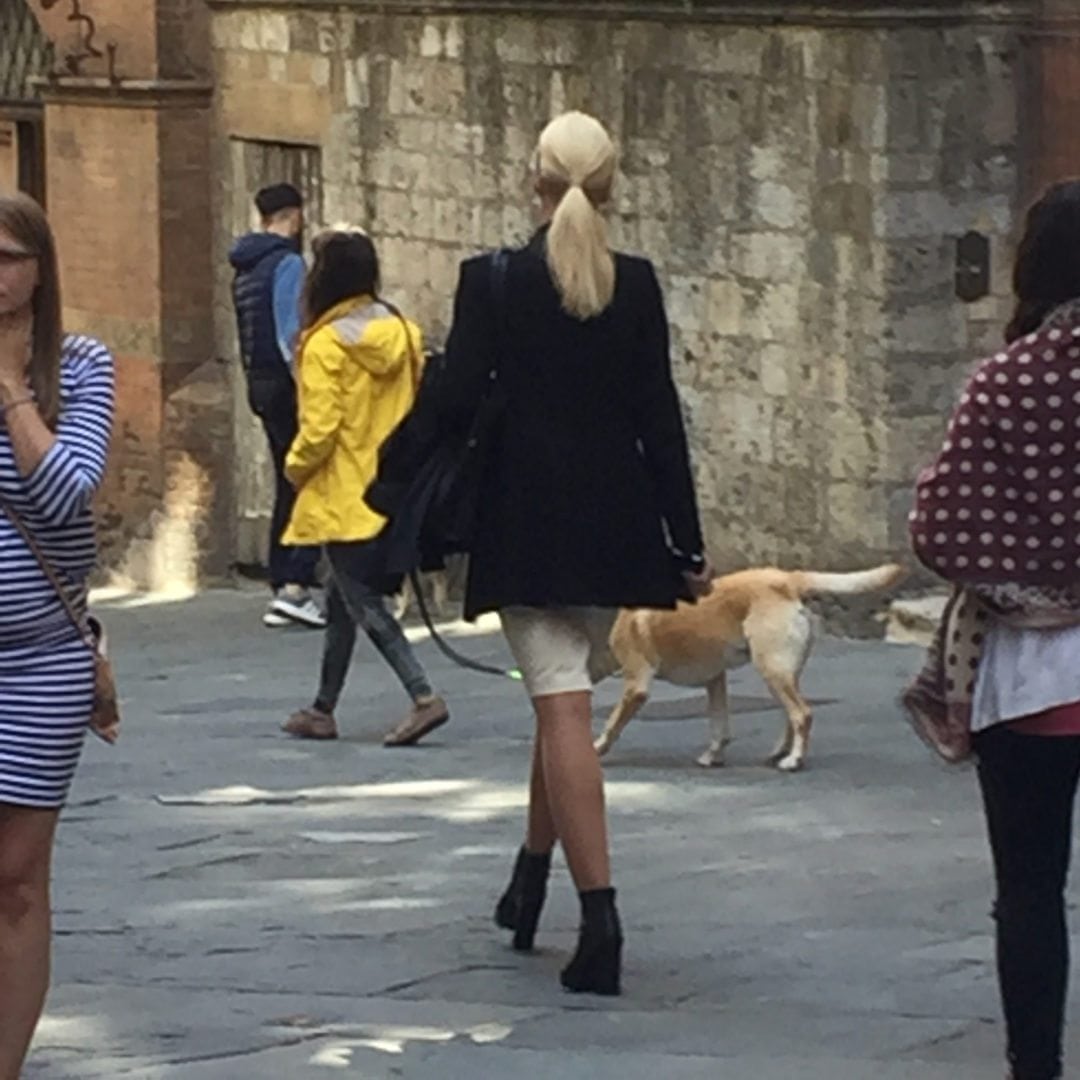 I love this 50+ woman in Siena, Italy. Notice her long classic blazer, nipped in at the waist and the right length at her wrist. FYI she was wearing nearly nude colored, fishnet panty hose!
TIPS TO BE FASHIONABLE OVER 50
Don't dress like your daughter. We can be fashionable and stylish without shopping at Forever 21. Regardless of the trends, choose clothes that make you look like your style icon.
Spend your money on classic pieces, not things that will be out of style next year.
Wear solid colors and remember, "Two colors rich. Three colors poor." Too many colors can cheapen a look. Choose neutrals. It's easier to pair them with one another.
Unless it's a touch of leopard, think twice about prints. If you notice a really well-dressed European woman, she's rarely wearing prints unless she's going for a Bohemian look and even then, it's classy, not "Coachella."
Save bold color and trendy items for belts, bags, shoes, scarves and sunglasses.
Pants and jeans. Rethink cropped pants, frayed hems, torn knees and super skinny pants or leggings… unless you wear them with a long blouse, blazer or sweater that covers your behind, cameltoe and perhaps the top of your thighs. Few of us have figures worthy of showcasing these areas.
Blouses, sweaters and blazers. Classic, simple. Less is more. Accentuate with jewelry.
Wear clothes that fit your body. If you're overweight, wearing a larger size doesn't hide your weight. It makes you look even heavier.
Tailoring. Nothing looks worse than a blazer or jacket with no shape—doesn't show your waist, is too boxy—or that's too short or too long in the wrists, or pants that are too short or too long. If you don't know a tailor, ask around. Your dry cleaner may offer that service. It's less expensive than you think.
Don't forget to do your hair and wear a little makeup! Take pride in how you look.
This is not to say you can't wear a pair of black leather pants—don't even try to take mine away from me—but pair them with a a crisp white blouse… collar turned up… or a classic neutral sweater or maybe a sharp blazer thrown over your shoulders and a leopard clutch. Just don't mix too many "looks" at once like leather AND velvet AND fur AND tall boots AND leopard.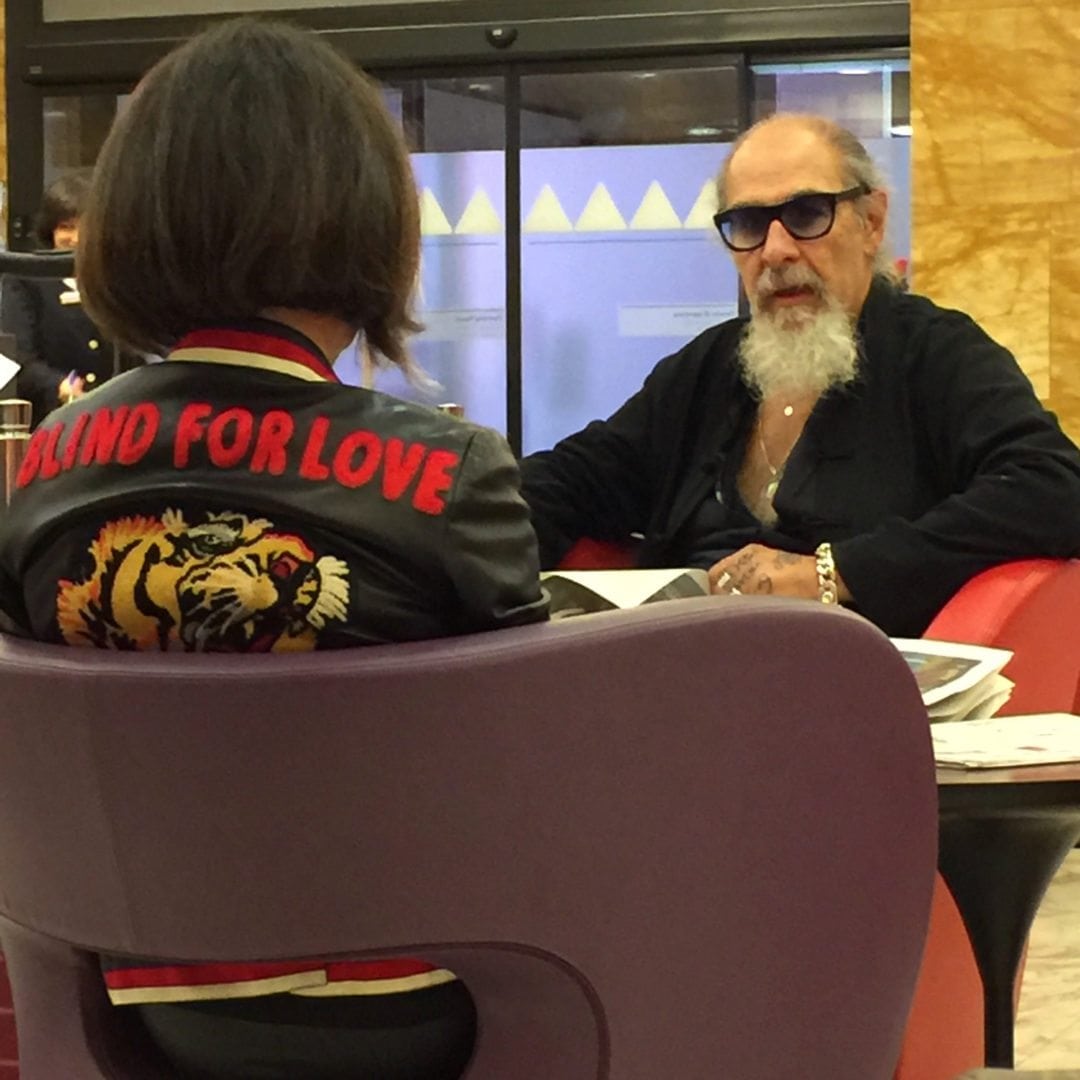 When I posted this 50+ Italian woman on Instagram, everyone–but me–knew it was the $5,400 leather Gucci jacket embroidered with a tiger and "Blind For Love." While I would have worn this 10 years ago, it no longer suits me. This woman wore it with black leather pants, black boots and red glasses. On the plus side, the cut of the jacket was well-tailored, tucked in at the waist with sharp red and white piping. Some of us can wear this, and some of us can't. Period! It has nothing to do with "age appropriate." If you want to see a woman over 50 who pulls off rocker chic with ease, look at Lauren Ezersky… one of my style icons. But then Lauren has the silver hair–great, thick hair–and the eye makeup and jewelry to make it work. In other words, her clothes don't "wear her."
In future posts, I'll zero in on specific ways to dress for all occasions, regardless of size and budget, plus I'll share how to shop online and some brands and stores where you can find clothes that make you look and feel your best. Ciao Bellas!