Darlings, I've officially waved goodbye and said "good riddance" to the cold weather and welcomed—with a toast of chardonnay—the arrival of spring. Oh the places to go and the things to do! I've packed up my heavy dark knits and down coats, and I'm ready to take a light, bright approach to spring.
When I took a good look at my spring and summer wardrobe, it occurred to me I didn't have any utilitarian items I was excited about. Sure I had plenty of "lunch at an outdoor cafe" and "weekend at the coast" ensembles, but what I needed were pieces that made me feel put together for a trip to the farmer's market or the garden shop. 
I want classic wardrobe staples that work year after year.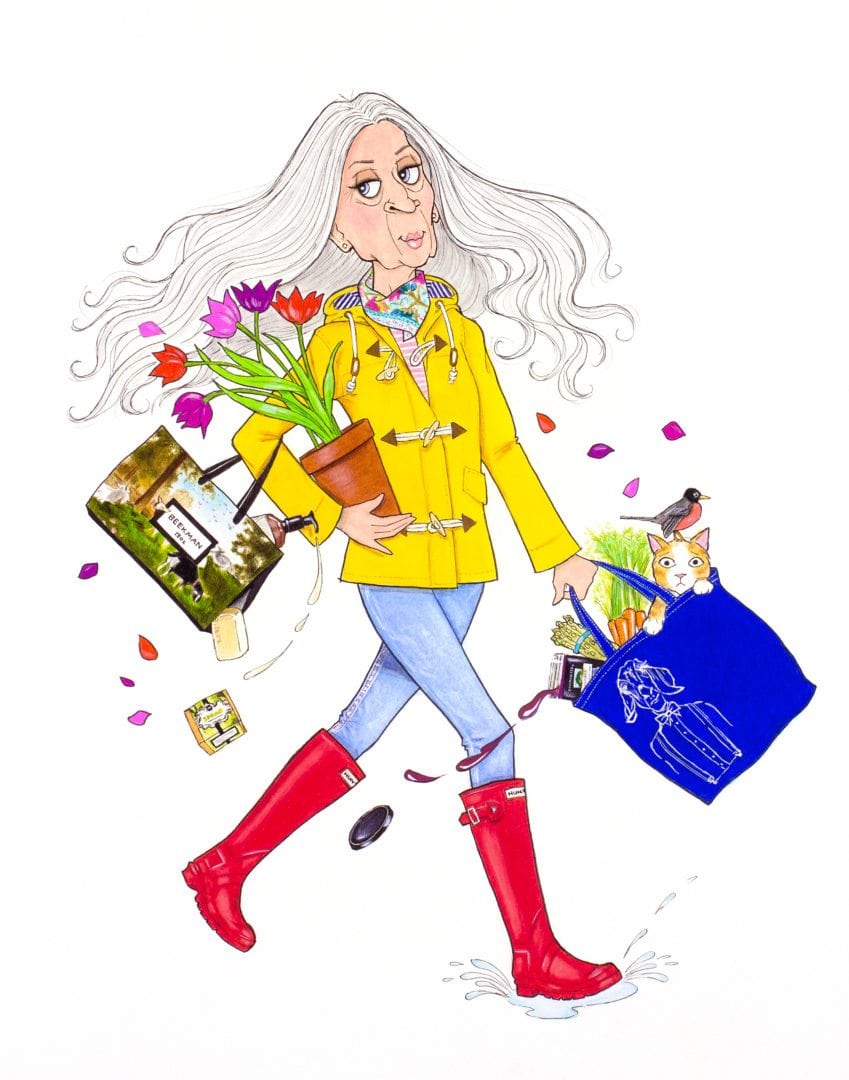 When I spied this cute toggle coat by Boden, I was inspired by the bright yellow raincoats I loved as a little girl. It's so fun and bright and I adore the striped jersey lining. Fully waterproof, the Whitby jacket is a classic you can pull out year after year.
After wearing dark denim and black jeans over the winter, I wanted a lighter wash denim for spring. Another fabulous pick from Boden were these cropped Salisbury side split jeans. With a versatile mid-vintage color, these jeans have worn-in detailing and a split at the hem. The bonus is they sit right at your waist for extra comfort.
If you don't already own a pair of tall rubber boots then by all means… Do yourself a favor and get a pair! These iconic, Hunter Original Tall Rain Boots are a favorite among fashion bloggers and Instagram fashionistas. They're available in a fabulous array of colors. After owning a pair you'll wonder what you ever did without them!
When you're running around town doing errands, who needs fussy jewelry? Instead opt for a bandana as a statement piece and add a pop of color to your look. The Springworthy bandana from Anthropologie has a delightful floral motif that will spruce up any spring ensemble.
Darlings, if you haven't heard of Beekman 1802, then it's high time you did! One of the fastest growing lifestyle brands in the U.S., the Beekman 1802 mercantile features artisanal goods from goat milk beauty products to jams and jellies. With it's charming hand-drawn, dapper goat, the Beekman Gentleman Goat Tote in denim, is the perfect carryall for all your springtime needs

So my Fashionable Friends, put a little spring in your step the next time you have some everyday errands to do. Think retro, think classic, and don't forget to splash in a few puddles along the way!
Cheers Loves!
XOXO, Hildie