I confess; I love clothes. I love to shop for clothes, and look at clothes, and pictures of clothes. I love to dream up different ways to wear the clothes I already own, or find ways to update a dress or a suit I've had in my closet for years. Sometimes I shop for one new piece, a tee shirt, a scarf, or something that will transform an old outfit I love, but which is starting to look dated, into one that is modern and current. But to do that I need inspiration.
It's easy in this visual world of ours to find inspiration that costs nothing: on blogs, or Pinterest boards, or on websites which sell designer fashion. 
Netaporter.com and MatchesFashion.com have wonderful editorial layouts which give me all kinds of ideas. I haunt these sites, especially when I'm on my exercise bike. My husband built me a lectern which fits over the handle bars of my exercise bike, and which holds a book, my iPad and a couple of magazines. I pedal and peruse the pictures. Hubby calls it my "research." But as much as I love my on-line "research" sources, print sources are my favorite. And even better than fashion magazines, are those little "look books" which various designer brands publish.
Especially brands whose signature look appeals to me. Like Fabiana Filippi. I can't afford to buy her clothes, but I love the look of the brand. Casual. Simple. Not fussy. Offhandedly chic, kind of louche, actually.
My friend, Liz, is a personal shopper at Nordstrom, and before that at Holt Renfrew, a luxury department store here in Canada. For years she's been giving me look books for brands I love. Quite literally, she's giving me the gift of inspiration. Because with inspiration, I can spin what I already own into new looks, updated looks, without spending a cent.
Like the other day, when I met Liz for coffee, she handed me a copy of the Fabiana Filippi Spring 2018 look book. "Ooooh," I gushed. "I could so do that pin-striped suit look with my old Max Mara navy suit, the one with the wide-leg pants and the one-button jacket. Don't you think?"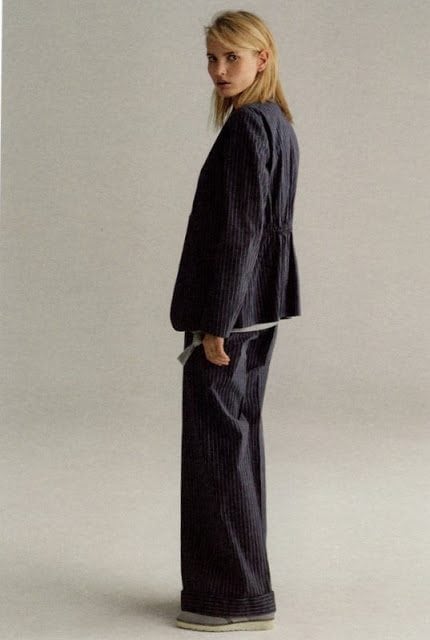 So this morning I hauled out of my closet my old Max Mara suit, old as in I bought it in 2002. Max Mara is classic. Even though I eschewed wide-leg pants and jackets with strong shoulders for years, I couldn't bear to part with it. And it's doing yeoman service, again.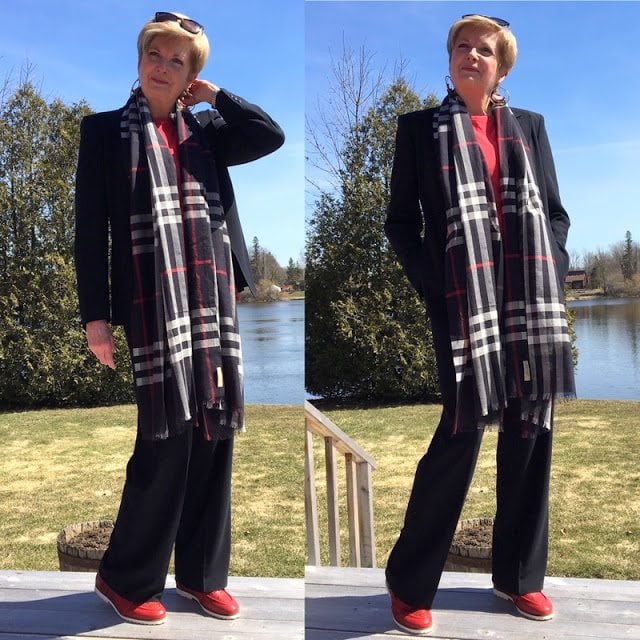 I'm pleased with my riff on the Fabiana Fillippi look. My pants aren't as roomy, my suit isn't pin-striped, nor is my outfit mono-chromatic. But the red Gap tee works with my Earth brand loafers, and as a nod to the pinstripes, I threw on this navy, white and red Burberry scarf.
Not a new outfit. Just an inspired new combination. A gift from my friend Liz. And Fabiana Fillippi. Kind of.
SaveSave