Recently I watched To Kill a Mockingbird on Turner Classic Movies. I loved the opening scene that shows us Jem's cigar box of found treasures: There are two soap dolls, a skeleton key, some cat's eye marbles, an old pocket watch, some crayons and a handful of coins. His box made me think about some of the things that were important to me when I was a kid.
It also made me wonder what precious treasures I'd put in my box now?
My childhood cigar box would've contained a bottle of bubbles and a wand, my tiny Roy Roger's pistol, a woven Chinese finger trap—it literally held me hostage somewhere between stark terror and absolute delight—a strand of pink and white pop beads and a Nancy Drew mystery. Then there were the things that were too big to fit in the box: my turquoise hula hoop (I was the undefeated neighborhood champ) and a jar of peanut butter. I was never without my peanut butter although now I always have a jar of almond butter. Perhaps I have a protein deficiency.
If you're like me, as an adult, maybe you've wondered, "If there's a fire, and I have to leave the house in a hurry, what would I grab?" I've always thought I would take my computer, but now, everything's backed up on the Cloud. It makes it easy to start over if mine is destroyed. Instead, I'd probably take a small box of tangible things to remind me of what's happened since I left my childhood backyard. It would include: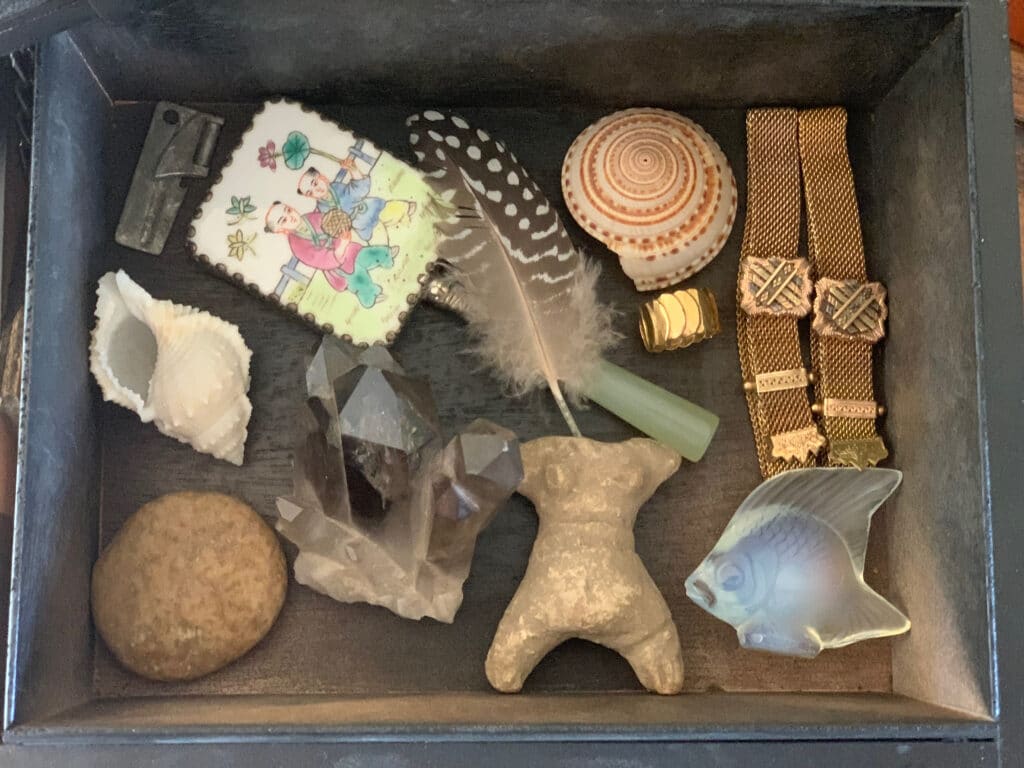 • My grandmother's woven gold bracelets, a gift from her new husband on their wedding day. My grandmother (my father's mother) was the one person I could always count on.
• A picture of James at a friend's ranch. I remember a comment he made to me that day about a woman who was there with her wealthy new husband from Mexico. "It was love at first peso." I still laugh about his perceptive remark.
• Feathers and skipping stones from the ranch James and I loved. I found them at the exact place where he died. He collected both.
• A small Lalique fish my friends Chuck and Joan gave me one Christmas. They are so dear, and their gift means everything to me.
• The P-38 pocket can opener the Army uses to open food rations in the field. It came in my MRE (Meals Ready-to-Eat) box when I was at Fort Hood as the first journalist to drive and fire the M-1 tank. What a blast!
• Seashells I found scuba diving—reminders of the early days of my first marriage to Philip. Before the fairytale turned into a nightmare.
• A white crocheted angel a stranger on an airplane made and gave to me when I told her I'd finished chemotherapy. She said this little angel would watch over me. What a sweet and loving gesture toward someone she didn't know.
• Truncated smoky quartz crystals my first husband and I chiseled out of an abandoned mine in Colorado.
• Mother's little hand mirror with a hand-painted Chinese tile on one side and a mirror on the other. She sometimes kept it in her purse.
• My Nikon. For 25 years it was my most cherished possession, and I was rarely without it. Oh, the adventures and the things this camera has witnessed and documented. Notice the bangs and scrapes. There are more you can't see on the other sides. This was a working camera, not just something I used to take pretty vacation pictures.
• An ancient Maya fertility goddess I found in the Yucatán. You can tell she's pregnant. It fueled my desire to know more about the Maya and to look for more objects they made. It was thrilling to know it hadn't been touched in 2,000 years.
• Sam's collar, my dog who died four years ago. There was no one like Sam, and he still has my heart.
• A solid gold ring my first husband, Philip, made for me out of little wax ovals he cut out with an X-acto knife, then overlapped them and made the ring from a lost wax casting. He did this outside on the veranda of our Spy House on the Hill. Before the bodyguards and the craziness set in.
Then there are the things you can't see. Love, vulnerability and fearlessness—they are mirror images of one another—and my memories. They are the treasures that don't need a box. The ones I will carry with me always.

If you were given a cigar box and told to fill it with things that meant something special to you, what would your box of memories contain?