After a sunny carefree weekend in the Hamptons I'm off to hop on the Jitney and return to the hustle and bustle of the city. Most of you know me as the "silver-haired girl on the go," and nowhere is that truer than when I'm in the city. Even I find it to be a bit of a challenge to look pulled together when I'm going from Ubers, to the subway or walking endless city blocks in 90 degree heat. And this time of year… when the fashion powers that be throw around the term "hottest trend"… 
I want to run for the hills. 
Occasionally something will pop up that strikes a chord with women of all ages.The leopard print midi skirt has been on the fashion radar for a year and shows no signs of slowing down. This versatile skirt even has its own Instagram account. With over 5,000 followers, @leopardmidiskirt has turned into a style phenomenon!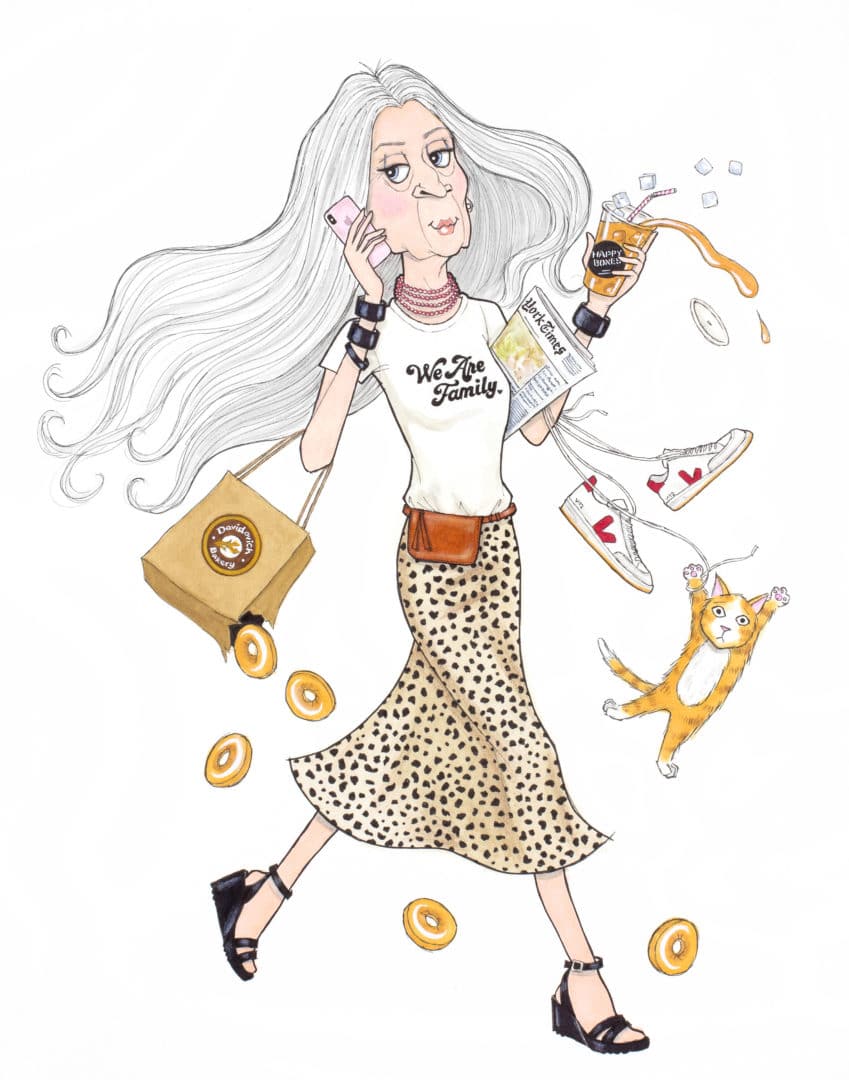 Realisation Par's Naomi Skirt, which I'm wearing, kicked off the trend and has now reached cult status. This silky slip skirt can be worn for a playful daytime look, or dressed up with some strappy heels for evening. You're sure to find lots of brand's doing their version of this popular skirt in a price point to satisfy everyone. Our own Brenda Coffee wore a skirt like this from Anine Bing on last week's Fashion Friday.
For a casual fun look, lots of fashion influencers style their leopard skirts with everything from a solid color tee to a vintage rock band tee. My comfy organic cotton tee is from Be Love Apparel. All profits from the sale of my "We Are Family" tee are being donated to support the reunification and healing of families separated at the U.S. border.
A girl on the go needs a comfy shoe and these stylish wedges fit the bill. I hope you're sitting down for this Darlings… They're Crocs! Voted most comfortable wedge by Travel + Leisure, the Leigh Wedge Sandal features a padded insole and durable rubber sole, making them your go-to sandal of the summer.
I've noticed many fashionistas love pairing their leopard skirts with sneakers. If the chunky sneaker trend is a bit much for you, these Veja mesh sneakers are a perfect option. Made from recycled plastic bottles and rubber this French brand sneaker, with its cool retro vibe, have become the hottest shoe around.
Another street style trend that's been popping up all over town is the belt bag. Think of it as the fanny pack reimagined. It's the same fabulous hands free idea, only this time it's sleeker and can be anything from sporty to downright luxurious. My Madewell belt bag is perfect for an easy daytime look.
So my fashionable friends, if your schedule is filled with errands and appointments, or finding the city's best iced coffee, hit the pavement in some of my favorite picks of the summer!
Cheers Loves!
XOXO, Hildie