SENIOR VICE PRESIDENT, MARKETING INTEGRATION & CUSTOMER INSIGHTS, AMERICAN EXPRESS
By Brenda Coffee content editorial director Mark Grischke photographer Noel Sutherland
The 44th floor of the American Express building offers a breathtaking view of New York Harbor and the Statue of Liberty. In 1885, 35-years after American Express was founded in Lower Manhattan, the Statue of Liberty was on her way to New York without a pedestal on which to stand. So the employees of American Express contributed their pennies to her future success. In 1983, American Express once again came to the aid of Lady Liberty, by helping restore her to her former glory in advance of her centennial celebration.
It seems fitting the corporate headquarters would watch over her as a reminder of the company's 164-year history of supporting its communities. That legacy lives on, and nowhere is that more evident than with a 24-year veteran of American Express, Mary Ann Fitzmaurice Reilly. Mary Ann has been a leading voice in the company's efforts to help small businesses do more business, and has taken it as her own mission to help women entrepreneurs.
"I'M A WIDOW, AND A SINGLE MOTHER, SO… I FEEL MY GREATEST RESPONSIBILITY IS BEING A GOOD ROLE MODEL."
"I led the team that focused on the American Express OPEN brand and defining what it meant. I'm really proud of my experience in OPEN. One of the opportunities we identified was helping women entrepreneurs. Research revealed that women owned businesses were growing at a rate of one and a half-times that of male businesses, yet a very small fraction of them were reaching the million dollars revenue mark. When we dove deeper, we learned that women do not dedicate enough time to growing their business. Instead, they focus on the day-to-day activities of running a business. In an effort to help, we created a women's advocacy initiative called OPEN for Women: CEO Bootcamp, that teaches women how to work on their business instead of in their business.
"We developed a curriculum around the three C's: confidence, competence and connections. We bring women together in different forums and working sessions and let them make connections with each other. We've created online forums so they can develop communities, either by geography, by industry, or by interest, and continue the conversation online. The women involved have found it very valuable, and the program will continue to be a big focus for 2014 and beyond.
"Now I'm in global advertising and brand management, focusing on developing and enhancing the position of the American Express brand in the marketplace and creating new ways to integrate customer insights into our enterprise-wide marketing initiatives. To achieve that, I lead the global marketplace insights team, which does all kinds of customer research: quantitative, qualitative, focus groups, one-on-one with customers, as well as listening when customers call us with issues and positive insights.
"We do social listening and competitive intelligence to understand what's out there as alternative choices to American Express. We look at new technology and the customer's end-to-end decision journey to understand how American Express is considered and how we can help our customers."
Just as American Express supported the Statue of Liberty, Mary Ann Fitzmaurice Reilly supports and serves American Express' customers.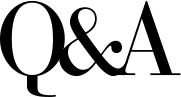 with Mary
WHAT EMPOWERS YOU
I think you have to empower yourself.
THROWS YOU OFF YOUR GAME
People who don't listen.
MOST DARING THING
Following my passion and moving from finance to marketing.
ASPIRE TO
To be able to retire at an age where I can travel the world and be young and healthy enough to truly enjoy it.
WHAT SCARES YOU
Failing my daughter. I'm a widow, and a single mother, so I am both mother and father, and have to juggle those important roles with a busy career. To mold her into being the best person she can be, I feel my greatest responsibility is being a good role model.
WHAT ARE YOU READING
I just came back from vacation where I read Unbroken.
STYLE NOW VERSUS 20 YEARS AGO
Completely different, but the big difference is now I have one wardrobe. It's not a work wardrobe, but a business casual work wardrobe. It's much more melded, so I buy things I can wear for both.
FLATS OR HEELS
Heels
FALL OR SPRING
Fall. Love boots! Fall is the best. I love boots, jeans with boots, dresses with boots.
FAVORITE DESIGNERS
I love Diane Von Furstenberg. Phillip Lim is another one I've gotten into, lately. BCBG is something I can order online, and it fits me perfect.
MISSING FROM YOUR CLOSET
A pair of Louboutin's, but I'm definitely more form over function when it comes to shoes. I can't walk in the super-high heels I used to, so I balance with the right level of comfort.
GO TO OUTFIT
Go to fall weekend outfit would be jeans, a great pair of boots and a great sweater. Go to work outfit is black or patterned pants, a great blazer or leather jacket, and a great pair of heals.
STYLE THAT'S NOT YOU
Skirt suits. I don't buy any skirt suits anymore. It probably goes back to my early public accounting days and even early days at American Express, and that was the uniform: a skirt suit, stockings and pumps. I can't even look at it anymore.
HANDBAG OF CHOICE
My work bag is a Gucci. I'm lusting over a taupe Celine bag.
BIGGEST SPLURGE
A Cartier watch.
SHOP ONLINE
I shop, a lot, online. I bought these Valentino shoes online.
DRUGSTORE OR DEPARTMENT STORE
Department store
LIPSTICK OR EYELINER
Lipstick
CAN'T LIVE WITHOUT BEAUTY PRODUCT
If I'm not putting on makeup, a tinted moisturizer with sunscreen. I need a little bit of color since I'm so fair… and a little lip gloss, and I'm good.