I have a friend and former colleague who, every year when I arrived at work in a fall blazer or skirt for the first time that season, would exclaim,"Sue! You've turned your closet!"
It became a joke in our teacher prep room, and our male colleagues eventually began competing with her, trying to be the first to notice I had officially ushered in the new wardrobe season, or chastising each other for wearing white after Labor Day. Their teasing was gentle, like the kind you'd get from a favorite uncle, and I'd always play the fashionista role, giving a twirl to show off my new fall outfit, replying that summer was "So over, Dahling!"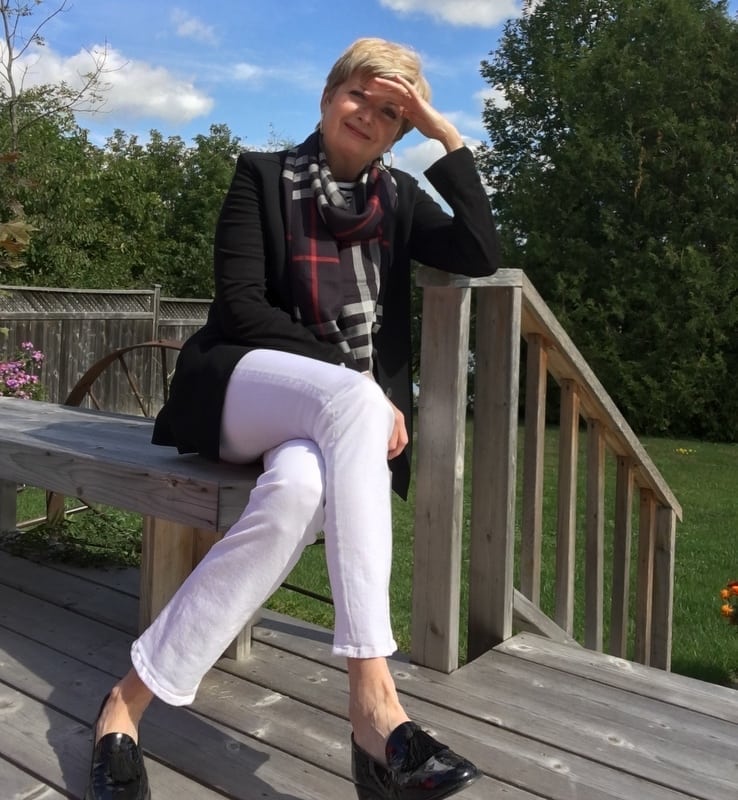 "Turning one's closet" is a rite of passage in a four season climate. I remember so clearly, each year when we were kids, my mum opening the big cedar chest in which were stored our winter or summer clothes. It marked the beginning of the new season and was almost as exciting as back-to-school shopping. Almost.
But this year I'm not ready to even think about turning my closet. I'm trying to make the most of my summer clothes because I've hardly worn them. I've been sidelined with a severe case of shingles, and much of the summer found me in baggy tees and loose pajama bottoms, moaning and looking for a cold compress.
Besides, early September is too early to turn my closet. I traditionally do this right after our Canadian Thanksgiving which is early October. But it's not too early to wear my spring blazers and jackets, which are lighter than my fall ones and will work in temperatures in the low to mid-twenties. I've been pairing my black Helmut Lang jacket with my white jeans which have barely been out the door this season.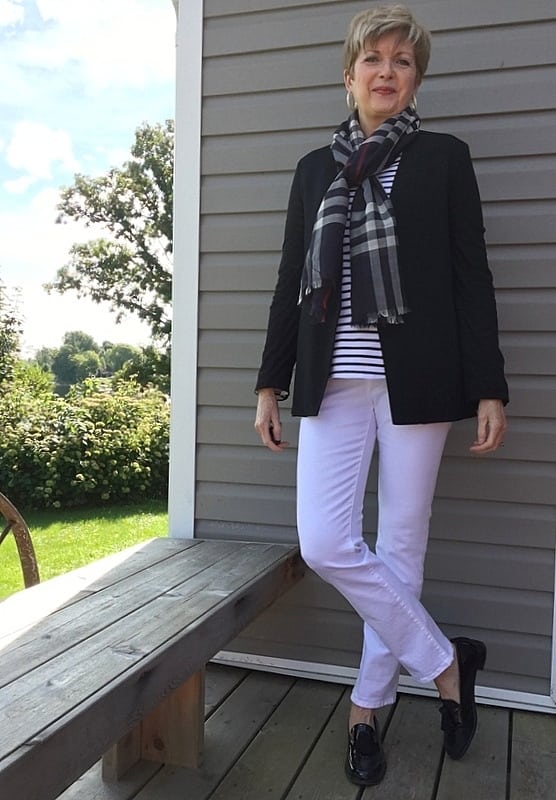 I tried them with my long-sleeve striped ALC tee, and to make the outfit more seasonally appropriate, I've been wearing my black, Stuart Weitzman loafers and a Burberry scarf.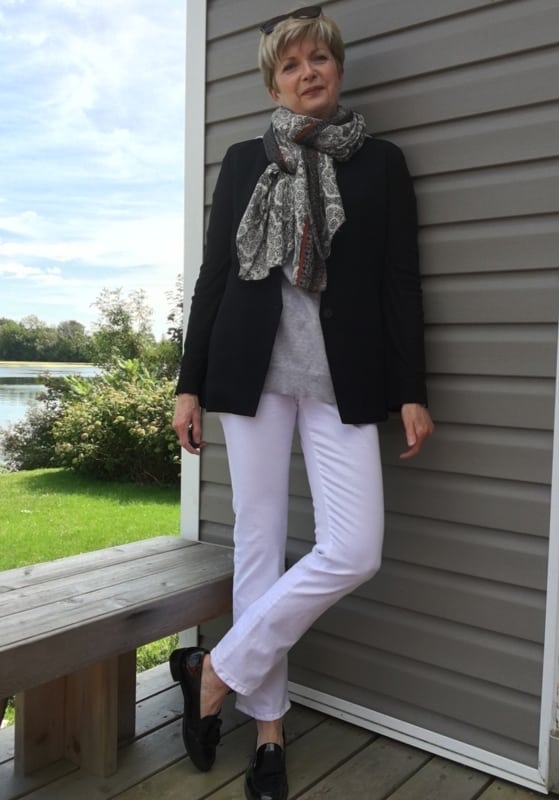 Or a light-weight, grey hoodie from Aritzia and this scarf from Nordstrom.
I like both of these looks so much I've put them on my packing list for our trip to Italy. We're off in a couple of weeks, and I've been planning and making lists, and then rethinking and making more lists. I'm not finished with my travel wardrobe planning, yet but on that final list will be: black jacket, loafers, an assortment of scarves and my white jeans.
"How shocking," my former male colleagues might say in jest. "To be wearing white jeans after Labor Day."
But in reply I'd just twirl to show off my outfit and retort, "That old rule is sooo over, Dahling."