This week an email in my inbox was titled, "3 Ways I've Improved My Aging Skin." The copy went on to say, "Now that I'm officially in my mid-30s… I've been focusing on ways to feel more confident about my skin and bring youth back into it." Seriously? You're calling that your aging skin? I'm in my late 60's and gravity's been right beside me—unaided—but I'm thinking I look good for all I've endured. What's more… I'm happy to still be standing.
Who are these young women who are obsessed with eating "water-heavy foods" and being the "right bottle away from perfect skin?" 
I want to sit NOT ALL, BUT SOME millennial women down and say, "If you think that's bad, wait until you run out of estrogen and lose the fat pads on the bottom of your feet… No one told you about that one, did they? There will come a time when you'll say goodbye to your stilettos and for a while, your closet will become a grieving alter to Jimmy Choo. Then you'll get over yourself because wincing in pain to the car and back in your "sit and sip" shoes is more than you can bear. That's when you'll call Goodwill and replace your boxes of "aren't they fierce" with more foot-friendly shoes."
I will agree though… Aging is rude beyond belief, but trying not to sound trite… It's what's on the inside that's going to see you through the dark days when you decide the Kardashian's were the wrong women to give beauty advice. By then, let's hope you don't windup looking like caricatures of yourselves or like you belong on Mount Rushmore.
A few years ago at South by Southwest (SXSW) the executive vice president of Lululemon told me "women over 45 are no longer relevant." When I asked her when was the last time she'd looked at Lululemon's homepage–because it featured a photo of a yoga class where three-fourths of the women had grey hair–she just glared at me and walked away.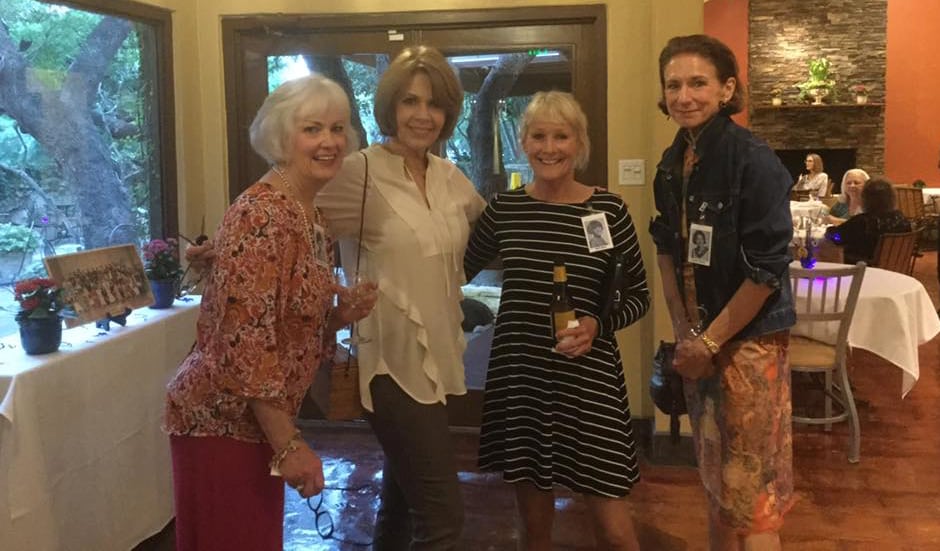 Photo of me–second from the left–and some girlfriends at our 50th high school reunion last year. That makes us 67-years-old in this photo. We are an accomplished group. One of the women in this photo was a big cheese, working for Alan Greenspan, Chairman of the Federal Reserve and now travels the world and another has her own Dallas, graphic design firm.
Not relevant? Ha! We are the women whose boyfriends and husbands died in Vietnam, and our sons were killed or injured in the Middle East. We're the women who battle breast cancer, sit on the Supreme Court and deliver your babies. And when we reach 65, we don't retire. We reinvent ourselves and step outside our comfort zone and show you another side of the woman you're going to become.
We're brimming with confidence because we've lived some of what you're going through, and we've made it to the other side. And it's not easy! So the next time you see a woman over 50, 60 or 70 walk by, don't ignore her like she's invisible. Put out your hand and say, "Thank you for stepping-up, for going before us and re-writing the rules on aging. I want to be like you when I'm your age!"