Over two hundred of Anthony Bourdain's most cherished belongings are being sold this month—October 9-30, 2019—in an online auction that's open to everyone who wants to bid. Last night I had the pleasure of seeing some of Anthony (Tony) Bourdain's personal treasures and visiting with my friend, Lark Mason, the auctioneer for Bourdain's estate. You may know Lark as the Asian art and antiquities expert on Antiques Roadshow, but Lark is also the owner of one of the premier auction houses in the world, Lark Mason Associates, CEO of iGavel Auctions and President of the Appraiser's Association of America.
I also spoke with Laurie Woolever, Tony Bourdain's assistant, gatekeeper, lieutenant, recipe tester, writer, co-author and friend for almost a decade. 
Like everyone who loved Anthony Bourdain, Laurie Woolever is still grieving his loss. "It's been a really hard year," Laurie told me. "I would have worked for him forever. I kept growing with him, and he was such a good boss. We had just started another book project which I just finished on my own last week."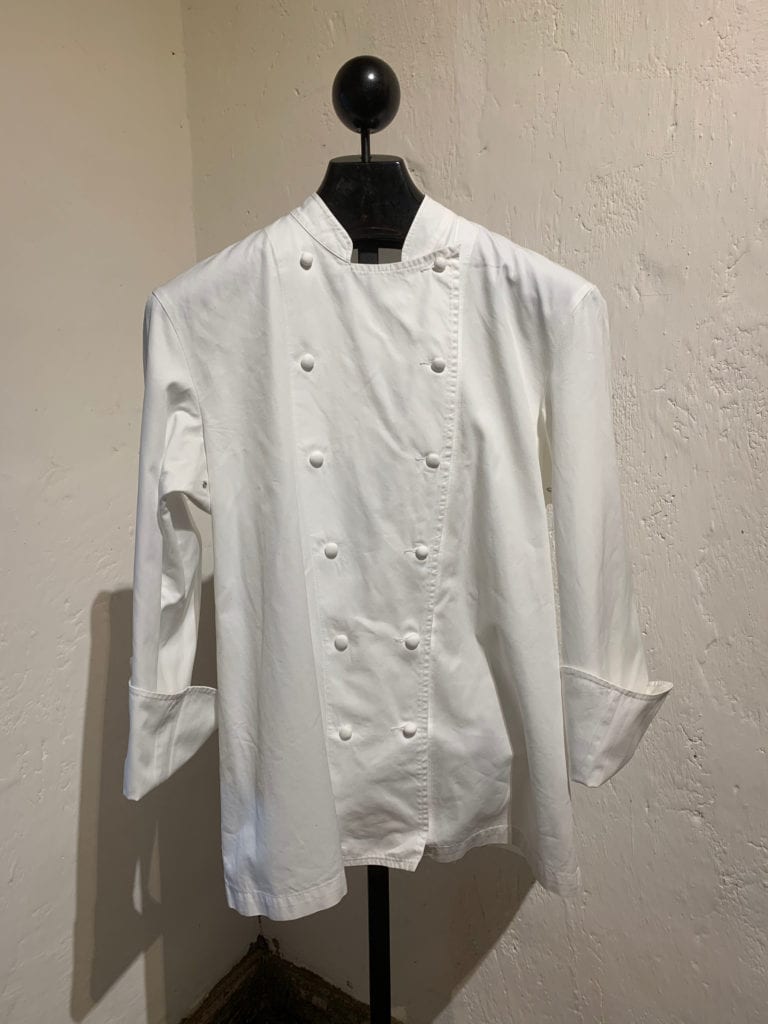 Anthony Bourdain's Chef's Coat
Last night Laurie Woolever spoke to the group assembled at Lark Mason Associates's beautiful gallery in New Braunfels, Texas, and gave us an insight into the man she knew so well. Bourdain was more than a chef and an author. In many ways he was an anthropologist who studied people and cultures by creating a human dialogue through the act of preparing and sharing food. 
"Your body is not a temple: It's an amusement park. Enjoy the ride." Anthony Bourdain
African Carved Wood Maternity Figure Bourdain purchased on his travels.
Pre-Columbian Style Pottery Vessel with Stand together with a plastic green fruit and a beaded bracelet.
The "Property from the Collection of Anthony Bourdain" auction shows that Tony loved a well-cut Tom Ford suit and tuxedo, bespoke shoes, Hermes scarves, a great bed, fine watches, spy novels, a simple omelet, odd historical medical instruments and old maps. He loved films, literature, great sharp knives, meaningful mementos of his travels, comedy and dark humor, contemporary art and he never failed to be astonished by his good fortune.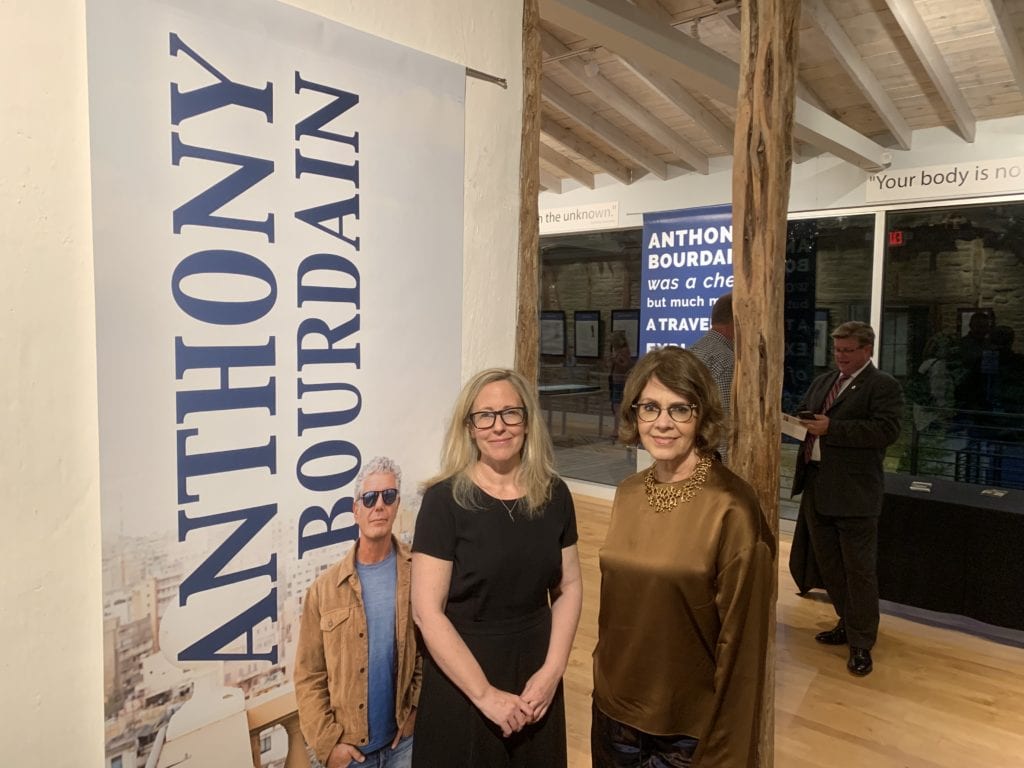 Brenda Coffee and Laurie Woolever
"Everyday someone tells me something about Tony I didn't know," Laurie said. Like the night Tony went to artist, John Lurie's, apartment. John poured him a glass of apple juice. Tony drank the juice and then he went to the sink, washed the glass and dried it and put it back in the cabinet.
"The journey is part of the experience, an expression of the seriousness of one's intent. One doesn't take the A train to Mecca." Anthony Bourdain
Anthony Bourdain's Peter Lovig Nielsen Teak Flip Top Desk, Denmark, 20th Century
Because Tony Bourdain spent so much time on the road, he wanted his New York apartment to feel like "a hotel that he owned," preferably the Chateau Marmont in West Hollywood. Tony gave Laurie Woolever the task of making that happen. While he was shooting his series, Anthony Bourdain: Parts Unknown, Laurie rented Bourdain's apartment, put it together and ordered the furniture according to his notes. It was a mid-century modern with lots of Stickley pieces, antiques from 1stdibs and his somewhat aggressive pieces of art.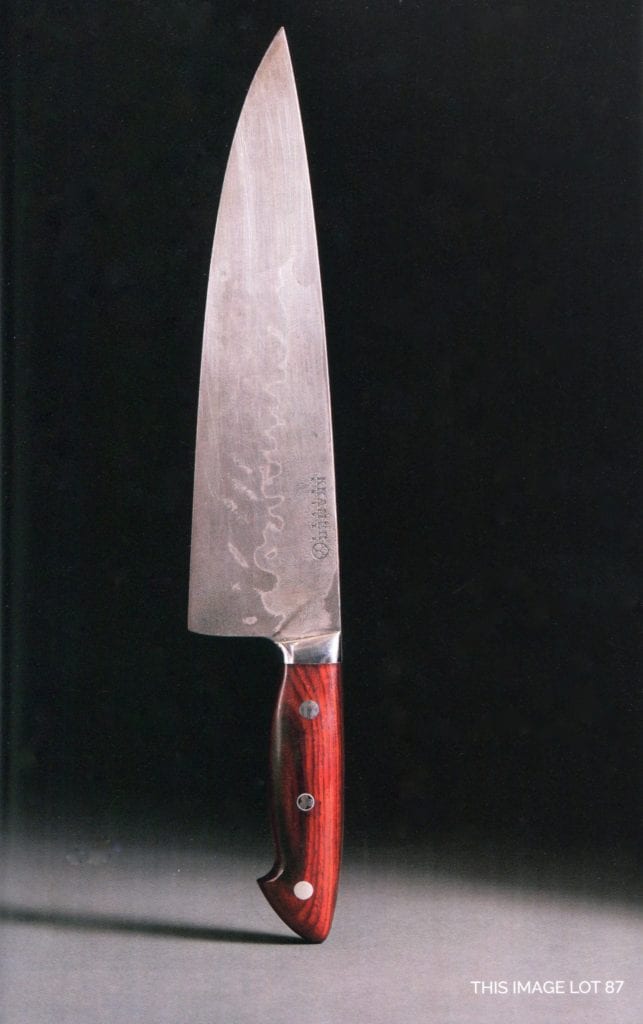 The auction also includes what Tony may have felt to be the crown jewel in his collection: a Bob Kramer knife that took two years from order to getting it into his hand, made from 800 layers of pounded steel and an iron meteorite from Campo de Cielo in South America. Highly coveted knives are not cheap and as Tony told Laurie Woolever, "I might have to go back to working brunch shifts to afford it."
If you leave a good knife "unloved and unsharpened, bouncing around in a drawer full of old Ginsus and other kitchen crap you've accumulated over the years, you will richly deserve the deep, jagged finger wound you will undoubtedly inflict on yourself next time you try to julienne a pepper in a hurry… You might just as well be using a rusted medieval meat ax. If you are incapable of demonstrating pride in your tools, you are incapable as well of making food you can be proud of. It's that simple. You sin against the kitchen gods. In a perfect world, cooks who abuse fine cutlery will be locked in a pillory and pelted with McNuggets."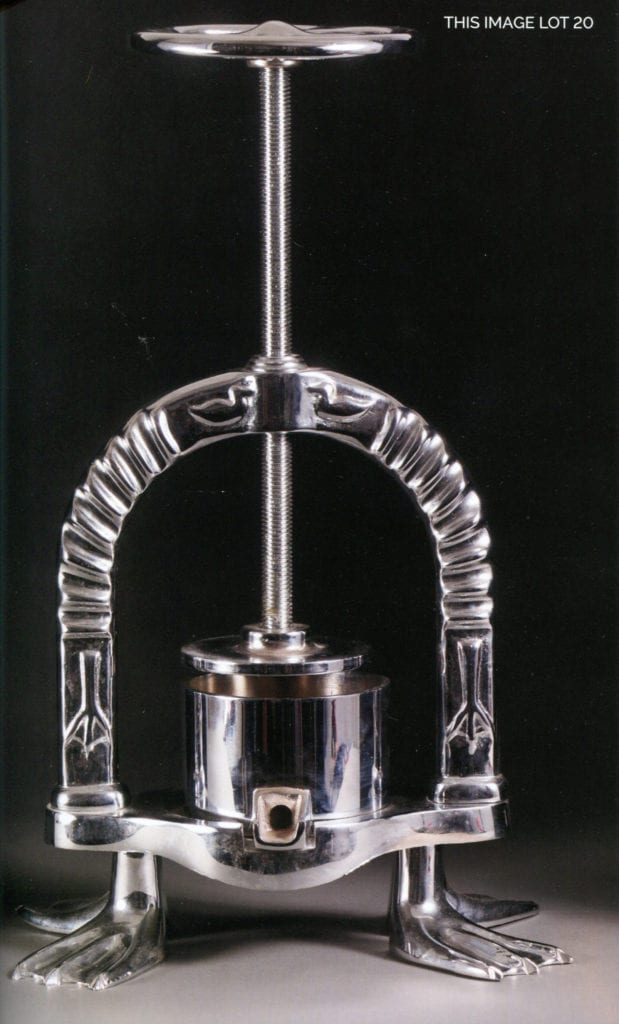 Anthony Bourdain's Duck Press
Tony loved beautiful objects with a singular purpose that are no longer used today, like the 19th-century chrome duck press he acquired in Paris, surely to be one of the auction's favorite items. It's featured in the 2012 Paris episode of The Layover The estimated value is $700-$1,000. 
The auction prices have been kept low (his Hermes scarves at $40 and a framed photo and note from Billy Joel to Tony is $50) so everyone who loved Anthony Bourdain will have the opportunity to purchase something of his and know that 40 percent of the proceeds will benefit a scholarship established in his name at The Culinary Institute of America where he graduated in 1978. The rest of the proceeds will go to his estate, primarily his daughter.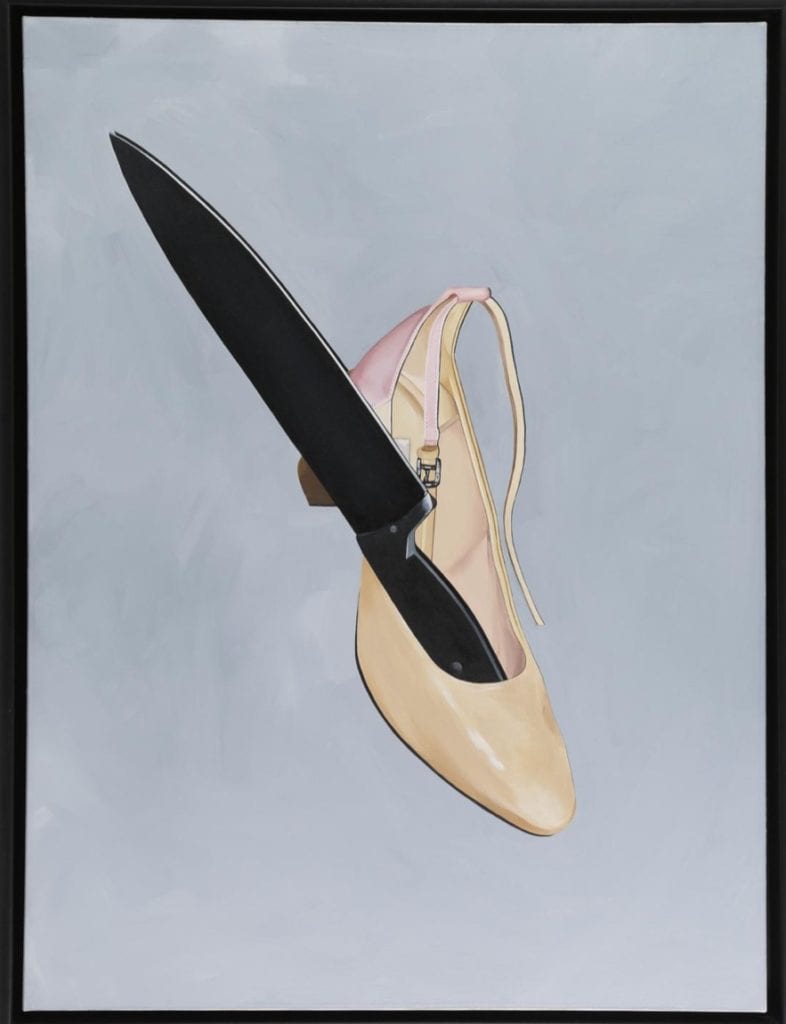 Brad Phillips (Canadian), Cristine and Me as Still-Life, Oil on Canvas
You can see all of the "Property from the Collection of Anthony Bourdain" online at igavelauctions.com where you can also register to bid. 
Three concurrent exhibitions of select items from the collection will be on view at:
Lark Mason Associates Gallery, 210 W. Mill St, New Braunfels, Texas, from October 9th through the 30th, 10am to 4pm, weekdays

 

Lark Mason Associates Gallery, 227 E. 120th St, NYC, from October 9th through the 30th, 10am to 4pm, weekdays

 

Everard Auctions, 2436 Waters Ave, Savannah, GA, October 15-30. Call (912) 231-1376 for hours.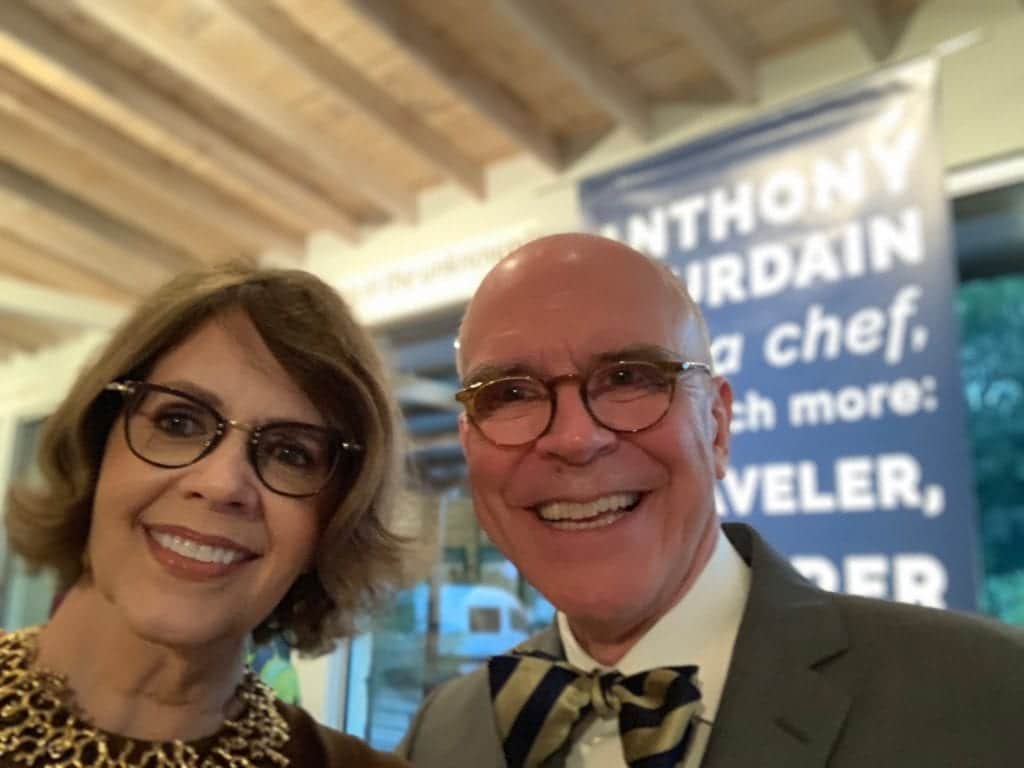 Brenda Coffee and Lark Mason
Bidding online is easy and fun, plus you can check the progress of the bid prices for each object and change your bid or bid on additional items. First register and set up an account. Bidding starts on October 9th. FYI on October 30th, each lot has its own time that it stops accepting bids, and it's clearly stated on each lot. For instance, lot #1 closes first at 9am EST, and the last lot closes at 3:42pm EST. This way it's easier for bidders to keep their eye on the current bids of more than one lot.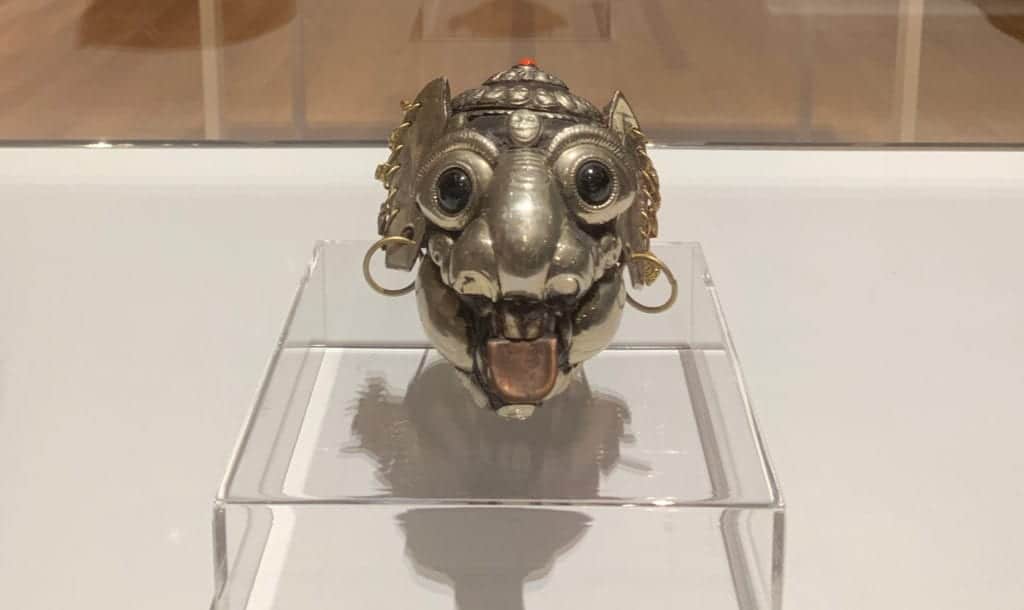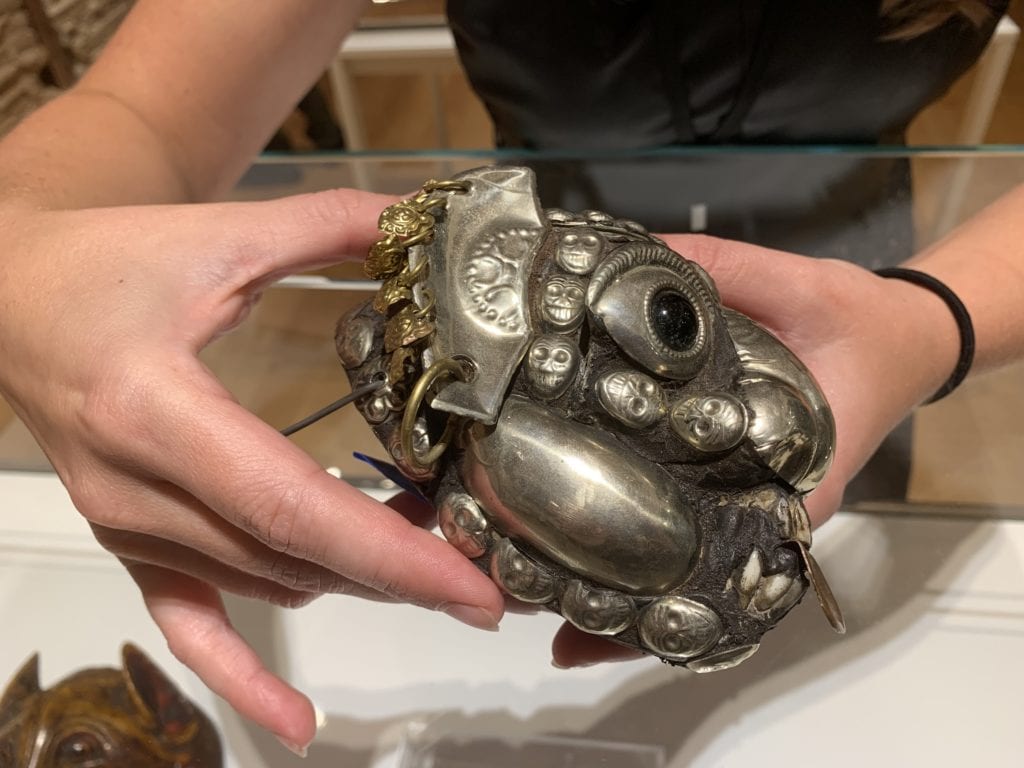 The top of the head is hinged and folds back and the sides are rimmed in skulls.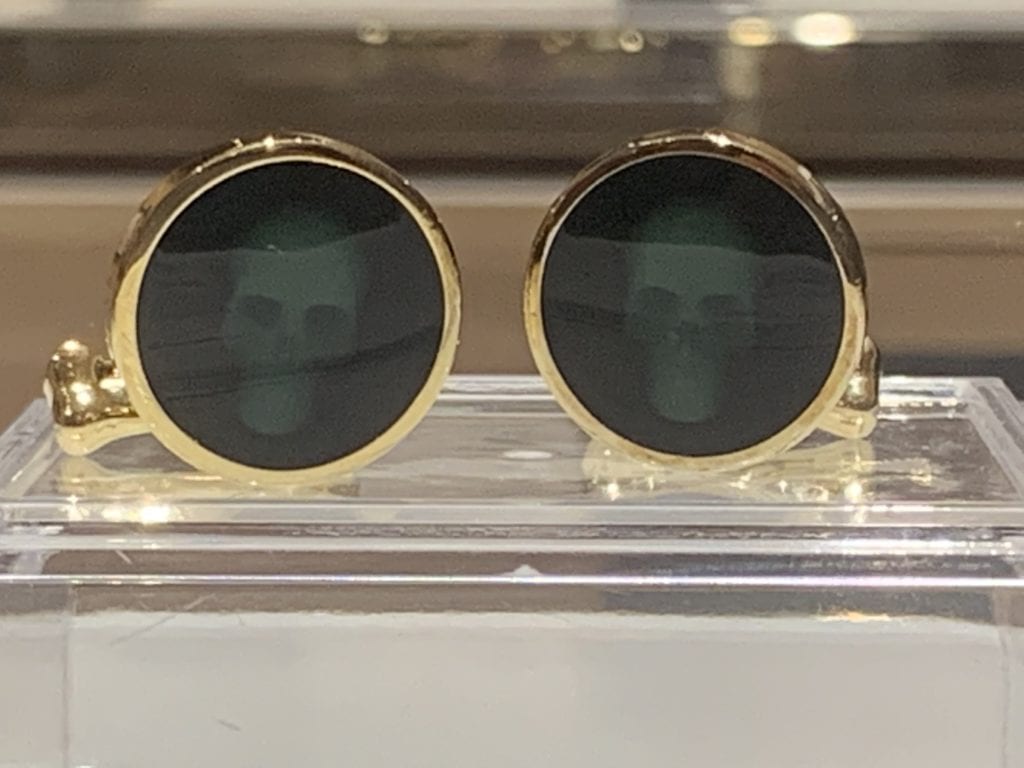 Alexander McQueen Holographic Skull Cufflinks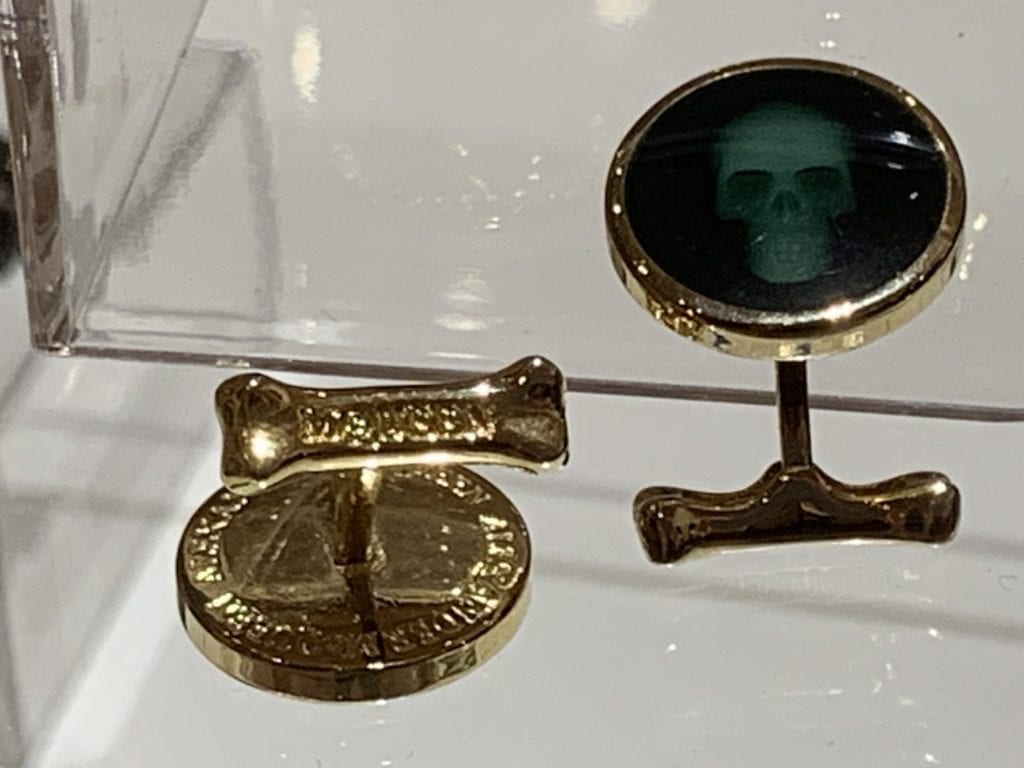 The toggle clasp on the back of each cufflink is a bone! So cool!
There are a couple of items I may bid on, plus these last two lots with skulls on them I think Keith Richards would like. Good luck bidders!