According to Webster's Dictionary, separate is a verb. We separate our lights from darks when doing laundry, our refrigerated goods from non-perishable items when shopping, and we separate our bills from our receipts for tax-time. Separate can also be an adjective meaning different, distinct, unrelated, set apart. Using the laundry example, who hasn't turned a "white" load pink because of an overlooked item of red clothing? Thus, the important need for separation.
I began obsessing over this the other day when I reached under my sink for eye makeup remover (which is pink) and instead grabbed the nail polish remover (coincidentally also pink) beside it. Oops! That was a close call.
It may be time to overhaul my under sink cabinet situation.
This isn't the first time I have unwittingly grabbed the wrong product. A few years ago I was hurrying to leave for work before the traffic became heinous. Just after the first squeeze I realized I was putting my hormone cream, not toothpaste, on my toothbrush! Is this normal or a crazy family trait?
I remember back in the 60's, my Mom accidentally applied hairspray to her freshly shaved underarms after showering. From downstairs we heard her whooping and hollering. And to this day, my sisters and I still laugh about the time she chased a huge roach all around the kitchen and living room with a can of hairspray she'd mistaken for Raid. Funny, yes… but why weren't the cabinets better organized?
I realize this is a first-world problem.  
I do need to tackle my bathroom cabinet. Things aren't breeding down there, not even close. It's all contained, but not as organized or easily accessible as I'd like. It's just a builder's grade cupboard… A big hole with a pair of doors.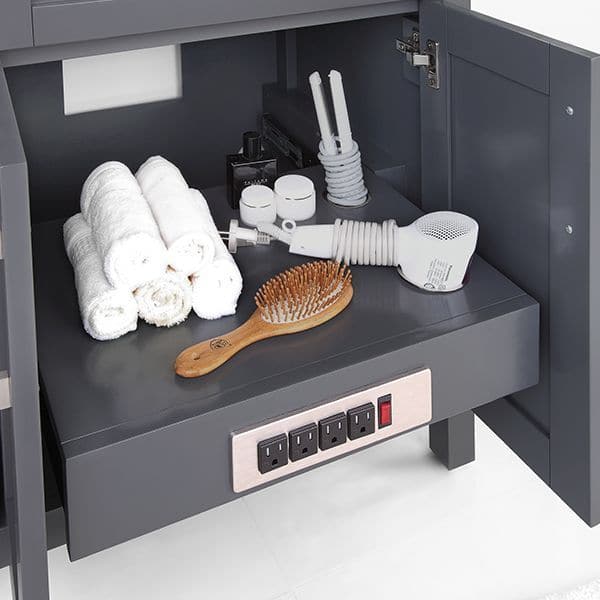 Have you noticed that most bathrooms aren't designed for women? Case in point: Almost all of us use them, but where are we supposed to store our blow-dryer and curling-iron? I fantasize about opening my doors and having a place for everything, and everything in its place.
Without splurging on custom built-ins, I may well be dreaming the impossible dream. 
Is there an easy way to have beauty, ease, and function? Do you have any photos or favorite organizational products you can recommend? I'm anxiously awaiting your answers…
XO, Donna