I don't know about you, but I've been taking self-quarantine seriously: I get together with friends on Zoom, have my groceries delivered, and I haven't seen the inside of a hair salon since February. While I've adjusted to visiting with friends online, and I've never been crazy about grocery shopping… My long, thin grey hair had to go, so a couple of weeks ago I studied some YouTube videos and decided to cut and color my own hair.
If it didn't turn out well I was going to say my hair had been gnawed off by woodchucks.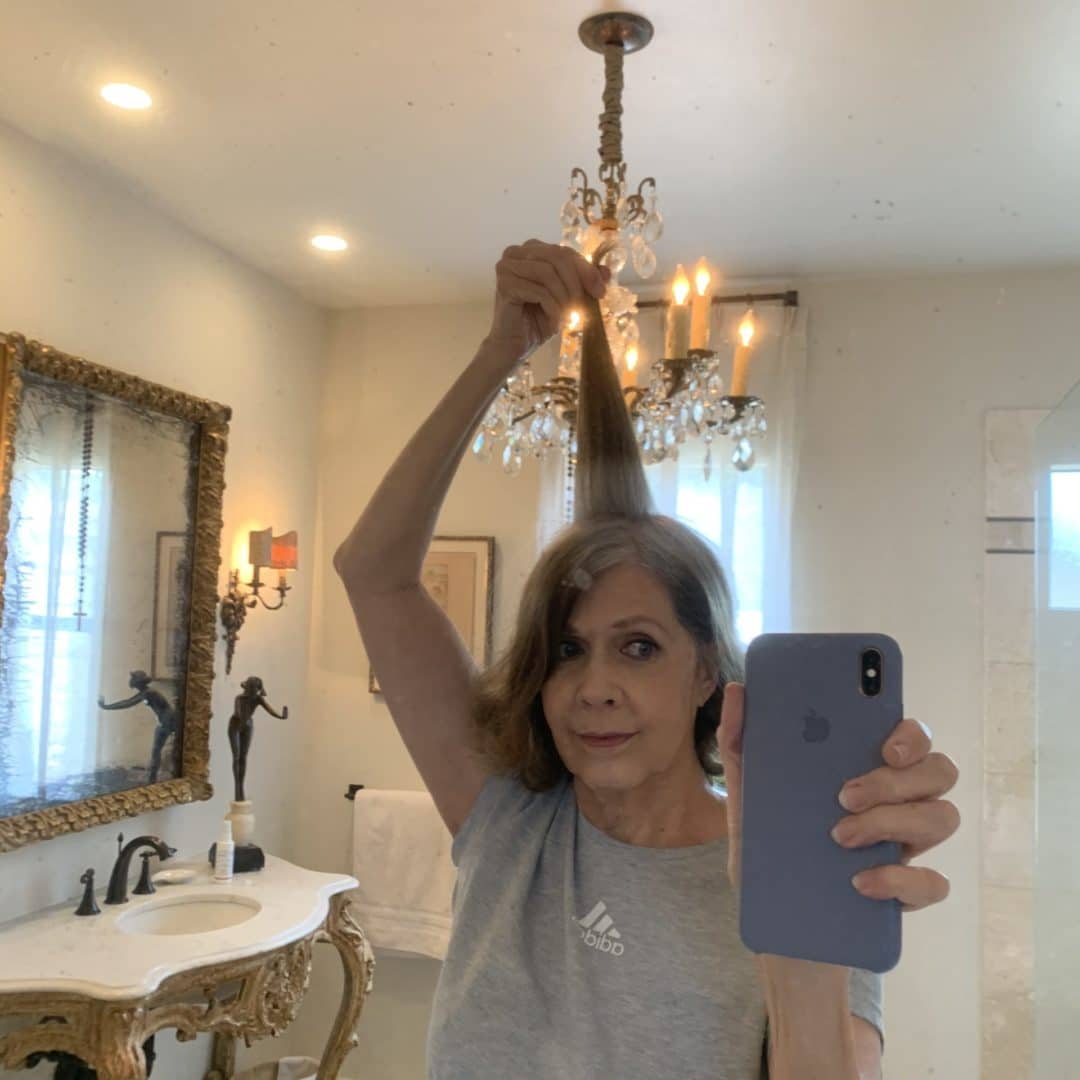 Shoulder length and over three inches of grey!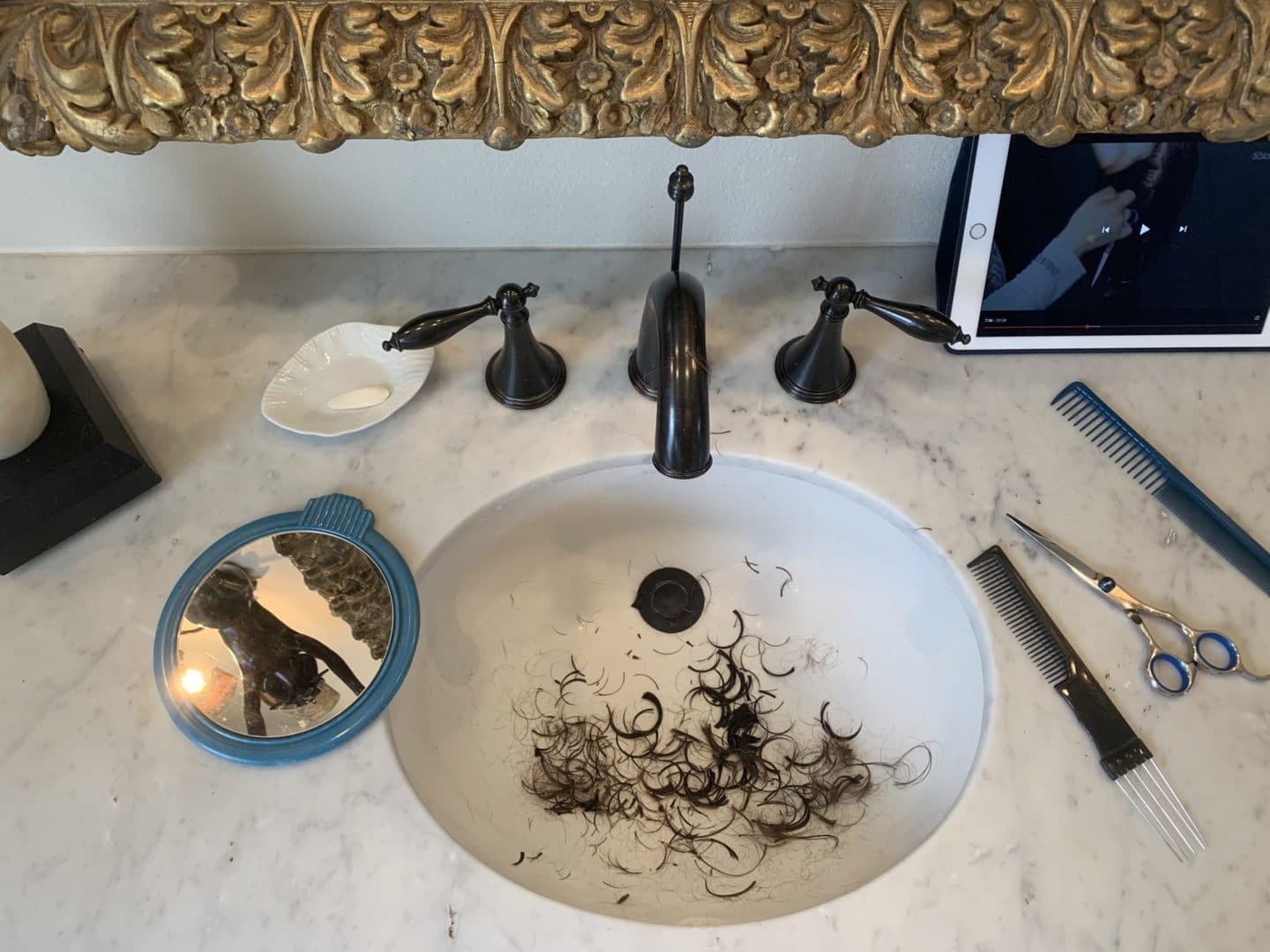 Cutting as I watched an instructional YouTube video on my iPad.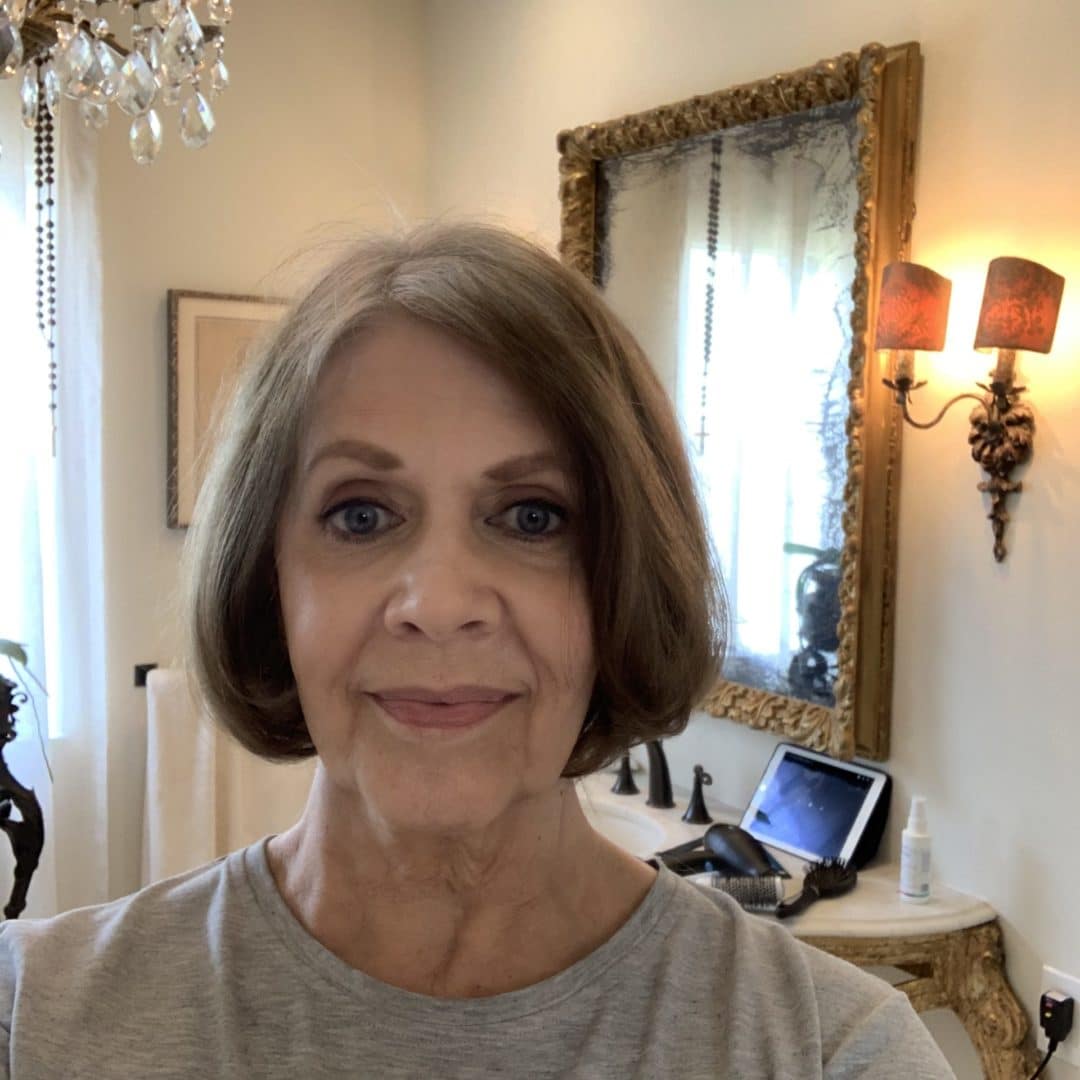 Finished with the hair cut, now on to the roots!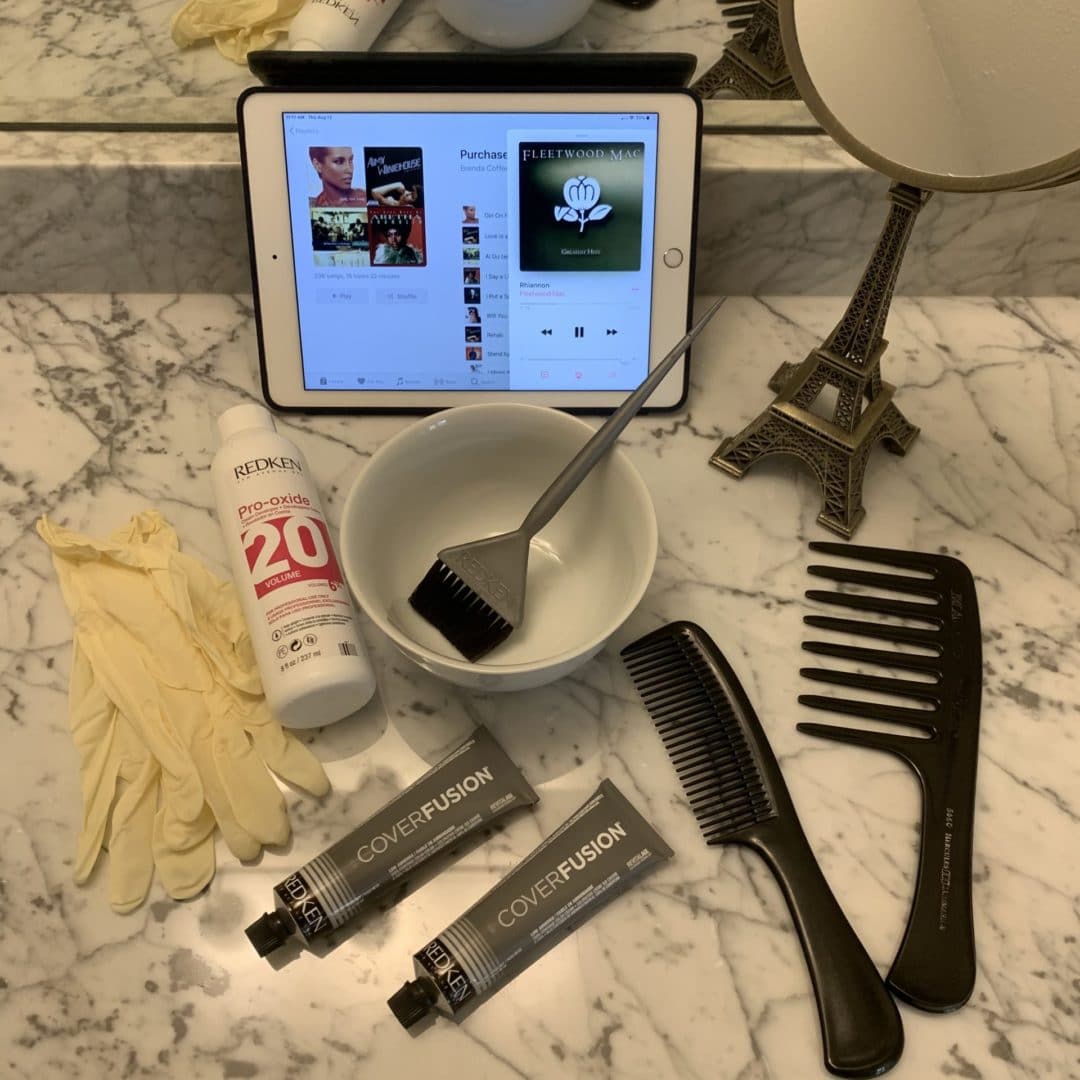 Coloring and listening to music on my playlist.
When I told a girlfriend I was coloring my grey roots she said, "It won't make you look any younger," to which I replied, "That's not why I'm doing it. I don't have the complexion to go grey." Even with makeup, grey roots wash me out, and I blend in with the walls. Fifteen years ago I tried being a blonde, and I looked awful.
The final results are not the A-plus job my stylist would have done, but for my first attempt at do-it-yourself hair it looks pretty good.
As soon as I was back to being a brunette I laughed and pointed at the woman in the mirror, and said, out loud, "I remember you!" I may not have looked younger, but I felt younger and moved differently, as though I had turned back time.
Photograph by Jennifer Denton
I'm not one of those women who wants to embrace my grey, but brava to those of you who do!
MOVING ON TO THE MEMOIR I'M WRITING… Until now I have given you a couple of dark passages from what I sometimes refer to as my "involuntary time in the jungle," but today I thought I would give you something a little lighter to read. It's a few paragraphs about a bus ride I took by myself from Belize City toward Tikal in Guatemala. This was three hours before I was taken.
@Brenda Ray Coffee, 2020, An excerpt from my memoir.
Above the seat in front of me is a magnificent, almost regal looking creature with long, arched, red and iridescent green tail feathers. I am not sure, but I think it may be a fighting cock. The bird proceeds to claim the canvas bag I've thrown onto the overhead rack above my seat, and sometimes I look up to find him peering down at me like he's reconfirming my bag belongs to him for the duration of the journey. He must be special because he is the only bird allowed inside the bus. The rest are in crates tied to the roof. I think his owner is the man sitting in front of me, because each time I look up at the bird, the man nods at me and smiles like a proud parent.
Everything on the bus strikes me as highly entertaining, and I am wondering if some of the secondhand smoke from Maja's joint has gone to my head. Mounted over the bus's front window is a red velvet curtain with red tassels that swing back and forth from ornate scalloped edges. Above the curtain a "No Smoking" sign and a "Not Responsible for Lost Items" sign have been painted in English on the walls of the bus and in-between hang two, hand-painted, wooden statues of the Virgin Mary. Directly in front of the driver another Virgin Mary is suction cupped to the front windshield and appears to be doing battle with a pink, fuzzy Tweety bird affixed in the same manner. I am amazed the driver can concentrate on the road with so many distractions in front of him.
It is not long before I make friends with some of the children on the bus. A few are shy but most are curious about the Anglo gringa. Three little girls have come to offer me peanuts and meat tacos made with strong juicy onions in exchange for pieces of my johnnycakes, and one of the girls just wants to sit next to me and touch my hair.
A speaker overhead is playing American sixties and seventies songs like Bobby Vinton's "I'm Mr. Lonely" and The Shangri-Las "Leader of the Pack." "Sitting on the Dock of the Bay" has been recorded in Spanish and sounds like it was run through a reverberator in a large stone cathedral. It is corny and sweet, and I am enjoying the music and the kids.
Perhaps it is the tunes and not my bag Mr. Rooster likes, because he is still there, perched on my bag like a king on his throne. His owner has turned in his seat to watch the children crowded around me in the aisle, and each time little liquid droppings from Mr. Rooster fall on my hair or my cheeks, his owner lights up like the bird just played Chopin. I hope this means I have been blessed or something equally as benevolent.