With spring just around the corner, this fashionista is more than ready to pack up the wool sweaters, down-filled jackets, and yes, the Cuddl Duds. Just thinking about warmer weather makes me want to open the champagne and celebrate!
Truthfully the task of transitioning my closets from a winter wardrobe to spring throws me into a fashion panic.
I'm overwhelmed by the amount of items in my overstuffed closet that I need to edit and organize. What should I toss? What do I keep? The whole process makes my head spin! What I need is a fresh perspective.
Now Darlings… You all know I love to shop, but I don't always have time to research current trends or even make sense of it all. It may surprise you that even this fashion forward girl knows when to throw in the towel and call a professional stylist. So I scheduled a home consultation with stylist Anita Villar, www.thestylishclt.com, and we got straight to work. With Anita's help we defined my style goals and pinpointed what new items would update a look and would also be a good investment choice.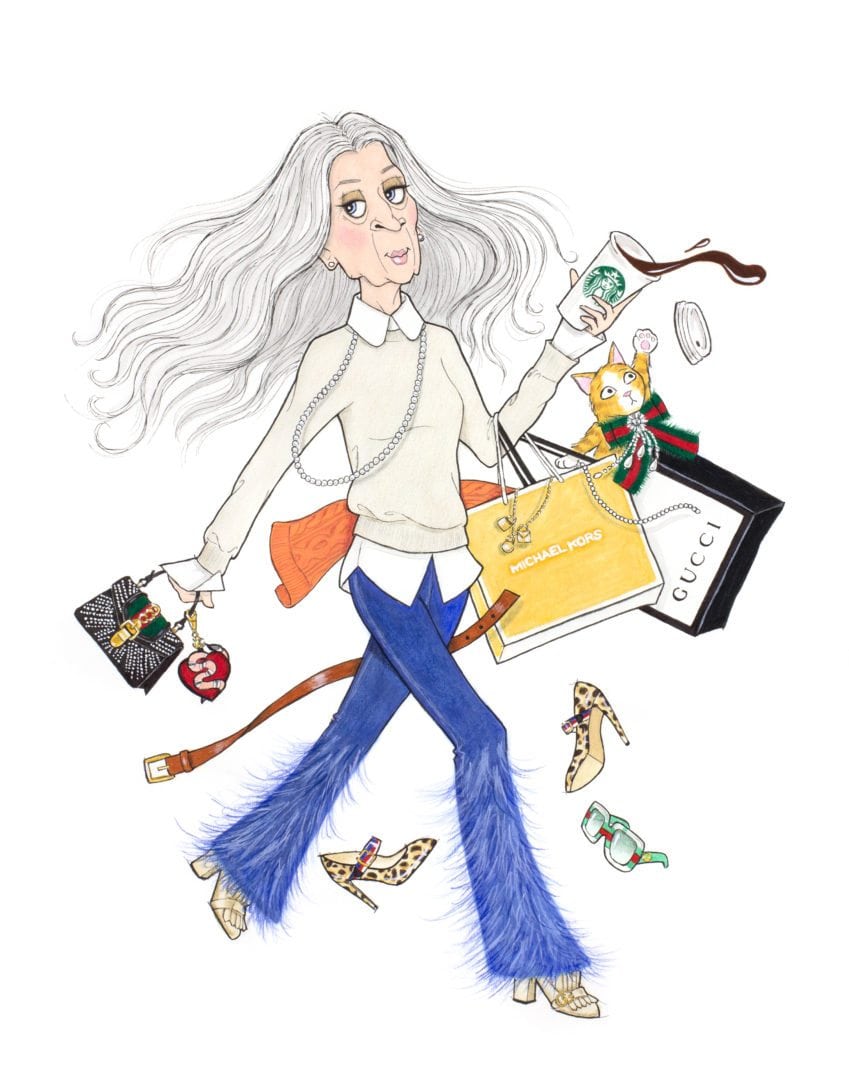 With Anita's expertise I was able to see past the wardrobe clutter and access what I had. We put together ensembles in combinations I hadn't thought of. I was able to make the items I already own feel current. We discovered what pieces I'm missing that would update my wardrobe, and we found what works with my changing skin tone, figure shape and hair color.
These Michael Kors feather jeans, for example, were a fun addition to my wardrobe. They add a touch of glam and whimsy to a casual look and work with many pieces I already own. Sorry Darlings… I bought the last pair, but you might try a pair of flare jeans that sit on your waist.
Some fashion habits are hard to break, but a professional stylist can help. If you're over 50, chances are you were told as a young girl to tuck in your shirt. The look now is for an unstudied look. For my button down shirt and sweater combo, Anita freed me of my tucked in ways and styled a look that's up-to-date and totally me!
My stylist was able to suggest bag options that would work for me and my budget. With it's lady like shape and crystal embellishments, this Gucci Sylvie Mini Bag is an investment piece that can go from season to season.
Another addition Anita suggested are the Gucci Marmont Pumps. With it's loafer style, this shoe is sure to be a classic and can work with a variety of looks. We also added the Gucci Sylvie Leopard Pump, a fabulous investment and one that will never go out of style. I love it as a chic alternative to plain black pumps.
So my Darlings, don't let the change of seasons throw you into a fashion tizzy! Some helpful guidance from a professional stylist could bring the joy and confidence back in your style!
Cheers Loves!
XOXO, Hildie