Darlings! What a glorious fall we're having! My favorite time of year! How I adore the trees changing color, that chill in the air, the crunch of leaves under your feet, apple cider donuts and a pumpkin spice something or other for sale in every shop. Hmmm, is there a pumpkin spice wine? I must look into that.
Well my fashionable friends, let's talk about some of the best trends we're seeing this fall.
Let me start off by saying, I despise the word "trends." It brings to mind acid wash jeans and stirrup pants. When I say "trends," I want you to think of an item that's current, yet timeless. Something our younger counterparts are embracing, yet something we can wear too.
Let's start with color. When we think of fall fashion, we tend to think of deep berry colors and rich jewel tones. Why not try something that changes up your seasonal color palette? Let's call it "the softer shades of fall." Blush pink, shades of gray, warm cream, or a pale apricot are a perfect contrast to the brilliant colors of autumn.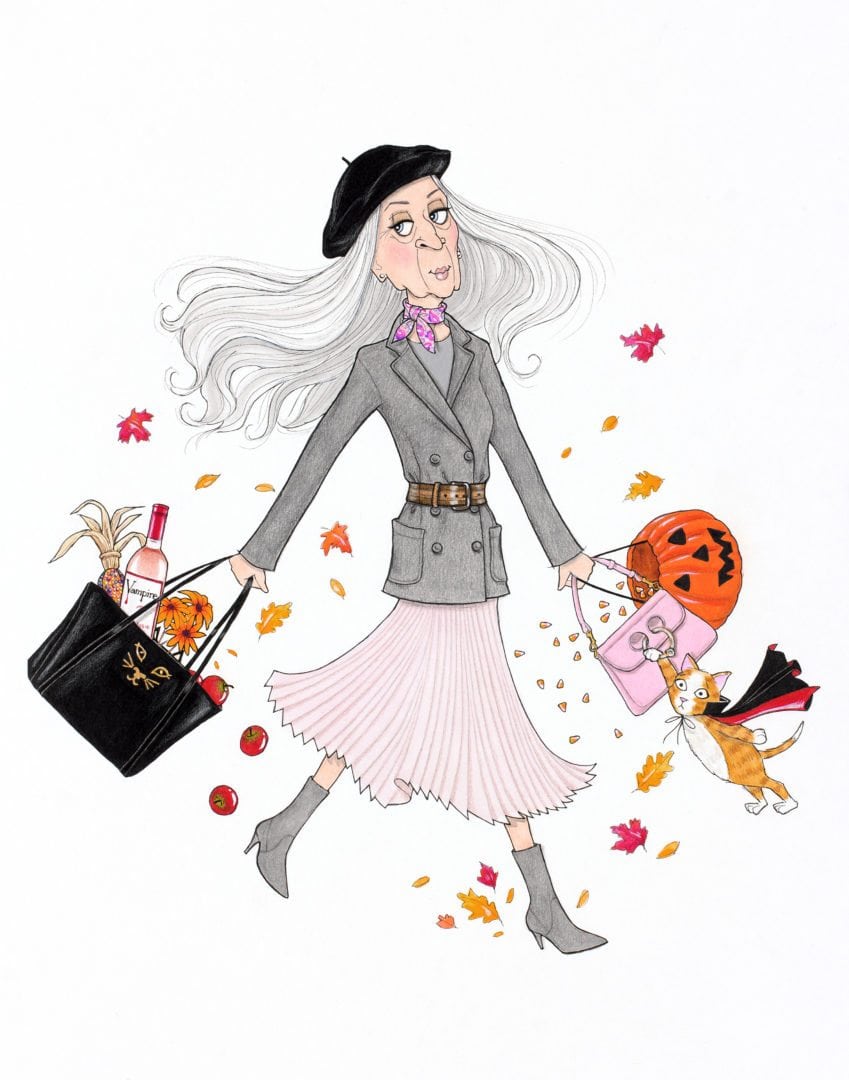 Belting a blazer has been a look—or dare I say trend—that's been popping up a lot this season. The queen of this look is Diane Keaton. She's elevated it into an art form. If you've never tried it, give it a spin. You'll love what it does for your waistline! For this ensemble I chose a less structured, soft, felted wool blazer by Tomas Mair. Experiment with different belt widths and jacket styles to see what works best for you. You may see your tired old blazers in a fresh new way!
Darlings, I must confess I haven't worn a pleated skirt since I was sporting Aqua Net Hairspray and Yardley Lip Slickers in Catholic school. Now it's all about the knife pleat skirt in a longer midi length. From knits to metallic sheens, there are plenty of options to choose from. My pale pink skirt is by A.L.C. and adds a nice contrast with the blazer for a look that's very fresh, yet classic.
Perhaps the biggest trend this fall is the sock boot. Very modern and ultra sexy! What I adore about these boots is they create a continuous line from your leg to your toes, elongating your silhouette. Available at different price points and heel heights, there are styles for almost everyone. My Stuart Weitzman sock boots come in suede and have a kitten heel that is super comfy and flattering.
If you know me by now, you know I need a tote that does double duty. A tote that can not only carry a 5 pound bag of Halloween candy for the kiddies, and a bottle of Vampire Pinot Grigio for me, but one that doesn't distract from my ensemble. This adorable feline tote is by Charlotte Olympia and is an instant Halloween classic I'll be using year after year.
My Pierce Shoulder Bag, by J.W. Anderson, made it's debut over a year ago, and this baby has staying power. It's quite ladylike, but the surprise is the ring or piercing feature on the flap. It adds a bit of an edge to any look.
Well Darlings, there you have it! Fall trends that have a classic feel, yet will have you looking modern and fab!
Cheers Loves!
XOXO, Hildie