It's still crazy hot everywhere, but that hasn't stopped us from thinking about the fall weather that's just around the corner. While summer clothes can be fun, many of us prefer the rich colors and textures of fall clothes. Speaking of fall clothes…
I'm excited to share an affordable brand that's designed with our age group in mind.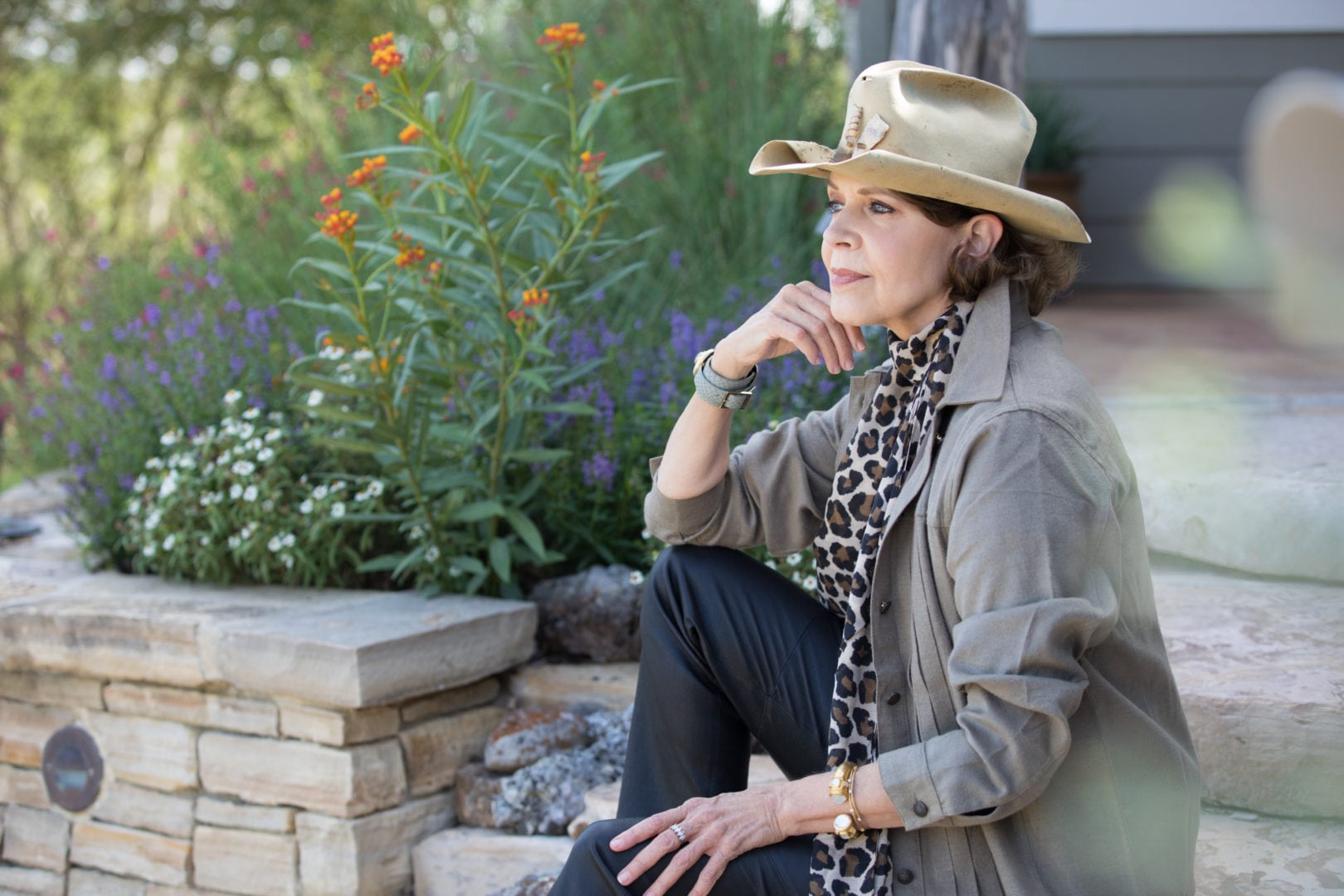 Because I'm selective about the quality of the clothes I wear, I can count the number of brands I've brought to you on one hand. So when Whistle River Trading asked if I'd like to choose something from their line to share with you, I studied their website and immediately fell for their "Ohio Pleated, Taupe, Flannel Jacket." IT IS BEAUTIFUL and I'm thrilled to own it. Thank you Whistle River Trading!
Would you believe this beautiful jacket is on sale for $64.99? Hello! I think that's a no-brainer!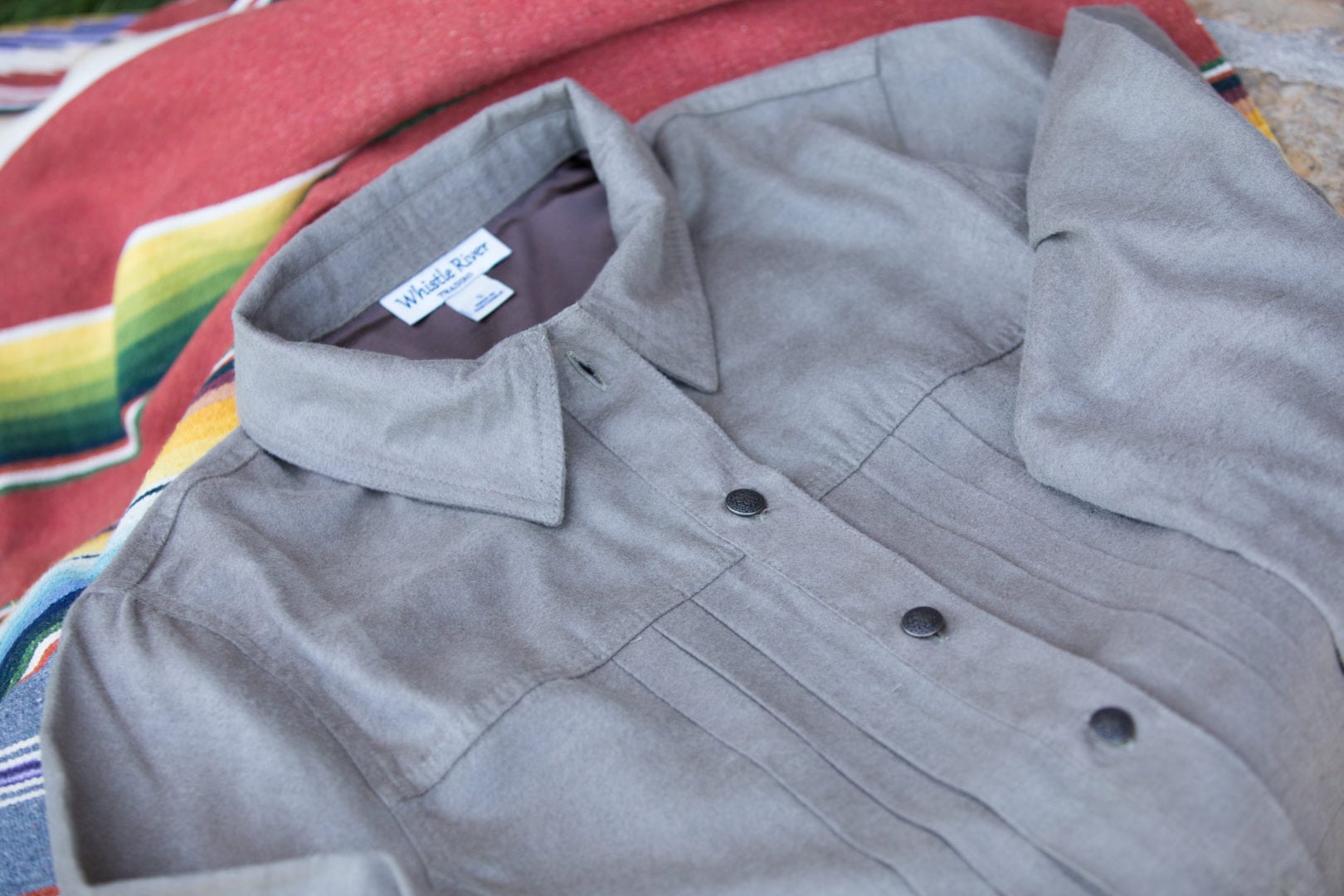 This shirt/jacket is soft flannel on the outside, lined with satin on the inside, but heavy enough to substitute for a coat for most of the fall and early spring.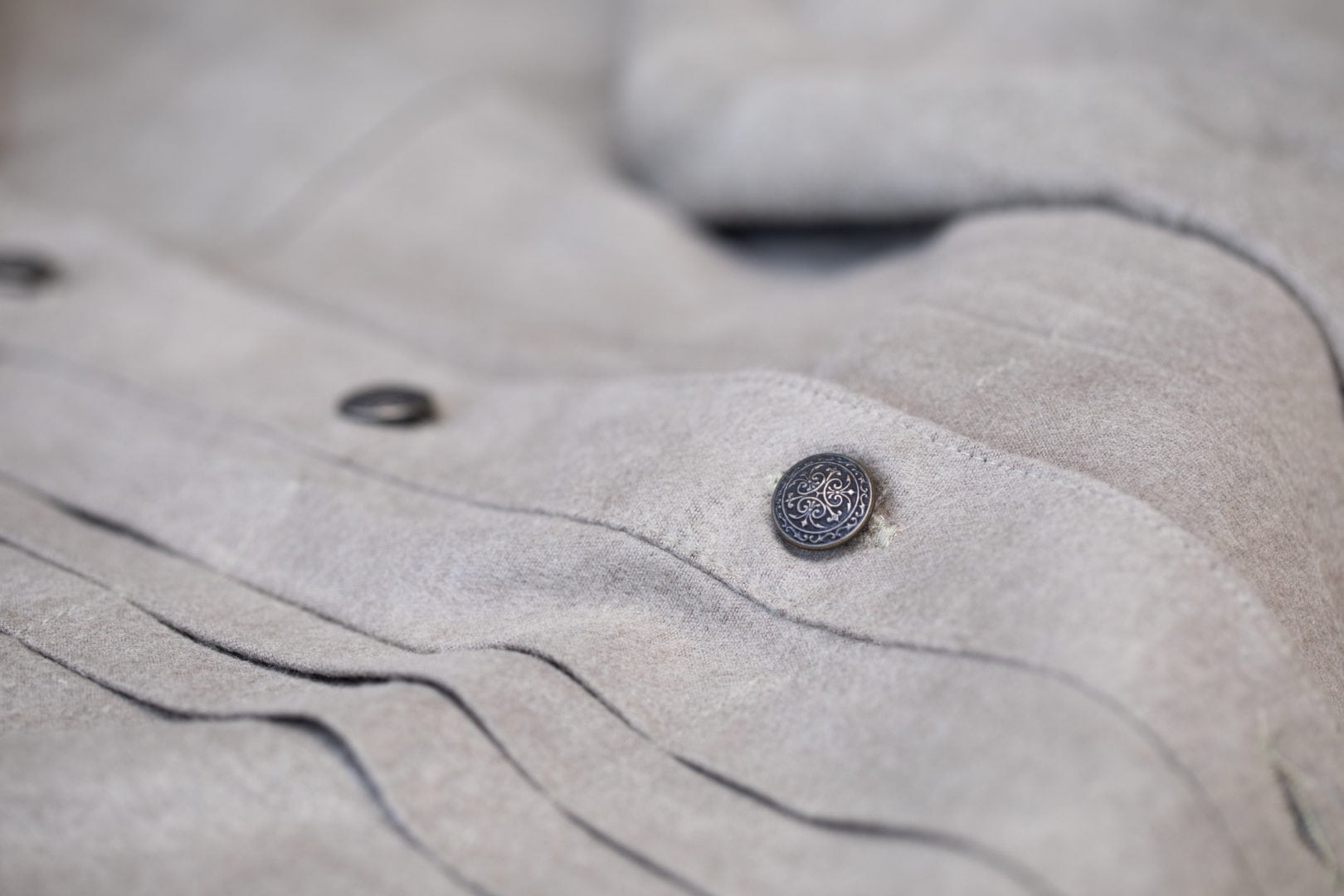 The buttons are engraved, and the pleats are meticulously stitched and aligned.
Like couture, it's true craftsmanship, but much less expensive. I like how it hits lower on my hips which, for most of us, is more flattering. 
One of the reasons I love this jacket is because it's AFFORDABLE, ELEVATED CASUAL… which is what most of you who participated in my recent fashion survey said you wanted.
This is one of those pieces you'll get lots of wear from and have for the rest of your life. It won't be long before you'll start wearing it in the fall, and it will take you right through until spring.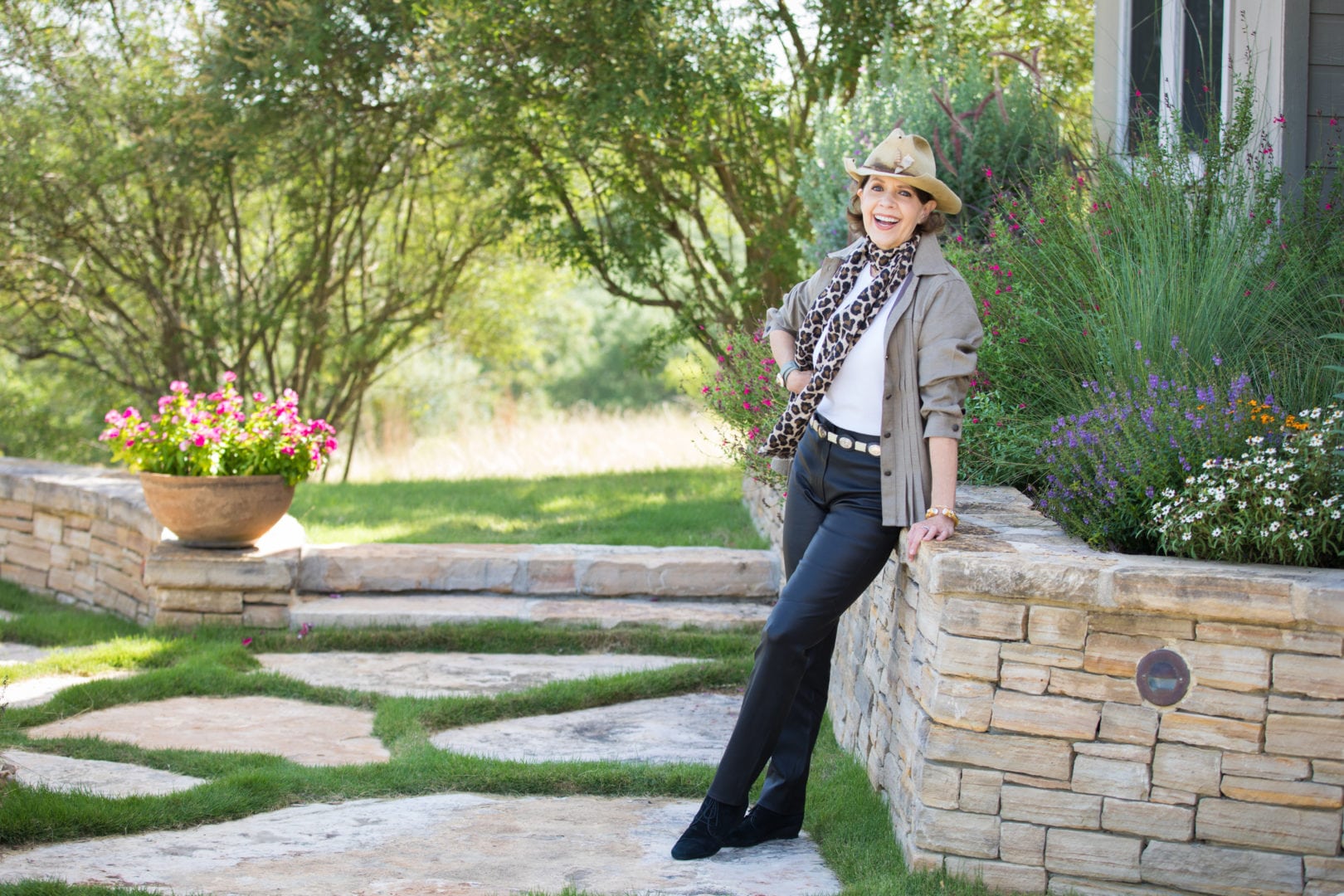 For added flair I've turned up the collar… and it stays there… pushed back the sleeves and paired it with two, different accessory groupings. Since I don't buy many clothes, in my Fashion Friday posts you'll notice a lot of things I've owned for as long as 30 years! I just find new ways to wear them.
Wear this Whistle River Trading jacket with a pair of black or dark grey pants or blue jeans—tucked into your boots… or not—a cream colored sweater, t-shirt or blouse underneath. I'm wearing a short-sleeved, Gap t-shirt and black leather pants (my sale of the century deal… $1,600 Escada pants for $300 at Neiman's). The black suede booties I've had for eons… can't remember how long, but long… The concho belt was my late husband, James's, belt. I have the buckle hidden in the back under the jacket. I'm also wearing my favorite Julie Vos bracelet, my antique cameo bracelet I bought from Anna Porcu in Italy last year and a leopard print scarf my friend, Hilary, gave me for Christmas.
I'm a Texas girl and bought this serape in Mexico when I was 18. The necklace is by Jacqueline Smiley of Western Vintage Revival, Atlas, Oklahoma. It's an old, Mexican tile mounted in a beaded copper frame, suspended from a copper bead necklace. Unfortunately the tiles are hard to find, so she doesn't make these anymore.
Fifteen years ago James and I found this old cowboy hat in an antique store in Bandera, Texas. I love the rattlesnake tail and the arrowhead on the front. There's another rattlesnake tail on the back as well. And the holes and the sweat stains… No way you could recreate this hat. It's the real deal.
Usually I'm a Medium–5'8" with broad shoulders, long arms, a 36" bust–but when I noticed a customer review (Do you read customer reviews… Always!) that said some of their jackets run a bit large, I had Whistle River Trading send me a Small and a Medium. If you're hesitant, order two sizes and send back the one that doesn't fit. 
SHIPPING AND RETURNS ARE FREE! Like I said… It's a no brainer!
Whistle River Trading manufactures all of its own garments. Each one is cut by hand and made by artisans in Guatemala. Their factory has been in continuous operation since the company's founding over 20 years ago, so their team members know they're working for a company that pays competitive wages, paid vacations, annual bonuses and hosts an annual Family Day where they rent an entire park and charter the buses to take families there and provide catered food.
Aside from quality clothes, I want to support companies that value and respect their employees. Bravo to Whistle River Trading for loyally supporting generations of craftsmen and women!
Check out this beautiful jacket before they're sold out! Go to their site, then to Shop Our Collections/Jackets!