Before you can "change your style," you have to know how you want to change it and what suits your lifestyle. Do you go to an office, or maybe you're retired or work from home and don't need a professional look? I work from home, go to the gym three days a week and walk dogs every day. Because I was used to dressing for the office and the board room, finding my look for this lifestyle has been challenging.
Something that's helping me buy the right clothes is knowing what style I want to achieve, identifying my style icons and buying pieces with these two things in mind.
Many of us—including me—list women like Audrey Hepburn and Jackie O as our style icons. While they're great choices, what if we think about listing living women in our age bracket? Their look and how they accessorize may help us achieve our desired style easier than looking at photos of women from 40 and 50 years ago.
My current style icons include Lauren Hutton—did you know she's on the cover of this month's Italian Vogue, which at 74, makes her the oldest covergirl on a major magazine—Sharon Stone, Cindy Crawford, Helen Mirren and Lauren Ezersky. That's quite a range! Now that I've identified the women and the style—simple, elegant, classic, pulled together… with a little rock 'n' roll—I want to keep in mind when I shop, I need to think about my lifestyle. While I don't need much glam cocktail wear, I do want to up my casual game so I look more put together and less like I just came from the gym.
I may be making a huge assumption, but I'm guessing most of you are in that category as well.
So how do we add a few pieces to make us look more "put together" as we go about our daily routines?
Another one of my style icons is my Instagram friend, Dutch, over 50, silver-haired model, Petra van Bremen. Since Petra works at staying fit, she can wear a lot of things many of us can't, but we can take cues from her style and make it work for us, regardless of our body shape.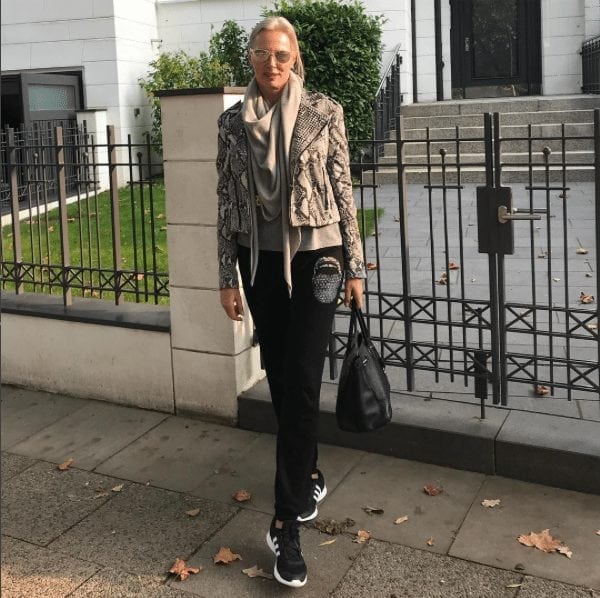 Petra's outfit in this photo is a perfect example of elevating a sporty, casual look and sticking to the "two colors rich, three colors poor" rule of thumb. Both her sweater and the fabulous scarf draped around her neck look like they're the same color and fabric… perhaps cashmere. Her jacket is in the same color family, and it adds texture and interest. As a fun, trendy addition, her slim-fitting black pants have the Rolling Stones "tongue" on them. You know I love that! She's kept her bag and shoes the same color as her pants, which emphasizes her classic look from the waist up. I give Petra a "10" with this look!
Here are some pieces to help you achieve Petra's look. I've included multiple price options for Regular, Petite and Curvy Women, plus longer sweaters–instead of a jacket–to cover those areas you don't want to showcase.