The past couple of days I've watched the moving funeral services for the late President George H.W. Bush. Almost every woman wore black, and I saw how many different looks you can put together with a simple black dress. Over the holidays I hope you don't have anything as somber as a funeral to attend, but black would look great on New Years Eve. Whether you wear a dress or a sweater and pants, don't forget to add your own special touch. I like to pair my old things in new ways.
Electric guitars are optional.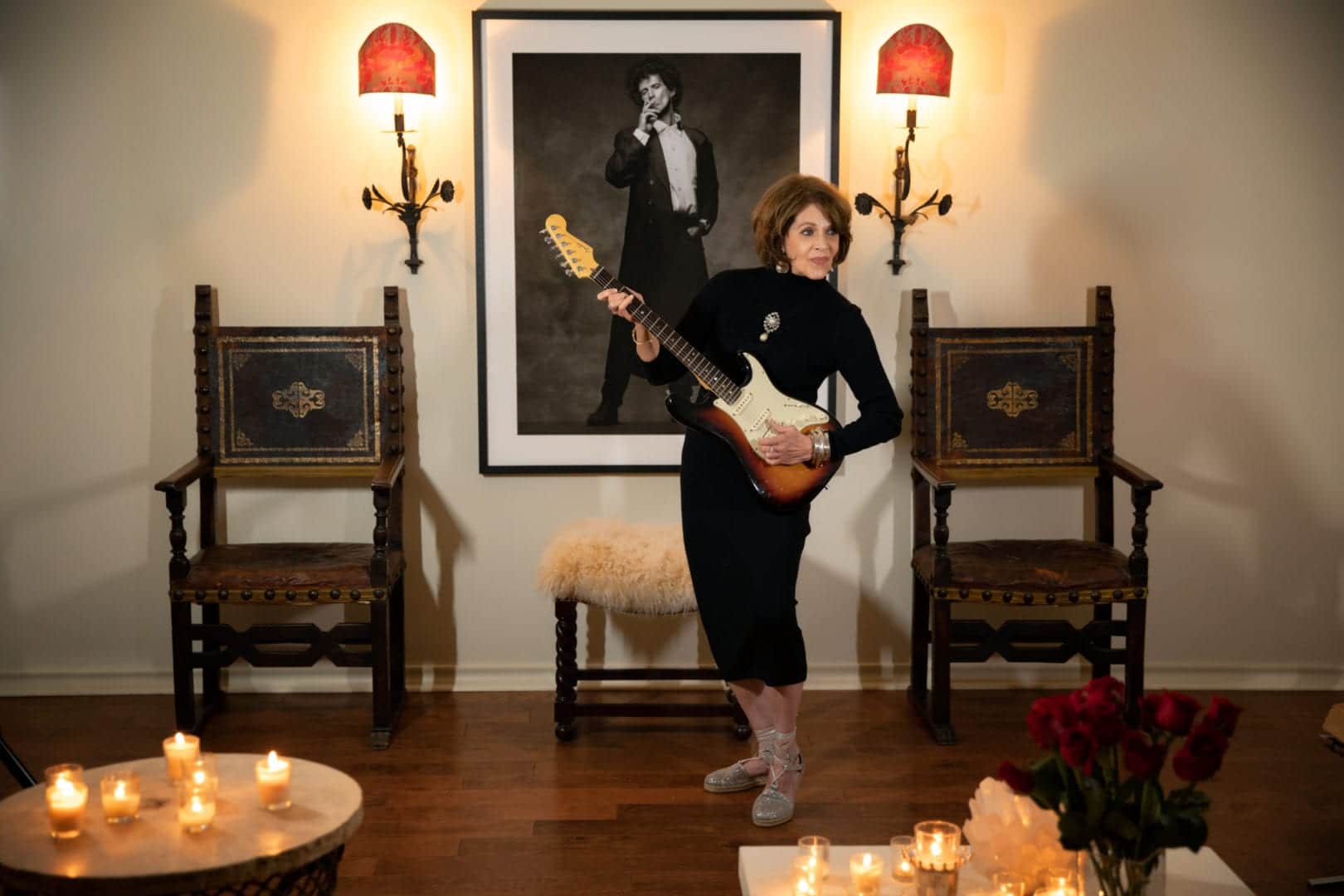 Jennifer and I shot these photos in my living room. I've promised you a better look at the living and dining room, but things are still missing, like a dining room rug… details, I know, but I wanted the rooms to be finished. Also Lulu peed on the living room rug, so it's at the rug cleaners, and I have yet to find the right pillows for the sofa. Behind me is a photograph of Keith Richards taken in 1984, by the wonderful Albert Watson, for the cover of Rolling Stones magazine. Sandy Linter told me she did Keith's makeup for this shoot. This photograph is the focal point for most of the house. You can see it from the kitchen, DR, LR, my office and the courtyard outside. The sconces on either side of Keith are coiled, black, iron snakes with their tongues darting our of their mouths. They're edgy, like the man. I didn't plan it this way, but "the tongue" is the Rolling Stones's logo. LOL! The red shades are Fortuny fabric. The Spanish chairs are late 1700's or early 1800's, and the leather seats are cracked. I've had them forever. The round table on the left was on the back porch of the Little House at the ranch. It's unsealed Texas limestone with hand chipped edges and a cool iron base.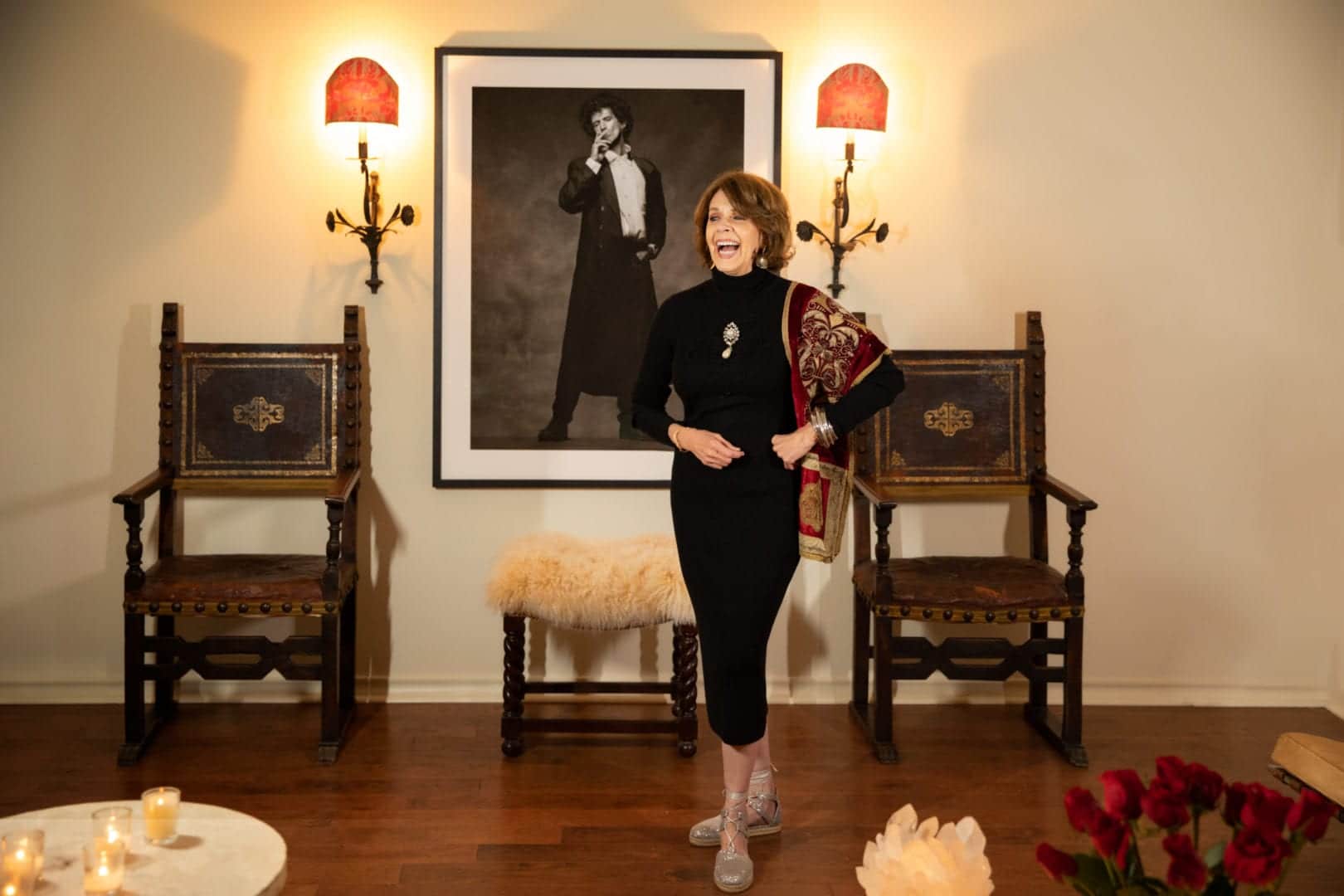 Back to wearing black… Not everyone is crazy about all black, and I understand. My Texas fashionista girlfriend, Kathy Gutierrez, is not a fan of all black. If you haven't read our "Midlife Girlfriends Talk Sex and Men," it's a must. When her youngest daughter went off to college back East, Kathy told her she better not come home wearing all black unless she had on lots of turquoise.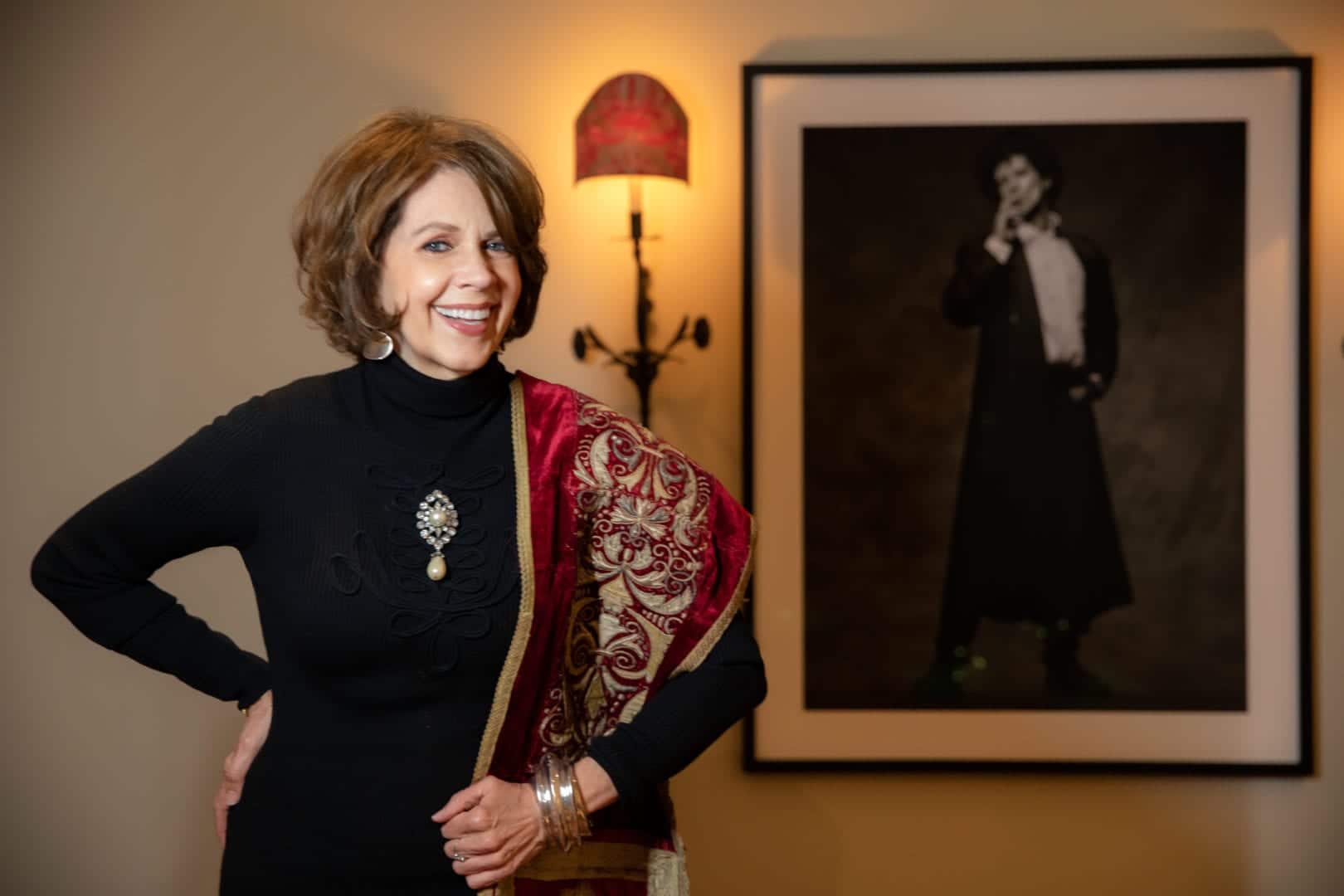 There's a lot to be said for black. It's slimming, elegant, and it allows your accessories to standout. The black, knit midi dress I'm wearing is Diane von Furstenberg. It's long-sleeved with a mock turtleneck, so it covers a multitude of sins. Wear it with a Spanx bodysuit underneath that runs from your bra to your hips, lower thighs, or choose one below your knees, and you've got all your nasty bits reigned in. Over my shoulder is part of a clerical vestment from the 1800's I bought at the Paris flea market. Esther (Essie) Zimmer was with me. It's red velvet, trimmed in gold thread, and you can see where it's been mended over the centuries. I may make it into a pillow for the couch or continue to wear it over my shoulder or drape it over the back of a chair.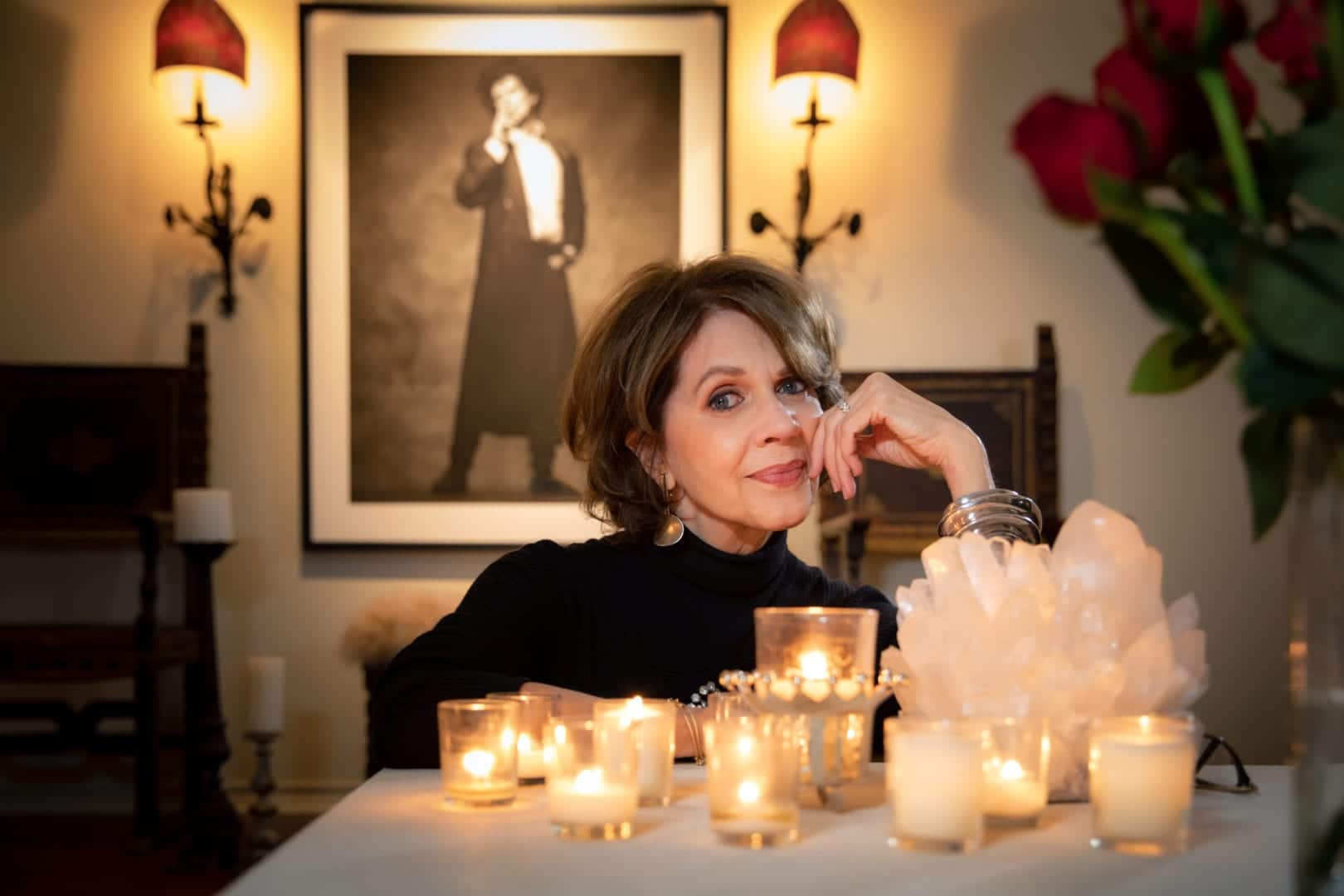 My silver drop earrings I wore with my wedding dress when James and I married in 1996. The silver cuff bracelet I bought in Santa Fe in my early 20's. It was my first major… Who am I kidding? Except for the earrings, it was my only jewelry purchase until I was in my 50's. An appreciation for jewelry is something new for me.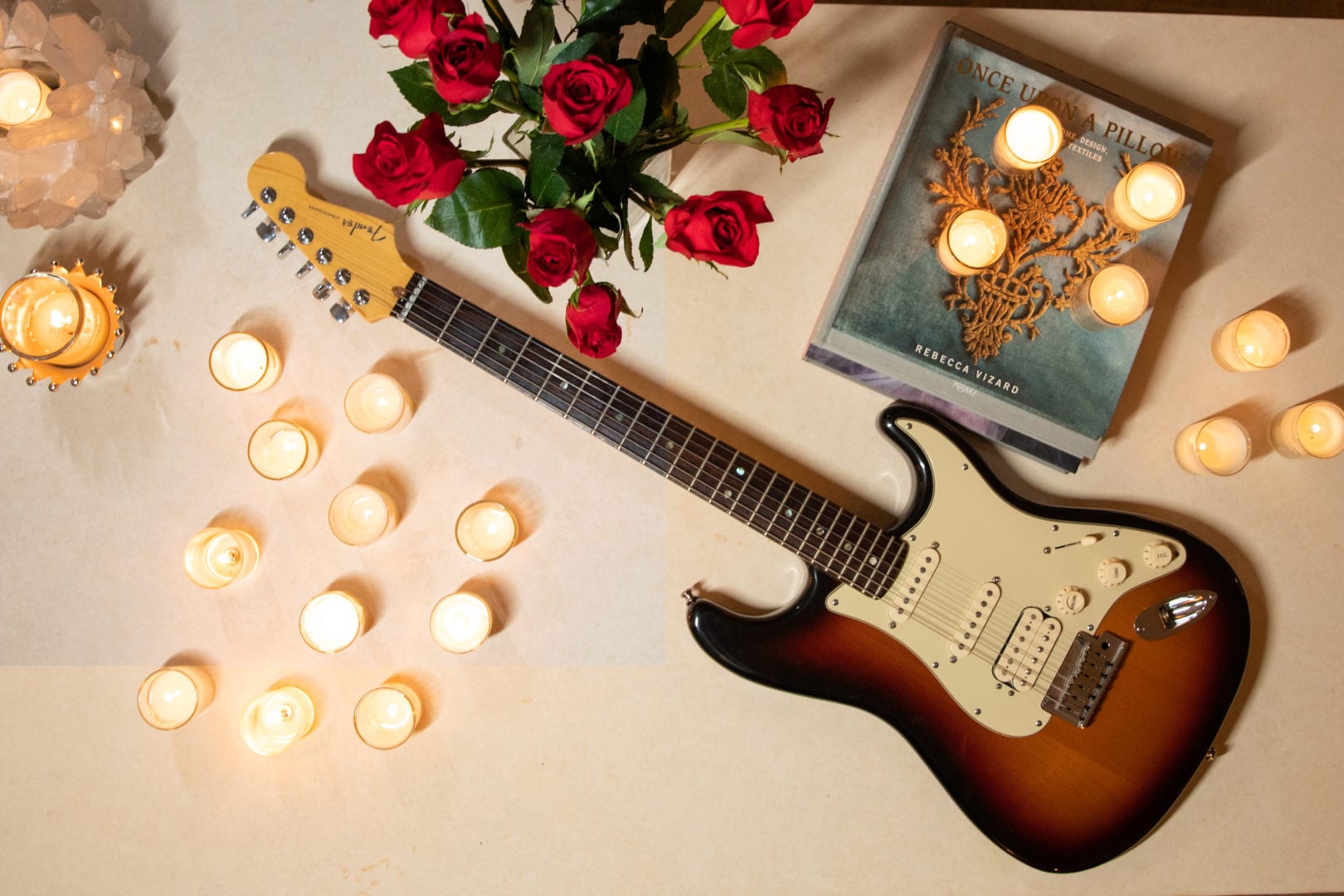 What ever you wear this holiday season I hope you wear it with joy and gratitude and celebrate the season with music, food and friends. One of my best girlfriends just found out her breast cancer IS NOT Stage IV after all. Talk about grateful… We're over the moon! Thank you, God! Blessings to all of you!