Except for the last few years, when I was making monthly trips to New York City, my wardrobe has always included color. Those trips—along with the chic women I met and the stores on Madison Avenue—influenced me, so I've added a lot of black to my wardrobe. While black is classic, easy and versatile to wear, I've been craving color. I've also discovered black lends itself to summer dressing.
I'm crazy about this week's outfit and can't wait to wear it everywhere.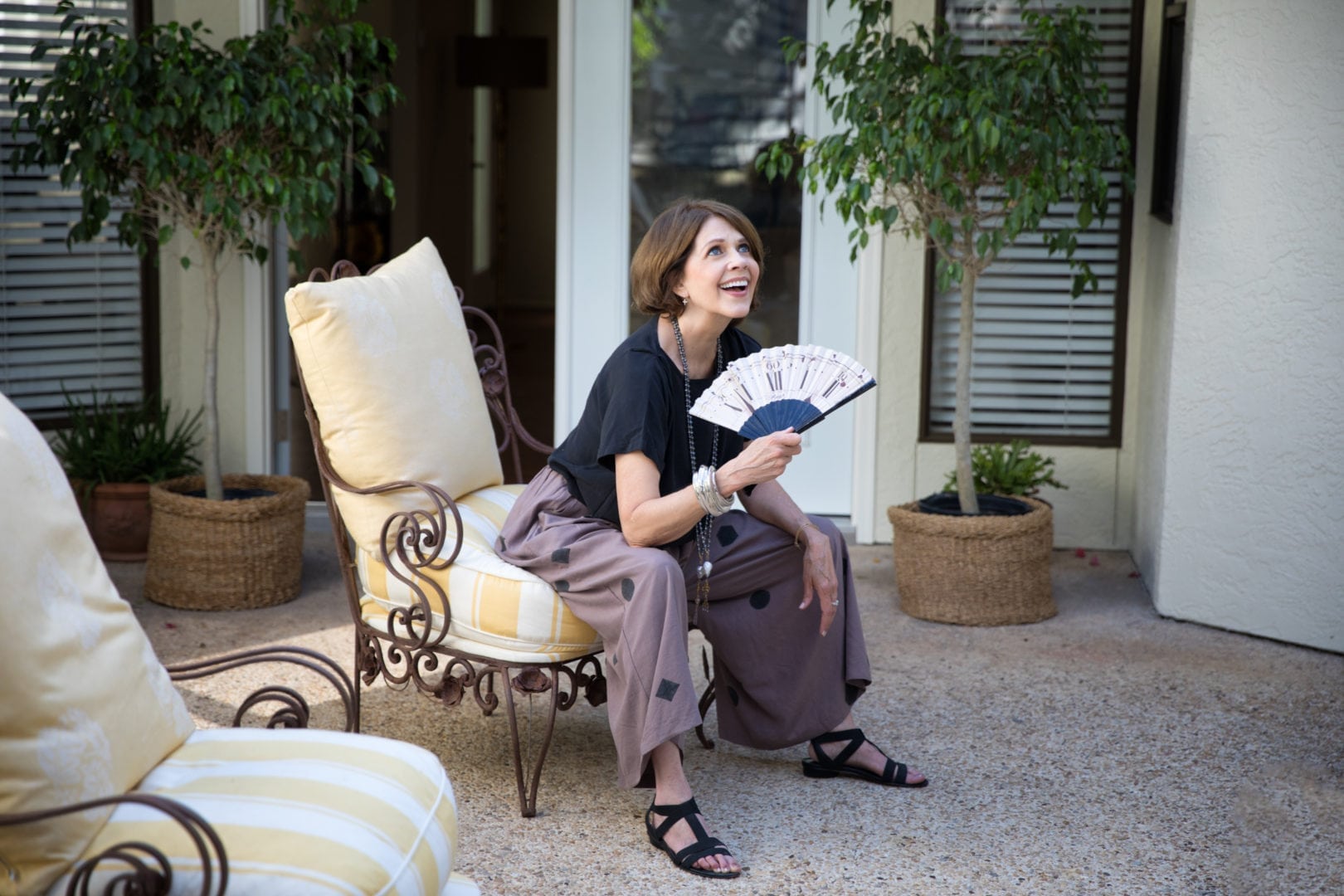 My Maggie Top is a naturally dyed, black silk crepe. It's slightly cropped, but it more than covers the waist of my Savista Pant… which just looks like a skirt and is a 100% silk boski. It's not the usual shiny silk you might think of. Both are from Seek Collective. Designed by Carol Miltimore in Brooklyn, New York, Carol's pieces are inspired by her travels and her lifelong passion and respect for the artisans she's met along the way. The pieces I'm wearing are perfect examples.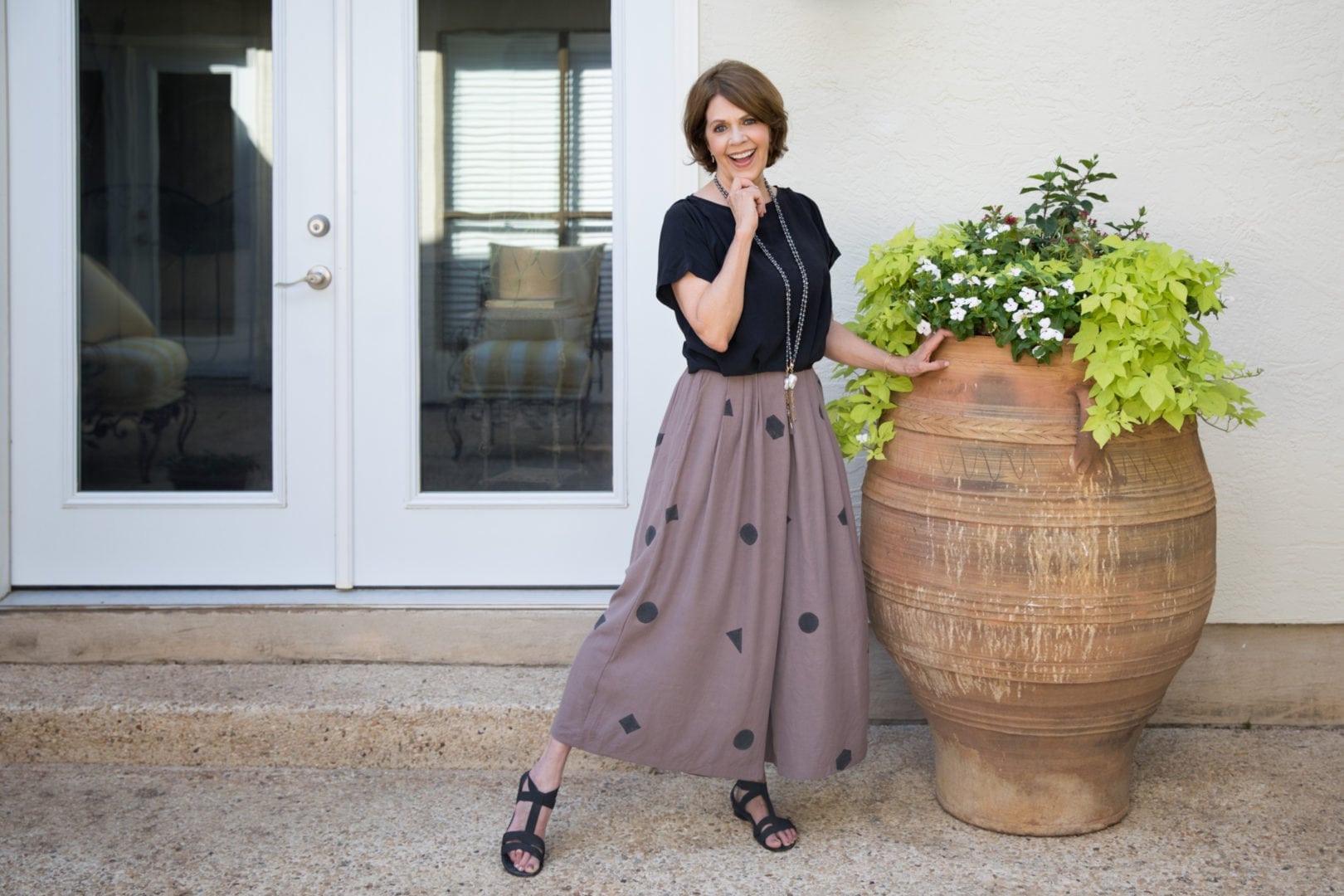 Made in India, my pants were hand blocked, a technique which dates back over 350 years. It's an intricate and time-consuming process which begins when the artisan hand carves each design into a block of wood. The block is then dipped into the color dye and stamped onto the fabric, one block at a time, until the pattern is achieved. From there the fabric is boiled, washed and dried in the sun.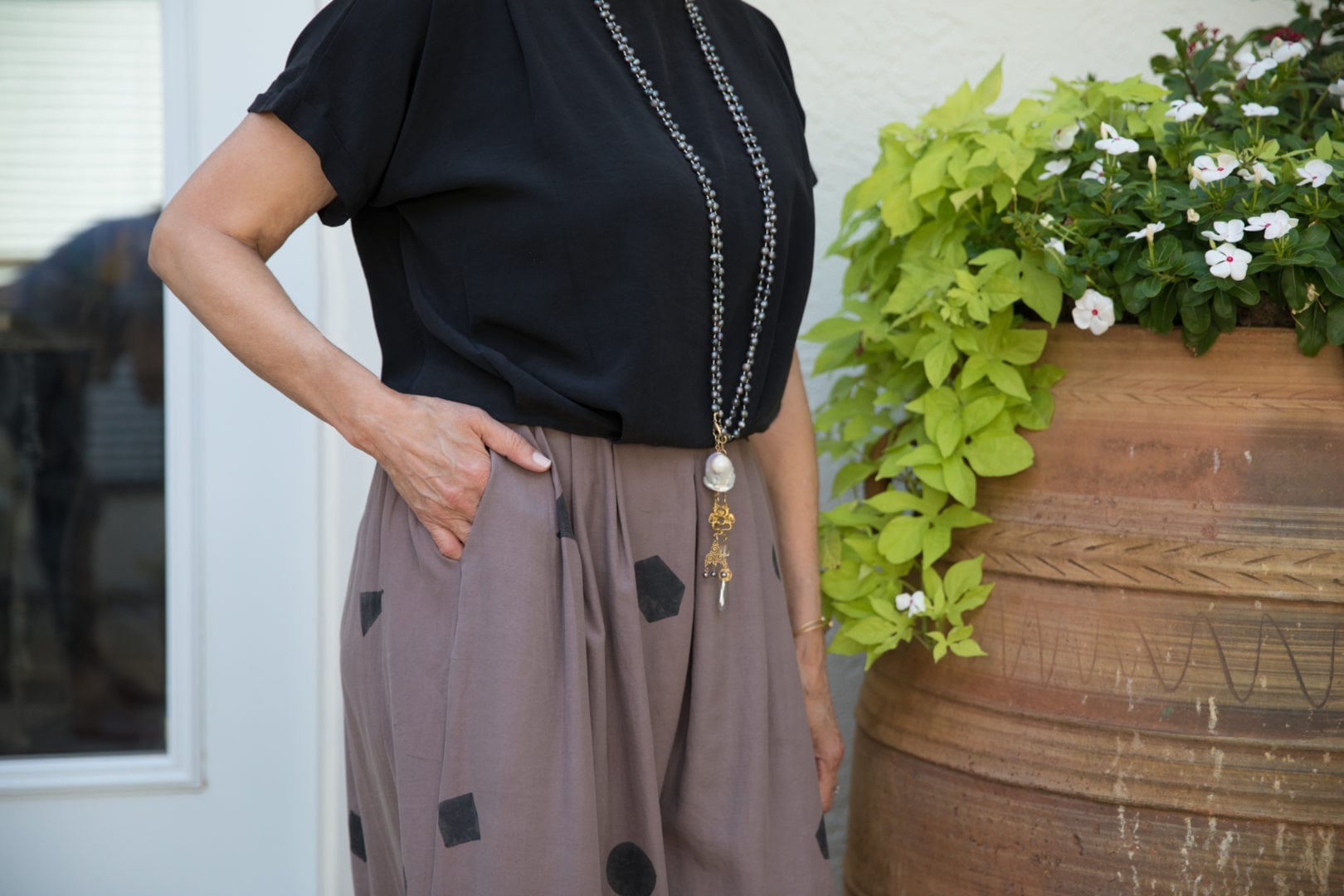 Aside from the design and the look and feel of the fabric, the thing I like most about Seek Collective's company is because of the intricate process, lots of people in this village in India are employed. In addition, no electricity is used, and they only print what is needed, which reduces waste.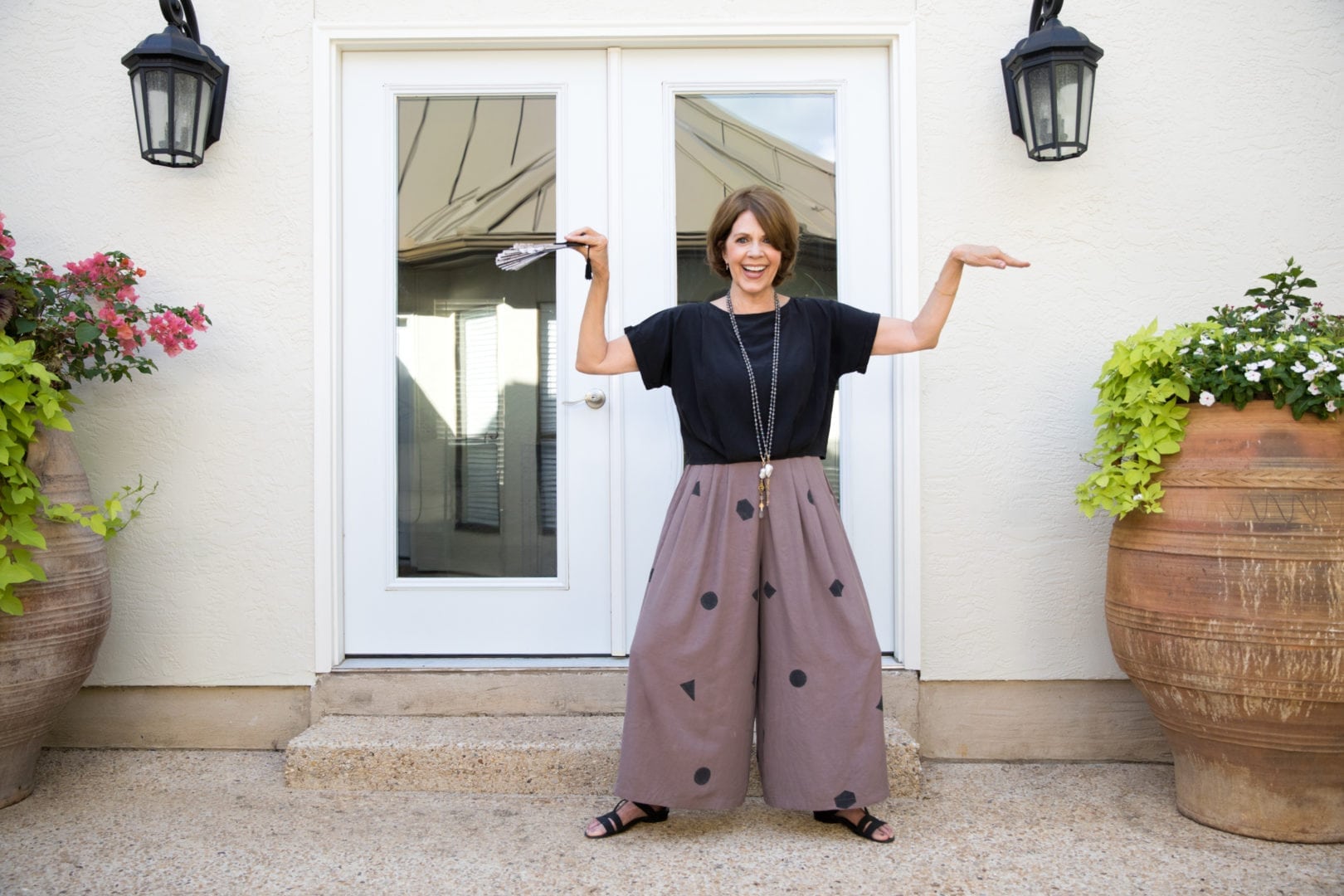 Just so you know, I wasn't compensated in any way for this post. I found Seek Collective on my own and then placed my order with my credit card. Since then I've discovered they sell a lot of pieces to women over 50, and because I love this outfit and the thought behind the company so much, I hope all of you will visit their site and take a look! The Maggie Top and Savista Pants I'm wearing are on sale!!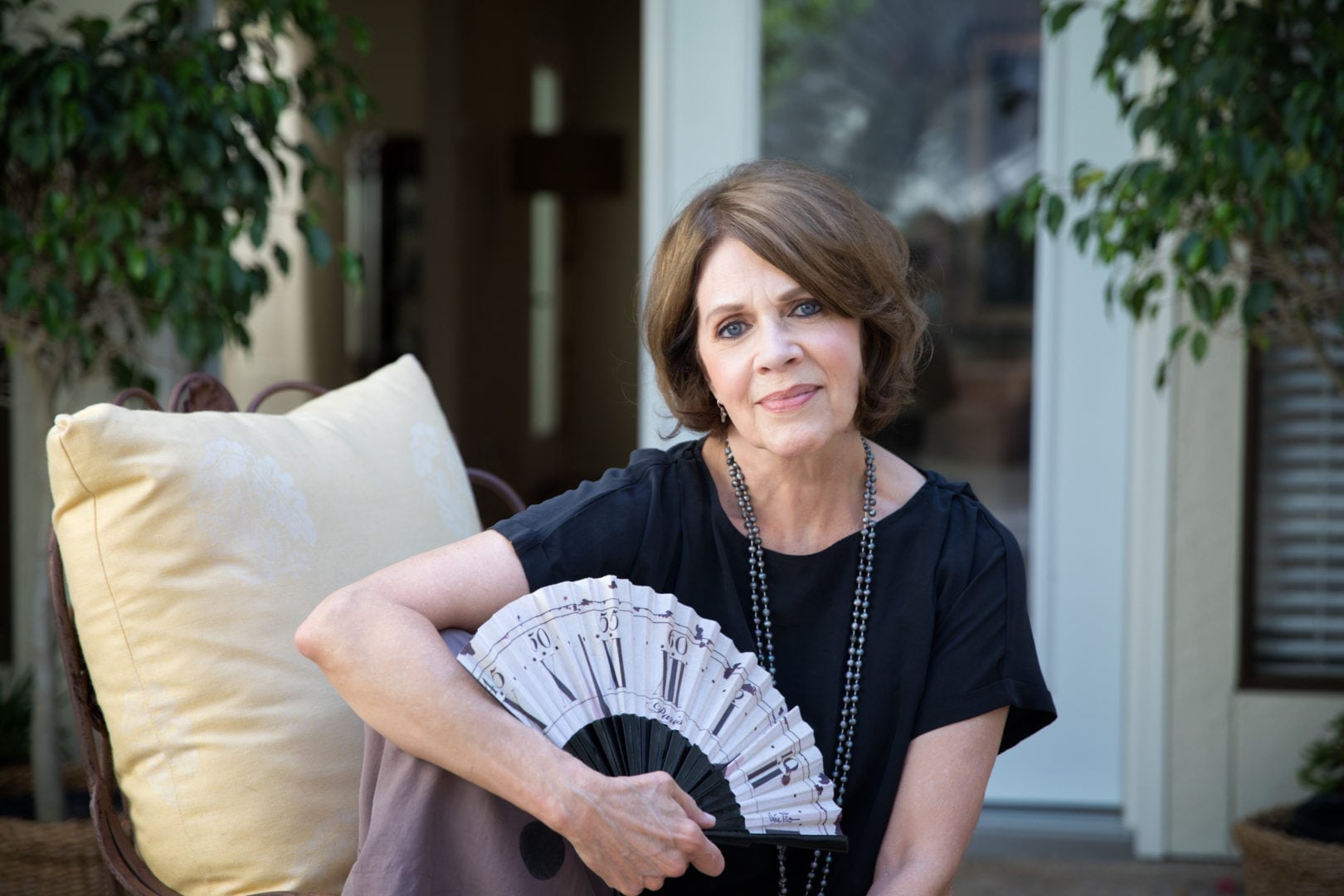 I will say their measurements are a little confusing. They measure the bust or the waist with the piece laying flat on a table, which means you need to double that measurement, i.e., 17″ is really 34." I had to email them and ask, but they got back with me instantly. For their consideration… I'd suggest they add a size chart to each outfit and explain how it correlates to small, medium, large, etc.
And, as always, if you see something you like that's sleeveless, remember you can always layer a lightweight t-shirt or blouse underneath. I did that with one of my recent Fashion Friday posts.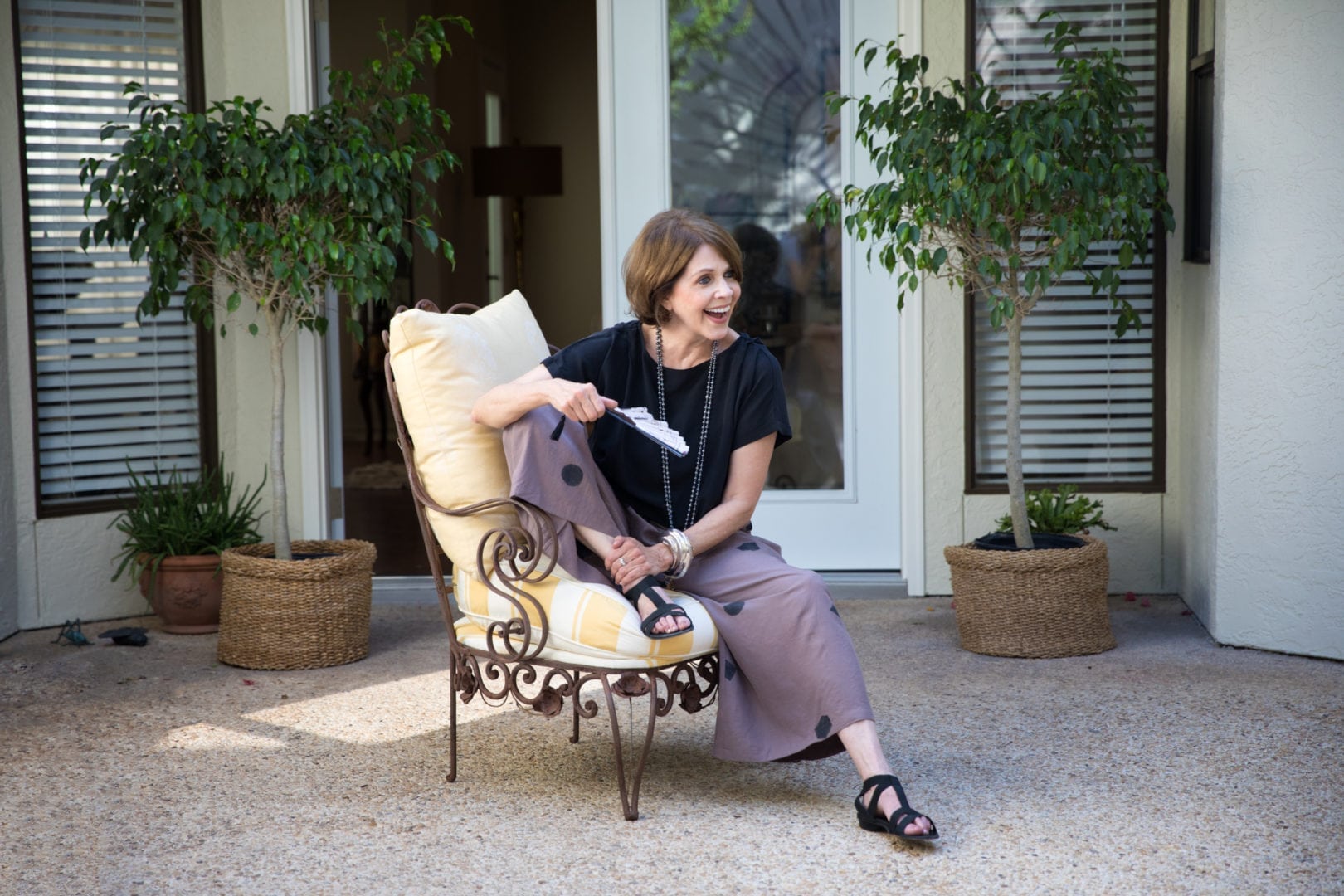 BTW, Jennifer and I took these photos in my courtyard. I have a long way to go before I show it to you–it's not landscaped and I'm still working on the furniture–but I have painted the courtyard walls a soft cream.
See the silver bracelet I'm wearing in TWO of these photos? That's because it's heavy and keeps slipping off my wrist. I bought it when my first husband and I were in Santa Fe. I wore it out of the store, and at some point, it fell off and clattered to the sidewalk. My husband, who didn't like it to begin with, kept on walking and without missing a beat said, "Sounds like somebody lost a hubcap." LOL!
Happy Summer Dressing!!