In the face of the disaster in my home state of Texas, I was hesitant to post about my great trip. I reflected on what made it so wonderful, and it wasn't the places we've visited or the great food we enjoyed…
It was the people, both cherished friends and new friends, even a complete stranger, that made this trip as memorable as it has been!
We started and ended our trip in Santa Fe, NM, visiting dear friends who live nearby in the old mining town of Madrid. We spent the better part of a week with them; catching up, riding our new bikes through downtown and sitting around their dinner table and talking about life.
From there we went to Durango, Colorado. We've always wanted to explore the area and to camp beside a river. We also planned a day-trip to Ouray to take a Jeep-tour to the top of a 13,000 foot mountain with another old friend. We wanted to do it with someone we trust, and he's been working as a tour guide for years now. It was great to see him again, and his tour was exhilarating, witty, and educational.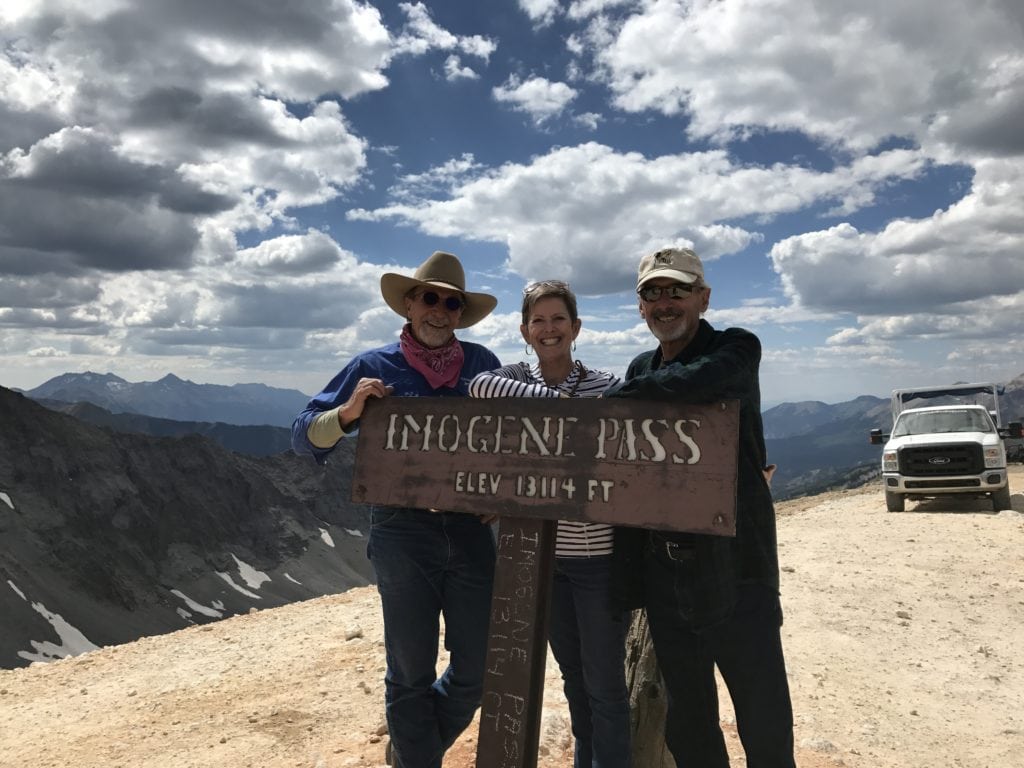 In the grocers a day or two later a woman struck up a conversation as I waited for the butcher. It turned out she was working at our First Choice campground… the one we waited too late to book. "Be sure to meet my friends Larry and Sue," she said. "They are working at your park." Then she left without introducing herself.
I'd forgotten about it until I was in the office talking to the woman at the desk. A man hustled through and she called after him, "Hey Larry, wait a minute!" When he returned, I introduced myself, mentioning his friend. I described her, and he knew just who she was and the woman at the desk turned out to be his wife, Sue!
We became friendly with everyone working there, even wondering what it would be like to work there for a season. The night before leaving I decided to bake oatmeal-raisin cookies for everyone, and Turk helped me deliver them. They'd all made our stay so special.
We left with new friends and a job offer for next summer! Larry is in charge of hiring for next season, and he's considering my cookies to be the sweetest form of bribery. I can't imagine how hard my guardian angel(s) worked to orchestrate this whole trip, but what a trip it was!