Isn't it funny how things like smells and music can jog our memory and remind us of places we've been or experiences we've long since forgotten? Like every time I open the dresser drawers in the guest room, I'm reminded of my grandmother. Even after all these years the rose pattern on her drawer liners still smell like her favorite perfume, Elsa Schiaparelli's "Shocking." And today an online photograph of a room I'd never seen before struck a familiar chord. 
I knew it was related to a fabric I'd been seeking for over 10 years.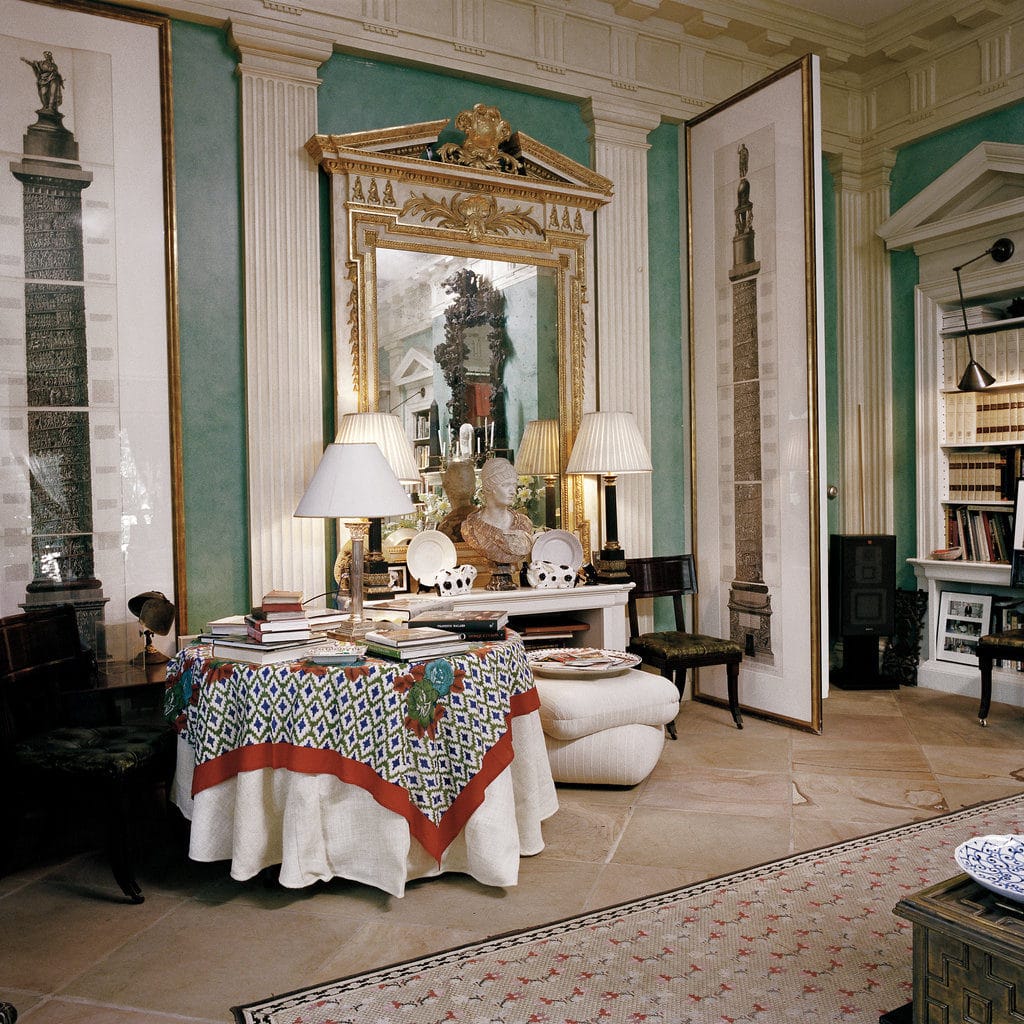 John Richardson's library, from his new book, John Richardson: At Home which will be released March 26, 2019, by Rizzoli.
I'm a fan of Heather Clawson's blog, Habitually Chic. Heather writes about people, places, fashion and interiors. One of her recent blogs was in honor of art historian, curator, artist, dealer, industrial designer and auction-house executive, Sir John Richardson, who died this week at the age of 95. In Richardson's elegant library is a table covered in a fabric by Lisa Corti. While her name rang a distinct bell, it was the blue and green cabbage patch roses on her fabric that got me excited.
In 2003, I purchased one of Lisa's tablecloths when I was in Napa Valley on a photography assignment for the historic and distinguished Stag's Leap Winery. When I got home the tablecloth sat, folded and unused, until we moved to the ranch, and I draped it over the iron daybed on the screened-in porch of my 100-year-old Little House. On pretty spring mornings I would take my books and magazines, and sometimes a pot of green tea, and spend time there, grateful to be alive and finished with chemotherapy.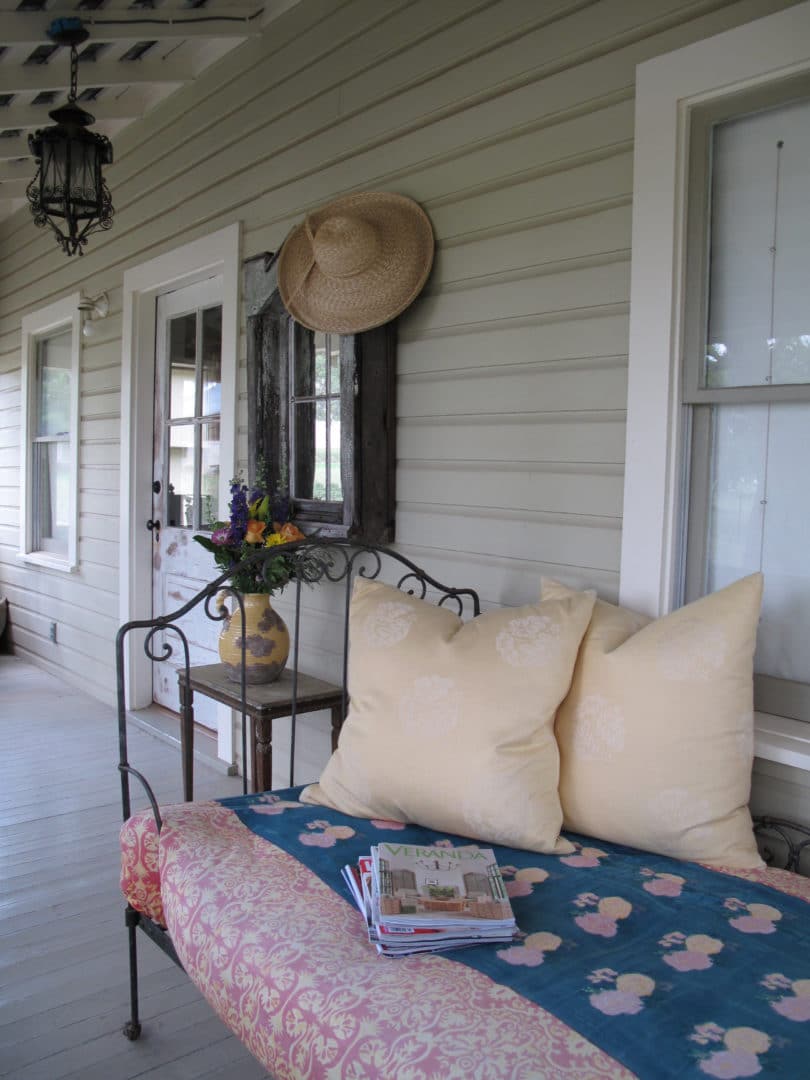 From my little spot on the porch, everywhere I looked, beauty bloomed: the yellow and orange flowers on the prickly pear cactus and the pale lavender blooms on the wild onions. The rolling vistas of the Texas Hill Country were carpeted with wildflowers like Indian Paint, Mexican Hat, Evening Primrose and Texas Bluebonnets, and day by day, like the land around me, I felt the renewal of spring.
After a couple of seasons the fabric on the daybed—which wasn't meant to have anyone sit on—faded and split. I stitched it together, but the center had thinned to the point that it split again and again.
I felt like I'd lost a dear friend. A friend who'd helped me heal and find my new normal after breast cancer.
Today as I read Lisa Corti's name, I knew it was the same woman who'd made the fabric I'd used on the daybed. When I checked her website I found pages of tablecloths, quilts, pillows and kaftans with the same brightly colored, hand-blocked roses.
Contrary to the dreadful weather around the country… Spring is coming! Have faith! Now that I've moved back to the city, I'm reveling in butterflies and bees and the baby birds who're making their first tentative flights out of the nest. 
It will soon be time to move the same iron daybed to the center of my courtyard. Once again I'm excited to say it will be covered with another Lisa Corti fabric, a quilt this time. I love the rebirth that comes with spring, don't you?