We all have different taste in art, music and clothes. One isn't better than another, just different… like prints and multi-colored patterns versus solid-colored clothes. I prefer solids over prints. Perhaps that's because I'm a minimalist, but clothes with busy prints and patterns overwhelm me.
There may be a reason the LPD (little print dress) never caught on: It's harder to wear because there are too many competing elements.
The fashion trend this fall is to layer prints. Since I know nothing about prints, I sought the advice of Andrea Serrahna, one of the interesting women I met at the Contessa's California home this summer for lunch. Andrea is a fashion designer who travels to India where she buys bolts of colorful cloth, then has local artisans make them into her designs. Stop by Andrea's store in Oakland or if you're on Instagram, you can find her at @serrahna.
Andrea Serrahna, wearing her designs.
"Prints celebrate the joy of life," said Andrea. "They're the spice of life and not to be feared."
When deciding what prints to wear, Andrea says it's important to understand scale and proportion.
The scale of the print should be commensurate with the scale of your facial features and your body size. Larger head, eyes, nose and mouth can wear larger prints and vice versa.
Your personal energy determines how much print and pattern you can wear. If you have more outward energy, you can handle more pattern, but if you're demure and introspective, then you should keep to a single print and not mix and match.
Layering is good for those who like abundance. When layering prints, it's always good to change the scale, with one print larger, one smaller. If they're both the same size, it becomes static and uninteresting.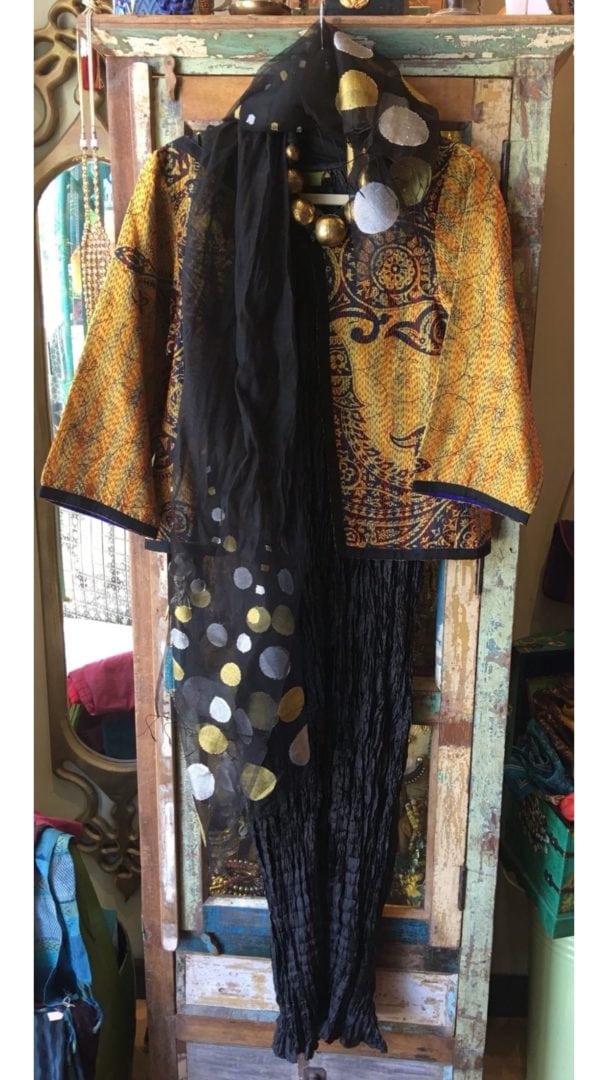 A photo of an outfit Andrea put together with me in mind, although I didn't buy it. It's anchored by the solid-colored, crinkled, black sheath that has texture.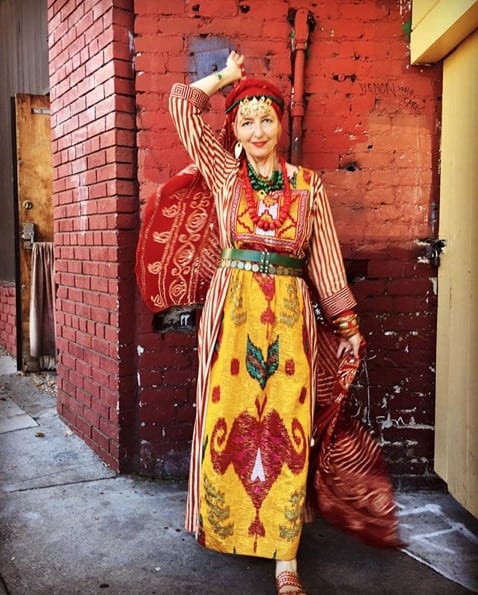 If you're going for the exotic look, then go for it all the way with scarves and jewelry, like Andrea, and own it. I think she's sensational looking! On my next Fashion Friday post, Andrea will advise us about what colors to wear.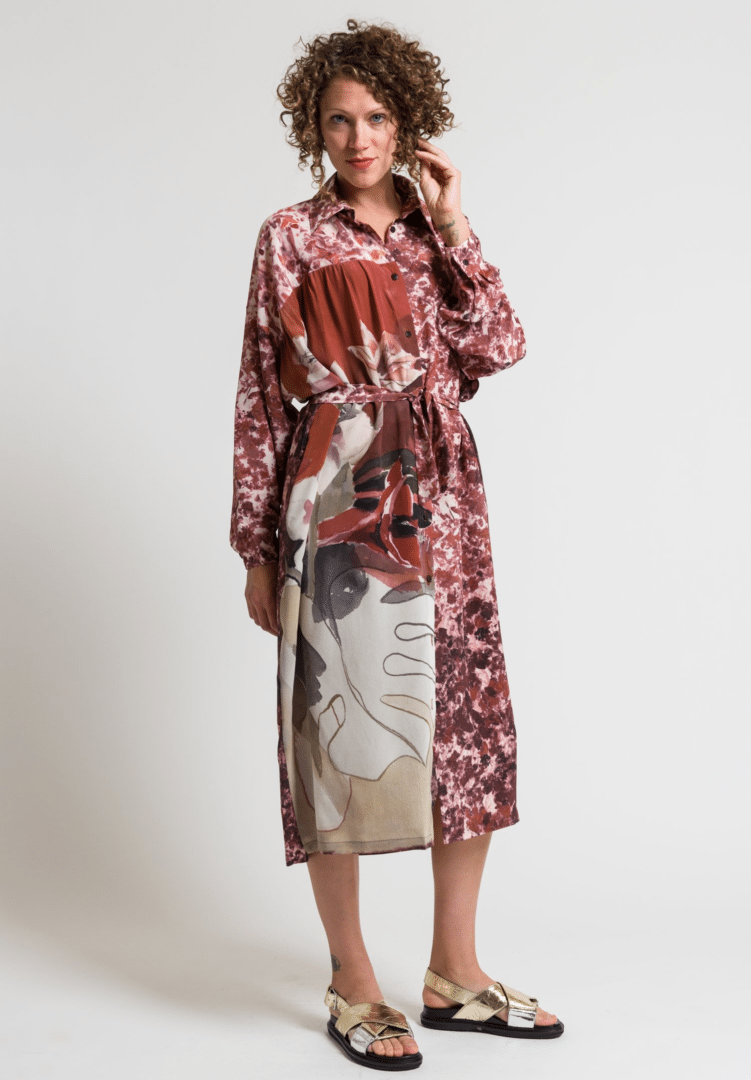 This is my opinion, not Andrea's, but when it comes to prints and patterns, be careful you don't windup looking like you're wearing something my grandmother used to call "a house dress."
WARNING!! The rest of this post will be a contrasting color and culture shock! LOL!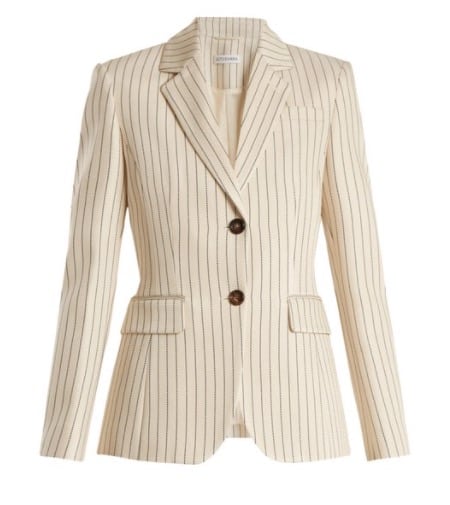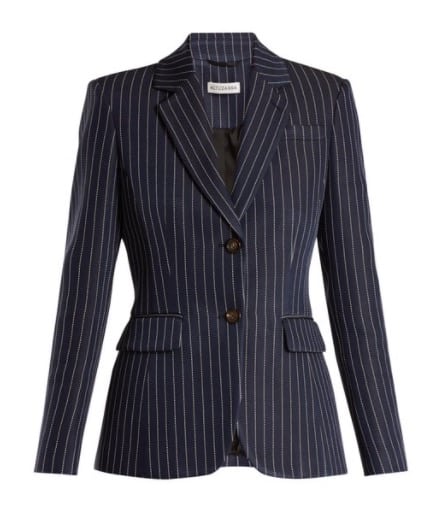 Subtle patterns like tone on tone or narrow stripes are easier to wear and accessorize, because they go with more things. Try a cream colored blazer with thin, vertical, navy stripes or vice versa, a navy blazer with narrow white stripes. Pair it with a solid-colored pant together with a t-shirt, shell or white blouse. Stripes will never go out of style. Straw or leather bags and shoes would look great with both as would a dramatic rhinestone pin, fabric flower or contrasting handkerchief in the upper pocket.
Solid colors. If you think solids are drab and boring, maybe you're wearing the wrong colors, or fabrics that have an interesting texture. What if you accessorize with a colorful and/or print scarf? It will give you that added punch of color without being overwhelmed by a patterned blouse or jacket. Perhaps that's why the LBD (little black dress) has always been so popular. It's the easiest to jazz up and accessorize.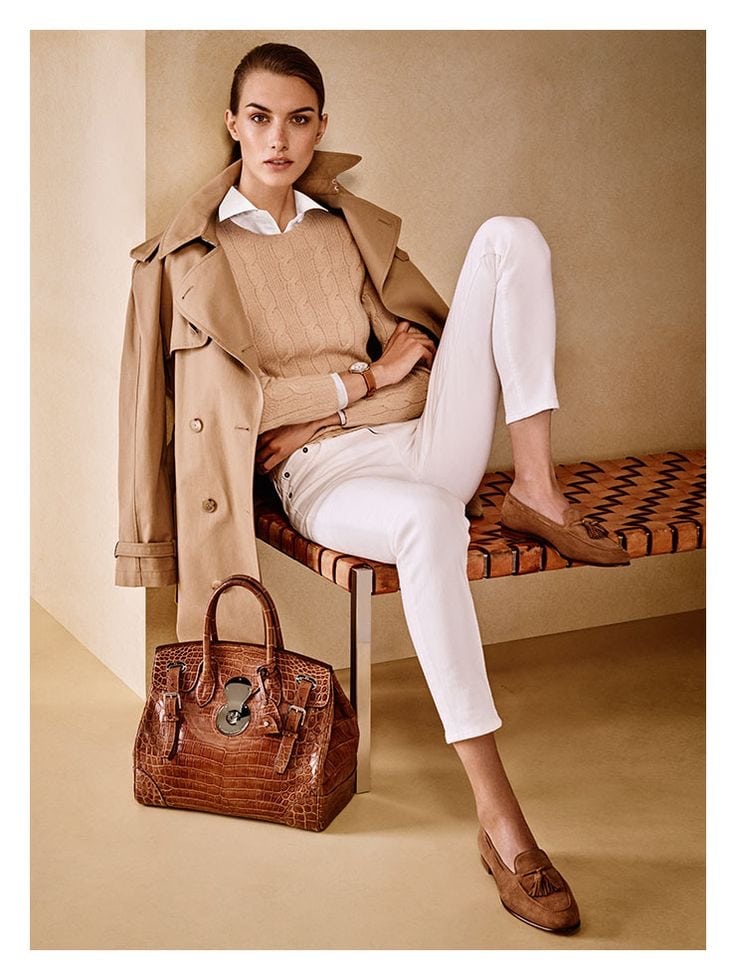 Dressing in varying shades of the same color will create an optical illusion of height like this outfit from RalphLauren.com. The white collar peeking out and the different textures of the sweater, bag and shoes is also a great example of the "two colors rich, three colors poor" theory. Classy but not boring.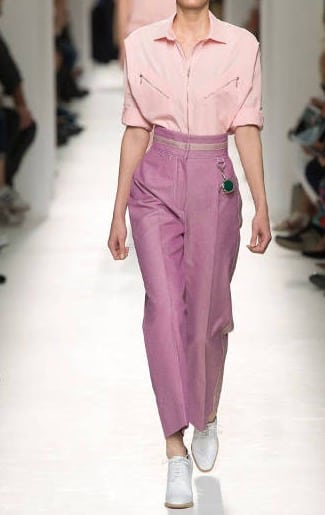 Another variation of two colors in the same family.
When all is said and done, prints or solids are a personal preference. The most important thing to look for when shopping is whether a piece is versatile… Can you dress it up or down on a regular rotation and wear it with other things? If not it will windup as an orphan in your closet.