So many of you have left comments on my blog, Instagram and Facebook and even sent me emails, telling me how much you like my writing and urging me to write my story… a memoir. Thank you, sweet friends, for supporting what are sometimes difficult things to write, but that's what I do. I'm a writer, and our stories are not always pretty. While I haven't decided whether writing a book is something I want to do, you've made me think about it. In the meantime I found a piece I wrote 20 years ago for a writer's workshop. The assignment was to write the first page of your memoir. For your consideration… xoxox, Brenda
I've often wondered if he liked to possess me just as some men like to own fast cars. "This week she landed on an aircraft carrier, cooked a gourmet dinner for 12 and won a race at Texas World Speedway."
I was fast and sleek and hung my ass out over the edge. A risk taker. A reflection of him.
Toward the beginning of our 17-year marriage he once told me, "This is my train, and you're welcome to ride it. If at any time you don't like the destination, you're free to get off, but you won't find a better ride anywhere."
Had I been the tour guide, much of his route I wouldn't have chosen, but the decision to stay onboard—or get off—was always mine.
For a young woman of 21, life with a handsome, successful man—13 years my senior and the darling of Wall Street—was exciting and glamorous, like something out of a movie. With sex, drugs and rock 'n' roll, we traveled the world in search of places where no one spoke English; you couldn't get a cheeseburger, and a room for the night might be a hammock with a skinned squirrel that dripped blood on our foreheads.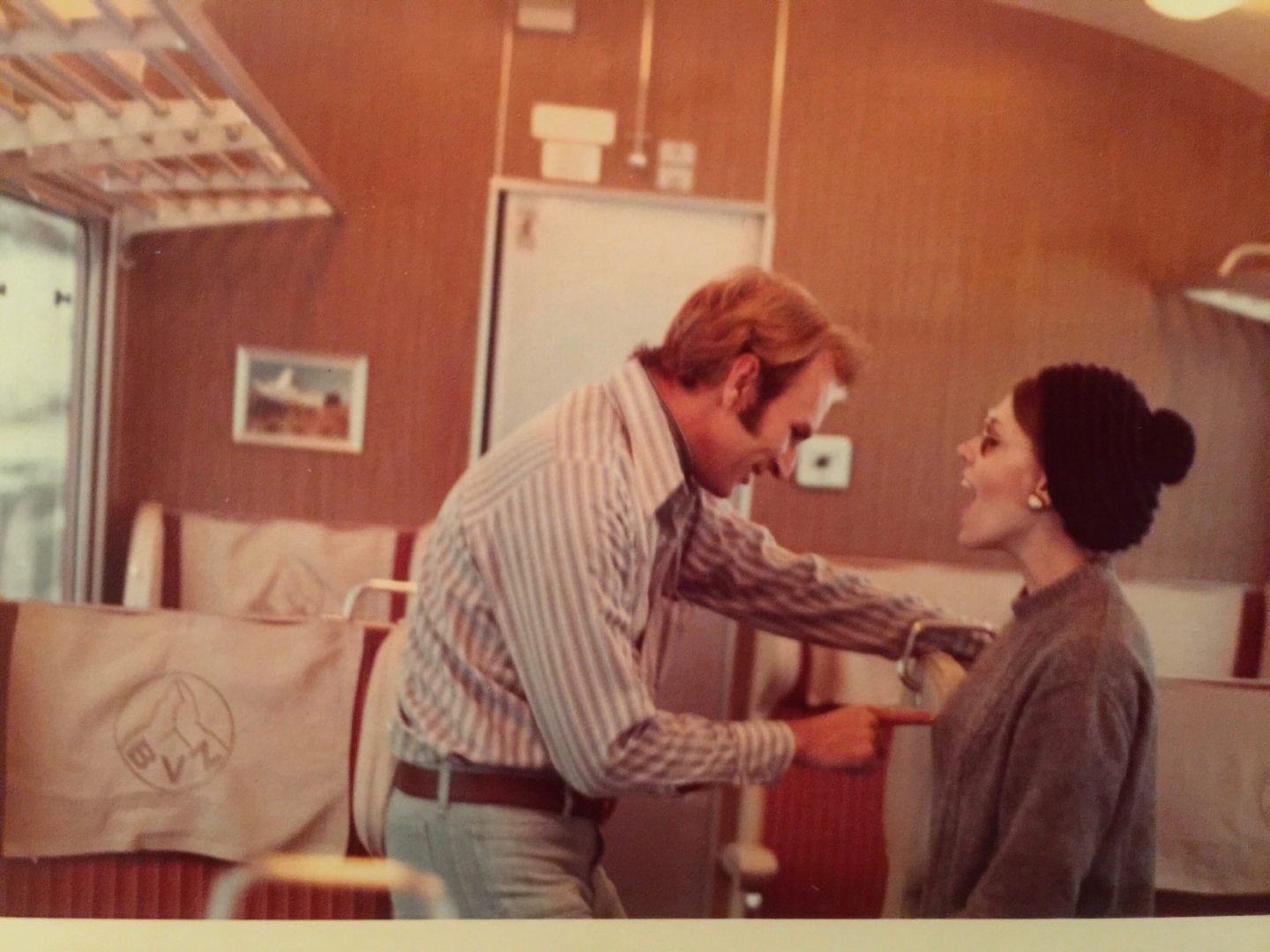 As his train gathered speed, one by one, his cars began to careen off the tracks. First came the Valium, taken only for sleep. A brilliant mind like his couldn't shut off by itself. We moved to a new city, a world away, and a few days later, he ran out of his precious sleep elixir. The results were unexpected and unforgiving.
That evening I was in the backseat of a Mercedes, driven by a psychiatrist with a goatee and a heavy German accent, while my "can't hurt steel" husband rocked back and forth in the front seat. I watched as he was admitted to a teenage psycho ward—the only bed available—and led away in a white, canvas straightjacket, his arms buckled behind his back. They gave him an injection of Valium, and the next day he was fine and demanding to be released. But he wasn't fine…
Cold turkey on Valium can kill. At best it rewires the way the synapses fire in the brain. For three months he sat in the dark, communicating rarely with me and no one else. At 24, I made excuses to employees in two cities why he was out of pocket, soothed anxious investors, made fiscal decisions and hosted a Christmas party for employees and their families. Fa-la-la-la-la, la-la-la-la.
For the next 10 years we lived on the edge of everything, withdrawing from corporate America and all but a few friends, in search of undiscovered Mayan ruins, abandoned silver mines, the best reefs to snorkel on… Anything that would help him escape his post Valium demons.
Dr. Jekyll and Mr. Hyde had crept into my bed. He was manic one day, depressed the next. Alcohol, and lots of it, became his new sleep elixir with a chaser of cocaine in the morning. My career had been sidetracked by his out of control train. I hung on tightly, reading every book I could find about addiction.
He was charismatic, a natural born teacher, and I was his Eliza Doolittle. I was encouraged to become a mixture of Barbarella and Mata Hari, but in the end, it was my train. I was the conductor.