I often say that my husband and I had our first date in a canoe, but of course that's an exaggeration. Our first date was in December. But it's no exaggeration to say that camping and fishing are an important part of who we are as a couple. My husband has a passion for the wilderness and for canoeing and fishing. And I've learned, over the years, to love the wilderness too. We've spent a lot of time together in a canoe. Our relationship has been tested as a result.
Like my first canoe trip in 1985, when it snowed. That was definitely a test. Or our canoe trip back in 2014.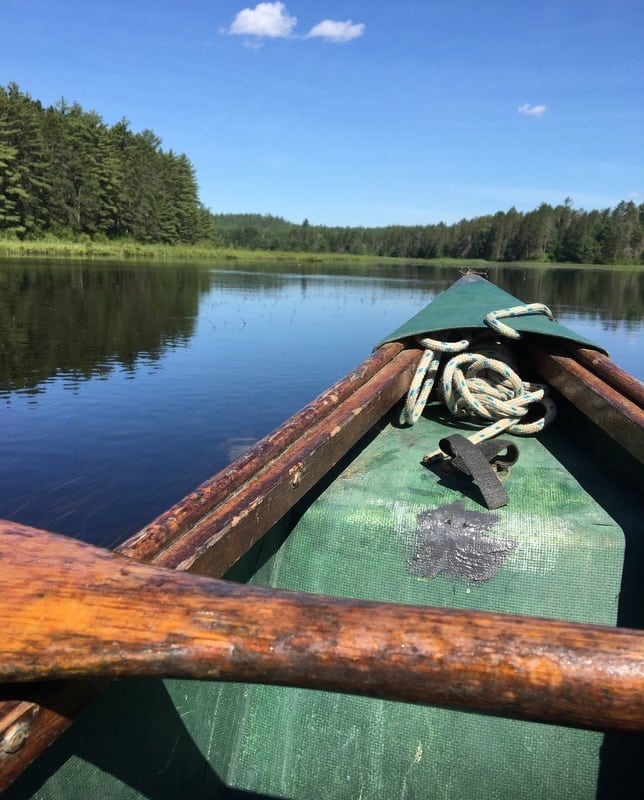 We'd barely begun paddling when it started to rain, and my lower back began to throb. "I'll loosen up," I said to Hubby when he suggested we abort the trip. The rain eased when we reached the portage, and I felt better to be up walking, even if it was with a pack on my back.
But as we loaded the canoe and paddled off, the rain began again; my back throbbed, and my 10-year-old rain jacket gave up the ghost. In minutes I was soaked through. An hour later we reached our campsite, but it was raining too hard to set up. Now, tired, in pain and very wet, I began to shiver.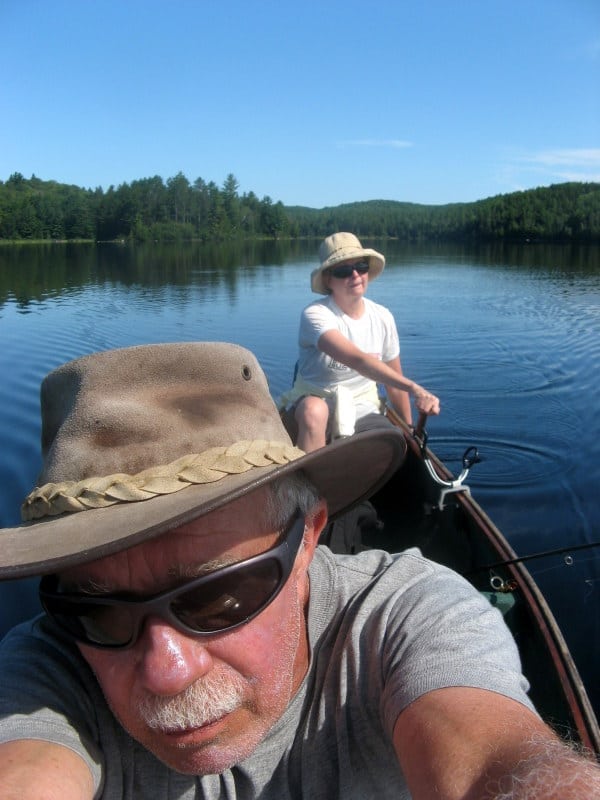 Me learning to handle the stern of the canoe on Booth Lake in Algonquin Park, 2010.
I leaned against the trunk of a big pine tree, out of the rain. Hubby rummaged through the packs, found an emergency poncho and pulled it over my head. From the fish bag he pulled out the big rubber fishing gloves with liners, and I pulled them on. Then as I leaned against that big tree, out of the wind, shivering, back throbbing, the mosquitos started to buzz around the only part of me showing… my face. I remember murmuring over and over, "I am NEVER doing this again!"
We came close to turning around then. Hubby said I only had to make the call. I knew he'd feel guilty if we stayed, and I was miserable, but I'd feel guilty if we went home after all our hard work. Besides, it was Hubby's birthday. I sniffed and gritted my teeth, and we stayed. And I'm happy we did.
The sun came out, and the breeze blew the bugs away. Hubby built a big fire, sat me down, pressed a hot toddy into my hands and did all the work of setting up and making dinner.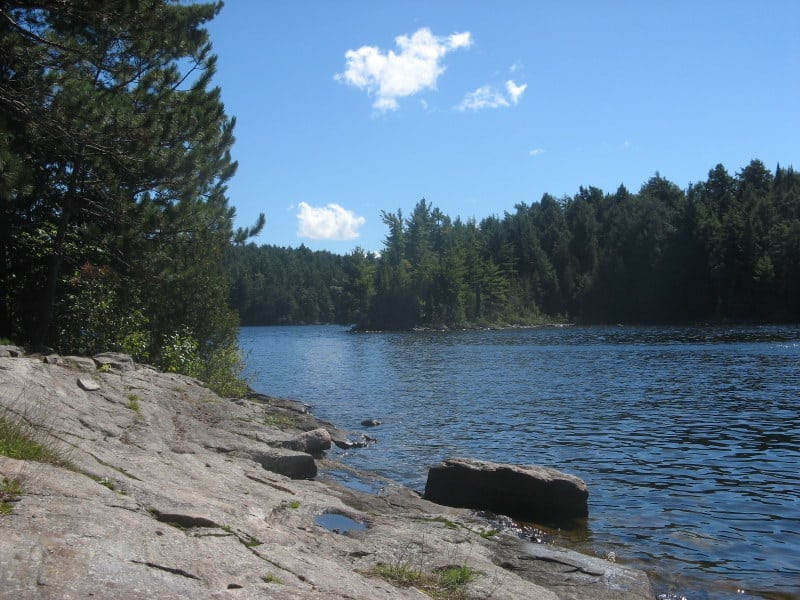 Later, my back pain gone, we ate, sipped wine and watched the sun set. The next few days were wonderful. We paddled, swam, ate freshly caught fish, laughed, drank wine and on cloudless nights, watched for satellites or howled at the wolves.
You know, I think marriage is like fishing. You have to take the bad with the good. To keep paddling through the rain, and hope the sun comes back out. And learn to laugh when the bugs are biting, but the fish aren't.