Most of us aren't tall and lean and built like a supermodel, plus if we're over 50, we may have gained a few pounds… in all the wrong places. We may also find shopping for clothes that flatter our figure has become more difficult. If you're nodding in agreement, take heart.  
I have some suggestions that will work together to give you the illusion of a longer, leaner silhouette.
Instead of trying to hide our figure in long shapeless shirts—which can make some of us look frumpy—we need to play up our curves and add inches to our torso, the area between our waist and breasts.
BUY A NEW BRA: When we were young the rule of thumb was that the middle of our breasts needed to fall midway between the top of the arm and the elbow, but if you're like me… Your breasts have drifted south… and not just for the winter. When was the last time you bought a new bra? A properly fitted bra with the straps adjusted can lift and separate your breasts, plus it gives us some of our waist and torso back, both of which makes us look leaners and more youthful.
CREATE A V-NECKLINE: By showing some skin between your chin and your midriff, it gives you the illusion of a longer, slimmer upper body. Stop short of showing cleavage! The red blazer pictured below is a good example of how to do this.
TUCK IN YOUR BLOUSE: When we're carrying more pounds than we'd like, the tendency is to hide it under a long shirt. Women who are on the thinner side can get away with this, but not so much if we have extra pounds. This suggestion may be counterintuitive, but by tucking your shirt into your pants, you've given yourself a waist. You're playing up your curves! And if you're wearing a new bra that raises the "girls," you'll be rewarded with the illusion of more of a torso… That area between your waist and your bust will be lengthened, which is… Youthful!
WEAR HIGH-RISE PANTS: Hooray high-rise pants, sometimes called "mom jeans" are back in style, easy to find and keep us from having the dreaded muffin top. FYI, we may still need to wear Spanx to smooth our midriff and back bulges and keep them from spilling over our waistband. The leanest pant silhouettes are straight leg and bootcut. And, again, if you're wearing a new bra and/or shape wear and have your shirt tucked in, high-rise pants give the illusion of having more of a waist.
WEAR A BELT: This suggestion may also go against your instincts, but if you're thick in the middle a belt will help define your natural waist and give you the illusion of a more youthful hourglass shape. If you need that added space to elongate your torso choose a skinny belt instead of a wide one.
WEAR A HIP-LENGTH BLAZER: Unbuttoned, open blazers camouflage those areas we'd rather not highlight, while creating the illusion of an hourglass figure. Don't worry about buttoning the blazer. This is a relaxed modern style, and because you only see a vertical "slice" of the top underneath, bordered by two contrasting colored vertical panels, it makes you look thiner. If you have some straight, boxy blazers in your closet that you like, consider having a tailor take them in at the waist.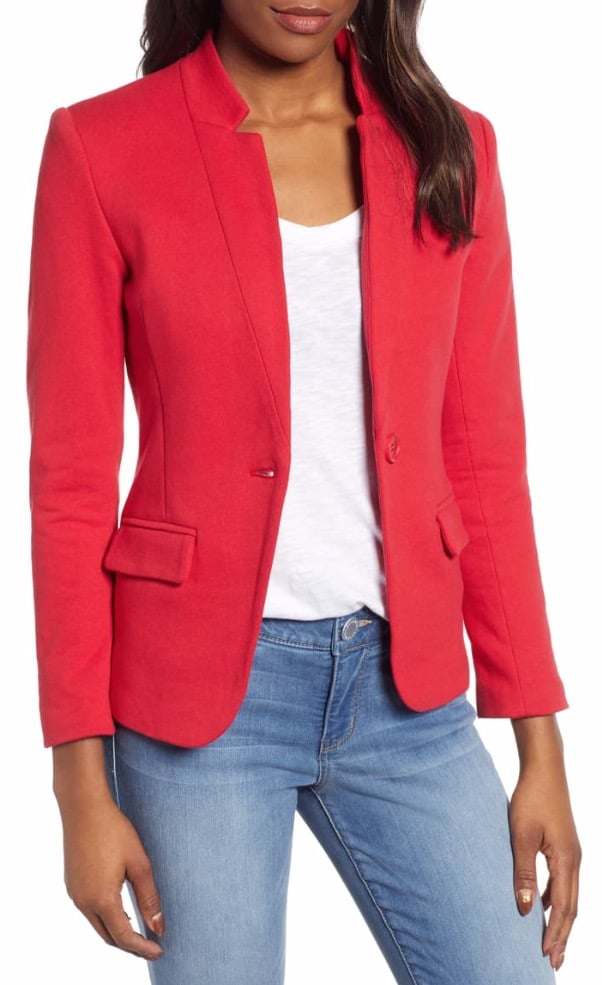 This blazer hits at the hipline plus it has a nip and tuck in the waist so it's more flattering than a boxy, straight blazer.