Saturday I drove by the mall, thinking I'd do some Christmas shopping only to discover everybody else had the same idea. Instead I headed home, curled up on the couch and shopped from my laptop.
Regardless of your budget or whether you're buying for teens, hubby, friends or Uncle Alfred, here are some gifts that will make them smile.
Books are high on the list for myself and to give as gifts. Did I tell you I met Tina Brown this week, former Editor-in-Chief (EIC) of Vanity Fair magazine? I like this woman! She was speaking about her new book, The Vanity Fair Diaries, at the San Antonio Public Library Foundation's literary luncheon where I was the guest of Neiman Marcus.
In the photograph, Tina's pointing to my silver espadrilles–she thought they were chic–and counting the minutes until she could ditch her high heels! My shoes look white in this picture, but they're a subtle silver. They're gorgeous!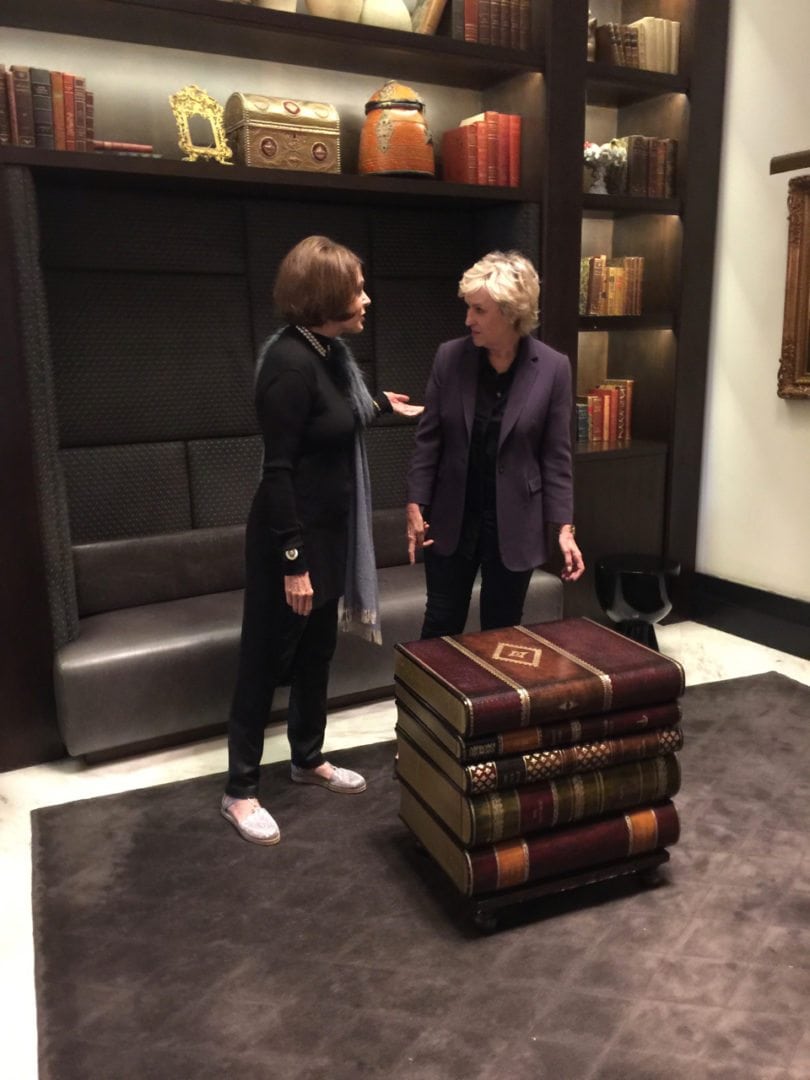 Before she became EIC of Vanity Fair, Tina began keeping a diary. Considering the doors she could open and the people she met, a diary was a brilliant thing to do. If you're interested in the "excessive '80's," the inside story about the meltdown of Princess Diana's marriage to Prince Charles or the politics and intrigue behind a high-profile crime, this is the book for you.
For music lovers and fans of Fleetwood Mac, Gold Dust Woman: The Biography of Stevie Nicks, by Stephen Davis, paints a rich intimate portrait of a rock goddess. While sex, drugs and rock 'n' roll is not an unfamiliar story, this book reveals a strong woman who survived and rose above it all.
If you're 18 or 80, almost every woman needs a great clutch. I love this raspberry velvet clutch, plus it comes in three other colors.
This classy Mini Saddle Bag is reminiscent of a $1,400 bag I've long coveted, and it's just as beautiful.
For a woman who started carrying purses just 10 years ago–before I carried a camera case that also held makeup, credit cards and car keys–I've now developed a passion for small bags, well-made leather boxes and pouches. Here's a small zipper bag for your coins or your favorite teen or bestfriend's headphones. It's made from soft Italian leather with a matching tassel and comes in four colors.
What do you do with your jewelry when you travel? I put mine in this beautiful little pebbled leather case. It has a special place for your earrings, a little pocket and is deep enough for bracelets and necklaces. It comes in three colors, and you can have it monogrammed.
For the man in your life, the Shinola Embossed Tech Portfolio Case has room to be his portable office.
A leather Gucci wallet for him with eight card slots and an area for bills and receipts. Just the classy upgrade he doesn't know he needs!
You know I love Julie Vos jewelry. The other day I saw a woman wearing these earrings, and when I asked her where she got them…  Yep! Julie calls this design her "Medici Earring."
Okay, I'm going to throw in a SPLURGE! This Paul Morelli bracelet is understated elegance. Morelli also makes it in a single strand. After breast cancer, James died, mother died and I lost the rest of my family… and I needed a boost. I bought this bracelet. What can I say? It sparkled bright from the display case and called my name. I've worn it everyday since, so my cost per wear ratio is lower. I learned to articulate that rationale from my stylish, beautiful friend, Xitlalt Herrera-Salazar, Public Relations Manager for Neiman Marcus, San Antonio.
The BEST HAND CREAM IN THE WORLD! I won't be without it. They may not spend money on the packaging, but the cream inside makes a difference in just one night. Everyone you know can use it. Keep a jar or a tube in the kitchen and the bathroom.
Tired of redoing your eye shadow as the day goes by? I've been using this… make sure you get the "anti-aging" primer… for two years. LOVE IT! You only need a tiny bit. Smooth an eighth of a pea-size across each lid, up to the brow, and your eye makeup will stay put.
You can never have enough good makeup brushes. This antibacterial brush set is a great value.
Wowza! Can you believe this makeup box from Neiman Marcus? Only $59, free shipping and free returns, and it has 64 eye shadows, 16 lip colors and 6 face and cheek colors, all wrapped in a beautiful box with a mirror!!
I hope you've found some great gift ideas. Here's wishing you happy shopping! Since the flu season is supposed to be the worst in a longtime, that's further incentive to shop online.