I am grateful to Brenda for posting her interview with Lee Woodruff: A Woman of Strength. Grateful because of the wisdom Lee shares with Brenda. And grateful because it's just what I needed to hear this week when life – "in an instant" – presented me with an "opportunity."
Like Lee Woodruff, my approach to life is to enlist my General-like characteristics of organization, resourcefulness, determination, and courage. I shun emotions. I pack them into an icy abyss where they can get lost and confused. But this week, I had my own instantaneous "life-altering moment" to quote Brenda, and was catapulted from General status to that of needing care.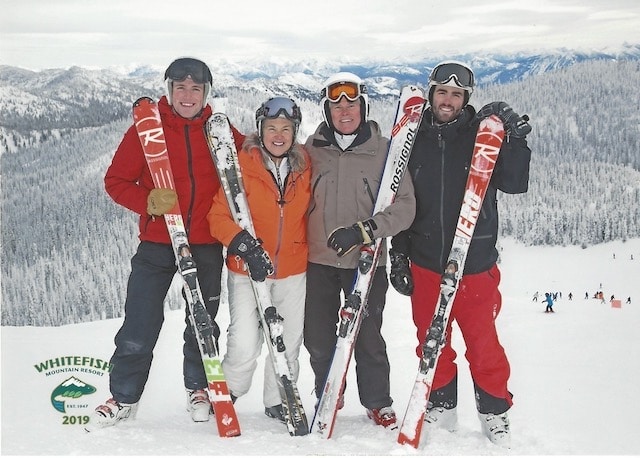 I was downhill skiing with my husband in the beautiful mountains of northwestern Montana when I went airborne, somersaulting onto hard packed snow. The ski patrol hauled me out of a basin, loaded me in a sled, onto a chairlift, and carried me from the summit to the base lodge clinic in a toboggan.
Xrays showed I fractured and displaced my lateral tibial plateau, a bone in my knee. Surgery was scheduled six days later, and I began a six-week regime of navigating life on crutches with strict orders to avoid any weight-bearing on my left leg. Showering, making coffee, changing clothes, and getting in and out of bed – simple routines became arduous tasks.
This accident pales in comparison to the critical injuries Bob Woodruff sustained. But it immediately transformed me from the "General" to someone relying on the help of caretakers. A humbling shift.
I'm discovering I'm not comfortable in this new role. I pride myself on self-reliance and independence.
I have to confess to a streak of "I can do it myself, and my way is the best way" stubbornness.
My new status of dependence is teaching me important lessons. Lessons about myself. About life. About spirituality.
People are smart. My challenge is to throw my pigheadedness aside and listen to the problem-solving advice of people who are capable, ingenious, and learned.
People love you. My challenge is to be gracious when friends offer to bring a meal. Why is it so much harder to accept than to give?
Prayer is powerful. My challenge is to surrender my heart and let those prayers uplift me, protect me, guard me, guide me, comfort me.
The Sacred is a mystery. My wise friend and author Penny Gill explains we have to "learn to witness our inner emotional landscape, and the profound gifts it offers to us, in experiencing our own wholeness and our ability to recognize our intimate relationship to the Sacred. My challenge is to listen and learn.
I am grateful. Grateful for the honor to be dependent, to rely on caretakers, to receive prayers, to surrender, and to be loved.
I pray I will always have the fortitude to embrace the challenges of life's altering moments.
May yo­­­­­u all be well.