I'm crazy about this umbra-colored, Vince midi skirt. It's the second piece I've bought that I featured on one of my Fashion Friday posts. The first piece I bought was that beautiful Zara trench coat last month. Perhaps I should write about something like bowling shoes, because since I don't bowl, I won't be temped to buy the shoes.    
When I bought this skirt I knew it could be the basis for lots of different outfits.
1. For starters I could pair the new, Vince midi skirt with my old, belted tweed blazer and my Oscar necklace—you've seen both several times before—along with a nude camisole underneath plus my old pair of tan, suede, Saint Laurent ankle boots. Since the colors are all in the same family of warm browns, they work well together.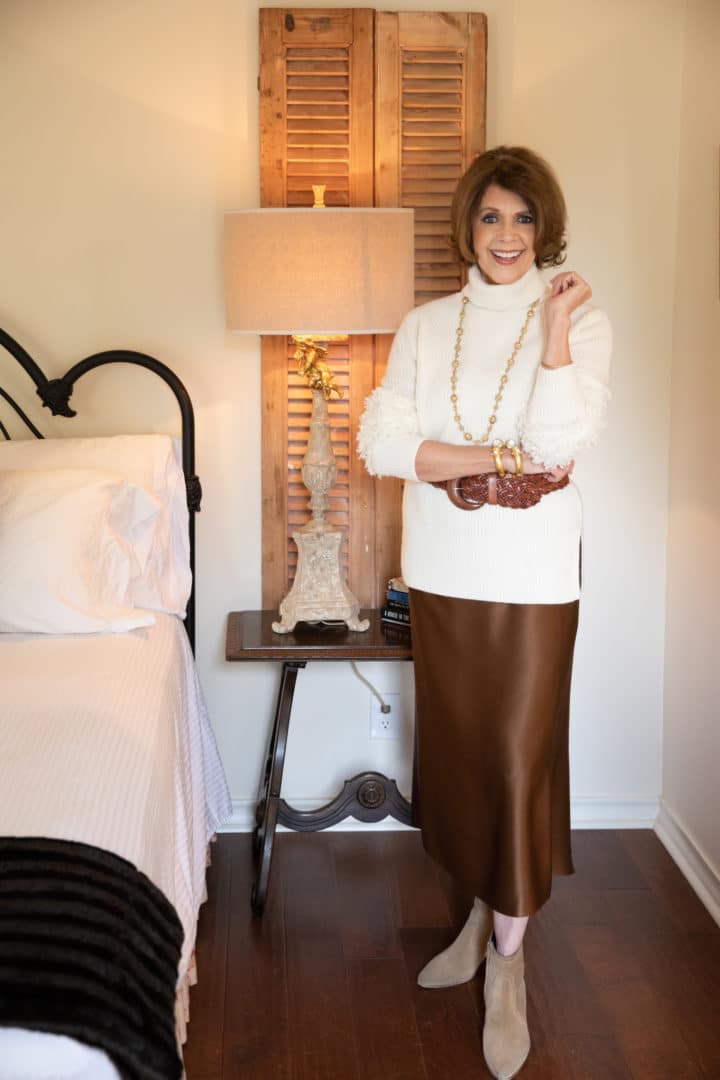 2. By changing from the blazer into a winter white, turtleneck cashmere sweater with fringe-sleeves, I've created a totally different look. I love the smooth simplicity of the skirt contrasted with the curly texture of the sleeves. I added a wide leather belt I bought in Pittsburgh in the early '90s—I remember this because my boyfriend's son was graduating from Carnegie Mellon—together with a gold tone St. John's necklace I've had since the '70s, and my Julie Vos bracelets. Same skirt and boots from outfit #1.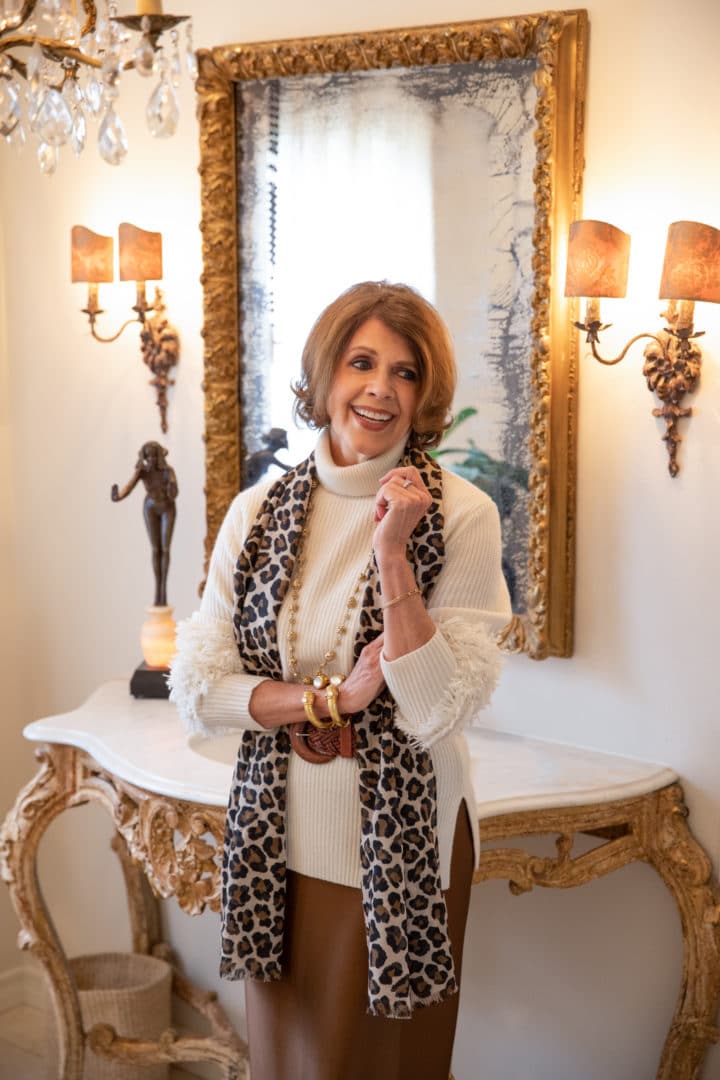 3. Next I decided to add an inexpensive leopard print scarf to the same outfit to create yet another very different look.
4. Here I've added a leopard print cardigan I bought on sale years ago, but haven't worn until I paired it with this skirt and draped the leopard print scarf over my shoulder. I belted the sweater and the scarf with the same thin, suede belt I wore with the tweed blazer and added my Oscar necklace.
If you wonder what I'm doing in this shot… I'm singing along to my playlist. 🎼Music! 🎵Always!
Before you go shopping, online or in a store, it's helpful to take a quick look at what's in your closet. By adding one or two pieces each season, it's easy to create lots of new outfits. BTW, I can also create more new outfits by using the cashmere sweater. Items that will be versatile in your closet are great buys and lower your cost per wear.