I started today's Fashion Friday post to report that Mom Jeans and Skinny Jeans are out plus I included "Five Tips for Wearing Denim." Then I got to thinking… Since leggings, skinny pants and cropped pants hit the market, I haven't seen many women over 50 wearing jeans, so I'm curious.
Do you still wear jeans, be they blue, black or colored jeans?
Over the winter my go to pants have been black jeans or black leather, straight-leg pants, but in the last few weeks I've been wearing my 10-year-old, blue denim, straight-leg, high-waist, ankle jeans, and I love them!
Blue jeans didn't become part of my wardrobe until I was in my 20's. I remember wearing blue jeans, high heels, an off the shoulder, white, ruffled Mexican blouse, a grey, snakeskin, Barry Kieselstein-Cord belt with a silver buckle, black aviators and shoulder length, Diana Ross "wild hair" when I went to visit mother in Dallas. We were going to her favorite lunch spot in Highland Park Village, and she was horrified about my "look."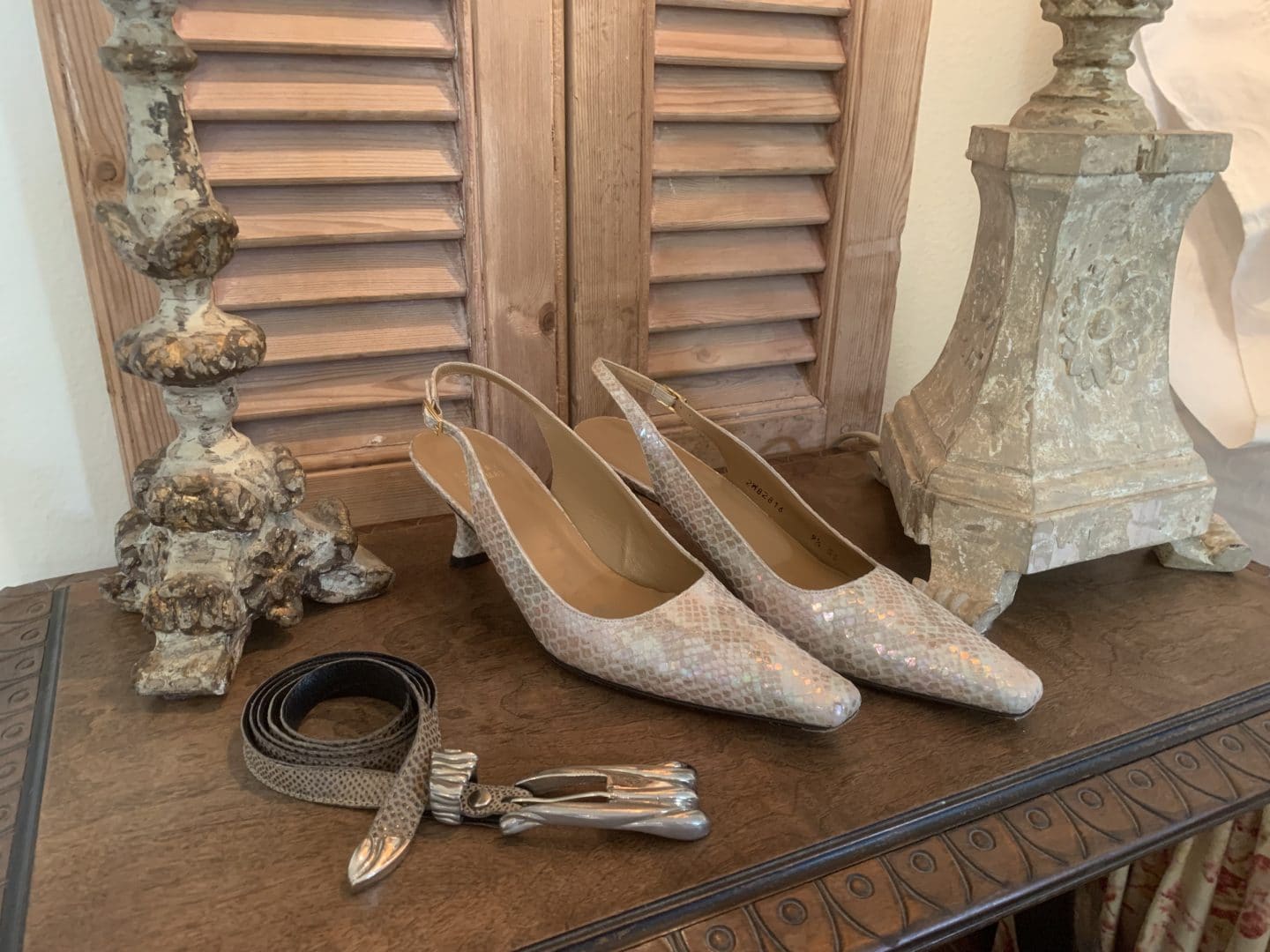 I still have the belt although the band is the worse for wear and the silver is nicked. Oh, the things this belt has seen! These are kitten heels, but they're similar to a pair of opalescent, snakeskin high heels I used to wear with jeans.
Mother was always dressed to the nines with hose, heels, a matching bag and a chic suit or pantsuit. Much to her credit mother was a smart shopper. She had a special knack for only buying designer clothes on sale; she bought elegant costume jewelry that looked like the real thing, and she was a wizard at styling a scarf, but I never saw mother in a pair of jeans!
While most of our mother's generation didn't wear jeans… Have we stopped wearing jeans?
Fashion designers have brought back "Mom Jeans" although they're now called "High-Rise" or "High-Waist" jeans, but I'm wondering if they'll be worn mainly by younger women who glom onto trends? BTW… If we aren't a size zero, high-waisted jeans are the only jeans we can wear without having our excess wonderfulness drape over our waistband. Remember the Original Levi's 501? If we want to wear jeans, they're a good choice.
Levi's 501 Original Fit Jeans, $69.50
Skinny jeans are on the way out as well, but because they've become a uniform for many women, I don't think they'll ever disappear from the racks. Like low-waisted jeans, skinny jeans aren't flattering on most of us, but the idea of styling them with ankle boots and a black leather moto jacket is beyond cool and hip for any age. Levi's 724 High rise straight jeans are another good choice because…
We can still do that with Mom Jeans!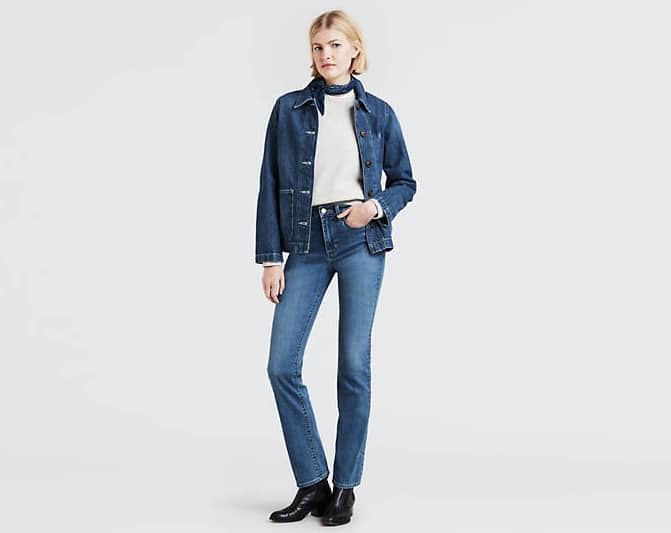 Levi's 724 High Rise Straight Jeans, $59.50
That said about high-waisted jeans and skinny jeans reportedly being "out," I've been looking for high-waisted, straight-leg jeans and other than Levi's and NYDJ, most high-waisted jeans ARE SKINNY, and those that aren't are as rare as an albino armadillo! Grrrr…. What's the deal fashion designers? And what if you give us a pair in peach or pale yellow for spring and summer?
FIVE TIPS FOR WEARING DENIM
Dark or medium blue denim makes you look thinner than light blue denim.
Don't buy jeans with pockets that ride low on your backside. They make you look like you've got a big 'ole saggy butt.
Don't buy jeans with sparkly pockets in the back. They call attention to your butt.
Pair slim or straight-fit jeans with a wider top. It's more pleasing to the eye.
And for the same reason, pair wide-leg jeans with a slim blouse or a structured jacket or blazer.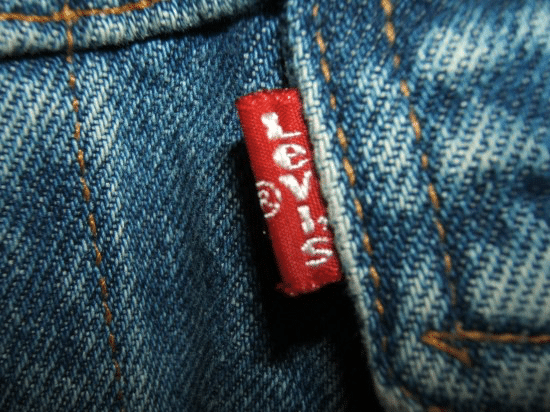 Tip number five reminds me of a girlfriend in college whose grandmother always cut the "red" Levi's tag off the back pocket of my friend's jeans. Grandmother said it was like waving a red flag in front of a bull. LOL!
QUESTION: Do you wear jeans or have leggings, skinny pants and cropped pants become your go to?