Annie and Lulu are growing into fine young ladies, especially after I sent them to finishing school while I was in Italy this fall. For three weeks the girls learned the finer points of sit, stay, heel, come, inside and place.
Now the biggest challenge they face is me.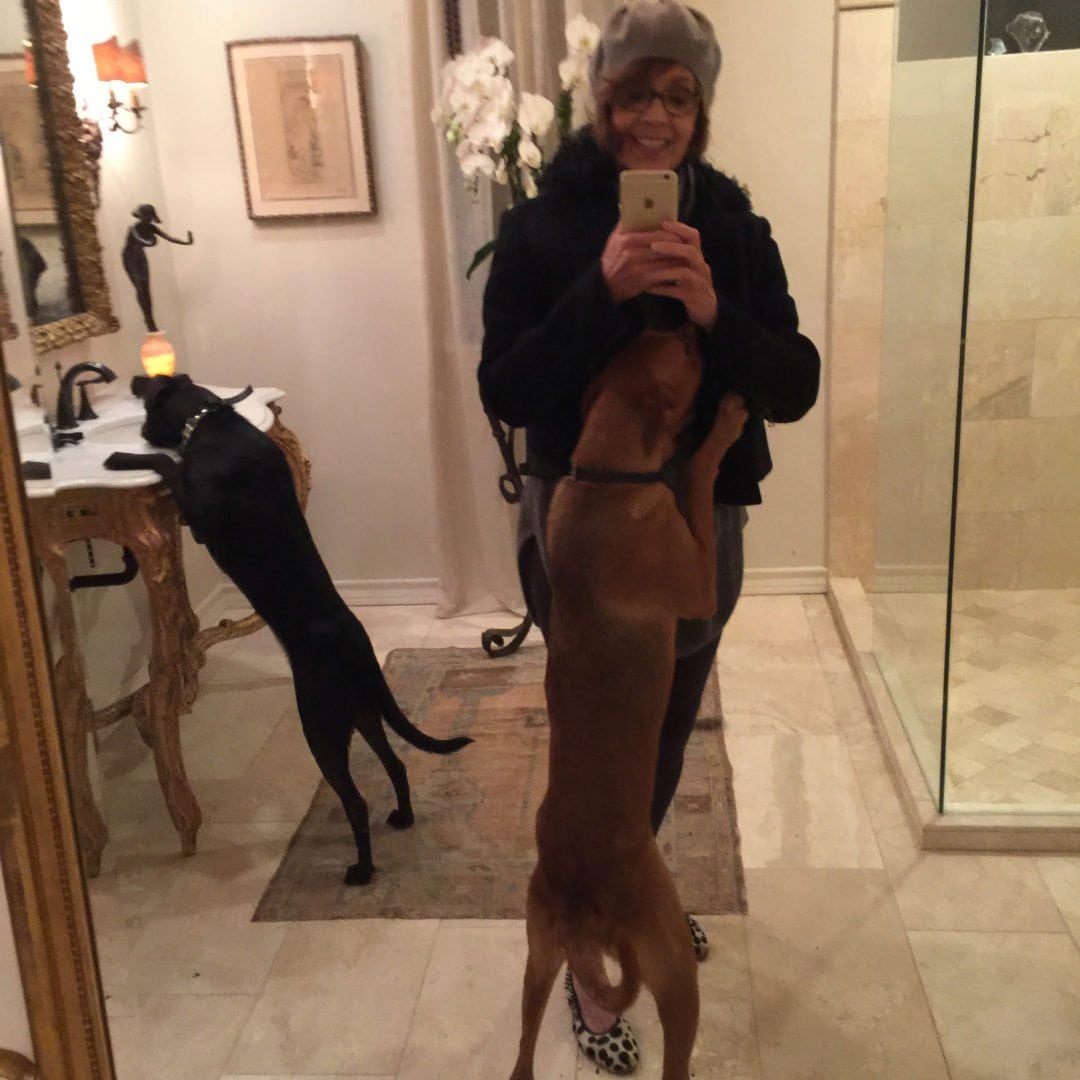 THEY'RE NINE MONTHS OLD NOW. LOOK HOW TALL THEY ARE! ALWAYS CURIOUS AND ON THE MOVE.
ANNIE (THE BROWN ONE) AND LULU WHEN I ADOPTED THEM AT EIGHT WEEKS OLD. THEY'D JUST BEEN SPAYED. I STILL FEEL LIKE IT'S ROLLER DERBY TIME! THEY RUSH PAST ME LIKE THEY'VE GOT WHEELS ON THEIR FEET.
The other morning I noticed a pair of scissors on the kitchen counter. Earlier I'd used them to cut open a strip of individual foil packs with Lulu's antibiotics. The scissors were there but not the strip of antibiotics. Oh dear! What if Annie grabbed the remaining 12 packets off the counter and ate them?
After all… Annie's the dog who's eaten part of a heavy duty rubber glove, an empty foil wrapper of Famous Amos Cookies… Then there was the wire she ate followed by major, abdominal emergency surgery.
If Annie had gotten them, it would have been after I'd cut open a packet and put an antibiotic in Lulu's breakfast. Three hours earlier! My next thought went to worse case: If Annie ate them, foil and all, what would the sturdy foil—complete with serrated edges—do to her intestines? Foil, schmoil… What about taking that many antibiotics at the same time?
I'm careful about what I leave lying around, so part of me thought everything was fine. Maybe I just couldn't remember where I put the antibiotics. It was 6am when I'd fed them, and I wasn't fully awake. I searched everywhere, even inside the refrigerator. Maybe my half-awakened self had carried them to my bathroom, or maybe Annie took them to the bedroom and then lost interest…
This is Annie we're talking about! She never loses interest in anything she can chew!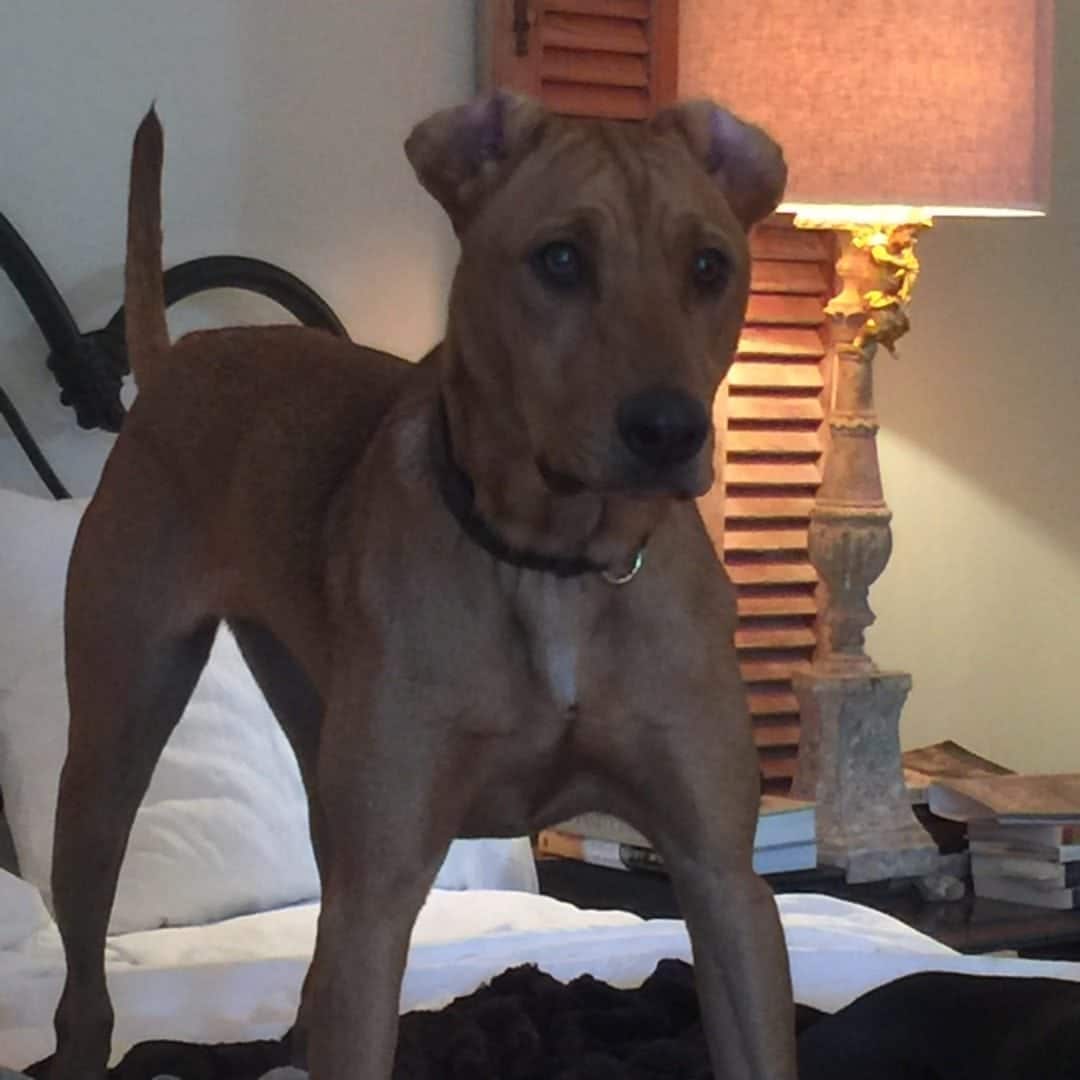 Then I wondered if she'd taken them to the backyard and eaten them? That's where she eats all of her treasures. Surely there'd still be remnants from the crime. Small sharp pieces of foil… Perhaps even a few pills… Nothing! Next I wondered if Annie… and Lulu… had eaten all 12 antibiotics, foil and all?
I called the vet who said to bring them in "right now!"
The vet and his techs x-rayed both girls and showed me the results. Nothing! He said the next step was to wait and see or induce vomiting in both girls. I chose the latter. Ten minutes later we saw what looked like kibble—gobbled whole—no white pills or foil packets and…
"What's this?" the vet asked. "It looks like wood."
"Tree bark," I said. "Because the girls kept finding harmful things to swallow, I had the yardmen remove four inches of my entire backyard. The only thing left for the girls to eat is the tree!"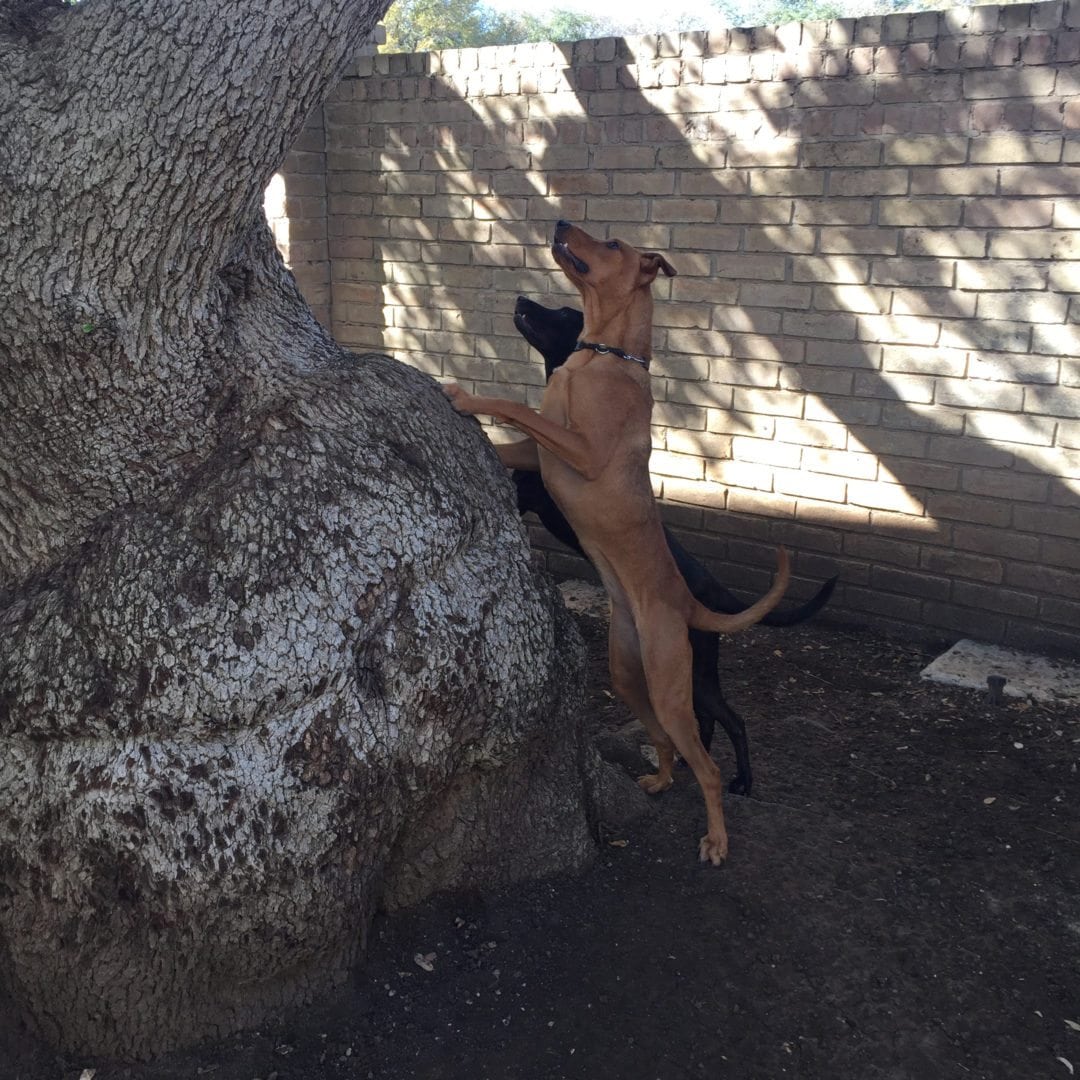 THE LITTLE DARK PATCHES ON THE TREE IS WHAT THE GIRLS HAVE EATEN. YOU CAN SEE I ONLY HAVE DIRT IN MY YARD. LOOKING FORWARD TO LANDSCAPING THIS SPRING.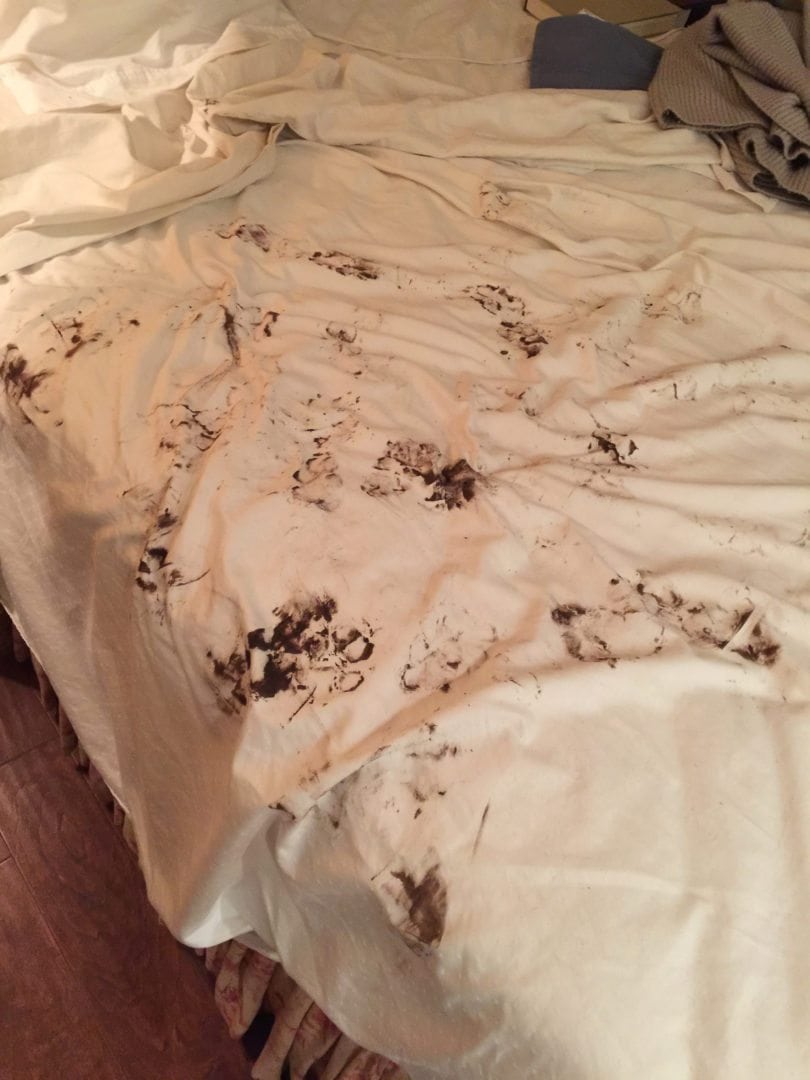 A YARD FULL OF NOTHING BUT DIRT HAS MESSY CONSEQUENCES WHEN IT RAINS!
A few hundred dollars later, I took the girls home. While Annie and Lulu recuperated from their ordeal, I looked, again, for the 12 missing packets. I opened the drawer to put the scissors back… There was the strip of antibiotics! In my sleep-deprived state, I'd put the pills, not the scissors, in the drawer.
"Please tell me I'm not the only idiot you know!" I actually said that to Annie and Lulu. Fortunately they think everyone is smart and wonderful except the guys who drive the noisy, yellow garbage truck with the big claw. Even when it's one street over, I'm pretty sure they think Armageddon is rolling our way.
I'm grateful neither girl swallowed anything harmful, and they don't know what an idiot their Brenda is! I love these little girls.