The holidays are here. Do you have something—other than workout clothes—to wear to dinner and social events with friends and family, or maybe there's a special Christmas or Hanukah service you might attend? This time of year most of us have a tendency to eat and drink too much and watch football while eating our second piece of pie, but we can be comfortable and stylish at the same time.  
When I saw this burgundy velvet blazer my heart skipped a beat. I'll wear it forever!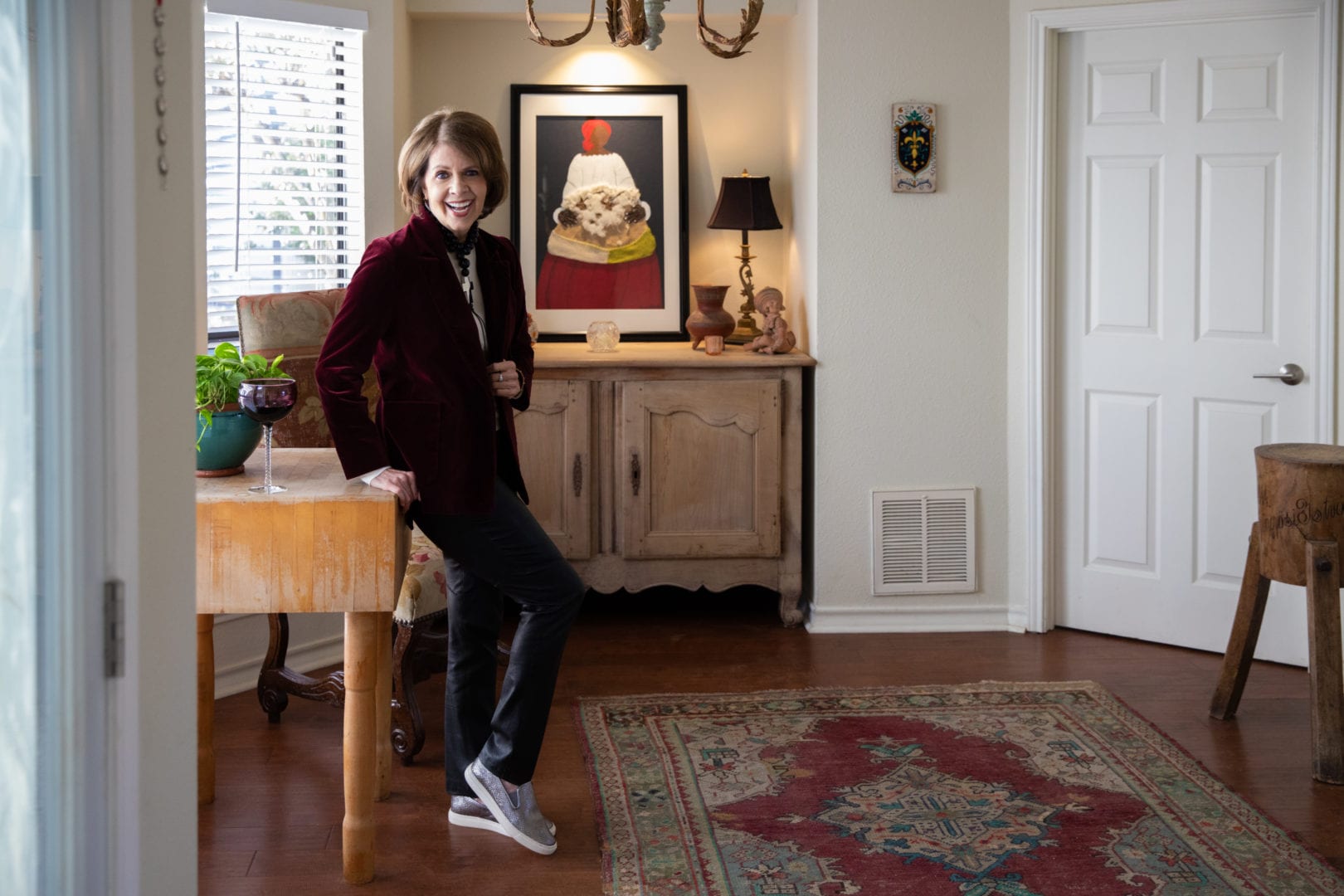 I'm trying to bring more color into my wardrobe, and the one color that keeps coming up is plum. When wearing velvet generally I do a high/low: Pair a velvet blazer with jeans so it's not too-too, or if I'm wearing velvet pants I'll wear a simple sweater or a pretty blouse. In this case I decided more is more! 
'Tis the season to bring it all out!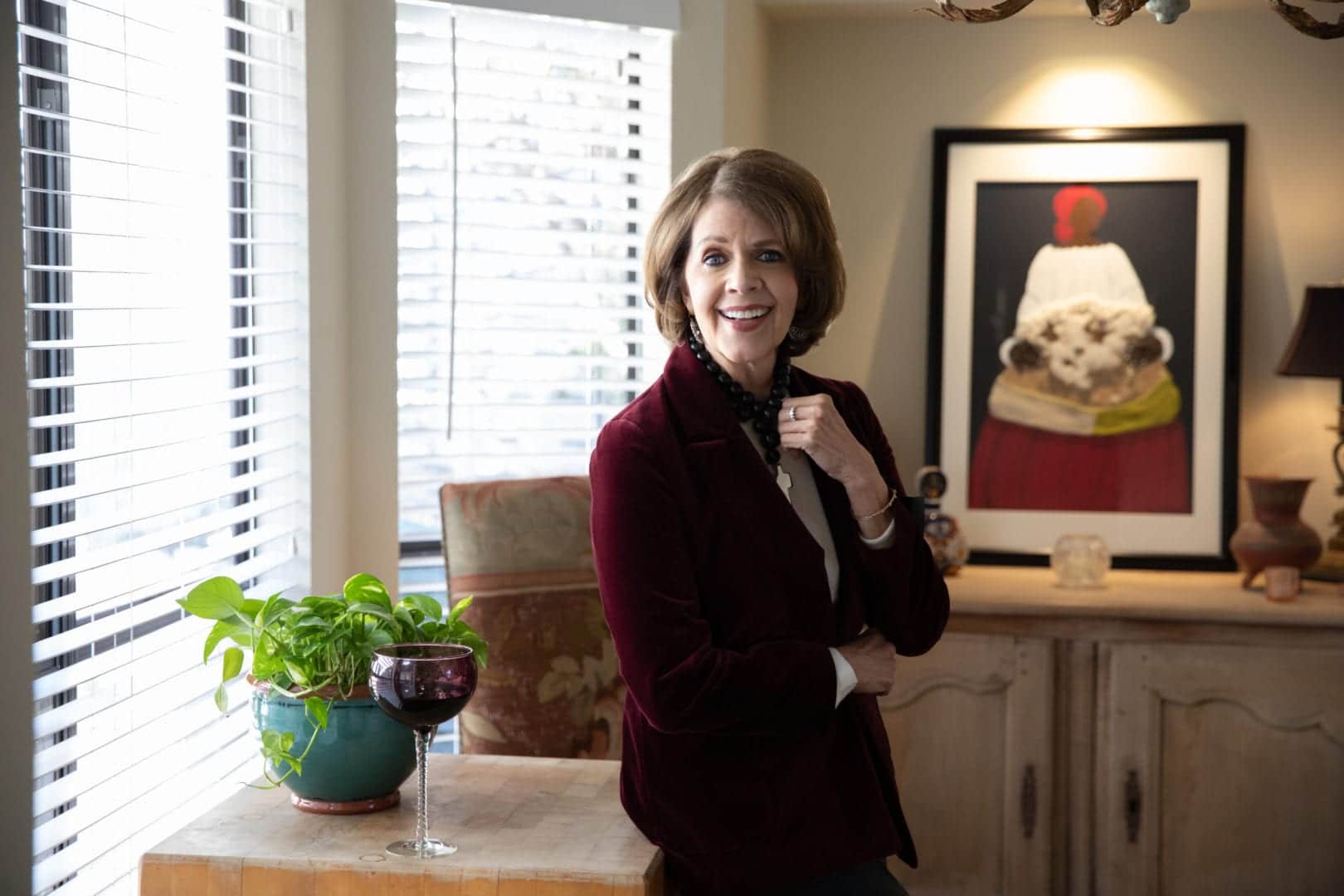 My jacket is from M.I.H Jeans and was inspired by a photo of Jane Birkin, '70's fashion icon, wearing a velvet smoking jacket. The jacket I'm wearing is a fully lined cotton-velvet, and it's beautifully tailored. The tie belt will customize the fit, or you can tie it behind your back like I've done in this photo. I've given you three different price points on blazers, plus I've added a cute velvet bomber jacket with a fun lining! Even if you want to wear comfortable pants, any of these jackets will dress up your look.

Did I tell you my 30-something friend, Taylor, was the one who got me thinking about coloring outside my style lines? The Christmas after James died she gave me a black leather and pearl bracelet. Cool with a rocker chic vibe! She bought it because she said it looked like me. Wow! Really? I've worn it constantly and need to have one of the pearls secured because it's loose.
Taylor's gift gave me permission to rewrite my personal style book!
Because of Taylor's gift I was primed and ready when my friend Vinetta, at Neiman's, suggested I buy the leather pants I'm wearing. That was maybe five years ago. I was hesitant, because I didn't know anyone my age–except on Instagram–who wears leather pants, but you know what? I decided I didn't give a hoot. Since then I've lived in these pants, so they were worth the investment.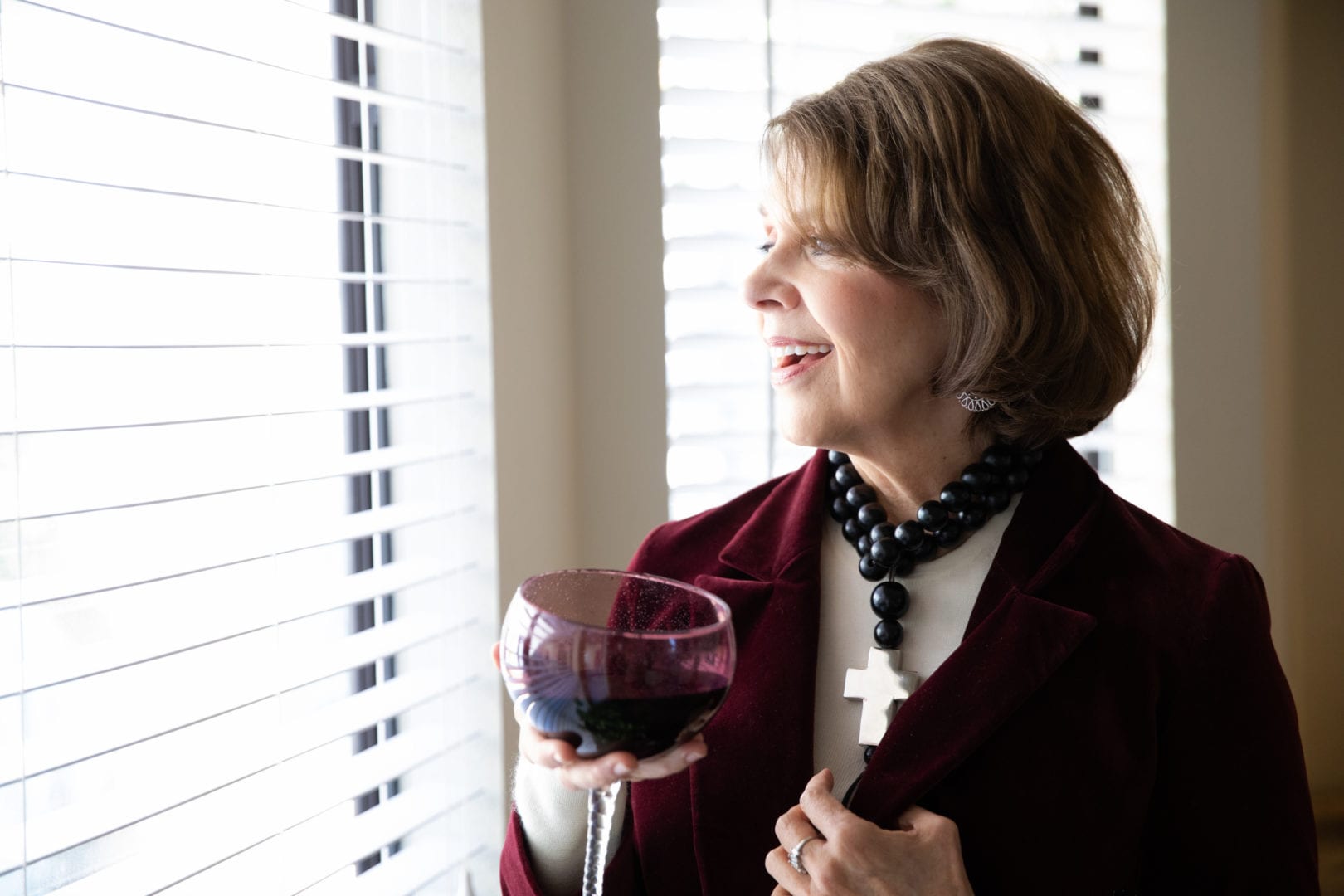 If you want to try leather pants, what if you start with faux leather leggings? They're less expensive. If you're feeling outside your comfort zone, do a high/low by dressing them down with something casual like a big, chunky sweater, a long scarf and sneakers or ankle boots. Then wear them! Enjoy them! And don't give a flying flip what anyone thinks!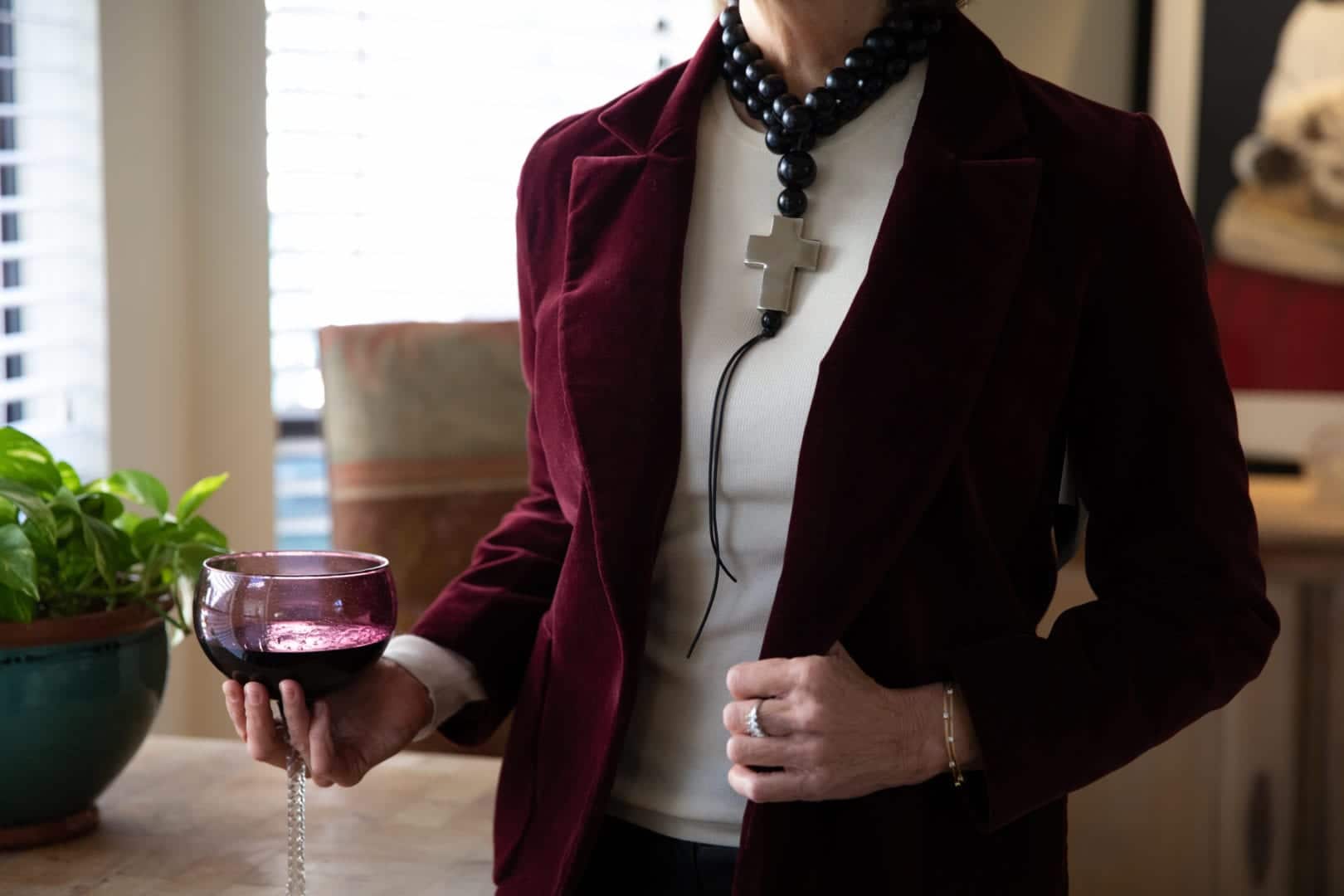 I'm wearing Dallas home furnishings and accent piece designer, Jan Barboglio's, nickel cross with black wooden beads and leather tassels. I've had it for years. Sometimes I hang it from a lamp or a curtain rod where I can see it. Other times I wear it like a necklace. Living in San Antonio I see lots of her gorgeous things. Here's an interview I did with Jan Barboglio a few years ago. Speaking of a woman over 60 who dresses how she wants… That's Jan! And she lost everything in a fire. She's so inspiring, and her personal style is one of the things I love most about her. Here's her smaller cross with red beads. It's beautiful.
My sneakers are Vince Camuto. I saw a woman at UPS wearing a pair and asked where she got them.
BTW, the butcher block I'm leaning against was the first piece of furniture I bought when my first husband and I set up house. For 40 years it sat in the middle of my kitchen—before islands were popular—with a crystal chandelier hanging over it. The same chandelier is now in my master bath. That butcher block holds many fond memories like when my friend, Joe, and I spent the afternoon making tortellini filled with prosciutto, veal, spinach and fresh grated parmesan cheese! We left the kitchen for a minute and my dog, Phydaux, ate them all!!! Joe and I collapsed in gales of laughter and opened another bottle of wine!
I hope you make wonderful memories this holiday season!