This week, Good Morning America (GMA) reported that the Surgeon General declared "vaping" to be an epidemic among teenagers, and "there are few treatment options." What GMA and the Surgeon General failed to say is traditional cigarettes—as well as the current e-cigarettes… vapes—are more addicting than heroin. How do I know this? Because for 20 years, nicotine and smokeless cigarettes were my business, and I coined the terms "vape" and "vaping."
This is the story of the sinister plot between the Federal government and the "Big Six" tobacco companies to put the first smokeless cigarette—a safer alternative to current e-cigs and combustible cigarettes—out of business because it wasn't in their financial best interest.
In the early 1980s, FAVOR Smokeless Cigarettes were invented, patented, and developed by my first husband, the late Jon Philip Ray, founder of Datapoint Corporation. Philip invented the first, smart desktop computer and his engineers, the microprocessor. The science behind the smokeless cigarette was brilliant. Although nicotine is more addicting than heroin, it is the 2,000 by-products of burning—not the nicotine—that can cause cancer and heart disease. Since FAVOR Smokeless Cigarette only contained a small amount of nicotine and didn't need to be lit with a match or any kind of heating element (current e-cigs use a battery to heat up the nicotine, harmful flavorings, and additives), it was seen as a better alternative to smoking the traditional cigarettes of the time like Marlboros and Winstons. It was also a time when smoking cigarettes was being banned in public places.
Because the FAVOR user simply inhaled nicotine vapor without using heat, and since there was no exhaled particulate matter, I named it "the vape," and I said users were "vaping" not smoking. I also named our product, FAVOR Smokeless Cigarettes and the taglines, "Do yourself a Favor" and "Do your friends a Favor" by not smoking potentially deadly combustible cigarettes.
In a perfect world, and with the consumer's best interest at heart, one would think the health and social implications of a "smokeless cigarette" that doesn't cause cancer or pollute the atmosphere would be a good thing.
But in this instance, it wasn't a perfect world but one that is ruled by greed.
Our commercial for Favor Smokeless Cigarettes was able to run on television.
Before we conducted countless focus group studies, raised venture capital, and took our company, Advanced Tobacco Products, Inc., public on the NY Stock Exchange, we conducted medical studies on the vape with human users. Our study became the cover story of a prominent medical publication. The cover photograph was an arm, wrapped with a tourniquet, with a lit cigarette held next to a bulging vein.
The unprecedented message from this respected publication was clear: Nicotine is a drug.
Because combustible cigarettes are deadly, and smoking was being banned from public places, and FAVOR solved both problems, Wall Street predicted we'd all be billionaires. Even though everyone concerned knew there were huge risks as to whether the Feds and the "Big Six" tobacco companies would let us market FAVOR, it was a risk everyone was willing to take. While our product looked like a cigarette, you inhaled it like a cigarette—but you didn't light it—it slipped through the cracks of the legal definition of a cigarette. And therein was the rub. Why?
Follow the money trail.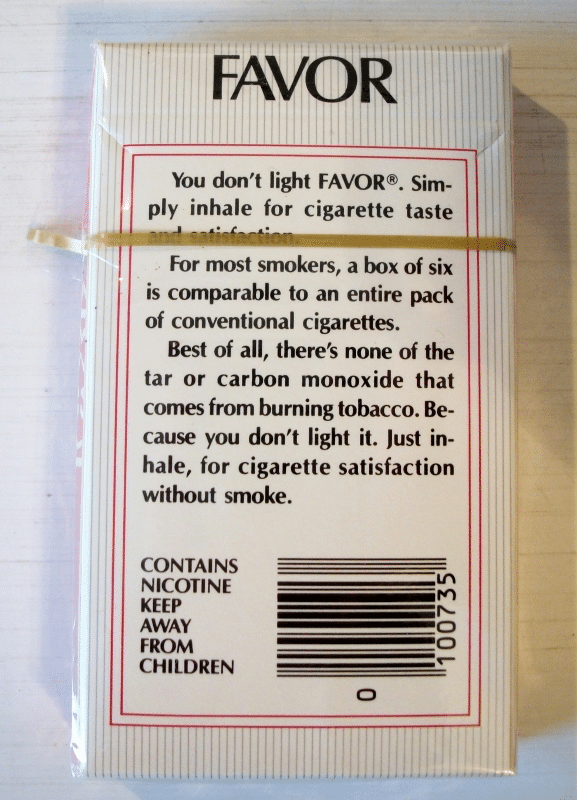 Because FAVOR didn't meet the legal definitions of a cigarette, the government couldn't collect taxes from its sale to consumers. Consumers, however, are taxed on the sale of combustible cigarettes, and these taxes are the government's second largest revenue source. (The income tax you and I pay is the largest.) If FAVOR was successful, it could pose a major loss to the government's income stream. And if that wasn't a big enough risk factor for the Feds to find a way to stop us, FAVOR stood to publicly underscore the Big Six, knowingly, were selling an addicting drug, over-the-counter. And because we didn't meet the legal definition of a cigarette, legally, we could advertise FAVOR on TV, something traditional combustible cigarettes couldn't do.
It wasn't long before we felt the wrath of the Big Six, the Feds and their goons. Men who are akin to the mob and who don't play nice with others.
FAVOR Smokeless Cigarettes debuted and were selling well. Consumers liked them, but as soon as our distributors put them on retail shelves, the Big Six had them removed. At the same time, men in suits, driving four-door Chevy's, started loading my personal garbage into the trunk of their car. A burly guy hurdled over our locked gate, knocked on my front door and said, "I have it on good authority the people in this house need a bodyguard. They better watch their step."
In the middle of the night, three men, in suits, broke into my house. I confronted them with a loaded shotgun, and they fled. The next day the company attorneys hired a bodyguard for us. Here are my diary entries from that time.

Since our VP of Marketing was the former President of RJ Reynolds International, we had a reliable backchannel of information. The Big Six and the Alcohol, Tobacco and Firearms (ATF) division of the federal government, put their greedy, symbiotic heads together and brainstormed ways to get rid of FAVOR Smokeless Cigarettes. We already knew we were going to upset an entire industry: Cigarette manufacturers are nothing short of legal, over-the-counter, drug dealers, and their ill-gotten profits are staggering.
Therefore, it didn't come as a surprise when the ATF sent us a letter, demanding we withdraw our product from the marketplace—because we were selling a "new drug"—or they would slap us with an injunction and shut us down. Devastating words for a public company and its shareholders. The letter said FAVOR "is a nicotine delivery system intended to satisfy nicotine dependence… and because of its intended uses, FAVOR is a drug as defined within section 201(g) of the Federal Food, Drug and Cosmetic Act." Seriously? The Feds were talking out of both sides of their mouth! All tobacco products contain nicotine, and nicotine is a known drug. So why weren't/aren't Marlboros and Winstons considered a drug and restricted from being sold over-the-counter?
I'll say it again… Greed. Follow the money trail.
Good Morning America also reported that JUUL—the most popular e-cig with teenagers—has taken steps to eliminate enticing flavors like mango, mint and cream. Publicly, they sound concerned saying, "underage usage is completely unacceptable to us."
I call bullshit on this.
Not only are their refills cleverly flavored to appeal to teenagers; they look exactly like a USB flash drive and deliver higher, more concentrated doses of nicotine than any combustible cigarette, any other e-cig, or the amount of nicotine FAVOR Smokeless Cigarettes delivered.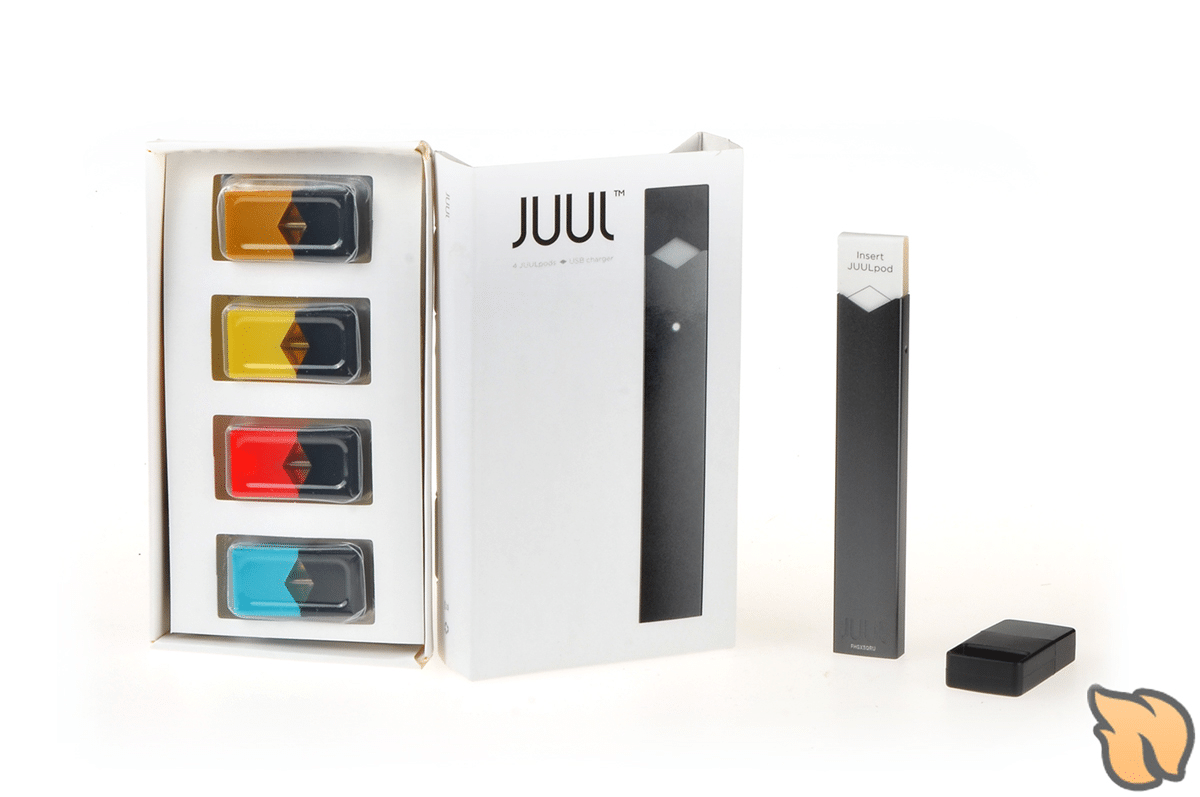 This week GMA also said: December 20, 2018, Altria, formerly Phillip Morris Companies—one of the Big Six—acquired a 35% stake in JUUL Labs for $13 Billon.
The fox is in the henhouse, because there is big money in selling drugs.
I know—for a medical fact—nicotine is more addicting to people under 18 than heroin. I also know—for a business fact—the Big Six's motto is "Hook 'em when they're young, and you'll have a customer for life."
If you doubt the intentions and morals of the Big Six and the twisted response of the Feds, remember Dr. Jeffrey Weigan, former VP of R&D for Brown & Williamson tobacco company? In 1999, Dr. Weigan courageously testified before Congress—they labeled him a "whistleblower"—about how the Big Six intentionally manipulated their tobacco blends with chemicals designed to increase "the effect" of nicotine. Translated that means: They want to get you addicted quicker… like the concentrated doses and the additives in JUUL. Dr. Wigand later gave an interview to Mike Wallace and 60 Minutes. Marie Brenner subsequently wrote a Vanity Fair article, "The Man Who Knew Too Much," which was made into an Academy Award-nominated film, The Insider, with Russel Crowe and Al Pacino. While the Feds and the Big Six tried to discredit Dr. Weigand and suppress his 60 Minute interview, he and his family received death threats and a bullet in their mailbox.
I know that kind of terror! I lived with a bodyguard: The sniper on the San Antonio Police SWAT squad.
To Good Morning America… Cecilia Vega and Juju Chang: This story is more than an epidemic among our teenagers and a lack of alternative treatment. How are you going to followup on JUUL's, the tobacco companies, and the Feds sham of public concern? Our health and the health of our children depend on journalists who aren't afraid to tell the truth.