Ahhh… Chanel. Music to any girl's ears. Earlier this month when I heard Chanel had presented a collection inspired by Ancient Egypt, I googled right away to see it for myself.
Karl Lagerfeld, designer and creative director extraordinaire, did not disappoint.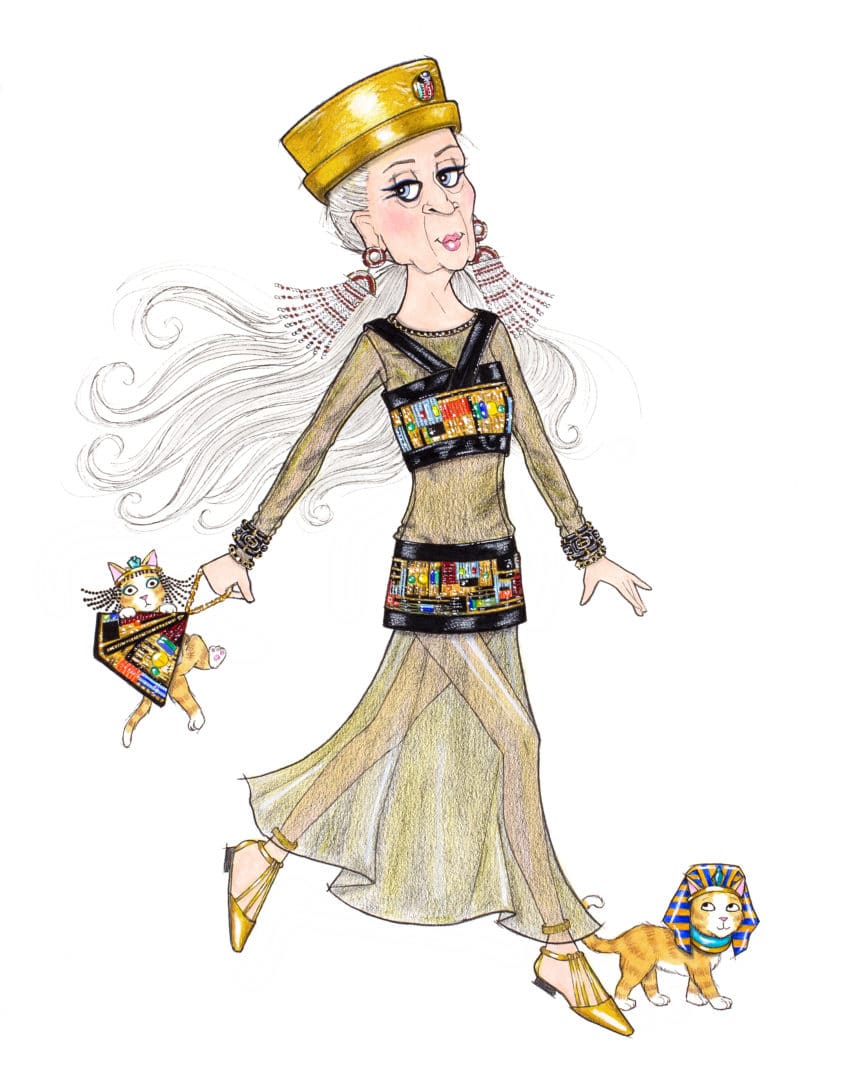 Set inside the Egyptian wing of the Metropolitan Museum of Art in New York City, the collection was a mash-up of modern silhouettes and high-intensity textures and embellishments. The sparkle of sequins and gold accents brought the Egyptian fantasy to life!
Here's Karl's Egyptian show at the Met that set my heart aflutter this week!
At the Egyptian show luxury ruled the runway. The silhouettes were long and lean. There were gauzy floor length sheath dresses underneath textured tweed jackets and skirts. The handiwork involved with these ensembles was breathtaking. Costume jewelry embellishments and intricate embroidery dazzled the eyes!
Now I know what you're thinking… "But Hildie, surely you don't expect me to prance around Whole Foods in something like that?"
I'm sure if you showed up at your next dinner party in one of these ensembles the other guests might think you got into the sauce before you arrived and went a little overboard with your accessories. But sometimes, Darlings, it's just about the fantasy. It's like looking at a beautiful painting or watching a gorgeously shot movie. It inspires. It transports you to another place.
Fashion forecaster's always have a takeaway after these shows. They'll say something like gold will be "major" next fall. I don't think you'll see any fashion bloggers spraying their legs gold like the models in the Egyptian show, but there's always a fashion trickle-down effect. If it's lots of mosaic costume jewelry piled on, count me in!
Chanel even transformed Paris's Grand Palais into a sandy beach complete with ebbing waves and lifeguards.
Chanel has always been known for its showstopping runway sets. More of a "fashion experience," these mega shows have been set in everything from an ultra-luxurious supermarket to a serene underwater fantasy and a hi-tech airport.
Well my fashionable friends, if you have some downtime this holiday, even if you watch only a minute of the Chanel runway show at the Grand Palais in Paris, you'll have a appreciation for the staging of one of Karl Lagerfeld's shows. An added bonus is you can do it while still in your pajamas!
Cheers Loves!
XOXO, Hildie