Not every woman can afford to wear the latest trends in couture, but we can take the overall arching themes and make them our own. This spring sees a return to more modest, romantic clothes, often long-sleeved with a midi or maxi length skirt in soft colors. Perfect for wearing day or night with sandals, flats or sneakers, and we don't have to worry about "does my butt look big in this?"
The trick is to borrow from the current trends and find something affordable that women over 50 would wear.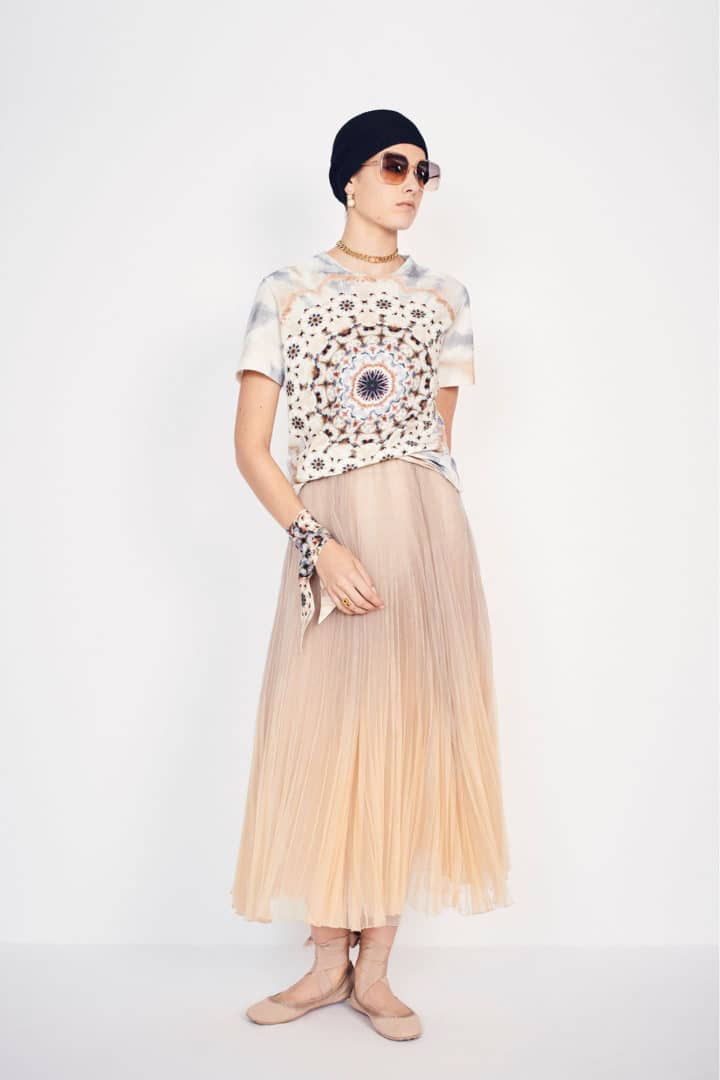 From Dior
There were simple silhouettes in soft colors like oatmeal, blush, biscuit and off-white. The colors look chic, grownup and expensive on everyone even if they're not.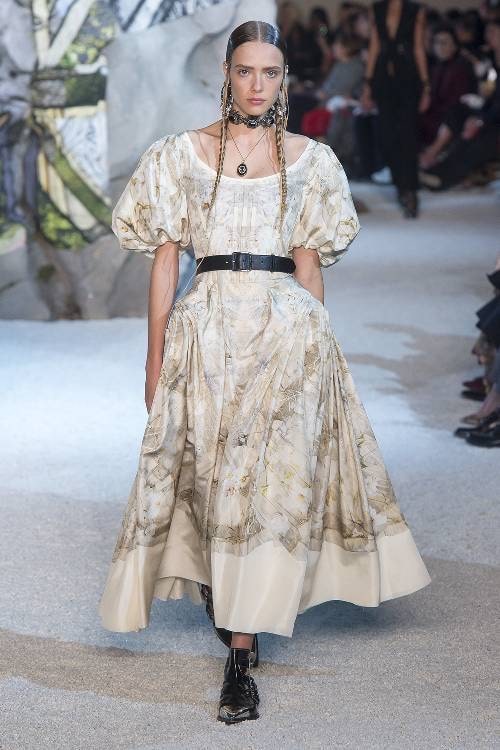 From Alexander McQueen
This year's long romantic dresses have passed this way before. Remember Jessica McClintock's whimsical, Gunne Sax, prairie-style in the 60's and 70's? Those were hippy dippy meets Little House on the Prairie styled in calico prints with ruffles, lace and satin ribbons, but the new prairie dresses are more sophisticated.
There are four things that determine whether I'll buy an outfit or not:
Is it flattering on me?
Is it quality?
Do I have anyplace to wear it?
Even if it's expensive can I justify the price per wear?
Why do I always prefer clothes that don't meet my criteria?
Like an outfit I saw on a mannequin at Neiman's when I popped in this week to look for a new shade of lip pencil. I love pencils because they don't bleed through the old lady starburst lines around my lips. Back to the outfit on the mannequin… There were two, delightful women over 50 who were also drooling over the same outfit, but we didn't know how much it cost, and in my case, where would I wear it?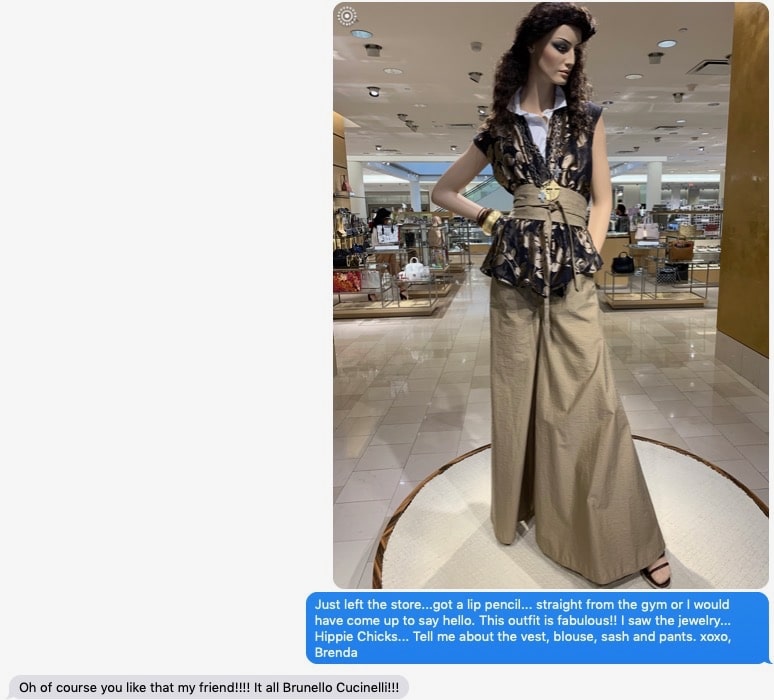 I snapped a photo and texted it to my friend, Vinetta Rosin, upstairs in couture, and in seconds Vinetta reconfirmed my fears: While it's definitely quality… I LOVE Brunello Cucinelli… at $4,690 plus tax… I can't afford it.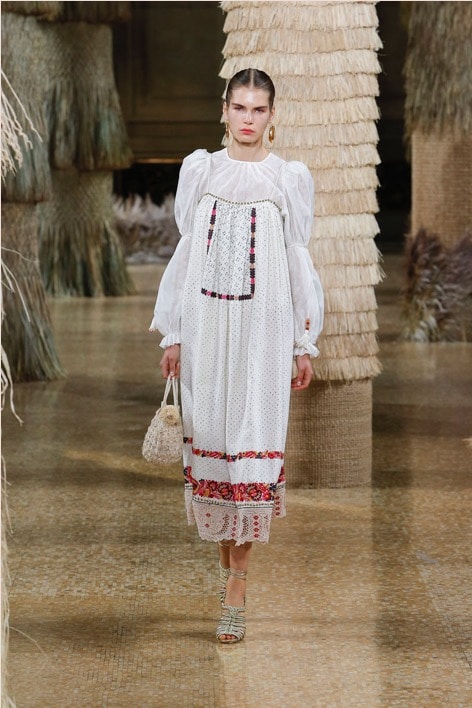 One of my favorite designers is Ulla Johnson. Her white dress would be perfect this spring for San Antonio's two weeks of Fiesta, our Tex Mex version of Mardi Gras.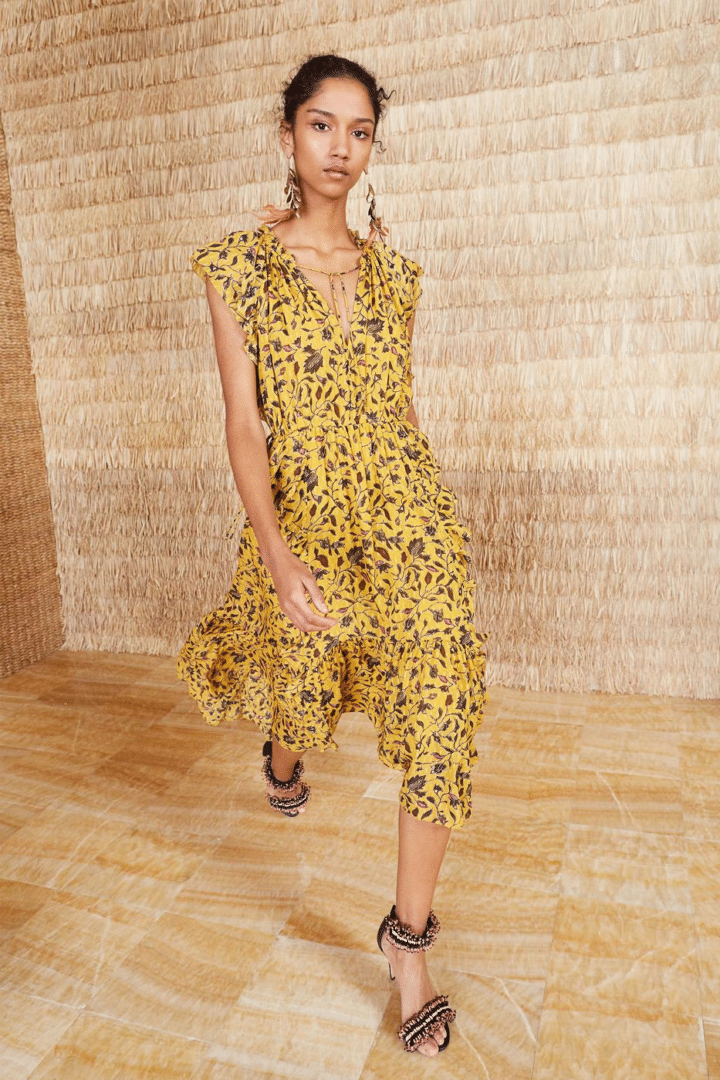 Plus her yellow dress is an example of how yellow is big this spring!
If you don't know Ulla Johnson's clothes, take a look at her website. Her pieces are expensive, but they give us a sense of what's trending this season so we can look for similar things that are more affordable.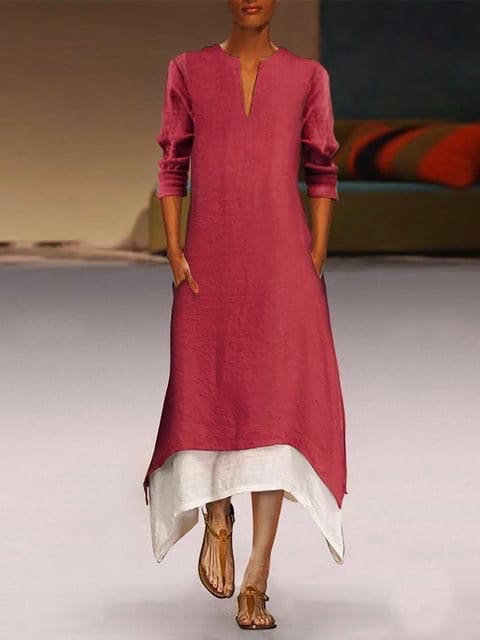 While researching this post I found JustFashionNow a brand that makes long-sleeved, midi and maxi dresses. I love their styles, but their cheap prices raise huge red flags! Like this dress on sale for $29.99, formerly $66.65. If it's good quality, which includes not being made from see-thru fabric, then why have they reduced the price by over half? 
For $30 I'm guessing it wasn't made in the U.S., plus how many wears will I get before it falls apart? While it's chic, it's definitely fast fashion and goes against everything I believe about buying quality. It's also linen, and five minutes after putting it on, I'll look like I slept in it, but… It's fabulous, and I'm curious to see what it's really like.
So this is an experiment. I've ordered it online, and I can always send it back. I'll let you know about the quality.
Here are some spring and summer dresses. If a dress shows more of you than you'd like people to see, remember you can wear it with a white tee underneath or a jean jacket.
Would you wear midi or maxi dresses? Do you buy fast fashion?