This week's outfit is something I never would have thought about wearing when I was younger. Back then I took my style so seriously: Tailored suits with neutral colored heels for business and on my off-time, I liked black velvet, straight leg jeans, a crisp white shirt with the cuffs folded back, black ballet slippers and no jewelry except for a Movado watch. While it's still one of my favorite casual looks, for the most part, my style is more playful now.
Are combat boots too casual?
Cindy Hattersley and I were scheduled to feature combat boots this week, but when mine disappeared, I substituted a pair of black leather ankle boots with a buckle on the side. When I first bought them, they might as well have been combat boots, because I thought they were clumpy looking. At the time, Diane Keaton and every woman I worked with in NYC was wearing them, so I bought a pair. Sometimes it's fun to wear something unexpected.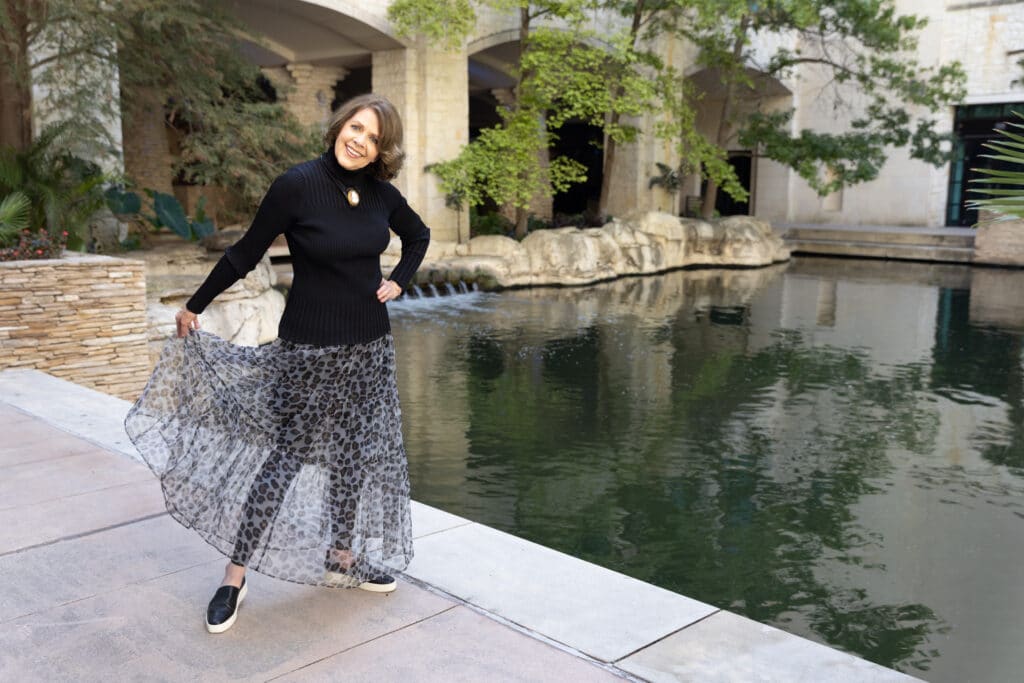 I've styled this outfit two ways: With boots and with a pair of black, Vince slip-ons. Not long ago I wore my combat boots with a really nice outfit to dinner at Biga's, an upscale restaurant downtown. When my friend looked at my feet, he said, "You've always been fashionable, but those look like combat boots," to which I replied, "I think they're chic, and they're comfortable." He was at a loss for words. LOL!
Which do you like better, the slip-ons or the boots, and out of curiosity… Would you wear combat boots?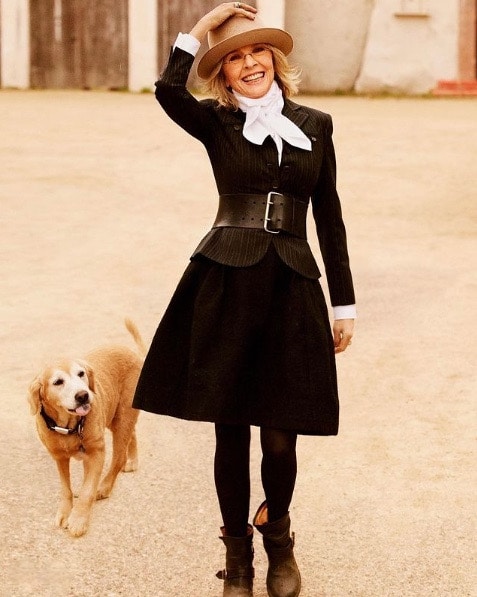 Diane Keaton in black leggings and combat boots. I love this look!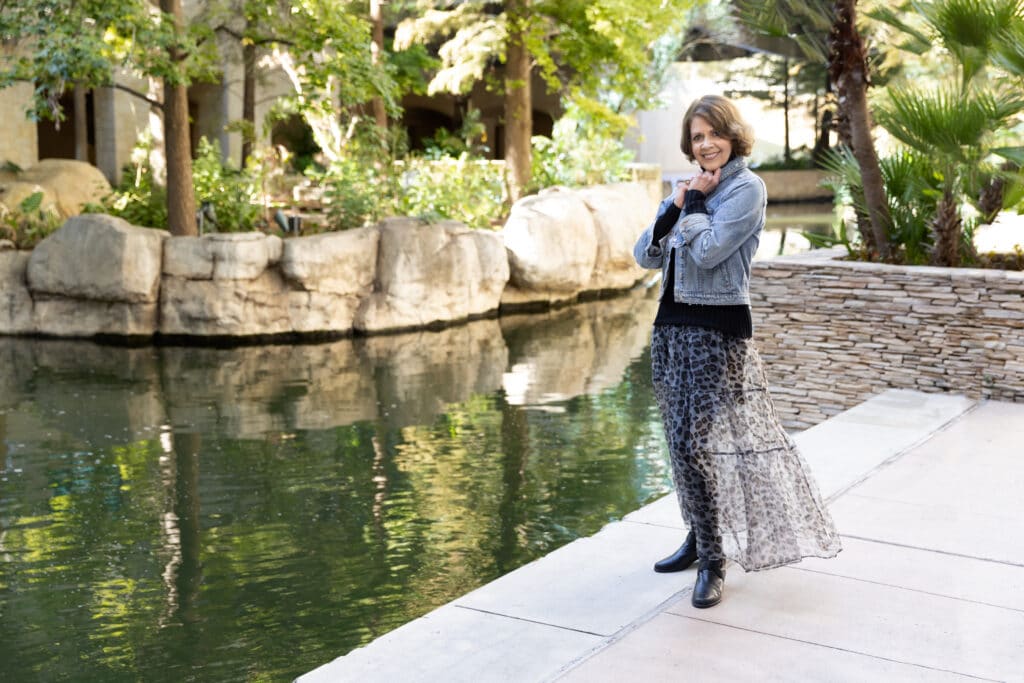 I fell for this Zara skirt a few years ago because it has a sense of whimsy about it. The animal pattern in the longer outer layer is what first caught my eye. The fabric is sheer and dressy, like something Audrey Hepburn would have worn to a ball, while the inner layer is black, opaque and hits above my knees. My Zara skirt's no longer sold, but here are some you can dress up or dress down, and one that would great with leggings underneath.
Under my skirt I layered a pair of Spanx leggings. I LOVE these! They have a shine to them that makes them a bit glam, plus like everything from Spanx, they hold you in all the right places. Here I'm wearing a long-sleeved, black ribbed turtleneck I bought ten years ago. Depending on the weather, sometimes I wear a black, ribbed, short-sleeved, round neck shirt from J Crew.
Before Covid I wore this outfit to Christmas dinner at a friend's house with a dark, blue velvet kimono lined in pink silk. Here I've styled it with a Veronica Beard blue jean jacket which makes it much more casual.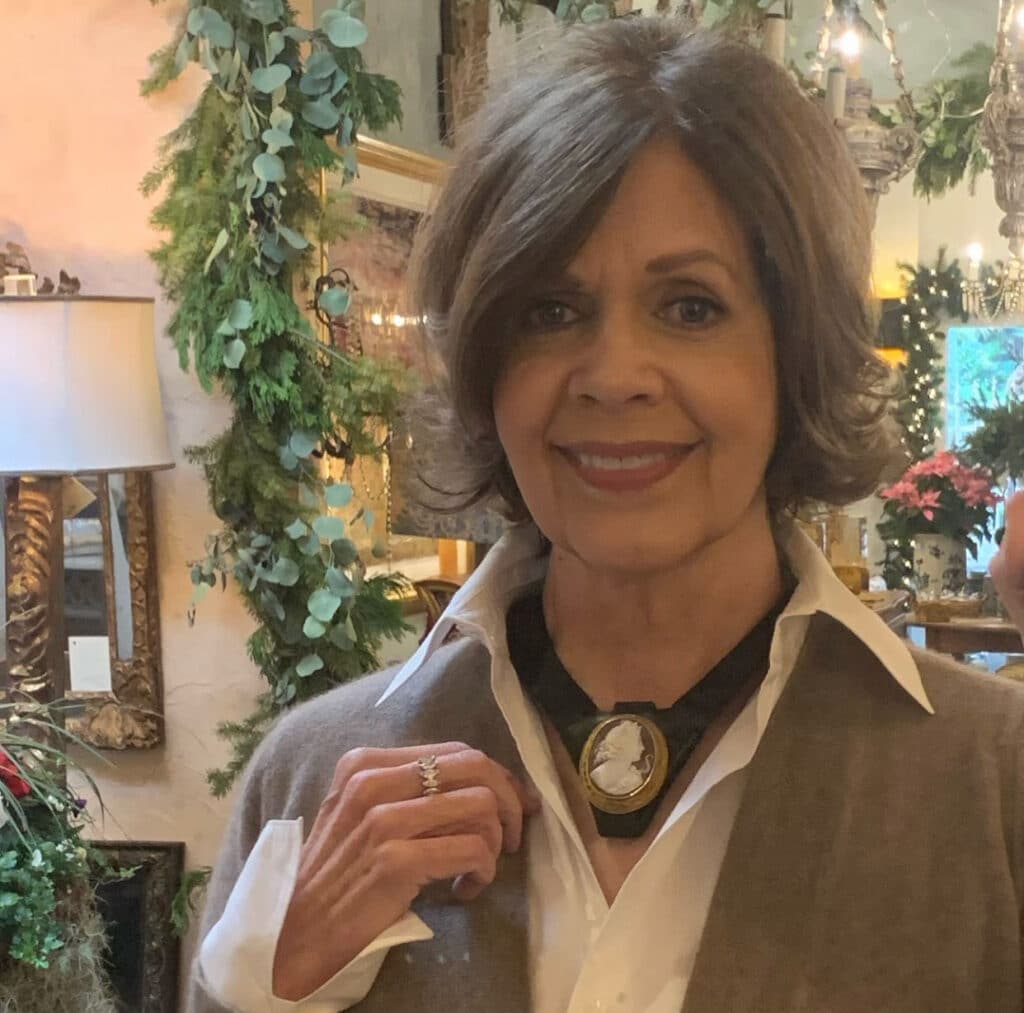 My necklace is an antique cameo, mounted on black leather, made by my friend in Italy, Anna Porcu. I first met Anna a few years ago when I wandered into her exquisite store in Sienna, Italy. When I told her I was from San Antonio, her eyes got big and she said, "I'm coming to San Antonio in a couple of months." We exchanged contact info, and when she arrived, we met and had dinner. Anna returned the next year, and I spent the week with her, helping her sell her beautiful pieces at a trunk show I arranged. Yesterday Anna emailed me to say she and her sister-in-law, Sylvia, who makes the gorgeous kimonos, are coming back in early December. When we have the details, I'll let you know.
Please pop over to my friend Cindy Hattersley's blog for her take on combat boots. You'll like her! I'm so blessed to meet such great women.