Have you ever bought a piece of clothing you knew was all wrong for you? I did that recently, and I don't know what I was thinking other than the dress reminded me of another time and place. Before my life plunged off the rails, and my first husband became someone I didn't know. My recent purchase was a full-length, burgundy sequin dress with a cowl neckline.
It reminded me of a bronze, sequined, spaghetti strap dress with a cowl neckline I wore in my 20s.
The bronze sequined dress was a showstopper, and I brought it to the Ocean Club in the Bahamas, a favorite place we stayed every chance we got. On this trip, I wore it to a small, but elegant casino on the island that's no longer there. It was back in the day when people still dressed for dinner and an evening at the casino.
Shortly after we arrived, a dashing man in a tuxedo approached me and introduced himself. He was the casino manager. He kissed the back of my hand and asked if I'd like to play Baccarat, then explained I wouldn't be playing with real money so I couldn't win or lose anything. It sounded like fun, and I said yes.
I still have his business card, printed on thin white velum, now yellowed with age.
The Baccarat table was off to one side of the casino and cordoned off with red velvet ropes. The manager lifted the ropes and showed me to a table where the players were all European-looking men in black tuxedos—sophisticated James Bond types, or perhaps they were royalty, Swiss industrialists, or maybe assassins. For much of the evening, the casino manager stood over my shoulder and instructed me on the finer points of the game. My husband later said I'd been "eye candy," bait to entice wealthy players to join the table. At the time, I was naive about such matters, so it never occurred to me that the casino, and my husband—who liked to put me on display—were using me for their own gratification. I just knew it was a wonderful evening.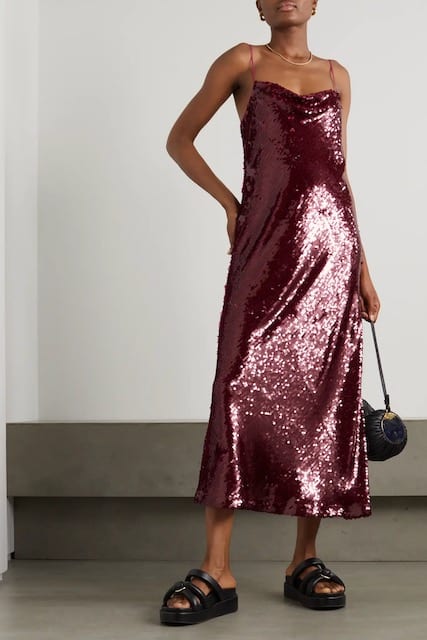 Like my bronze, spaghetti strap sequin dress, the burgundy sequin dress I ordered last week fit perfectly, but I'd lost sight of one of the two secrets to amazing style over 50.
1. REMEMBER YOUR STYLE STATEMENT: How do you want to look in your clothes? Is it casual, conservative, you don't want to be noticed, businesslike, or trendy? Or maybe you have a style icon. Mine has always been a cross between Lauren Hutton and Rene Russo's character, Catherine Banning, in The Thomas Crown Affair. Her character's style is put together, elegant, and sexy chic. My new burgundy sequin dress was all of these things.
2. KNOW YOUR BODY: Are you pear-shaped or apple-shaped? What size and styles work best on you? Do you still want to highlight your arms, legs, and midriff? I no longer want to feature that much of my bare arms, and in the case of the recent, burgundy sequin dress, I told myself I'd pair it with an edgy black leather jacket, or maybe my black cashmere cardigan with a black fox collar that would cover my arms.
But I deluded myself into thinking the dress was right for me.
Yes, it was my style statement, but I violated the second style secret: Know Your Body. A bare arm, spaghetti strap dress is no longer for me.
From the beginning, I knew I'd gone seriously off track with this purchase, but I did it anyway.
If I'd seen the dress in a retail store, I could have tried it on, for fun, and been done with it. I think that's all I wanted. Instead, I returned it and was reminded of a great night at the Baccarat table in the Bahamas.
Do you know your style statement and what looks good on you? Do you stick to them with the clothes you buy?