I've heard we shouldn't wear any more than seven things at any one time like pants, blouse, dress, belt, shoes, earrings, rings, necklace, watch, purse or a scarf. If we're wearing more than that, we need to remove something until we're down to seven items. I've also heard bags and shoes need to match. Well those were the old school ways of styling an outfit.
Here are the new ways to dress and use accessories over 50.
One look at Instagram reveals there are as many women over 50 as there are different ways of dressing. Some women will always be trendy; some love prints and lots of color while others are more tailored and classic, and the way they accessorize generally follows the way they dress. 
I'm learning not to be afraid of accessorizing and to step outside of my box. Here are a few rules for accessorizing you might find helpful.
IF YOU'RE WEARING A BUSY TOP OR DRESS, skip the necklace and the dangly earrings because busy doesn't need further embellishment. Instead focus on a bracelet, rings and shoes. Sunday my friend wore a bold tangerine silk dress that had pops of blue, yellow and green. My description doesn't do it justice , but it was beautiful. She wisely skipped the necklace but accessorized with one big, gold link bracelet and one large jeweled ring and a simple pair of black suede flats.

IF YOU'RE WEARING A SOLID COLORED TOP AND BOTTOM, EVEN JEANS AND A WHITE TEE OR BLOUSE, you can add a bold bib necklace, or one or more longer necklaces and a great belt.

IF YOU'RE CRAZY ABOUT ARTISAN JEWELRY AND BOLD ACCESSORIES, don't wear statement earrings, big bracelets, rings, necklaces AND a showy belt all at the same time. Choose one or two areas to focus on and keep the others understated or… you'll look like Iris Apfel…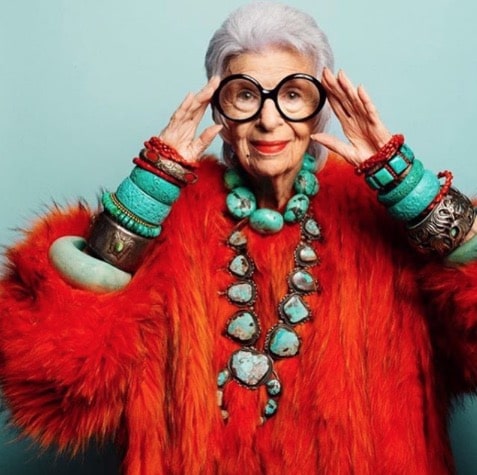 …unless you want to look like Iris Apfel who is a classic, by the way!
While most of us are more… I'm searching for the right word here… "traditional" with the way we dress and accessorize, I want you to meet two women who subscribe to the more is more theory. They both have a knack for turning a simple outfit into cover worthy fashion, and I love their style!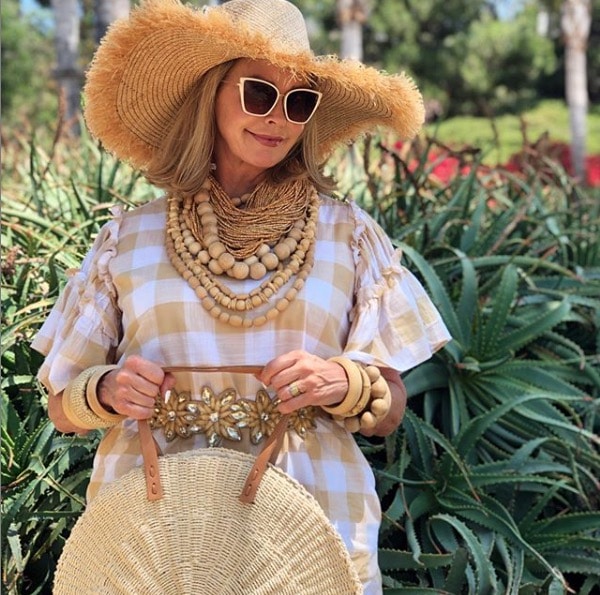 @TameraBeardsley on IG and http://www.tamerabeardsley.com
Here Tamera Beardsley paired all of her wooden necklaces and bracelets and wore them together. What makes it work is she kept her outfit, bag, belt and hat in the same color family as the wood. I love it!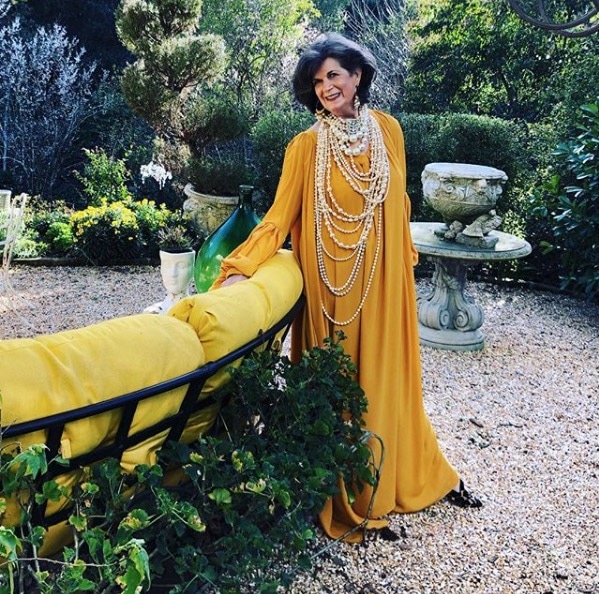 The Contessa, sometimes known on Instagram as the @AntiqueGoddess and  https://thevintagecontessa.net
The Contessa loves kaftans in solid colors and lots of accessories. She and Tamera are masters at wearing lots of different necklaces at the same time. This look works for them because they're tall and the Contessa almost always follows my "two colors rich, three colors poor" rule.
For a look like the Contessa's, take ropes of pearls and twist them together to create one statement necklace or just pile them on. They don't have to be the same size or the same shade.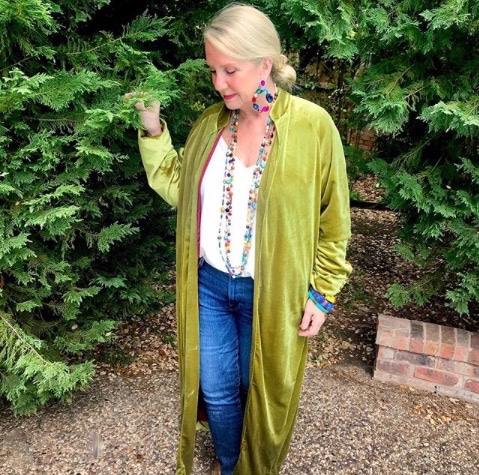 Then there's my friend, Kim Frick, @FricksPicks and https://therealgoldengirl.com
Kim is a tad more conservative than Tamera and the Contessa. She understands wearing trends, loves color and accessories, and she knows how to pair them together and always looks fabulous. I particularly like how she dressed up a pair of blue jeans and a white tee or camisole with a kaftan, two long necklaces and big earrings.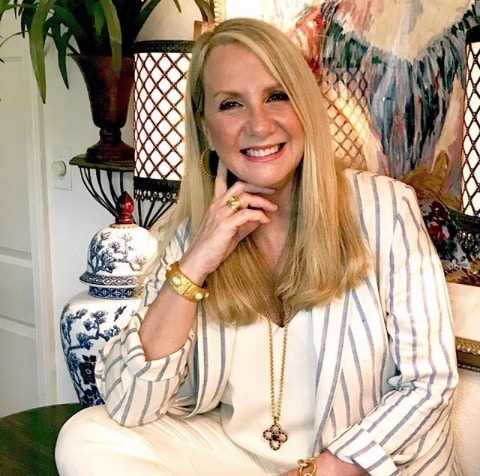 Here's another gorgeous chic look from Kim that's more traditional.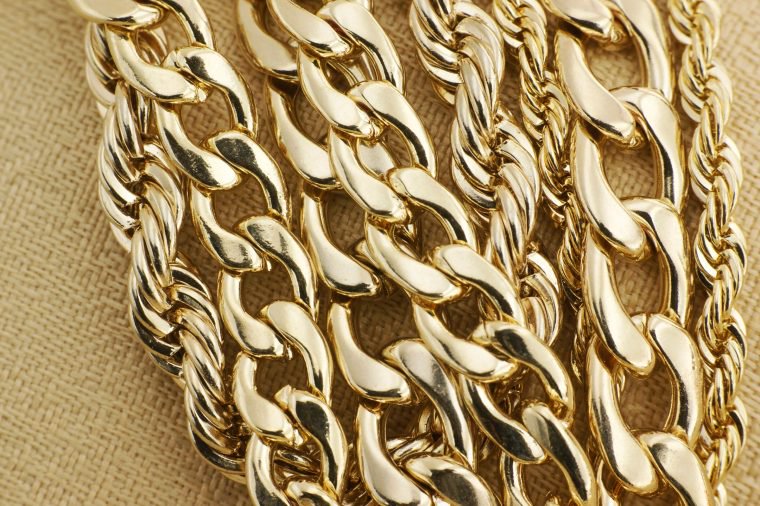 GO BOLDER WITH GOLD OR SILVER LINK CHAINS. They look better than thin, small links unless you are petite in which case bold links could overwhelm your small frame.
A LONG NECKLACE that hits just below the bust makes you look taller and thiner, like the one Kim is wearing.
SCARVES can substitute as a necklace, or for an even more dramatic flair, wear a long scarf draped over one shoulder.
BELTS play up our shape and give us an hourglass figure even if we're heavier than we want to be around the middle.
SILVER SHOES, flats, sneakers, oxfords and espadrilles read as neutrals but they're modern and add an extra pop to most any outfit. I rotate mine and wear them with almost everything, however I draw the line with silver boots.