I'm a big believer in investment shopping and in finding and keeping a few essential pieces in my closet. When I find a piece that's a keeper, I don't mind paying more for it. But in return I expect it to become a wardrobe workhorse. I want it to last a long time and work with what I already own.
One thing that is essential in my closet is a good, black jacket, preferably a blazer.
A black blazer is my go-to "completer piece," as Stacy and Clinton used to say on What Not to Wear. Gad, I miss that show.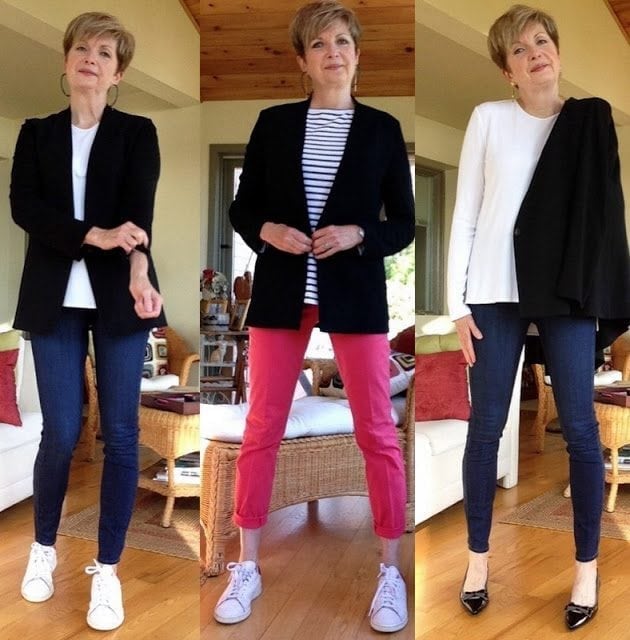 I bought this black, Helmut Lang jacket in 2015. The jacket is a bit stretchy; it's fully lined in the front and falls beautifully, and the sleeves are made of tee shirt weight viscose, so they roll up or push up, easily. It's super comfortable, plus I've worn it with just about every pair of jeans I own: blue, white, pink, green, khaki.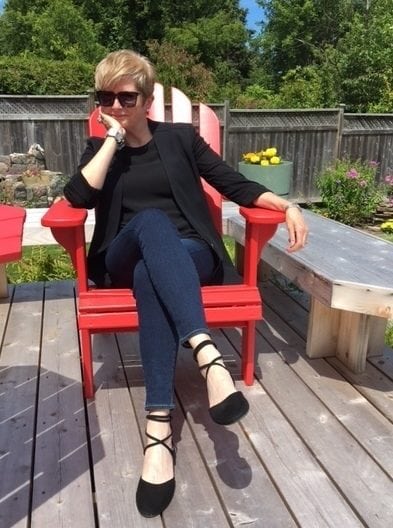 I've pulled it on over white tees, striped tees, tees of every color. I particularly like it with a black tank top. I've worn it over a black cotton tank from Aritzia with white or colored jeans and sandals for lunch on a patio with a friend in the summer. And over a black silk tank from Rag and Bone, with distressed jeans and low-heeled pumps to a Christmas party last winter. I was dressy on top, casual on the bottom, and I felt fabulous.
When I bought the jacket, I was considering a white Theory blazer, but my friend Liz, who is the personal shopper at Nordstrom, urged me to try this one. "Yep. That's the one," I said when I pulled it on. The fact that it cost quite a bit more than the Theory jacket was only a momentary drawback. I'm glad I spent the extra cash. This is definitely an investment piece. In fact, I've worn it so much that every once in a while I hide it in the back of the closet so I'll get more wear out of other things in my wardrobe.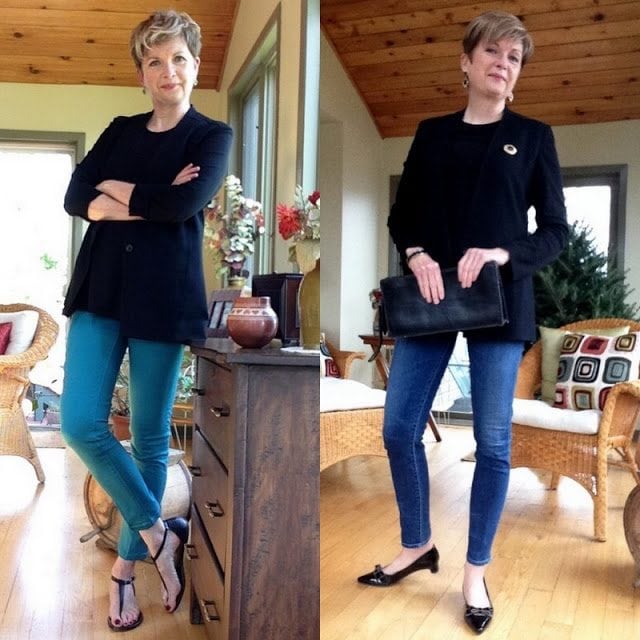 To me an investment piece has to earn its keep, and it has to work with my lifestyle and my needs. Now that I'm retired those needs have changed. I might wear this jacket as part of a dressier outfit once or twice a year. Mostly I want it to smarten up a casual outfit of jeans and a tee and to be very comfortable… and I need it to travel well. In hindsight that white Theory jacket would NOT have filled the bill.
My Helmut Lang jacket packs well, rolls up nice and small, and once hung up, any wrinkles fall out in a couple of hours. I've never needed to press or steam it. It's always ready to rumble… so to speak. And I feel great in it, no matter where I am.
Even in Paris!