Last week I saw Fleetwood Mac in concert. It's hard to believe Stevie Nicks will be 71 this May. She's as beautiful as ever and together with her stage presence and that same strong husky voice, she can captivate an audience like no one else. Other than the Rolling Stones, Stevie Nicks, the mystic poet of rock 'n' roll, and Fleetwood Mac may be the only performers from the '70's, who can still fill a stadium.
Stevie Nicks and her iconic Bohemian/rock style are as relevant, today, as they were in the '70s, when she first influenced the way millions of women dressed.
The Spring, 2019, runway collection from the design house of Zimmerman looks like it was taken from Stevie's closet. Even in her 20's, Stevie Nicks didn't show much skin. Instead she chose to layer different fabrics and textures to create her own unique look. In the early days of Fleetwood Mac she wore patchwork and velvet newsboy caps, bell bottom jeans, platform shoes, halter neck tops or Jantzen leotards and long or short kimonos that were either satin, chiffon or gossamer lace. 
🎼"Give to me your leather, take from me my lace."🎵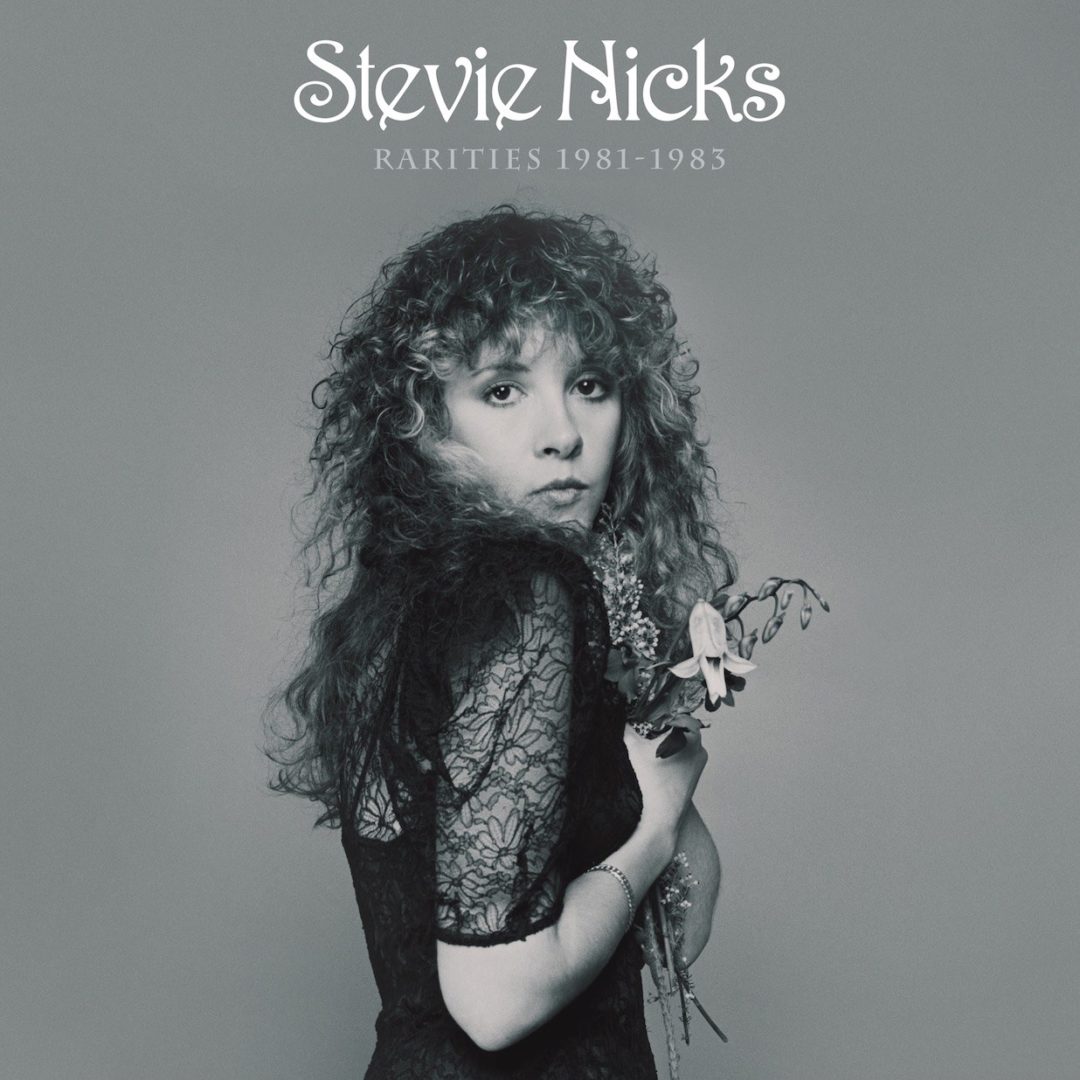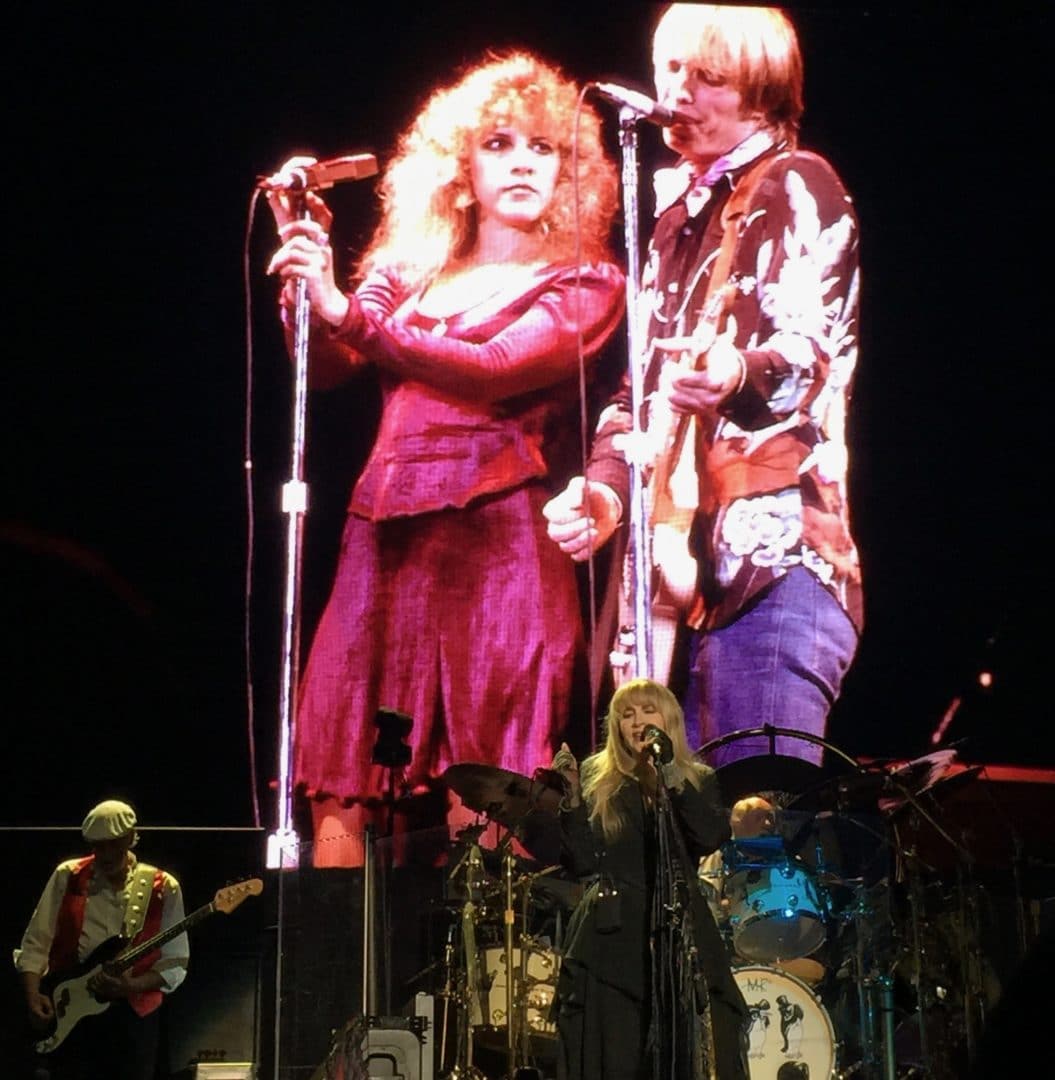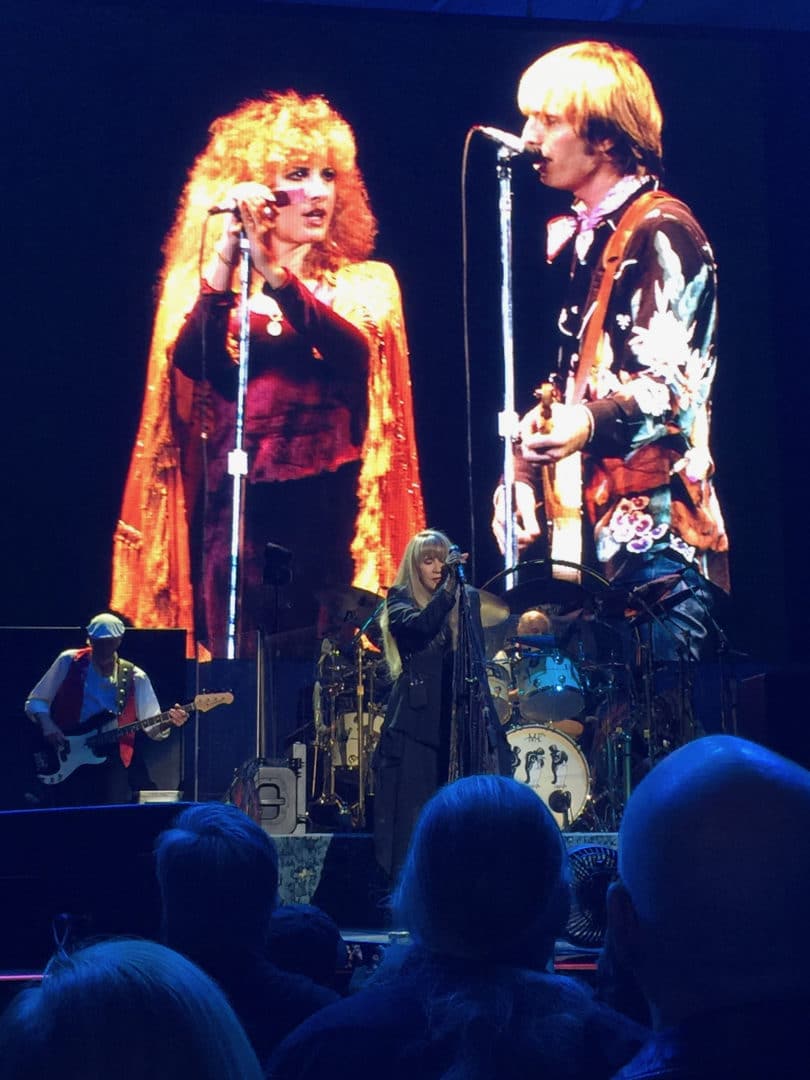 On the screen behind Stevie were photos of her and her dear friend, the late Tom Petty.
Because of her many black costumes and her almost tribal like dances, Stevie Nicks is sometimes thought of as part sorceress, but a look back at her wardrobe reveals rich reds and plum velvets with fringed shawls and intricate beadwork. Stevie Nicks is a girly girl who also wore soft blue ruffles with matching suede boots; white lace and chiffon with multiple tiers of long tulle skirts and white leather boots, and velvet hooded capes reminiscent of Snow White.
🎼She is like a cat in the dark, And then she is the darkness🎵
Her style has evolved into something she calls her "uniform," designed to protect her from the stage fright she felt when she first started touring with Fleetwood Mac. Her initial instructions to Margi Kent—who still designs much of her wardrobe—was to create something out of Great Expectations or A Tale of Two Cities: a sheer, raggedy, street urchin skirt that would look beautiful with black, velvet platform boots.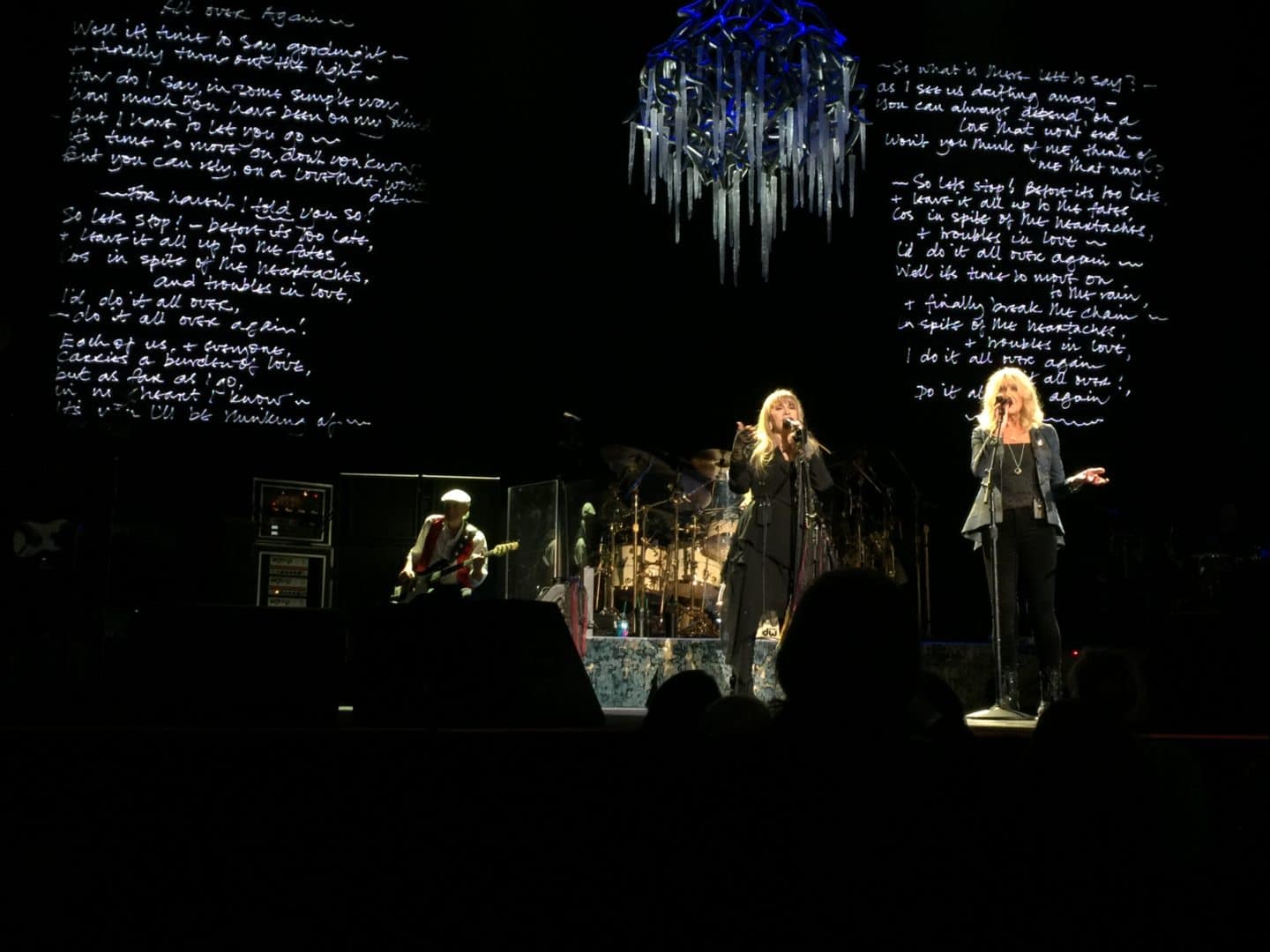 Stevie and Christine McVie, singing "All Over Again" with the lyrics projected in script behind them.
Now her uniform mainly consists of fitted, black waistcoats over black velvet and lace corsets and layers of sheer, black midi-skirts with handkerchief hems and rhinestones subtly shining through from the bottom layers. She has almost a square dancing way of holding up either side of her skirt, sashaying while she dances, which shouldn't be surprising since her grandfather was a country singer.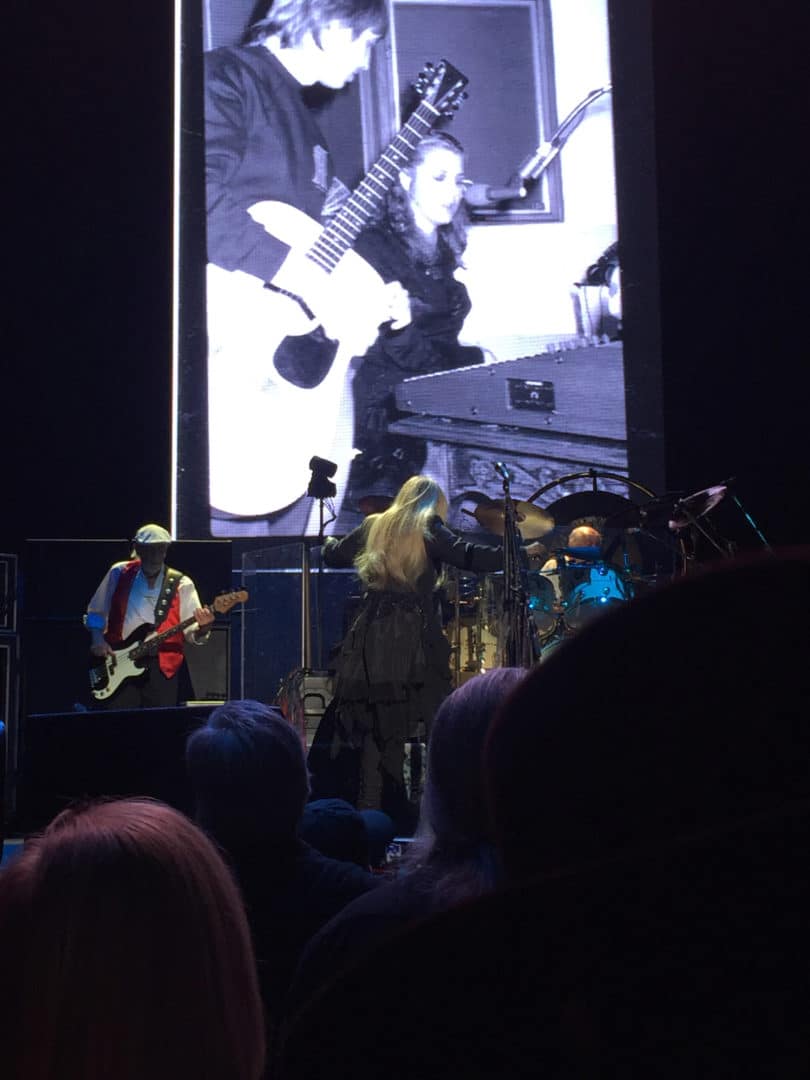 When I think of Stevie Nicks's onstage persona I see her dancing with arms outstretched, often with her back to the audience and in silhouette. She has an instinct for the ethereal and the dramatic, sometimes looking like a little girl and then a goddess with the whirling, turning energy of a tent revivalist.
Stevie's always wrapped herself in stage outfits—sometimes weighing as much as 18 pounds—using them for a sensual and dramatic effect: opening her arms in a welcoming manner and then closing them like she's protecting herself from heartbreak and the mayhem of stardom.
Stevie Nicks is a rock icon, a smart and powerful performer who knows how to own the stage and who deliberately uses her shawls so she can be seen by the people in the back rows.
While she didn't change clothes during last weekend's performance, she did change her legendary shawls.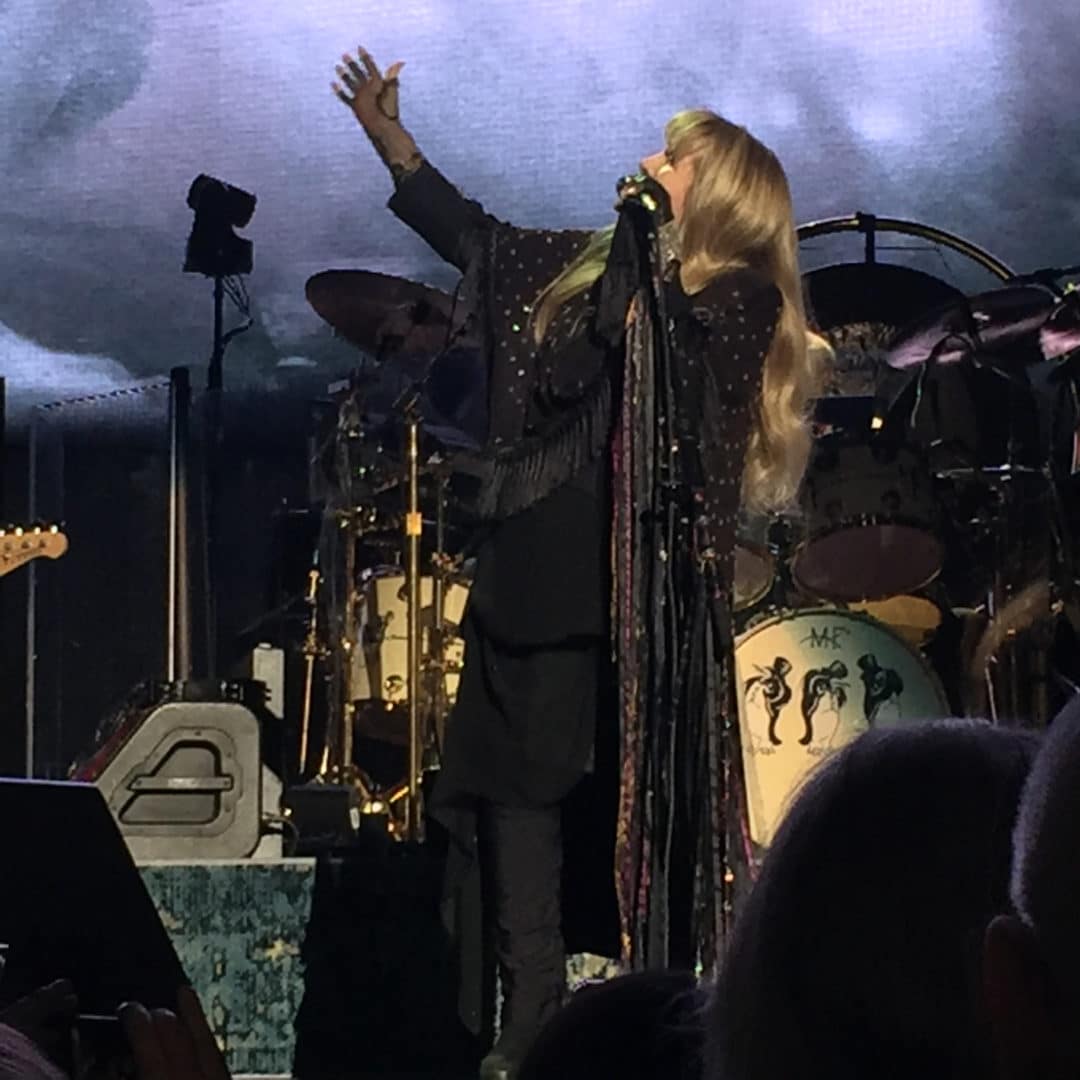 First, one with black sequins and fringe…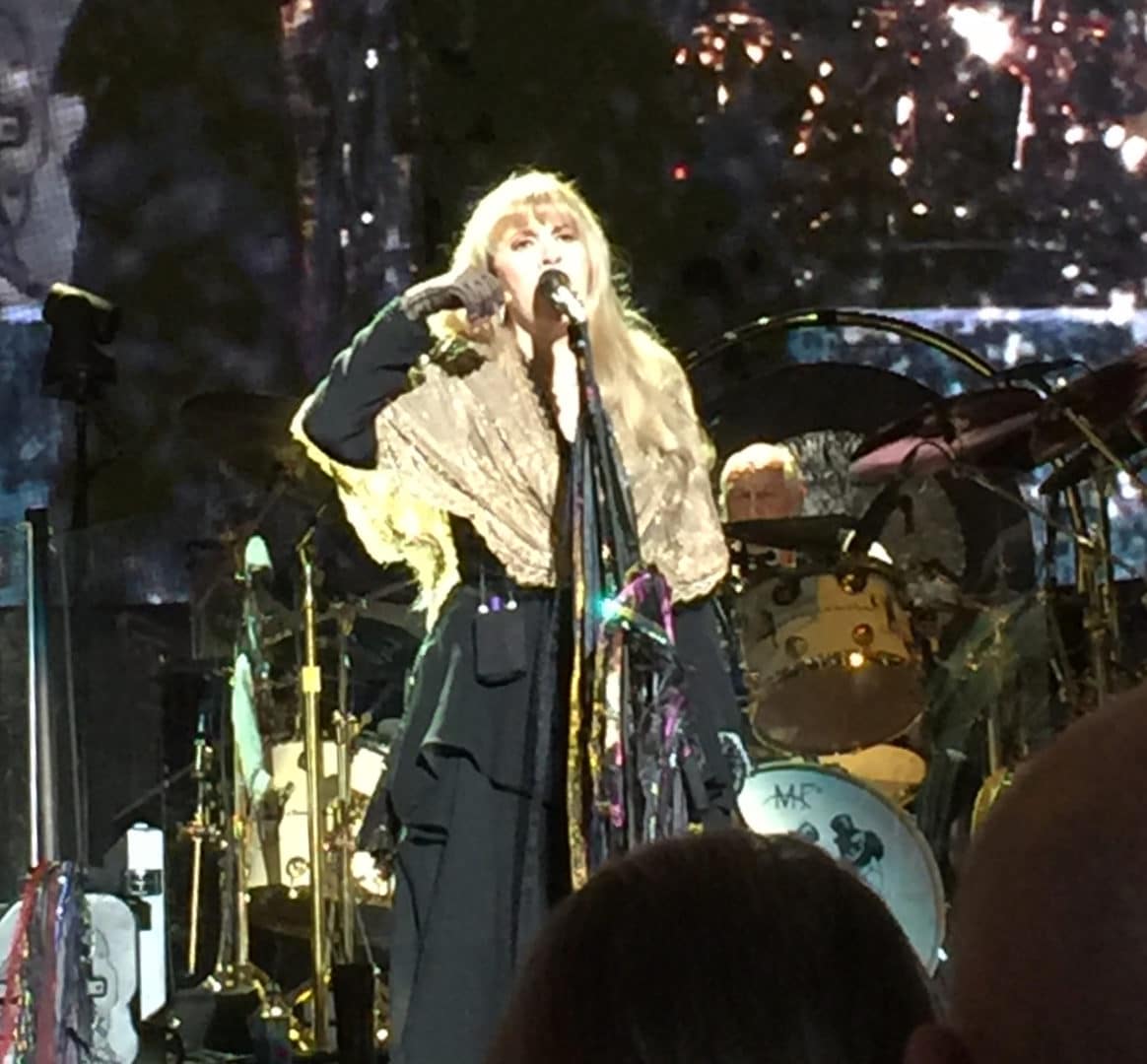 …and then a gold lace shawl…
…a nod to Gold Dust Woman and her "24K Gold" album.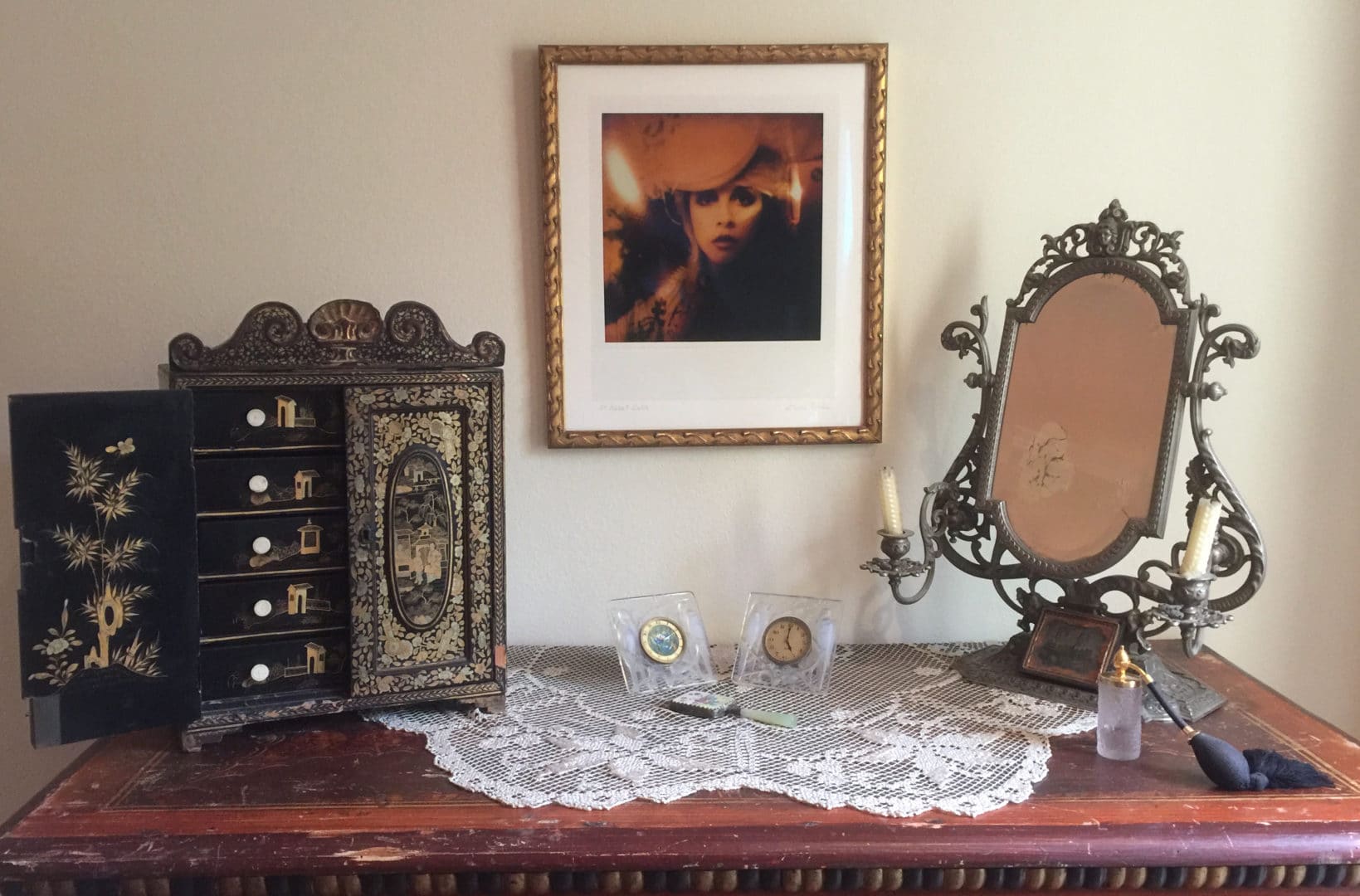 The cover of that album is the self-portrait Stevie took with an oversized Polaroid camera and Polaroid film. I have that image, signed, and hanging in my bedroom.
Looking back at photos of Stevie… She's always loved gold shawls trimmed in pearls, crystal beads and fringe.
Stevie is only 5'1" tall. Amazingly she still wears built-up platforms on the bottom of her boots to make her taller. Last weekend she had a strip of rhinestones down the back of each heel. I tried to get a photo, but even though I had a Row 5, center seat, my photos aren't up to my usual standards. (I dropped my iPhone in the loo… )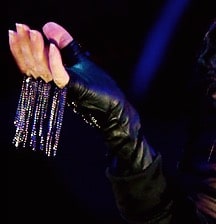 In the last 10 years Stevie's worn embellished, fingerless, black lace gloves, a seamless continuation of her black uniform. Sometimes her gloves are trimmed in long silver mesh or the entire gloves are mesh. She still wears her diamond half moon pendant along with another small diamond strand on a delicate chain, and her microphone and tambourines still have ribbons and a streamer of rhinestones.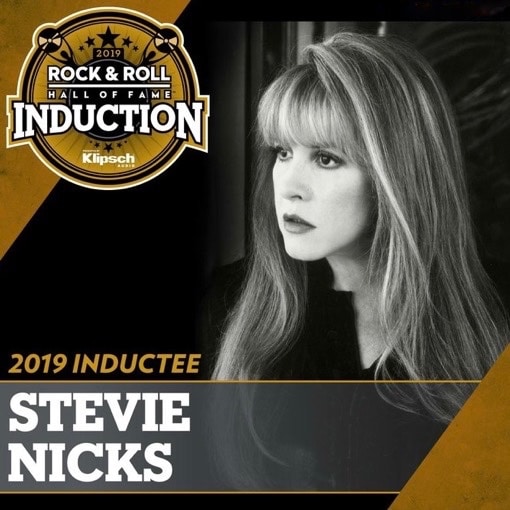 This year Stevie will become the first woman inducted into the Rock and Roll Hall of Fame for the second time. The first time was with Fleetwood Mac in 1977, for "Rock Band," and this March 29, 2019, she will be inducted as a "Solo Singer." I think they will still owe her another induction for "Songwriter."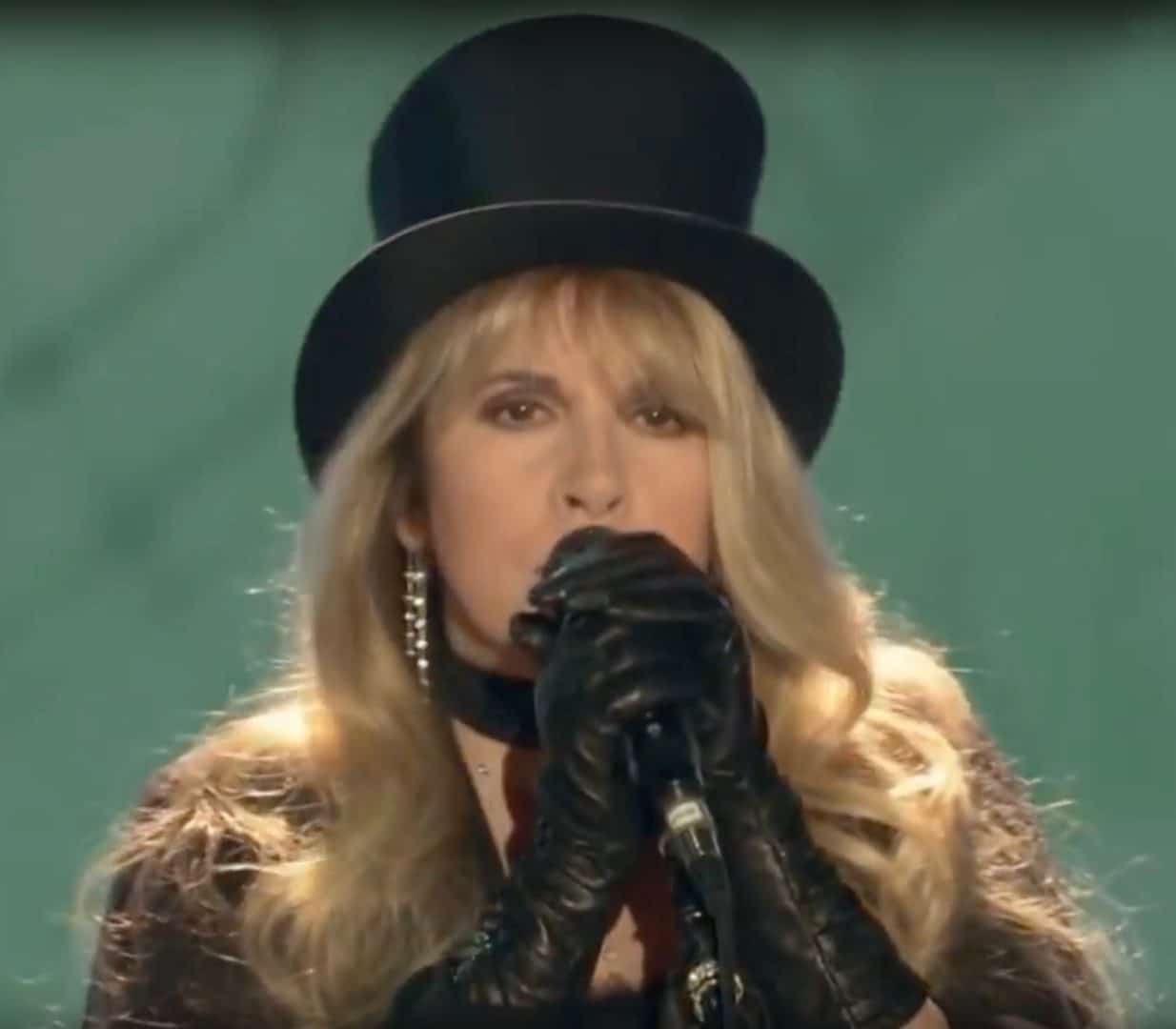 So what does one wear to a Fleetwood Mac concert when you're in your 50s, 60s and older? The audience was comprised of people of all ages who knew the words to every song. Two women, sitting a few rows behind me, were wearing Nicksian top hats and long black chiffon. I wore black leather pants, a fitted, black suede jacket with a black Mongolian curly lamb collar, a long, soft blue fur scarf and a long grey pearl necklace with a big Mabe Pearl and a truncated quartz crystal and gold charms on the end. My shoes were silver Vince slip ons. I knew I needed comfy shoes, and it's a good thing because after the concert, I had to walk 20 minutes, uphill, in the rain, before I could get an Uber.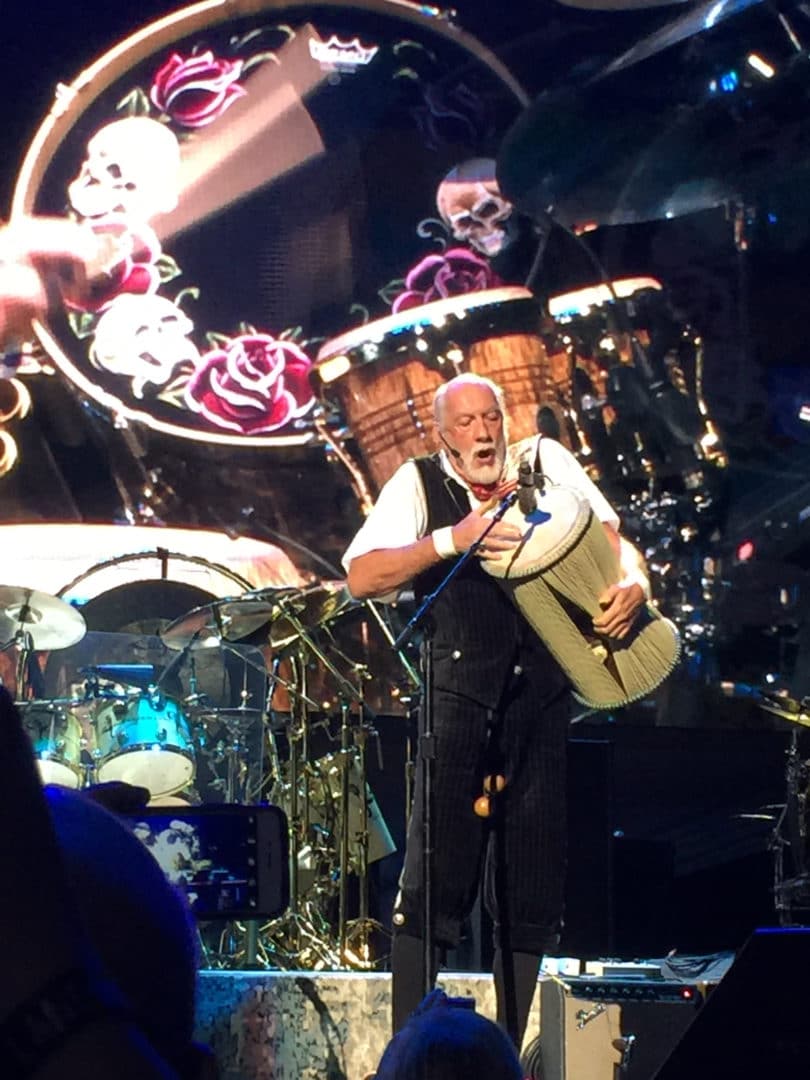 The ever quirky Mick Fleetwood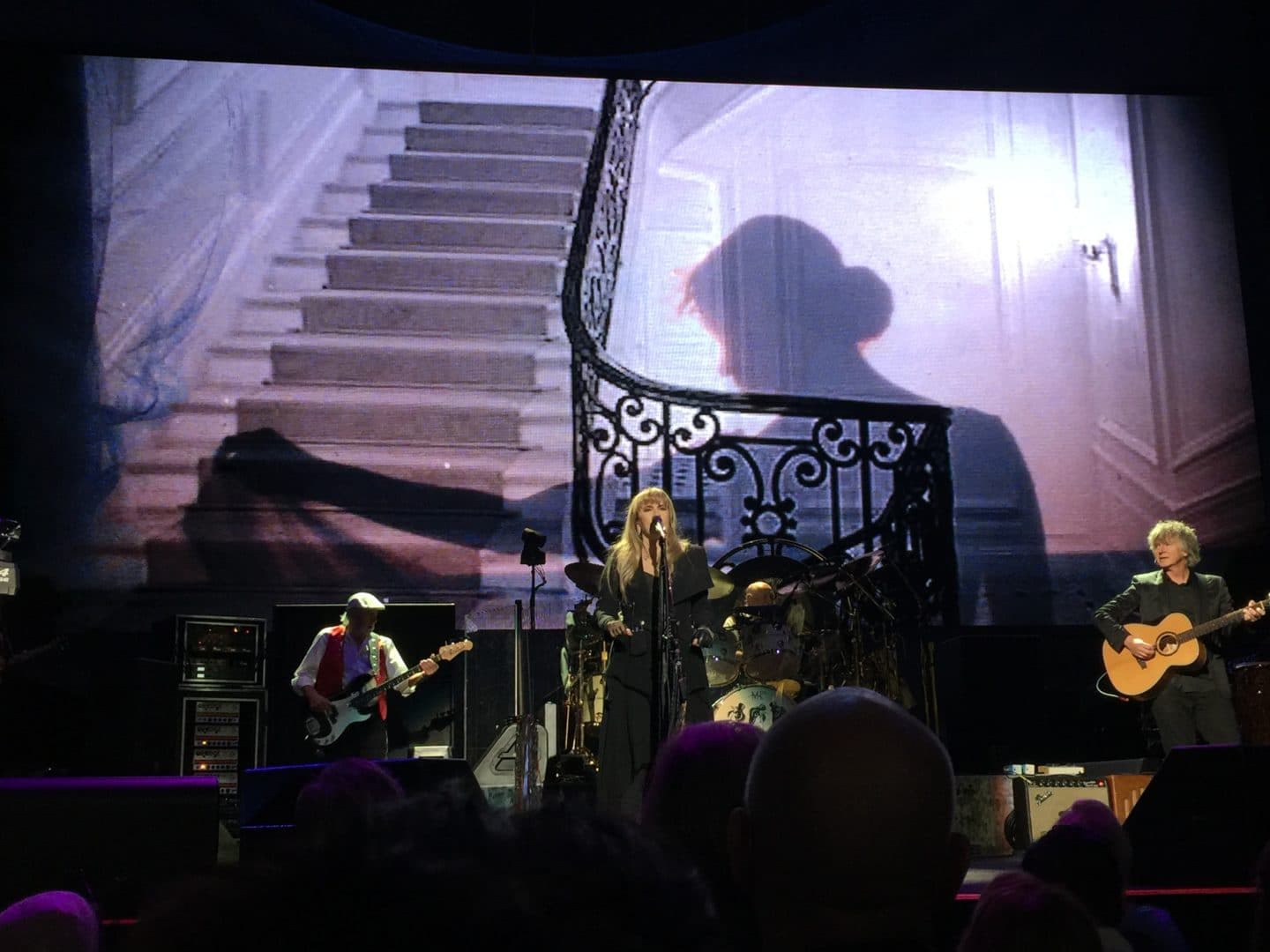 John McVie, Stevie Nicks, you can see Mick Fleetwood's head behind the drums and newcomer and singer/songwriter and ace guitarist, Mike Finn…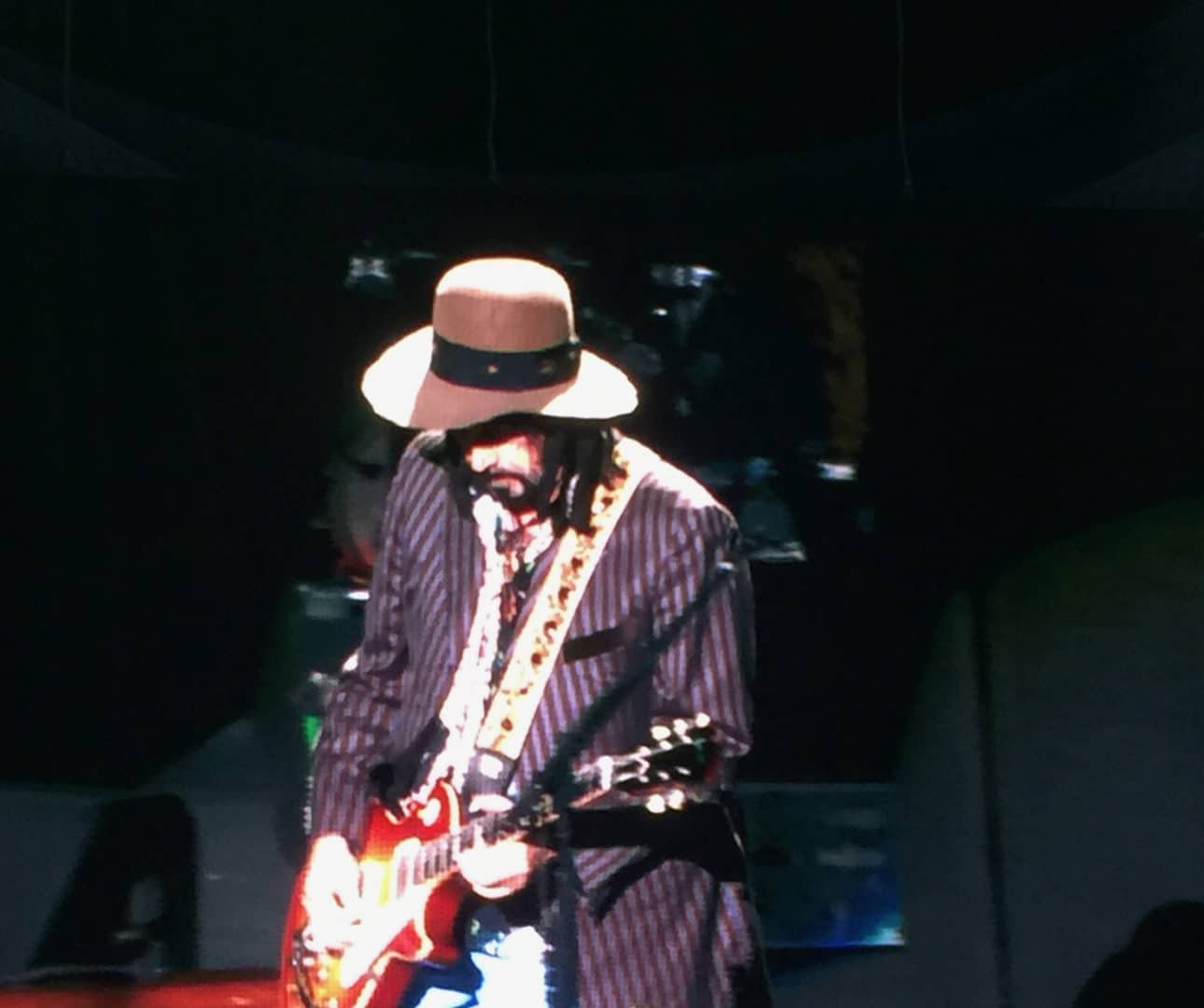 …and another newcomer, Mike Campbell, guitarist, songwriter, record producer and former member of Tom Petty and the Heartbreakers.
This is the first time I've seen Fleetwood Mac perform from a seat in the audience. I've seen them before, but it was from the perspective of standing in the shadows off-stage. Looking back at pictures of Stevie Nicks, she always had a smile—she was having such fun—but last weekend I'm not sure I saw her smile more than a few times, but then it's been a tough year for all of them: First her ultimatum to the band, "It's him (Lindsey Buckingham) or me"—they chose Stevie because what is Fleetwood Mac without Stevie—followed by Lindsey's lawsuit against the band, which settled last year as well. 
🎼You can go your own way!🎵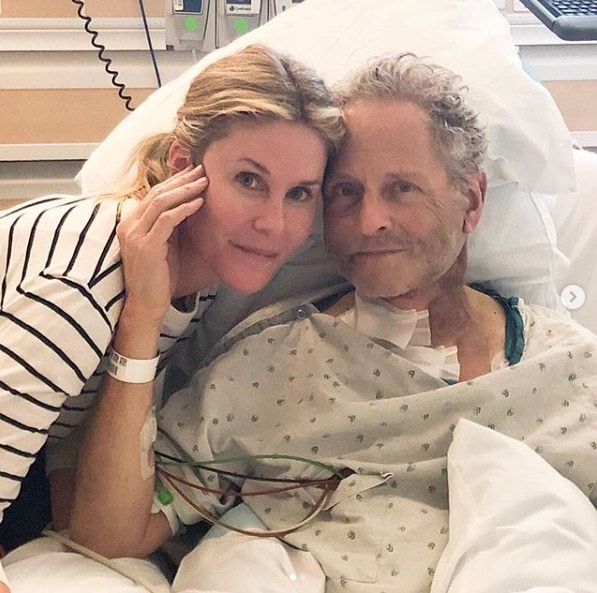 Days before last weekend's concert Lindsey Buckingham had emergency open heart surgery that may have permanently damaged his vocal cords.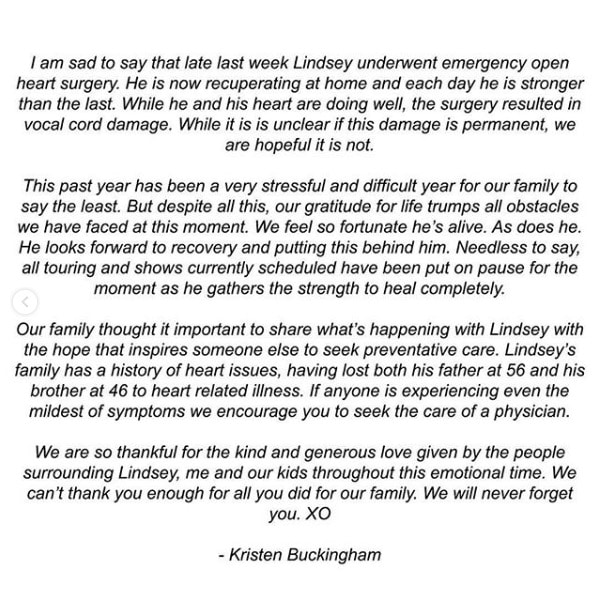 Photo and message from his wife, Kristen Buckingham's, Instagram account. 
After every member of Fleetwood Mac had taken their final bows and left the stage, Mick Fleetwood returned, stepped up to the microphone and sent a short "wishing the best" to Lindsey and his family, and then… The stage went dark. I imagine every member of the band, especially Stevie, had been thinking—with melancholy and perhaps some regret—about the precious and tempestuous times that have played themselves out in such public ways.
🎼"But time makes you bolder. Even children get older. And I'm getting older, too."🎵
At the end of the concert I was reminded of 1010ParkPlace's tagline: Make life count! What's holding you back? We're all getting older. What are you waiting for sweet friends? Think about it…