We all have favorite celebrities that become our style icons.  One of my new favorites is Amal Clooney.  She wooed everyone with her chic stylish wardrobe during the week of her wedding last year.  And did I mention those beautiful long legs!
What's most fascinating is that Amal is not just a celebrity, she is also a practicing attorney. It's not often that we have celebrity style icons that we can admire for our work wardrobe. Her office attire often consists of feminine dresses and suits. Dresses are my favorite as they are so easy. They are also great for travel as you have less clothes to pack!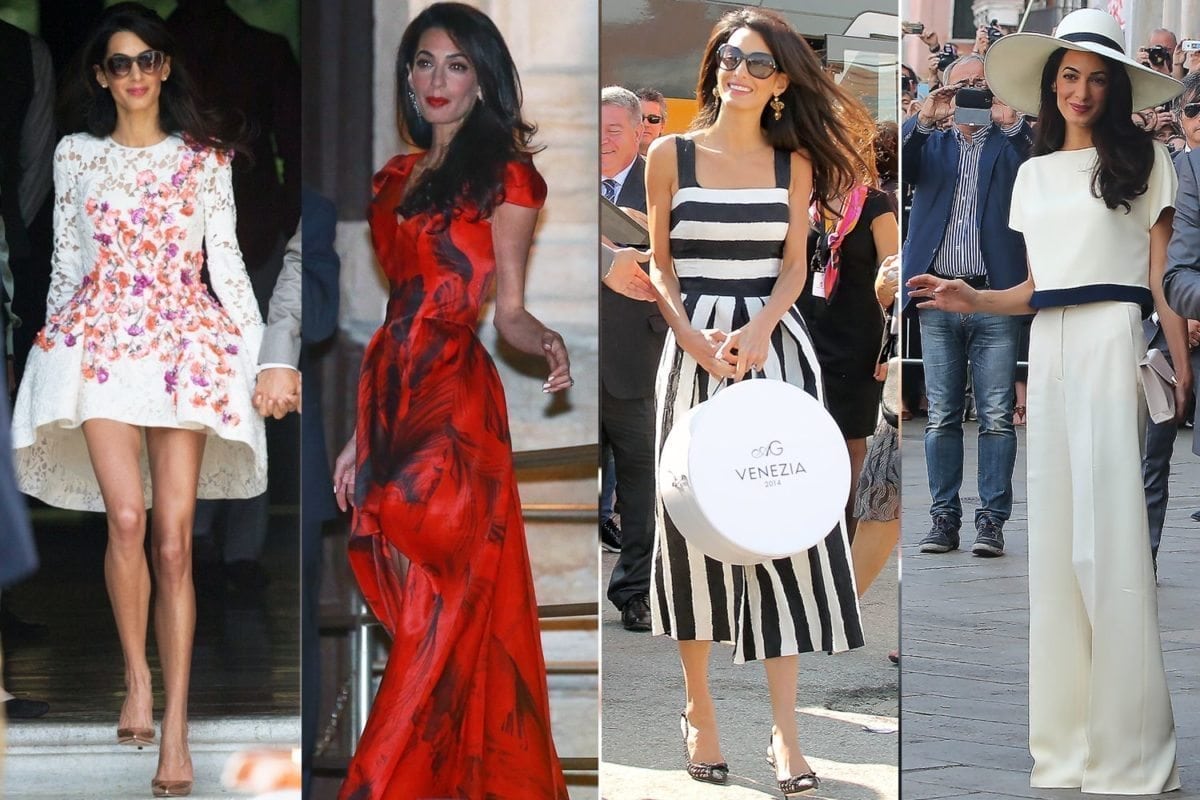 Her wedding wardrobe above may be something we can just admire but her day to day style as shown in the following photos gives us fashion inspiration that we can actually wear.
Black & White Casual
via Who What Wear
In this photo Amal reminds me that you can keep is simple. Black and white is a classic.
Summer Jeans

Large dangling earings are not just for evening wear!  I love how they dress up a simple pair of jeans.  Great nail polish color for fall too!
Fall Jeans and Boots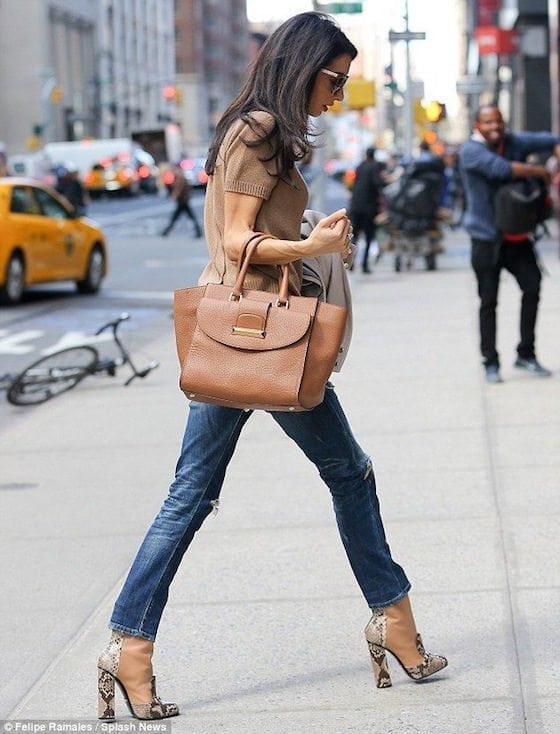 Amal has an amazing collection of shoes and boots.  She can jazz up a simple outfit with her shoes.
Suited Up for a Day in Court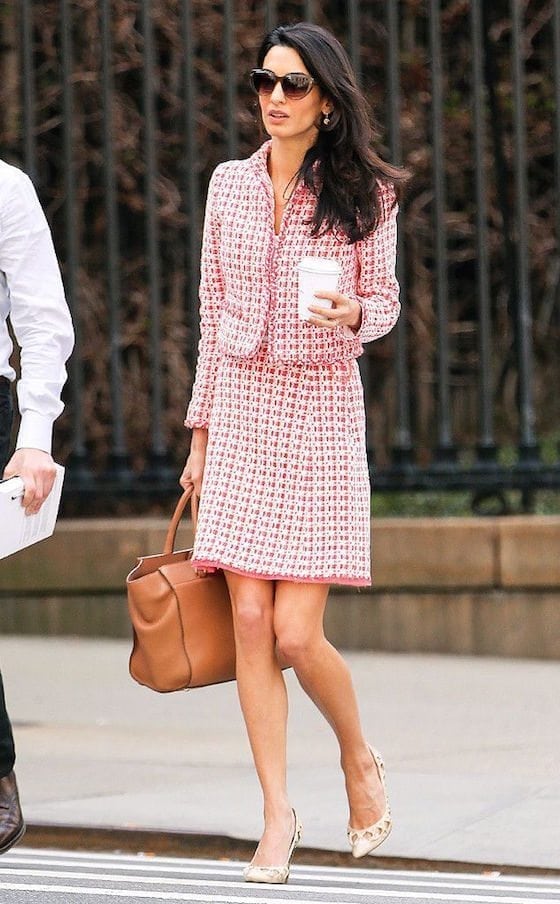 What I love about Amal's business suits is that they still have style, color and they are feminine.
The Working Dress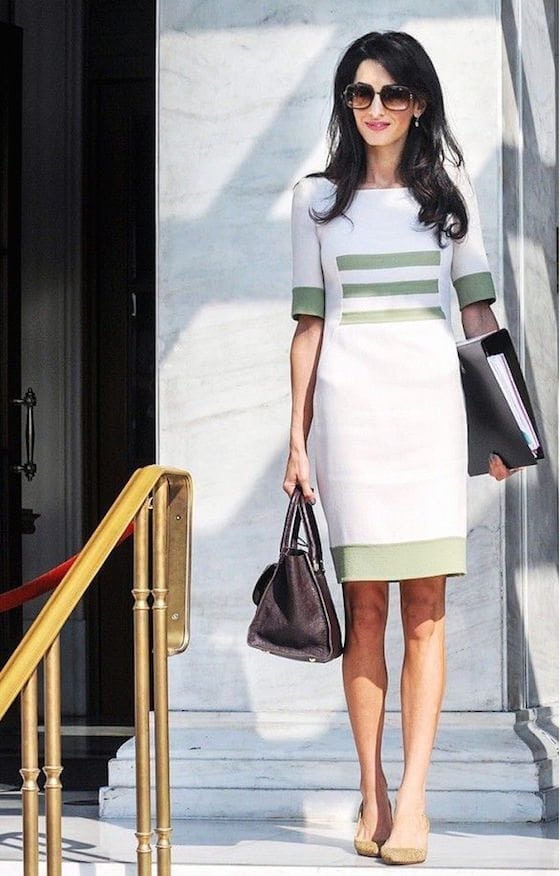 I am a huge fan of dresses as they are the easiest thing to wear.  They are also great for travel.  One piece dressing – – you just need your shoes and accessories.
The Perfect Fall Dress
This dress can take you from a casual work day right into evening.  It's stylish yet conservative enough for the office.
Date Night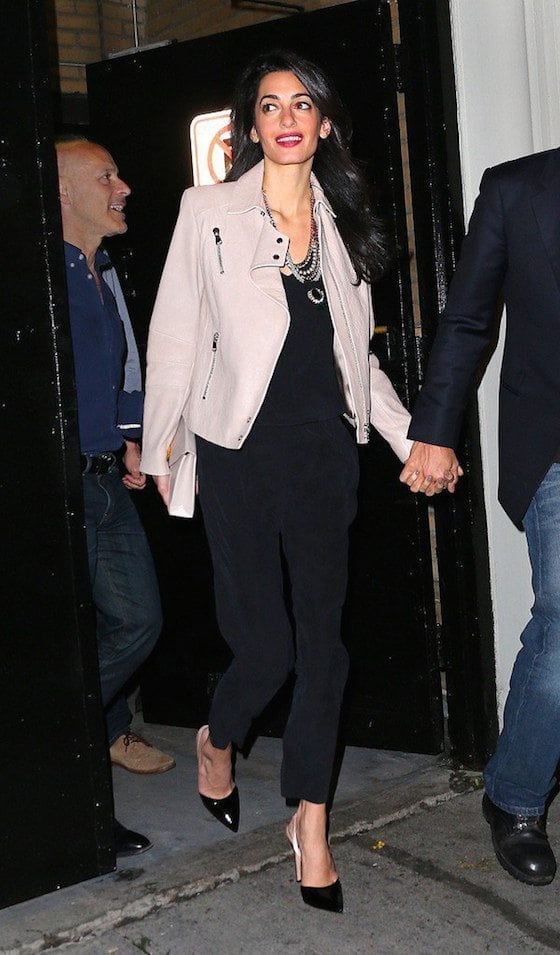 via Amal Clooney Style
The dusty pink leather jacket adds another level of style to Amal's basic black outfit.  I love the two-toned shoes and statement necklace.
An Evening Out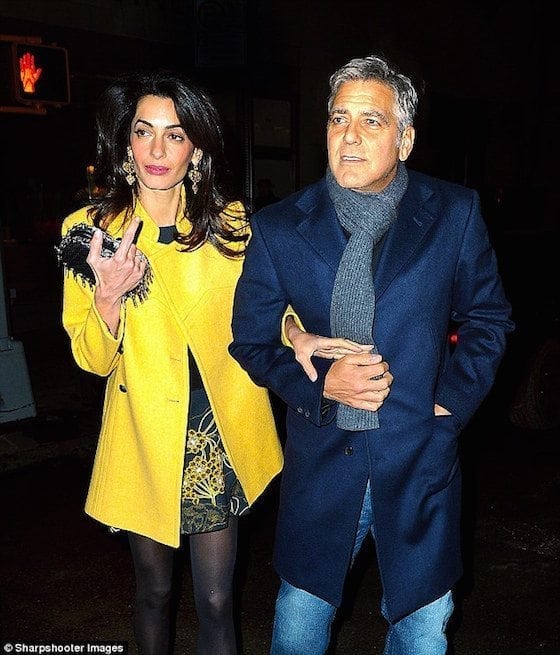 Amal is great at adding a pop of color.  This yellow coat is stunning!
Do you like Amal's style?  Does she give you inspiration for your wardrobe?