Once when I woke from a sound sleep to use the bathroom, I wiped and felt something that didn't belong there. It felt like I had a tumor. Seven specialists, seven months and seven days in the hospital later, I was diagnosed with pelvic congestion syndrome, caused by hard-to-detect varicose veins in the pelvis.
Similar to varicose veins in the legs, the valves in the veins that help return blood to the heart become weakened and don't close properly. This allows blood to flow backwards and pool in the vein causing pressure and bulging veins.
Diagnosis is difficult because women lie down for a pelvic exam and that relieves the pressure so the veins no longer bulge as they do while a woman is standing.
There is no cure and the only reasonable treatment is rest. One-third of all women experience chronic pelvic pain in their lifetime. No matter what symptom a woman may have, it is almost always automatically considered to be a gynecological problem. This experience shattered my "good patient" and my "good girl" reputation.
Why is it that any symptom a woman over 50 has is automatically considered to be related to menopause? Every specialist I saw insisted I needed to see a gynecologist. They had no idea how to reply to, "I've already seen five, and they all concur. I do not have a GYN condition." As unnatural and uncomfortable as it was, I had to beg challenge these doctors, two of whom were women, to look beyond my vagina and into my pelvis for the answers.
Women must get better at advocating for own healthcare. We need to share our personal health stories, even if they are embarrassing.
Too many women with pelvic congestion have unnecessary hysterectomies. Others have been living with the pain of pelvic congestion, forever, and being made to believe the pain is all in their head. They end up taking pain medication, longterm, or finding a way to live with the pain.
If you have pelvic pain and/or a bulge in your pelvic or vaginal area that worsens throughout the day when standing, seek an appointment with an interventional radiologist who can hopefully educate and work with your gynecologist.
Three Other Things We Need to Share with Women Approaching Midlife:
• Another common, but never spoken about, condition midlife women may experience is uterine (or any organ) prolapse. The muscles weaken and are no longer able to support the uterus, causing it to slip from its normal position.
• The chance of a stroke between the ages of 45 to 54 may be twice as high for women as for men. Be aware of your blood pressure. It can be a silent killer.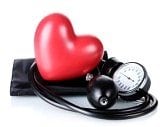 • It's okay to wear cute flats, all the time.