Thirty years ago the road to Batopilas, Mexico, was a real life rollercoaster gone off the rails. Nestled at the bottom of Copper Canyon and framed by the Sierra Madre Mountains, Batopilas began in 1708, as a remote silver mining village. Complete with legendary silver barons, lost Jesuit gold mines, bandits, Indian revolts, the secluded Tarahumaras and a serial killer priest… I had to go.
Ten heart-stopping hours later, including a side trip to convince a woman to come back from the dead, we arrived.
A friend, who'd accompanied my first husband and I on several of our lost Mayan ruin expeditions, went with me. We traveled to El Paso, Texas, then to Chihuahua, Mexico, where we caught the train that took us through the desert, then chugged its way into the towering Sierra Madres. We got off the train in Creel and found Pedro Estrada Perez and his three-door, gold Chrysler, who agreed to take us the 80 miles down into the canyon to Batopilas.
The first 15 miles of our trip was on a narrow paved road. Since recent rains had triggered rockslides at every turn, it was slow going, but the mountain scenery was breathtaking. A paintbox of delicate flowers sprang from the rocks and blooming foxglove, lavender and orange opium poppies were everywhere.
WHEN THE PAVED ROAD STOPPED, THE ROAD LOOKED MORE LIKE A LEDGE FOR GOATS. WE WERE LUCKY TO AVERAGE TWO MILES AN HOUR. 
Numerous times–when the outer wheels were close to hanging over the edge of the cliff and plunging the car 8,000 feet to the canyon floor below–Pedro made us get out while he and the car crept along a few inches at a time. Talk about STRESSFUL! At one point the Chrysler's muffler clattered to the ground and rolled off the cliff in a cloud of dust. My friend and I walked toward the edge and listened as it banged its way down the mountain. 
It was then Pedro informed us the road would get very dangerous.
At that point we'd been on the road for five hours. Our surroundings were one of the most seductively inhospitable places I've ever been. As the road twisted and turned, we got glimpses of the canyon floor and the town of Batopilas, which was the reason I'd come. I wanted to see the church where, at one time, the priest had supposedly killed the women from the village and buried their bodies under the church floor. Now, I wonder… What is it with me and serial killers?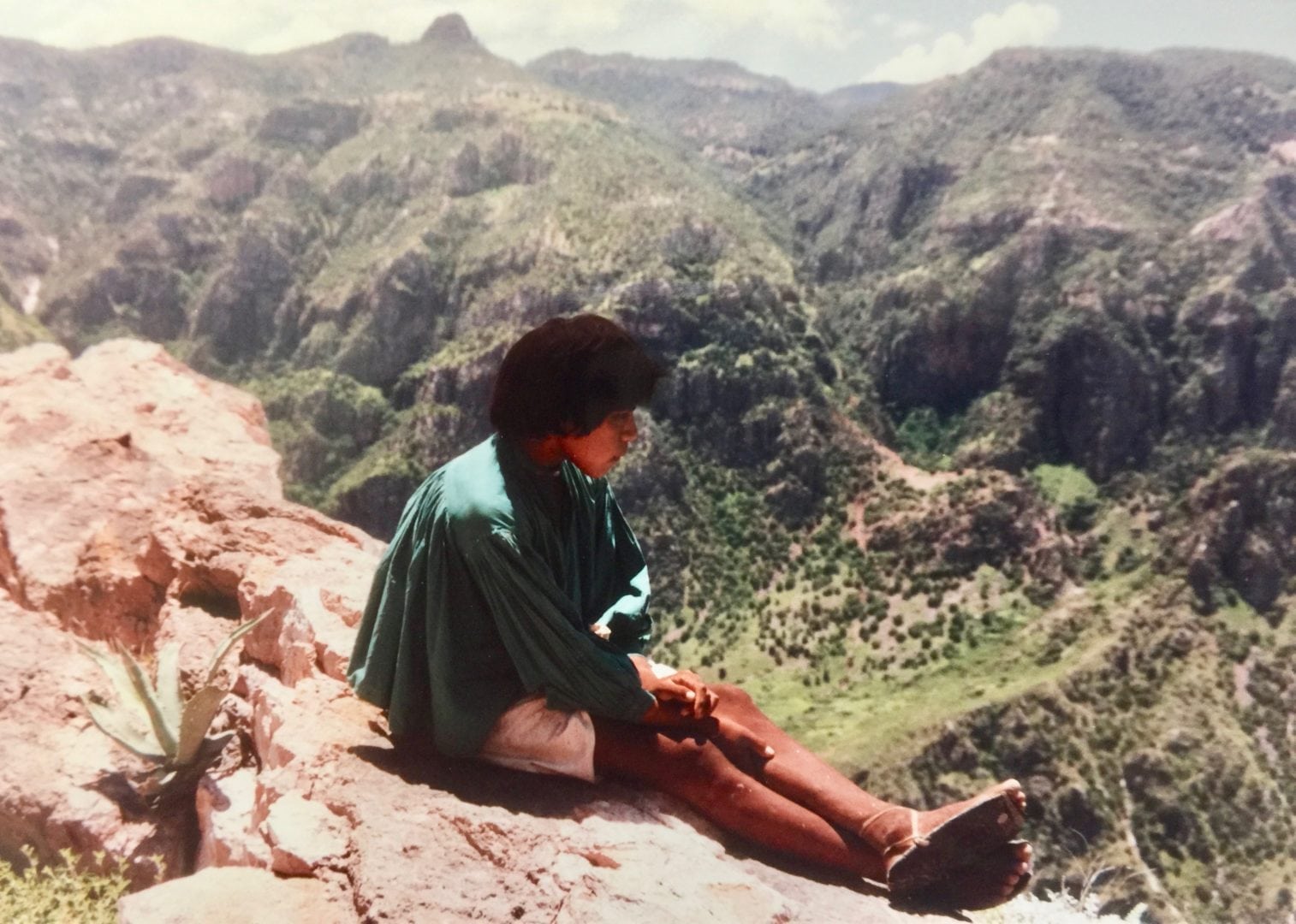 A YOUNG BOY IN TRADITIONAL TARAHUMARA DRESS
Before we began our journey, Pedro told us he needed to make a stop along the way to see a friend. His friend was a Tarahumara Indian, a small, wiry man with skin the color of dark mahogany and the texture of dried beef. I don't know about now, but 30 years ago the Tarahumara were seldom seen by outsiders, so we were excited to go. The Tarahumara's fierce ancestors had resisted Spanish conquistadors and Jesuit missionaries, and their ability to run long distances was legendary.
Pedro followed his Tarahumara friend into a cave in the side of the mountain and motioned for us to follow him, assuring us it would be alright. I soon discovered the Tarahumara have a way of looking through you, like you're not there.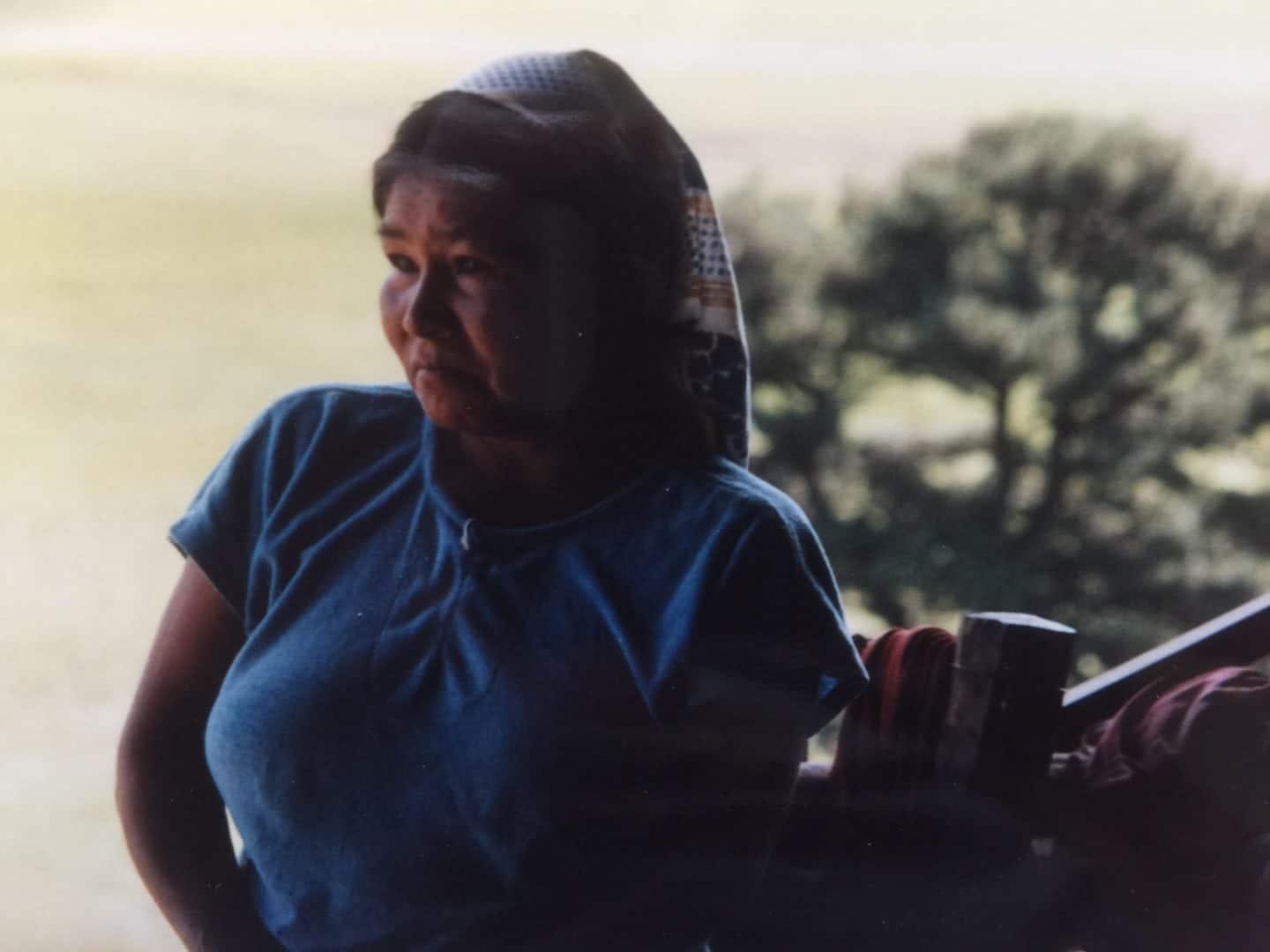 The cave was about 20 feet long by 10 feet deep. The mouth of the cave was exposed to the elements but partially enclosed by a log fence. Inside were two women, a small baby, two small children and a teenage girl. The women wore colorful scarves on their heads and long multicolored skirts. A crude wooden table was their only piece of furniture. A faded, aqua plastic bag and a page from a magazine, depicting Jesus, were stuck in cracks in the cave wall with sticks.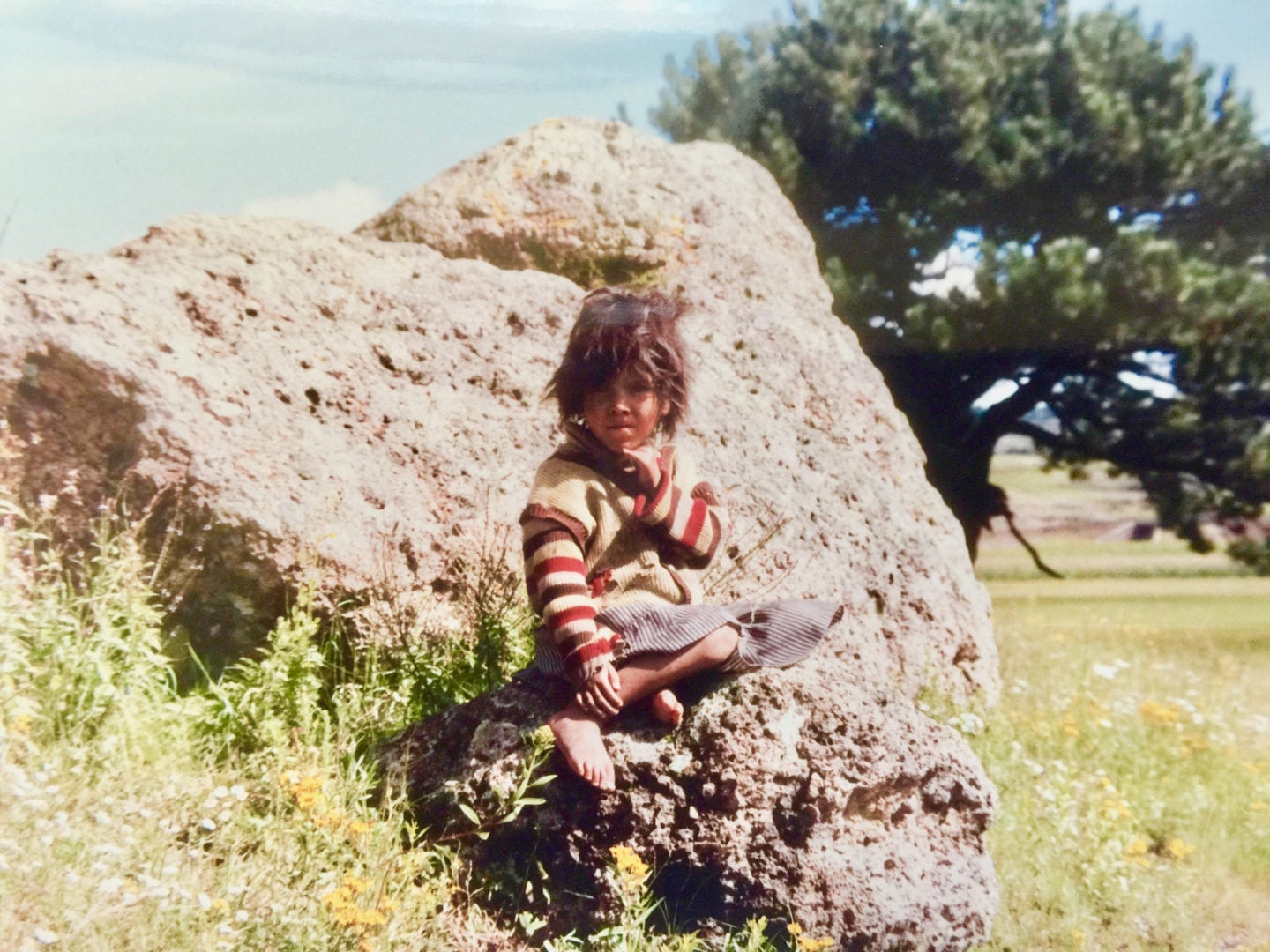 Pedro and the Tarahumara knelt down beside a fire and began a lively conversation in a language that didn't sound like Spanish. The Tarahumara squatted with his legs spread far apart, gesturing wildly and jumping up and down on the balls of his feet. In his excitement, his genitals had fallen out of his pants—which were made to be somewhat open in the front—and were flopping up and down with each movement.
I tried not to gape, but I felt a curious mixture of wonderment and embarrassment.
Feeling very out of place, I knelt down to play with a small puppy as Pedro and his friend crouched around the fire. In a little while, Pedro and his friend stood up, went outside and said their goodbyes. As Pedro and my friend started their climb toward the car, I lingered a moment, taking in my surroundings before this other world experience vanished forever. I took one last look at the Tarahumara man. Surprisingly he returned my gaze and held it.
Once inside the car, my friend and I were full of questions. Pedro had known the Tarahumara man since they were children, when Pedro had accompanied his father on trips to Batopilas to trade and transport supplies. When Pedro had stopped to see his friend a month before, the Tarahumara had asked him a favor. Pedro declined. Our stop was to see how the man had fared without Pedro's help.
The Tarahumara believe we will ourselves to die. The Tarahumara man had found his mother or sister—I'm not sure which—dead in the cornfield and had chastized her to come back to life. How dare she leave him to tend the crops! His job was to take the animals up and down the mountain every day to graze. The crops were her job. She had ignored his pleas to return.
So she would know how unhappy he was with her decision, he'd tied her body behind a donkey and drug her up the mountainside to another cave where he'd left her. The Tarahumara had wanted Pedro to go with him to confront her. He feared she would be angry and Pedro's presence might calm her down. Of course Pedro knew what they would find, so he didn't go. We had stopped to find out what had happened.
The man, in his wild gestures in front of the fire, was telling Pedro she hadn't changed her mind. She was still dead.
Once again the Tarahumara had tied her body to the back of his donkey, drug her back down the mountain and returned her to the cornfield where he'd found her, vowing never to speak to her again.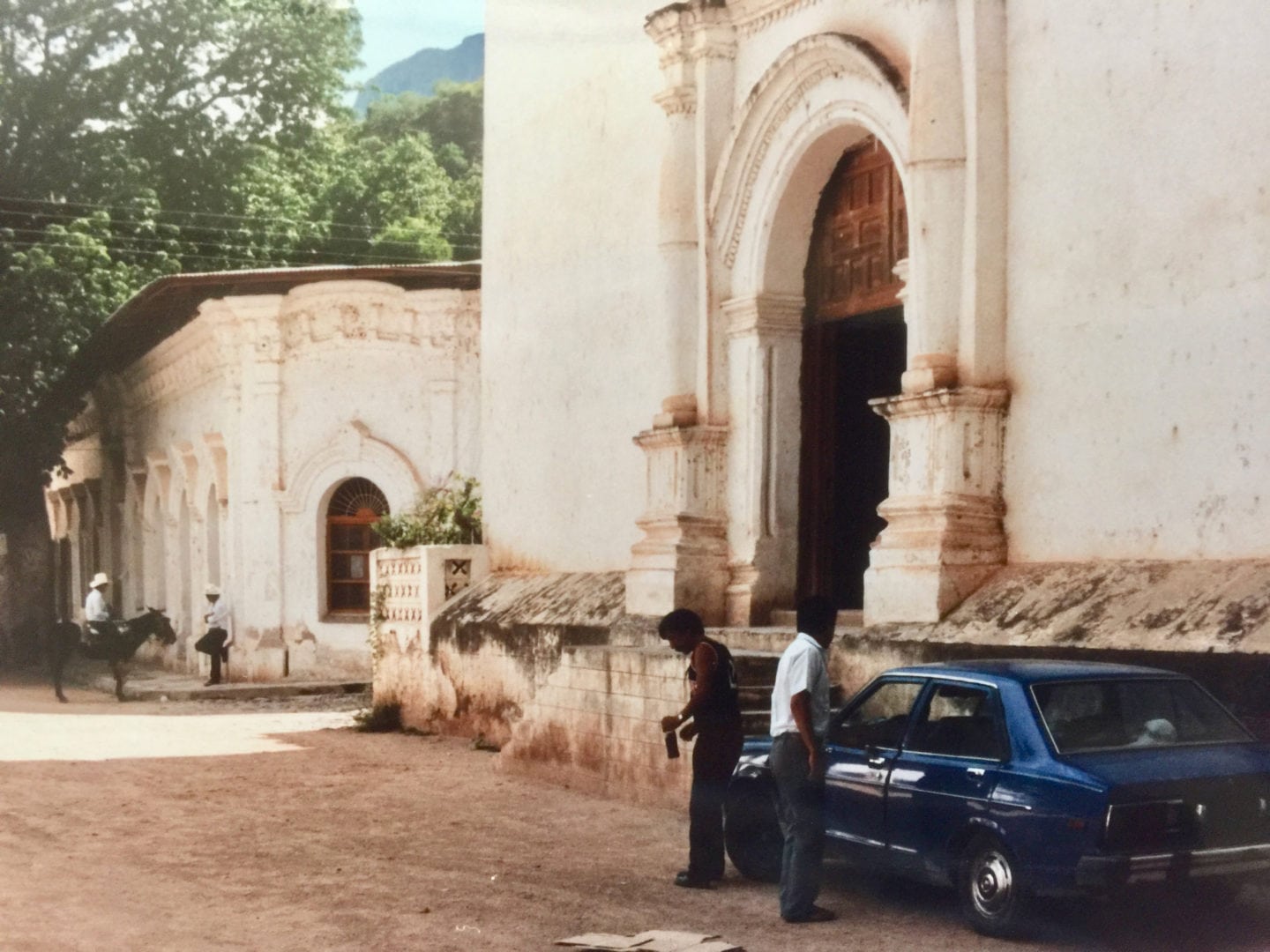 THE TOWN OF BATOPILAS 30 YEARS AGO
Pedro and my friend and I climbed back into the three-door, gold Chrysler, and ten hours after we'd gotten off the train, we arrived in Batopilas. I soon learned the church I came to see was another four miles away.
Because of the rough road, my friend's already bad back was in pain; his humor was gone, and he was going to stretch out, and Pedro had parked himself in the nearest bar and wasn't going anywhere until he drove us back in the morning. With only a couple of hours of daylight left, I had to find another means of transportation to take me to the church and return me to Batopilas. We'd arrived at the bottom of the canyon… How hard could it be to go another four miles? LOL! LOL! LOL!
PS: This is longer than my usual 500 word posts, and you can't imagine what I deleted to get it down to this size. Next week I'm posting Part 2 of ONE OF MY MORE BIZARRE SUMMER VACATIONS, so stop back by and read it. There's more!