Ahh Capri…with its azure shores, captivating beauty and Italian charm, it's no wonder that it has long been a playground for the rich and famous. Capri has a free-spirited vibe that exudes a leisurely glamour, much like myself. In the 60's and early 70's, it was the place to be for the international jet-set.
In the past few weeks a curious thing was happening on my instagram feed. 
One image kept popping up. It was a photo of Jackie O on holiday in Capri, wearing exactly what I want to wear this summer and wearing exactly what I already have in my closet. The look was so simple. It was ageless and timeless. It's amazing that the photograph was taken nearly 50 years ago!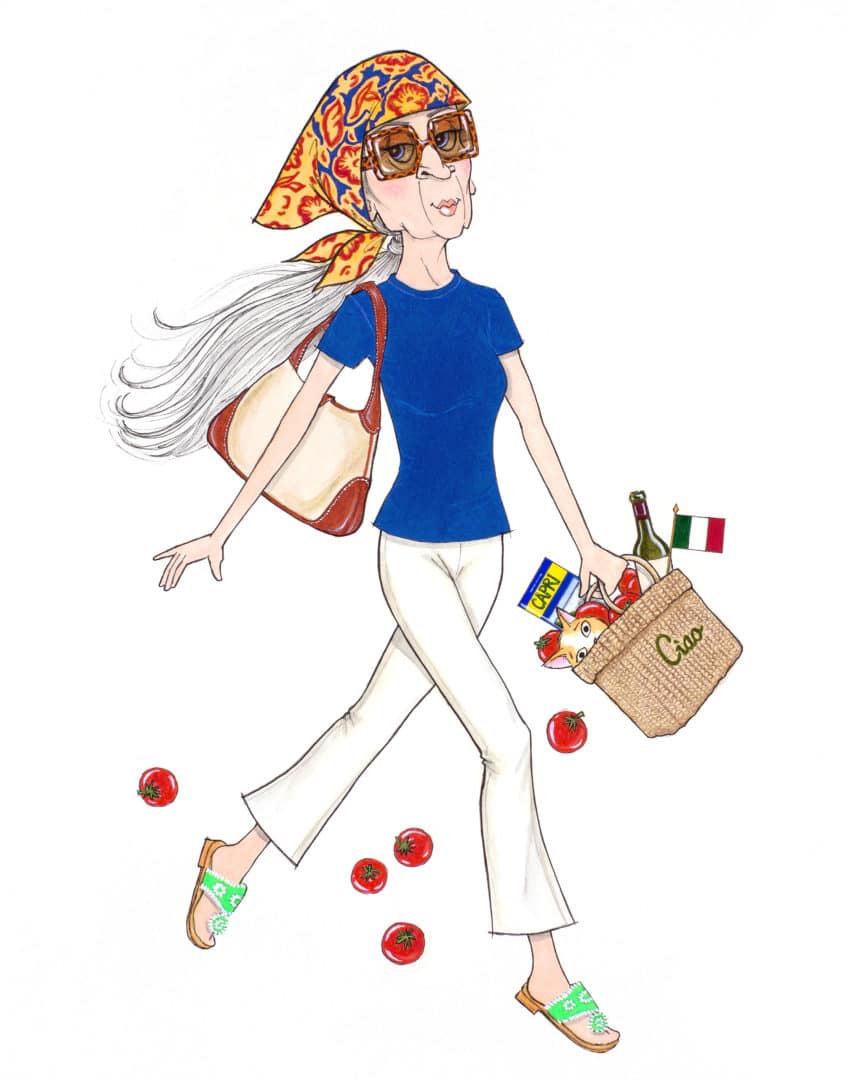 I wanted to recreate Jackie's chic look starting with her head scarf. With a silk patterned scarf tied neatly behind her head, it's just the element needed to elevate this simple look to a vintage glam vibe. Of course, no Jackie O look would be complete without her famous oversized sunglasses. Darlings, after a night of wining and dining, what better way to hide tired puffy eyes than with a pair of big sunnies? Jackie O was really onto something here.
We all have a favorite summer tee that flatters our shape. I love Jackie's high crew neck tee with its slightly fitted shape. In a dark navy blue it contrasts nicely with her crisp white capris. Legend has it that the capri pant was inspired by Italian fishermen who would roll up the bottom of their pants so as not to get them wet. In 1948, fashion designer Sonja De Lennart, who adored vacationing in Capri, designed a feminine interpretation of the fisherman's pant. Jackie O's version is cropped right at her ankle which I love.
A classic look needs a classic handbag. My Gucci hobo bag was renamed "Jackie" after the stylish First Lady was spotted using it to shield herself from the paparazzi. The bag has been relaunched several times and is still available today in an array of fabulous colors and patterns.
Making Sandals in Capri, Italy!
Jackie O's Capri ensembles always featured a flat sandal. One of her favorites was the classic Jack Roger sandal, a timeless staple of vacation style. After returning home to Palm Beach, Jackie brought a pair of sandals she purchased in Capri, to a cobbler to recreate it. This was the start of the iconic brand.
Darlings, you know I love a fun tote bag. How else could I carry my adorable tabby, Roddy, and a bottle of Chianti? My straw tote by Poolside, with it's charming "Ciao" stitched on the front, is ideal for some afternoon shopping.
So my fashionable friends, if you're tired from all the "fashion noise" out there, let your senses take you to Capri, where the look is effortless and chic. When you get there, tell them Jackie sent you!
Ciao Loves!
XOXO, Hildie