My forearms look like someone burned rubber on the highway except instead of tire marks, they're teeth marks, and I have a newfound respect for mothers… especially of twins. I now understand when mothers say they haven't gotten out of their PJs or brushed their teeth, all day, and the only meal they've eaten is a cold slice of pizza on the run.
If you or anyone you know is lonely or depressed, I suggest a puppy instead of antidepressants. If you get two puppies, just don't expect to get anything done!
This week Lulu's moved from getting stuck under my dresser to getting stuck between the back of the toilet and the wall in the powder room. They're growing so fast I fear I'm a week away from calling 911 to help me get her out.
My dear friend Joan called the other day, and the first thing out of her mouth was, "Two puppies? What were you thinking?"
"The good news is the house is full of life and love again," I told her. "The bad news is Annie and Lulu were in the ER three times last week for things they shouldn't have eaten like a piece of rubber glove; part of a Famous Amos foil cookie wrapper someone threw over my wall and a chew bone—downed in one gulp— that was supposed to provide 'hours of fun.' X-rays and three induced vomits were $1,600." It's almost impossible to keep an eye on two high-energy puppies at the same time. If that wasn't bad enough, somehow Annie ripped one of her right rear claws off which required cauterizing, bandaging and another Elizabethan collar to keep her from chewing on her foot.
I see a part-time job—maybe puppy modeling—in Annie and Lulu's future because their allowance doesn't begin to cover their expenses.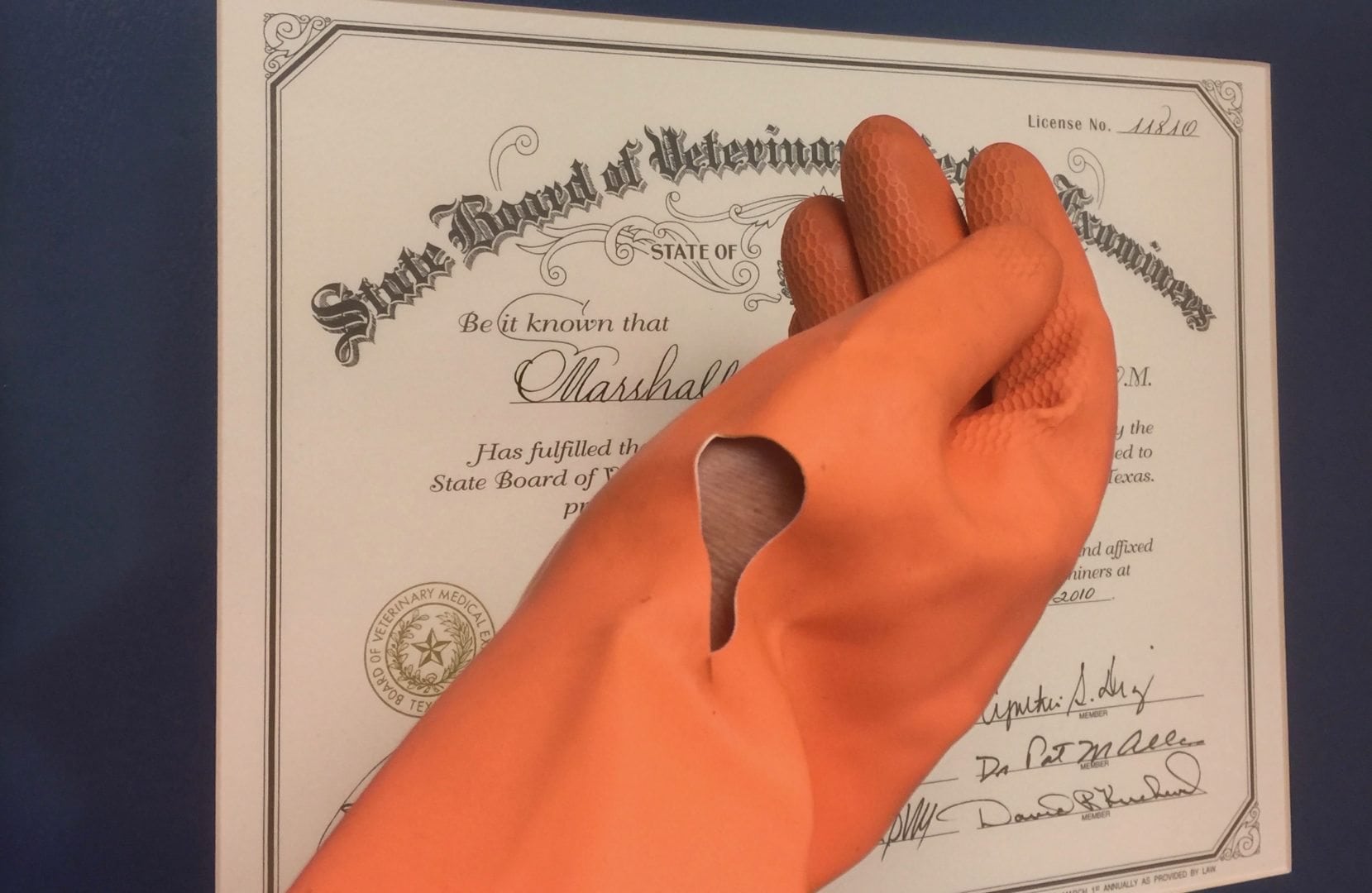 Other than I love them to pieces, there's MORE GREAT NEWS: We've gotten rid of both of their internal parasites! Thank you, God! I'm so grateful! We're also making progress on housebreaking although Lulu sometimes gets so excited she pees part of the way out the door. The last two nights I didn't set my alarm for 2:30am to take them outside. Their bladders are able to hold it, so I'm sleeping straight through night for the first time in almost a month! Thank you, again, God! This week a dog trainer came to the house to give them me behavioral lessons so they won't chew on EVERYTHING; they'll gain some independence from one another–they're still pretty much joined at the hip–and they'll learn to walk on a leash. We're making progress!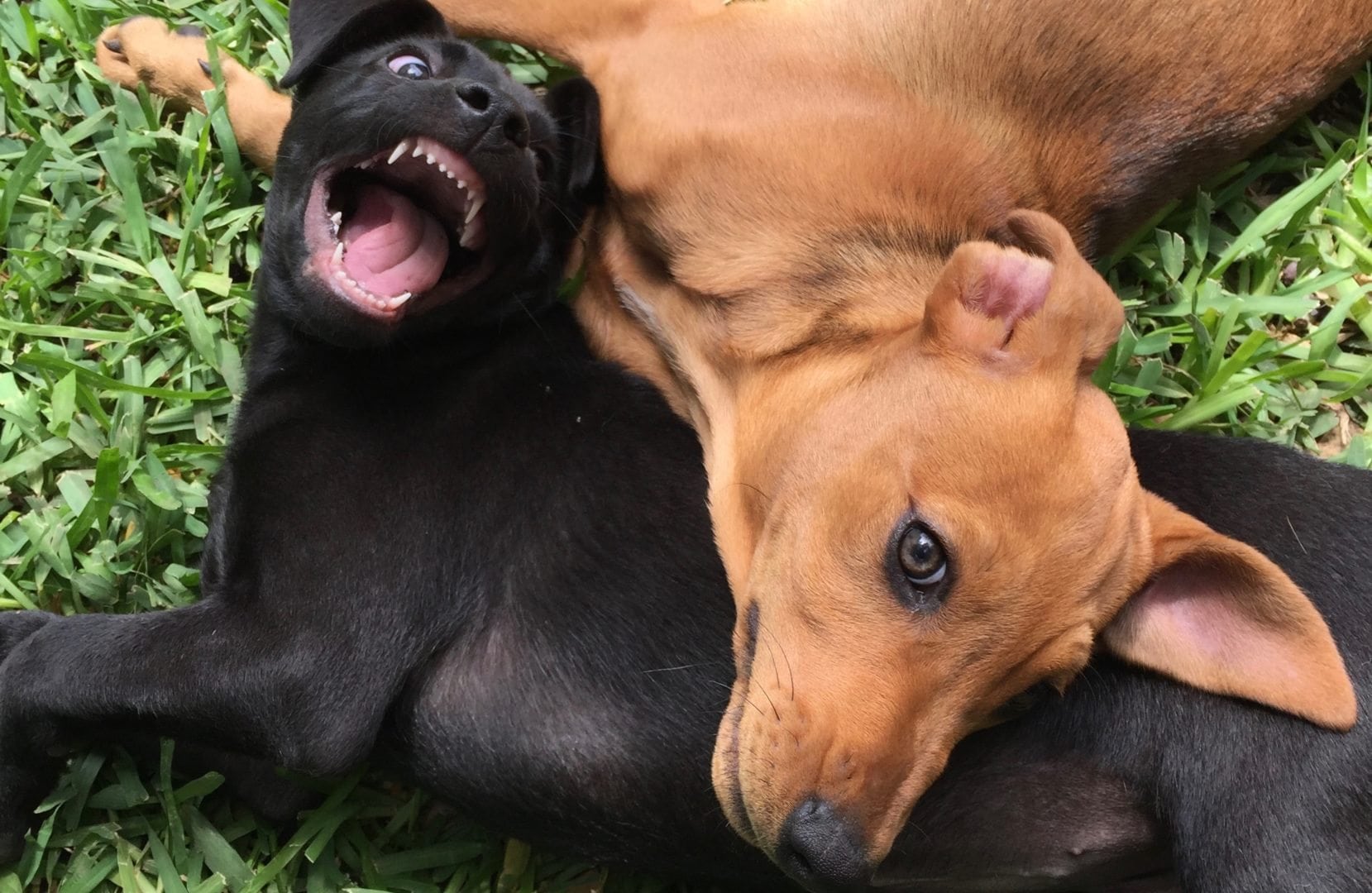 Lulu (Little Devil Woman) and Annie
Annie and Lulu are mixed breeds, from the same litter. Everyone agrees they're part Lab, but their foster family thought Annie's wrinkled forehead looks like she has some hound in her. If they mean hound, as in Bloodhound, I agree.
Annie and Lulu can sniff out an acorn at 20 paces, even if the acorns are old and dried and buried under a thick thatch of crabgrass. Their noses are infallible. I've gone so far as to rake parts of my yards with a hair comb, but every time we go outside I'm still digging acorns out of their mouths… something else they're not supposed to swallow. If only there were truffles under there, they could pay for their vet bills!
PS: I love and appreciate each and every one of you for your emails, comments, good wishes and prayers that we would be able to get rid of Annie and Lulu's killer parasite. A number of people, who are smarter than I am, weren't sure I could do it, but they didn't know I had all of you on our side. Thank you, sweet friends! xoxox